Most of the time I, Lee, am content to be surrounded by lots of white, black and neutrals. But it seems around this time every year (and just about ALL year around Sugar & Cloth!) I get bit by the bright color bug (which I'll gladly take over a mosquito any day!). The grass is greening up, the trees are bursting with blossoms, the annual spring flowers have sprouted and I want to participate in this fantastic compendium of color, and these are 14 bold and bright products you need this Summer!
The good thing is that it's really easy to do! Just by adding one standout piece to a room, such as an amazing red chair, a sculptural pendant or a few fresh art prints you can bring the whole space to life. The same goes for your summer wardrobe too. It could be a great dress, a bright bag or even a swimsuit in a show stopping color that gives your closet the color injection it needs.
Maybe you're way ahead of me, and are already a connoisseur of all things bright and bold, but if not, this little roundup of all the colorful goodies will get you on track for a seriously super summer!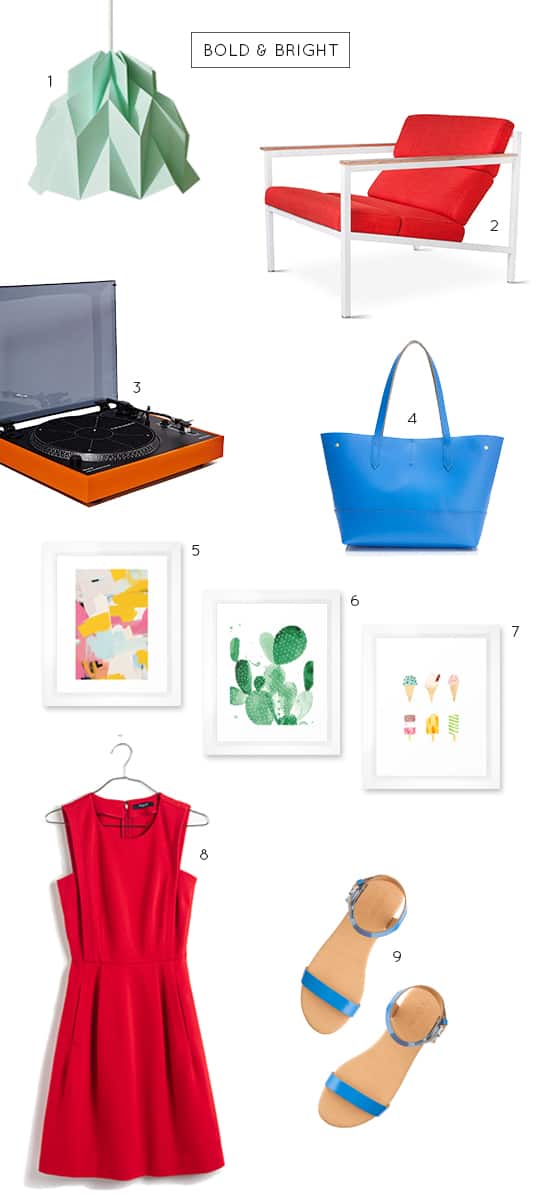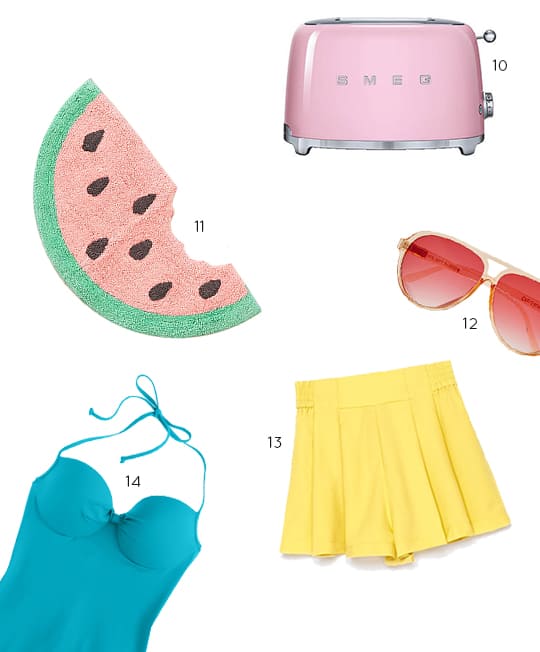 1. Paper Pendant via Etsy // 2. Gus Modern Chair // 3. Nasty Gal Turn Table // 4. J.Crew Tote // 5. Print 1 // 6. Print 2 // 7. Print 3 // 8. Madewell Dress // 9. J.Crew Sandals // 10. Smeg Toaster // 11. Urban Outfitters Bath Mat // 12. Nasty Gal Sunnies // 13. Zara Yellow Shorts // 14. J.Crew Swimsuit
— Post and image designs by Lee Vosburgh
Lee Vosburgh is an Art Director and editor of the blog Style Bee, a hive for honing personal style and learning to live well with less. When Lee isn't buzzing about the internet she can be found playing fetch with her corgi Dobby, renovating a 125 year old house or snapping pictures in her hometown of Guelph, Ontario.