It's about that time of year where we're either all scrambling to pull together the prettiest holiday party in the bunch in the midst of the holiday madness! You know me, it's not a party until every surface is photographable, haha. Clearly, I'm super chill like that…
To make things a little easier when it comes to this seasons party styling, we've rounded up 14 personalized entertaining items for the holidays with our friends at Shutterfly. Basically, they're perfect for impressing your neighbors during the neighborhood holiday party but I'm planning to use the cute marble servings boards and drinkware for entertaining year round!
The pieces are super easy to order online I could just get more, and these were some of my favorite customizations…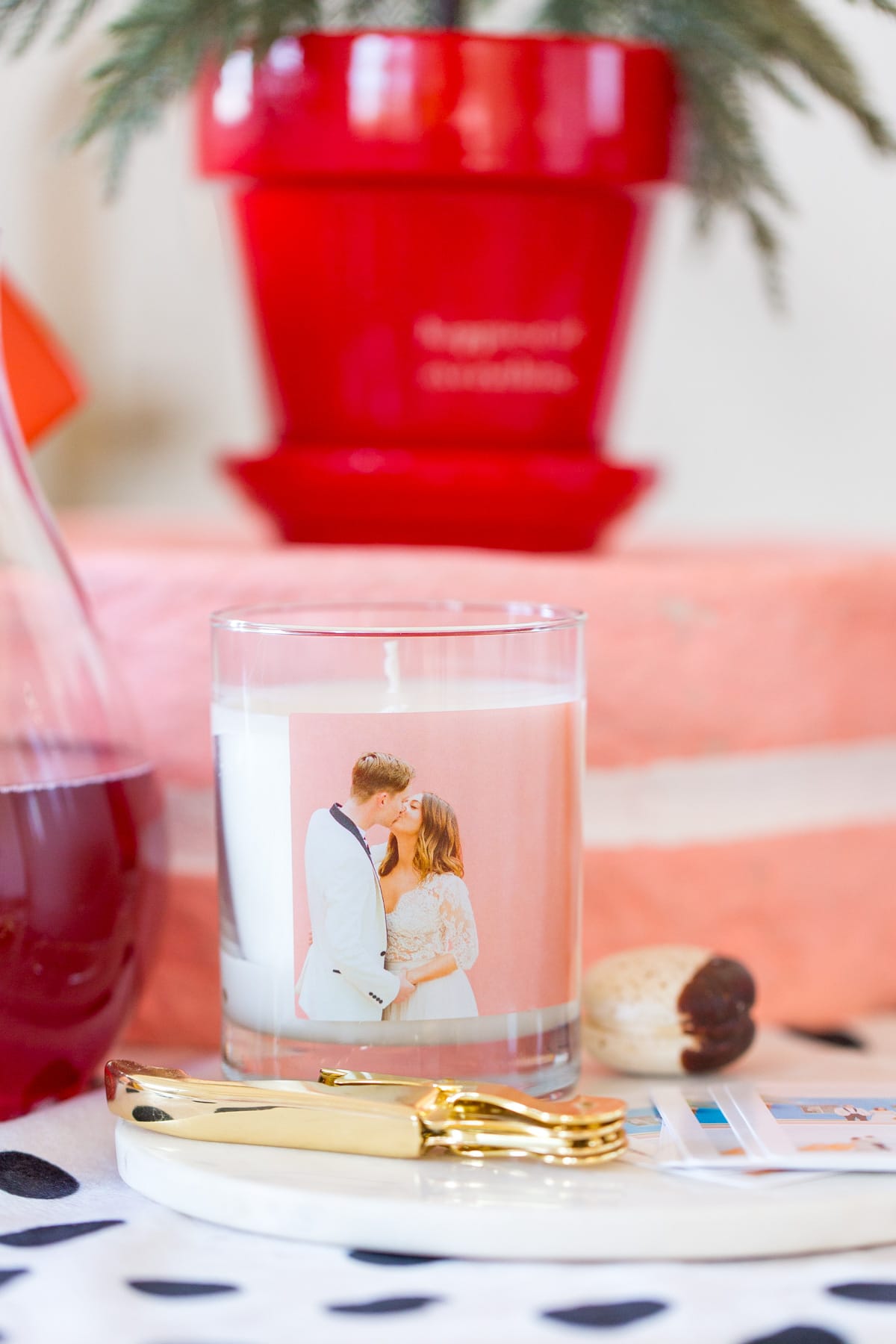 I used one of our wedding photos for this personalized grapefruit candle… because it's pink and why not?! But seriously, it's the perfect memory token to have around. Plus the bonus of having a perfectly fresh living room scent.
I did the same with our custom playing card deck because we literally spend the entire holiday season playing endless games of Progressive Rummy with our family, so it was a fun detail to add to our entertaining plans.
For the marble serving boards, I stuck with using our last name instead of "cheers" or something holiday specific so that I could use them year-yound. I LOVE the way they turned out!
A custom planter for a mini tree and a custom tea towel set are perfect for an easy tabletop item with a lot of detail and little commitment for those that don't go too heavy on the decorating, like us. Plus you can pair it with a custom wine bottle bag for an extra touch on the bar cart to serve alongside monogrammed champagne flutes, custom pint glasses, and your personalized decanter which makes for a super chic bar cart set up for guests to serve themselves.
A custom printed throw blanket is perfect for the cozy nights at home with family by the fire (thankfully we finished our fireplace install before the holidays!), but obviously you can use them year round too. And gifting a custom throw is always a win/win.
Here's the full scoop on all of my favorite custom entertaining items and how I'd style them —
a personalized photo candle // custom Christmas stockings that can be printed with a full image, monogram, or pattern // plaid wine bottle gift bag with a custom monogram // this "bubbly" wine bottle cover for styling the bar cart // collage playing cards for cold nights in and for using year round // foliage frame monogram decanter that will never go out of style // monogram pint glass that the boys will love // foliage frame monogram champagne flute for cheerings on New Year's // monogram tea towel that's as pretty for the holiday party as it is for everyday use // starburst marble cheese board that I just can't get enough of // black & white custom patterned playing card for any occasion // a gallery art print for a pretty statement piece when guests arrive // custom design throw blanket for styling a cozy corner on the sofa // your own statement planter for a mini rosemary tree for showcasing on the table of buffet
If you're looking for something super cheeky to set out for a conversation starter, you can always go check with a funny custom photo candle using one of those snaps that your friends never thought they'd see again. That can get pretty hilarious quick don't you think?! All of those old blackmail photos are suddenly looking verrrrry enticing, haha!
What are some of your favorite things to customize for the holidays when it comes to entertaining? Be sure to tag me in your custom Shutterfly product arrangements during the season so we can follow along with your creations, too!
A big thanks to our friends at Shutterfly for partnering with us on this post! Sugar & Cloth is donating 5% of all sponsored campaigns to charity, which you can read about right here!