Let's face it: 2016 was sort of a mixed bag. Maybe not completely, but I think we can all agree that it feels GOOD to start a chapter! It's the perfect time for us to hit the reset button, reevaluate what's important to us, and refocus on what we want from the next year.. Plus, we're fresh faced enough to believe that we'll stick to the fifty new years resolutions we make, ha! But seriously..
I really let self-care fall by the wayside last year, and I'm determined to make this year's resolutions real. It can be easy to get stuck and become jaded, but I refuse to give up hope that we're capable of making changes each year. Current new motto: we're going to do what we want! Within reason, obviously.
Thus, the first few days of 2017 were spent scouring the internet for a little inspiration, and I've rounded up the 15 accessories you need to accomplish your goals and win this year. There's nothing like a new pair of cute shoes to get ya running, right!?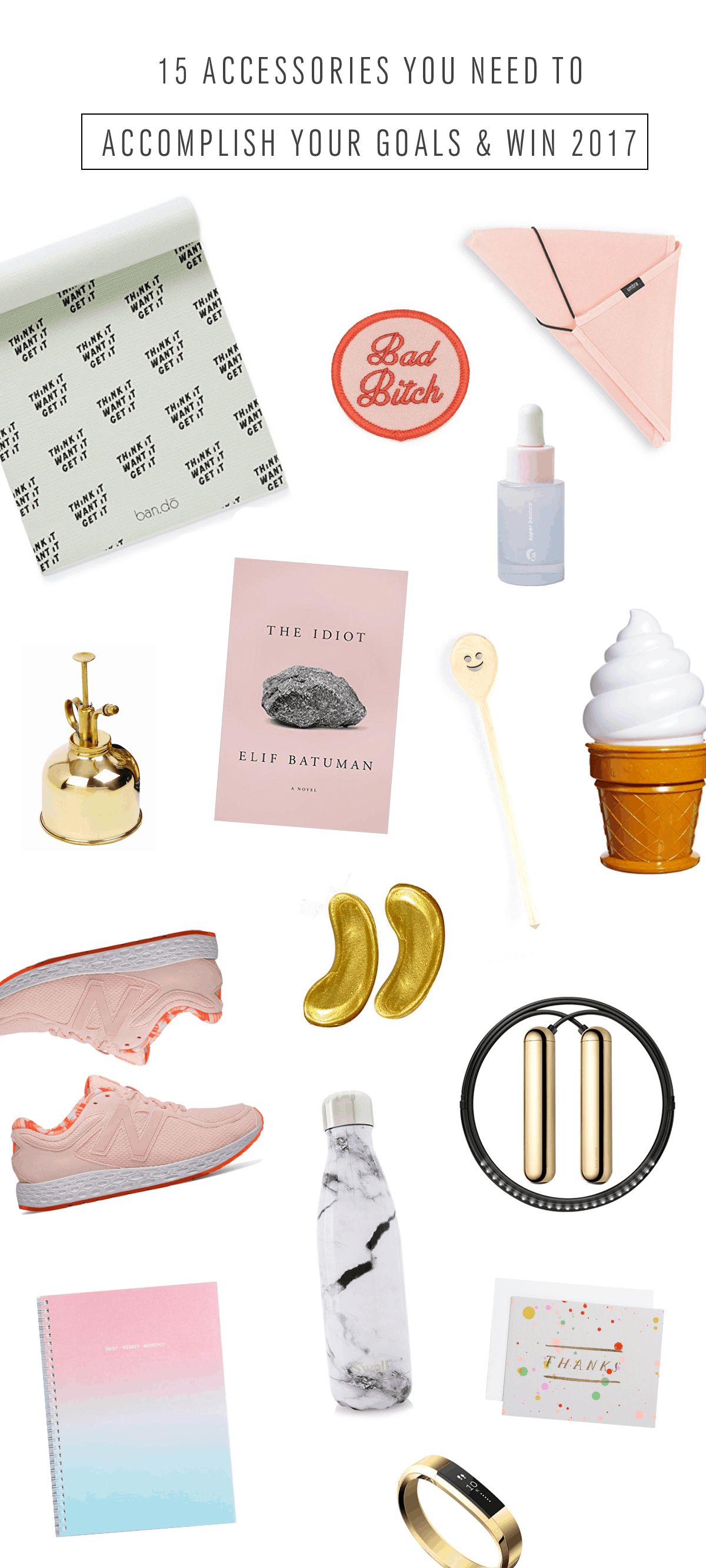 Love the philosophy of Ban.do's yoga mat – think it, want it, get it! Definitely hoping to make relaxation and meditation a habit.
Because no matter the year, I'mma do me. This patch is a funny reminder.
Travel made easy and organized.
Been researching serums for the last month & excited to try this one!
In 2017, I will learn how to keep my plants alive! With the help of this gold mister of course..
Hoping to fall asleep every night reading a good book rather than scrolling through my phone.
Cooking is such a great way to save $ and eat healthy. Cute utensils like this wooden spoon don't hurt!
Dying over how cute these New Balances are.. Hoping they will inspire me to run more!
Taking better care of my skin is a must this year. Plus, you know I'm a sucker for the 24k gold spa treatment trend.
Making working out fun with the coooolest jump rope ever!
Staying organized, planning weekend trips, and remembering friend's birthdays. I need this planner!
More hydration! Our skin and metabolism need it.
I read a really great comic the other day about replacing the words "I'm sorry" with "thank you". This year, less apologizing.. more gratitude!
It's hard to swallow putting on a bulky fit bit everyday — just not my style. Loving how chic this gold one is!
I'm especially partial to some of the amazon prime products (#notsponsored.) Basically, we could all be jump roping within 2 days.. Do you still make New Year's Resolutions? What are the accessories you need to accomplish your goals?!