Post and image designs by Lee Vosburgh
Spring weather is officially here and as nice as it'd be to just ditch our responsibilities, play hooky and spend all day outdoors, that's not really an option for most of us. However, that doesn't mean we can't enjoy a bit of nature's green goodness in the office or at home.
Here's a little round up of some seriously pretty plants and planters that would gladly host a few fresh outdoor friends as little guide to bring in Spring with plants!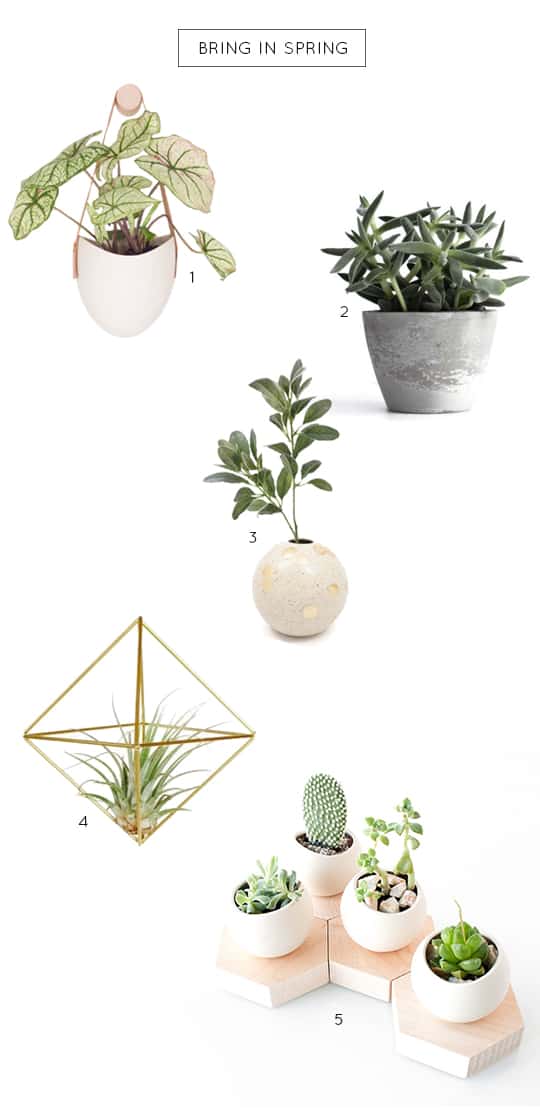 I've been dying to claim some wall space with this gorgeous sculptural hanging planter but wouldn't it make for a great little indoor herb garden too? A cool concrete planter adds an industrial chic vibe or is easily customized with a bit of paint. A perfect little polka dotted vessel would make any desk a lot happier, just add a single flower or a long leafy branch. Hang this super cool brass terrarium and fill it with some air plants for a modern vibe. If these hexagon based vessels aren't the best thing since sliced bread, I don't know what is! Your windowsill will never be the same.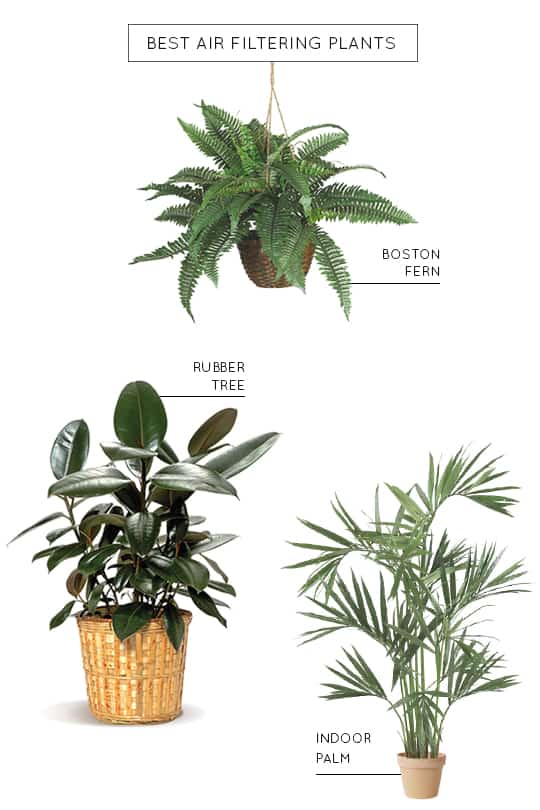 Need to freshen the air in your place? These all-natural air filters make short work of the task and look amazing doing it. They'll not only add a ton of freshness to your home or office, but they'll also take care of many harmful compounds and gases emitted from furniture, sealants, harshly treated upholstery and other plastic elements that we rarely even think about. They're even known to help with allergies and other seasonal afflictions. Can't often say the same about your co-workers! I kid, I kid…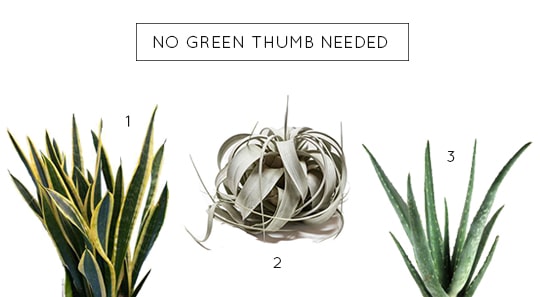 We don't all have a green thumb and even if we do, it often takes a few failed attempts to discover it. These three leafy fellas are super low maintenance and can usually stand up to even the blackest of thumbs.
The first is the aptly named 'Snake Plant' for it's green and yellow leaves. Fun fact, it's also known as 'Mother-In-Law's Tongue' for it's sharply pointed tips. With some indirect sunlight and the occasional watering this plant should do just fine. (See more care tips here)
Next on our easy plant list is the 'Air Plant'. It will take just about any light it can get and a few spritz' of water every few days should keep it happy. They need no soil and weigh almost nothing so they're great for decorative walls and small enough for just about anywhere. (See more care tips here)
A naturalist's favourite the 'Aloe Plant' also happens to be pretty self-sufficient. With bright light and attention every so often to watering and soil quality they'll easily earn their keep with all their added skin and hair health benefits. (See more care tips here)
Lee Vosburgh is an Art Director and editor of the blog Style Bee, a hive for honing personal style and learning to live well with less. When Lee isn't buzzing about the internet she can be found playing fetch with her corgi Dobby, renovating a 125 year old house or snapping pictures in her hometown of Guelph, Ontario.