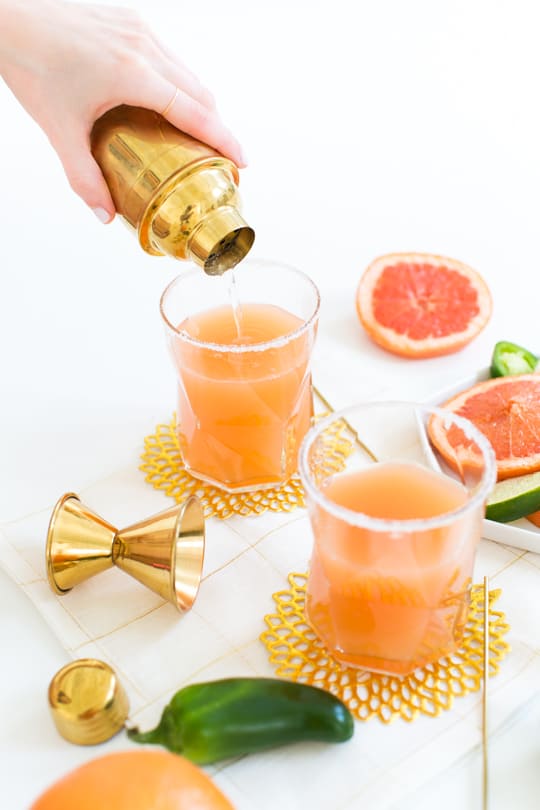 photo by Jared Smith, recipe here
Hey, hey, hey! Lee here, and it's time to chat about a quintessential element for any one who loves to entertain (hello, upcoming holidays!). The bar cart basics!
I love having people over and entertaining friends and family so as we planned our dining room reno I knew this was a non-negotiable item. But once I started assessing everything we need I found it a bit overwhelming. After some research and discoveries I decided to keep it simple and break it down to the basics. Of course each one has a fun little twist.
So here's a few recommendations for anyone creating a bar cart at home or looking to revamp their current one!…

Now, it comes down to the whole point of this bar cart situation, the booze!! An assortment of options is key, so your guests can concoct whatever they wish. A good baseline is: Gin, Vodka, Rum, Tequila, Bourbon, Rye Whiskey, Vermouth and Campari. Then you'll want to have some sodas, simple syrup and any other mixers on hand like cranberry juice and tomato juice.
With that, some good vibes and a handful of great friends you should be all set to party! So what do you say? You know it's 5 o'clock somewhere!
Lee Vosburgh is an Art Director and editor of the blog Style Bee, a hive for honing personal style and learning to live well with less. When Lee isn't buzzing about the internet she can be found playing fetch with her corgi Dobby, renovating a 125 year old house or snapping pictures in her hometown of Guelph, Ontario.