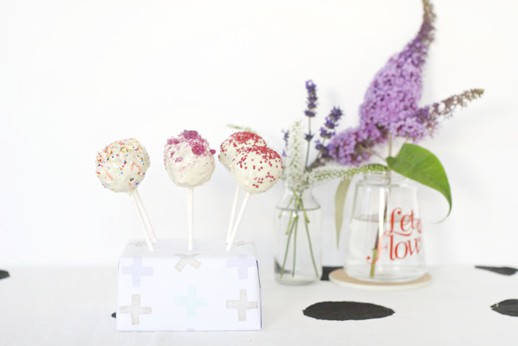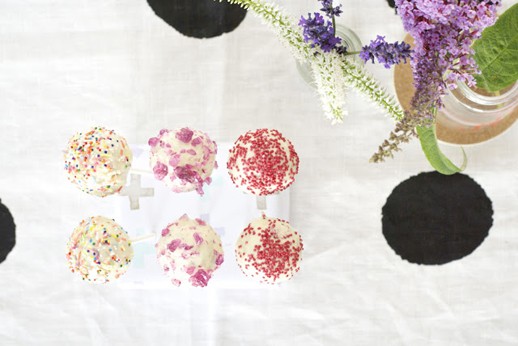 photos, project, and recipe contributed by Rachel of Oh No Racho!
Today's DIY is definitely one for all of you cake lovers out there; cake pops! They're super easy to bake, perfect as a hostess gift, or as a summer picnic addition since they travel well and look gorgeous! But before you  start, you're definitely going to want something to display your proud creations.
This cake pop stand is an inexpensive and super quick little project using a small cardboard box, some paper, a carrot (yes, never underestimate how useful a carrot can be) and some inks. Plus, I'll even share my very own cake pop recipe with you!
For the stand you will need:
Small cardboard box
Paper
A carrot
A Knife
Tape
Stamping Inks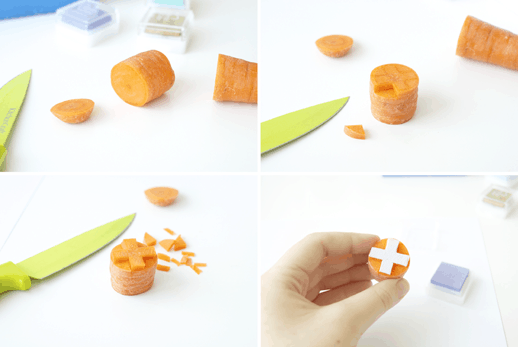 Using a knife, cut your shape into the end of the carrot. Press your finished stamp on an ink pad, and stamp enough paper to cover your box. Wrap it as you would a present, and then punch holes in the top for the pops!
For the cake pops you will need: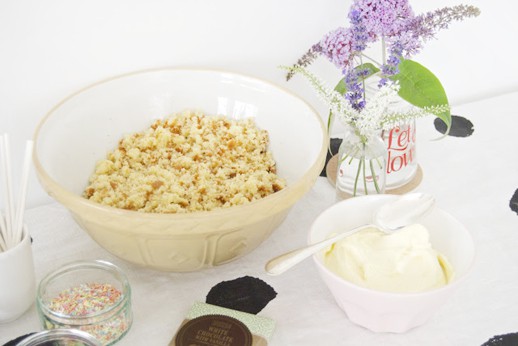 Firstly, you want to break up your lovely cake into tiny crumbs – now I did this by hand but you can whizz it up in a food processor if you prefer! Next add 2 big scoops of your buttercream frosting (you don't want to add too much or the mixture ends up looking like someone has already chewed the cake!). Mix in the frosting until your mixture begins to just about hold together, if you squeeze it in your hand it should hold.
Gently compress a spoonful of the mixture between your hands into a rough ball, then carefully mould into an even shape. This is the trickiest part as they can begin to crumble – have patience, the more gently you mould, the easier it is to get them to hold their shape!
Once you've rolled your cake portions into little balls – about the size of a golf ball – pop them onto a plate and into the freezer for 20 minutes. Melt your chocolate in the microwave in a microwave safe cup, checking and stirring between blasts to make sure it melts evenly and doesn't burn. Having your chocolate ready in a cup means much easier dipping and coating! One at a time take your lolly sticks, dip the ends into your chocolate and poke them into the centre of the pops. This means your little balls of cake will cling nicely to stick and not just slide straight off. Think of it as tasty cake glue!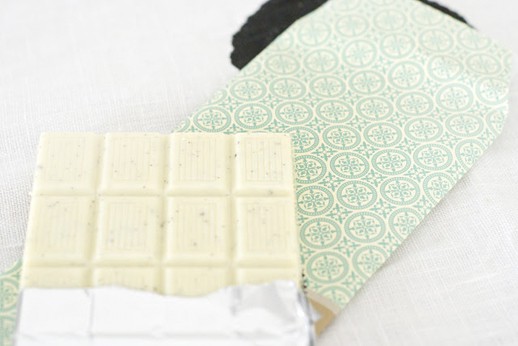 Let your little pops dry on their sticks for 5 minutes or so before one by one dipping them into the chocolate and allowing any excess to drip back into the cup and immediately sprinkle each with sprinkles, sugar, edible glitter, coconut, or any other topping of your choice and place them in the stand.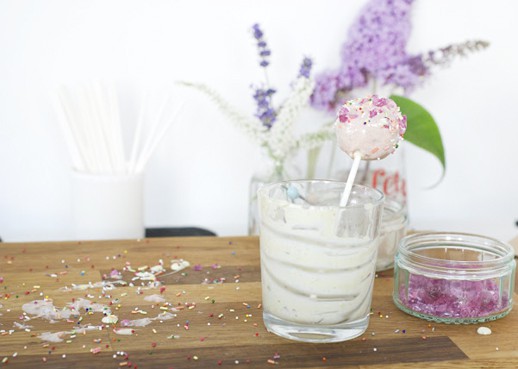 Voila! Now all you need to do is share and enjoy!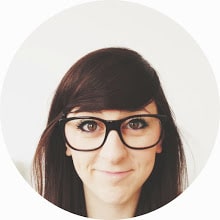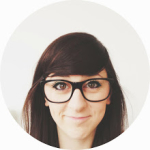 photos, project, and recipe contributed by Rachel of 
Oh No Racho!