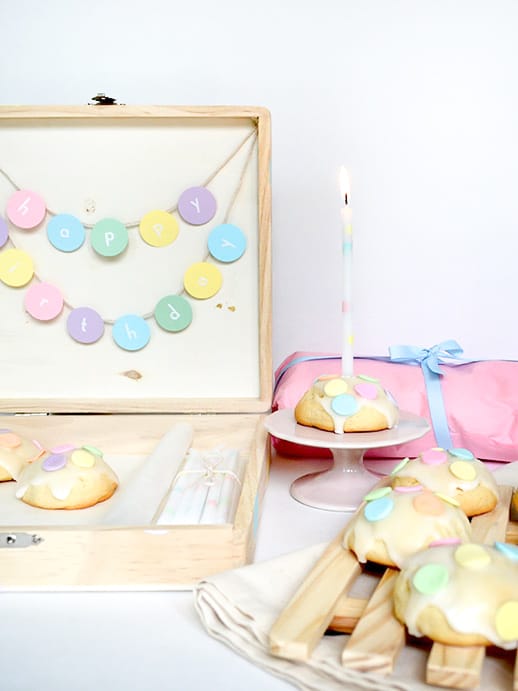 project, photos and tutorial contributed by Kathleen of Snow Drop and Co.
Peanut butter and jelly. Milk and cookies. Confetti and parties. Can you really have one without the other? I don't think anyone would argue that confetti doesn't make birthday parties more fun.
If you're going to a birthday party anytime soon, why not whip up DIY Confetti Birthday Box? This is an especially good gift for that friend who is near impossible to shop for.
Plus, this gift is customizable in so many ways – choose whatever size box you want, any color of confetti, and your favorite funfetti cookie recipe.
Don't have a favorite yet? I'm pretty sure that means you should have a funfetti baking day to find out!
Wooden box
Acrylic paint
Painter's tape
1" circle cutter
Sponge brushes
Paintbrush
Cardstock
Alphabet stickers
Cotton twine
Hot glue gun
Scissors,
White birthday candles
Hole punch reinforcement stickers
Parchment paper
Cookies*
*Note: For the cookies pictured, I used this recipe (https://deliciousinspiration.blogspot.jp/2011/03/teacakes-with-springy-glaze.html) and I haven't been able to stop snacking on them! However, mine did turn out puffier than the recipe shows, which I expect is because I replaced self-raising flour with normal flour plus baking powder.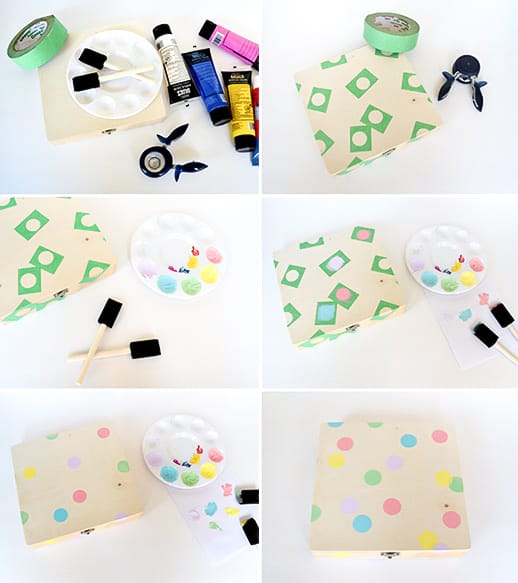 Step 1: Use the punch to cut circle stencils out of painter's tape and stick them to the box in a random pattern.
Step 2: Mix paints to match your cardstock/cookie color scheme.
Step 3: Apply the paint onto the circle stencils with the foam brushes, being careful not to paint outside the exterior edges of the tape.
Step 4: Remove the tape stencils (you can do this immediately, no need to wait).
Step 5: If you'd like more confetti dots, apply more stencils and repeat.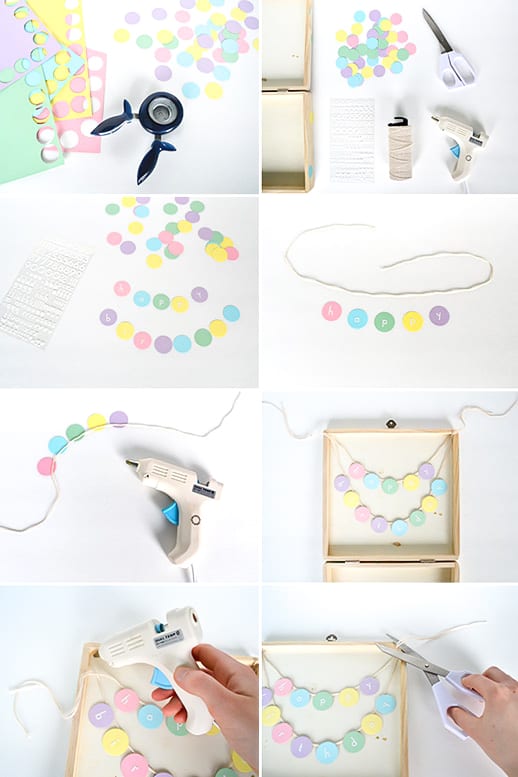 Step 6: Use your circle punch and cardstock to create confetti. If you're spelling "Happy Birthday" you'll need thirteen circles for that, plus extras for loose confetti to be included in the box.
Step 7: Apply the alphabet stickers to the circles to spell "Happy Birthday" or whatever message you like.
Step 8: Cut a piece of twine roughly 15" long – you can trim the excess off later.
Step 9: Glue the circles onto the twine. Repeat for "birthday".
Step 10: Arrange the strings evenly in the lid of the box so that they meet in the top corners.
Step 11: Apply hot glue to the corners and press the twine into the glue.
Step 12: Trim any excess string.
Step 13: Birthday candle time! Apply several hole punch reinforcement stickers to each candle.
Step 14: With the same paint you used to paint the box, paint the dots. If the hole punch stickers aren't adhering very well, simply hold the edges of the sticker as you paint.
Step 15: Repeat for as many candles as you need.
Step 16: Time to pack your box! Use the parchment paper to wrap the cookies in one half of the box, put a pile of confetti in another corner (if you're going a long way, a glassine bag would be an adorable way to keep the confetti together), and tie the birthday candles together with some cotton twine in the other corner.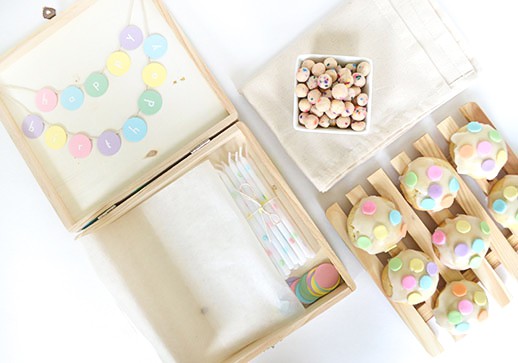 When you close the lid of the box, make sure that the confetti message falls into the box and isn't stuck in the edges.
When the birthday girl/boy opens up the box, the message will appear similar to a pop-up card! Let us know if you build your own DIY Confetti Birthday Box!