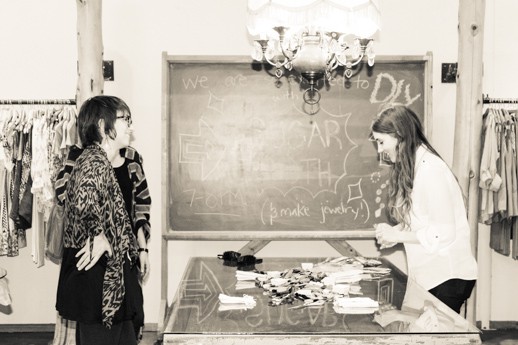 I'm starting to really, really love DIY events, but I'm quickly learning that Houston-ites aren't big "go out and craft" type of people. This is unfortunate considering I'm a self-proclaimed hilarious and fun person, with just a tinge of awkward. Add those characteristics to a cute venue and some cupcakes, and you've got yourself one happening Sugar & Cloth DIY hurrah.
I'll be sharing the tutorial for the necklaces we made soon, but you can see the live tutorial by Lamgford, here. I also wanted to go ahead and bully  encourage you to mark your calendars for the next event at Ikea Houston on March 9th. We're going to be making some seriously cute stuff that's well worth keeping, trust me! Plus if you were at the last one, then you know there are LOTS of cool giveaways. Basically I just gave something to everyone. Speaking of giveaways, the winner of the DecoArt giveaway is Allison! Congrats, and I'll be emailing you with details!

MY LATEST VIDEOS
Check out these other awesome posts!