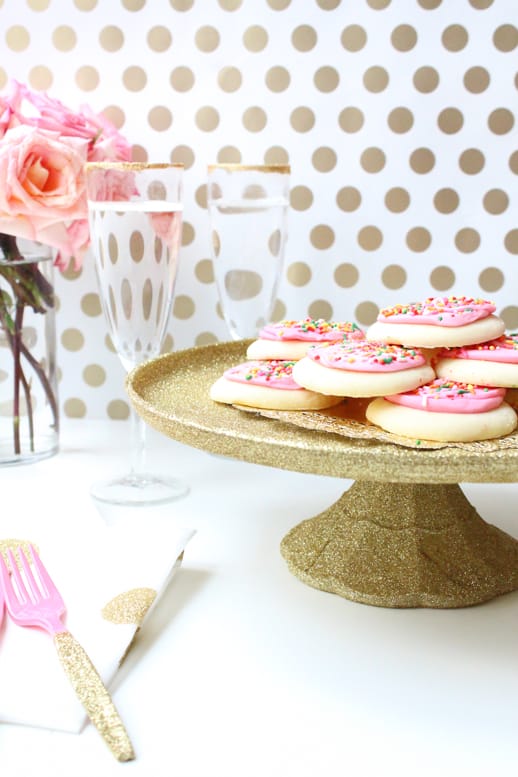 Since we're all friends here, I think we can be honest about my having a problem with all things glittered.
In my defense, I mostly only glitter things for parties and for sharing with all of you, my house isn't actually full of glitter (unless it's in between floor boards and on my cat).
For this month's 12 Months of Martha (read about the program on marthastewart.com here), I received a whole slew of the new Martha Stewart decoupage line.
Obviously this meant one thing, I had the perfect excuse to permanently glitter something. Alas, I did just that by making a glittered decoupage cake stand and table settings.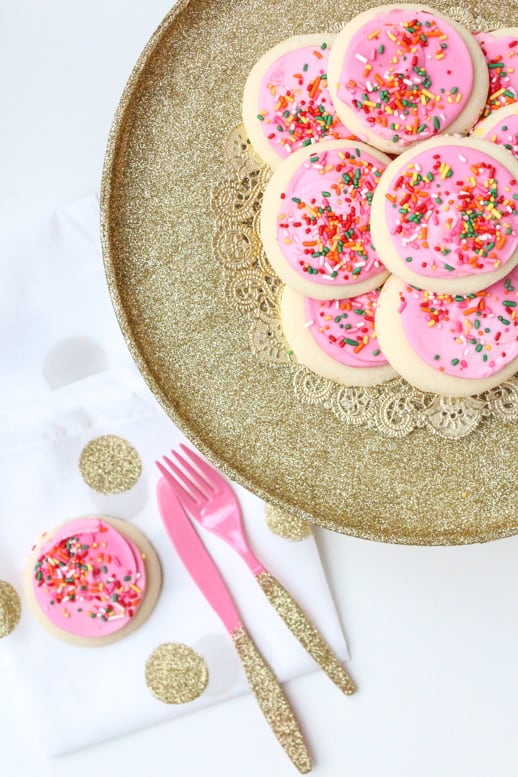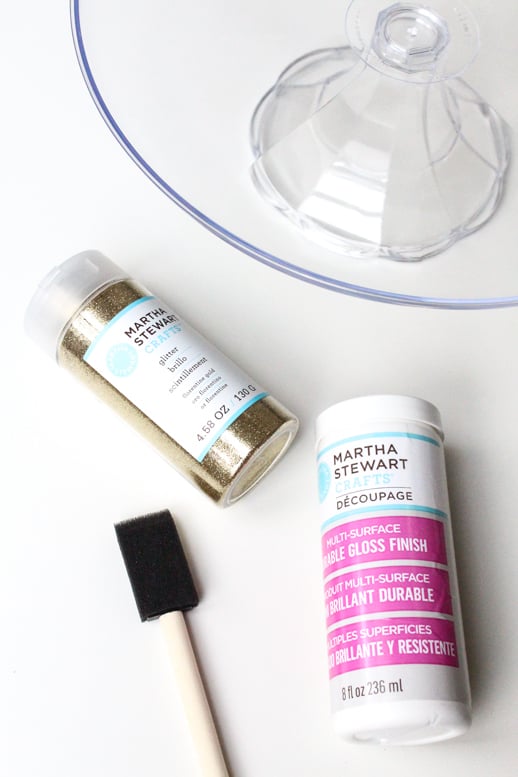 Martha Stewart high gloss decoupage – c/0
Martha Stewart fabric to fabric decoupage – c/0
Martha Stewart fine gold glitter (one 4.5 ounce bottle is plenty!)
Foam brush and foam pouncer
Cake stand (mine is just plastic party-ware)
Cloth napkins
Plastic tableware
The cake stand–
First, we'll make the cake stand. Spread a generous layer of the high gloss decoupage over the entire cake stand and then dust the entire thing with glitter. Depending on how large your stand is, you may have to do this in sections so that the decoupage doesn't dry too much for the glitter to stick.
Once you've done this, let the decoupage dry completely for about 1-2 hours (or a bit more if you used a lot, like I did). Next, very carefully seal the entire stand with another generous layer of high gloss decoupage and let it dry. It's best to dab the decoupage on so you don't brush away too much glitter. This layer of decoupage will seal the cake stand so that the glitter stays in place and you can still wipe it down with a cloth after using it.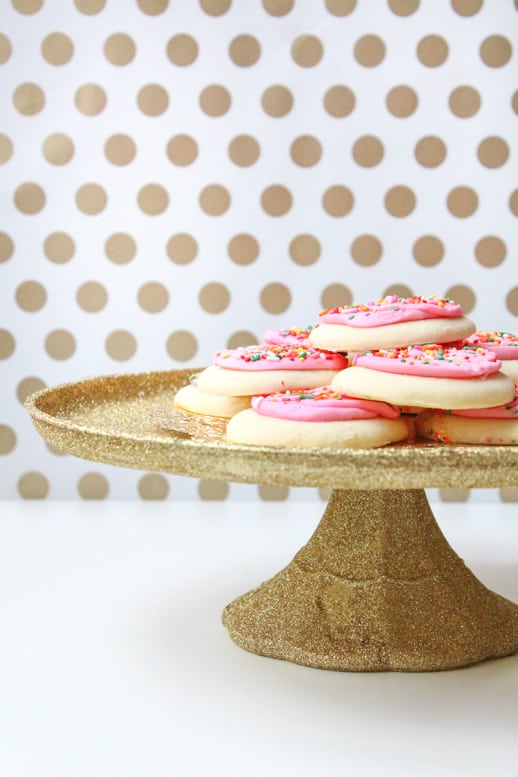 The polka dot glittered table linens–
Foam pouncers will become your best friend when it comes to making polka dots, seriously! To make the polka dot table linens, just dip the pouncer in the Martha Stewart fabric decoupage and then press and twist up on the your blank linens.
By making a little twist of the wrist, the polka dots will still be exact and the decoupage will blend in evenly on the surface.
While the decoupage is still wet, dust glitter over each dot and let it set. When everything is dry, you shake off the excess glitter (hopefully you keep the extra like I do!).
Take the same decoupage and dap over top of the glittered dots to seal everything. This will make the glitter not spread and will become waterproof.
The glittered utensils–
To make the glittered utensils, just follow the same steps that you did for the cake stand, but only apply glitter to the handles, not the actual part you would eat from (you say "duh", but someone will ask!).
Now, just add cookies and some edible glitter rimmed champagne flutes and you're all set for the cutest party ever! For those of you that want to be super cautious that your cake or cookies are still food safe after being ont he cake stand, just use a doily or cake board underneath your edibles.