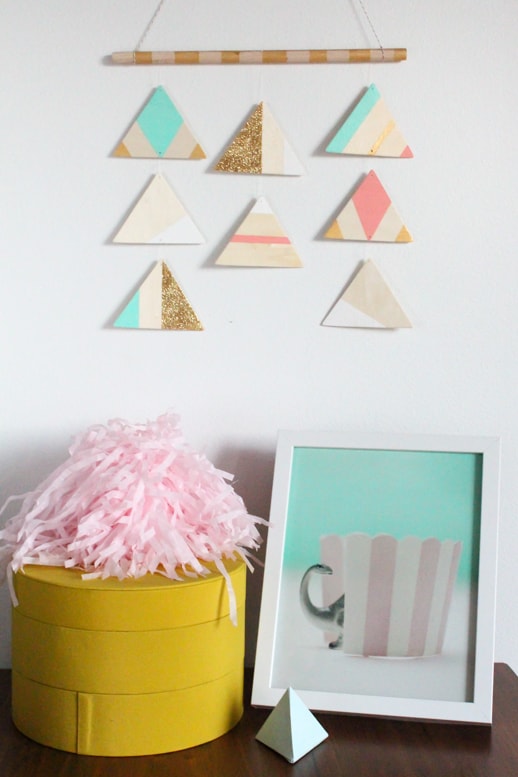 Before my mom passes out while reading the words "surprise baby shower", let me just clarify that this is not my surprise baby shower announcement. It's for Lexy, the talented lady (and one of the most captivating people you'll ever meet) behind The Proper Pinwheel. Seriously, this girl is a rockstar, and today I'm joining eight other talented bloggers* to give Lexy a little virtual baby shower since we can't all be there to celebrate together (aka eat cupcakes off of our bellies). Here's to you and your future baby girl, Lexy, all my love! —
I can't help but swoon over nurseries and children's rooms that have a twist of maturity to them. I'm all about some pastels, but mixing them with unfinished wood, graphic designs, and unexpected objects give the babes a bit more room to grow into their decor. I made this DIY hanging mobile so that it could easily be made into wall art for lots of spaces, not just nurseries, by mixing and matching colors and patterns. Here's how:
*see the rest of the projects for Lexy from other bloggers at the bottom of this post!
Materials:
Dowel rod (or twig!)
Unfinished wooden triangles
Paint
Painters tape
Twine
Foam brushes
Fishing wire
Drill + drill bit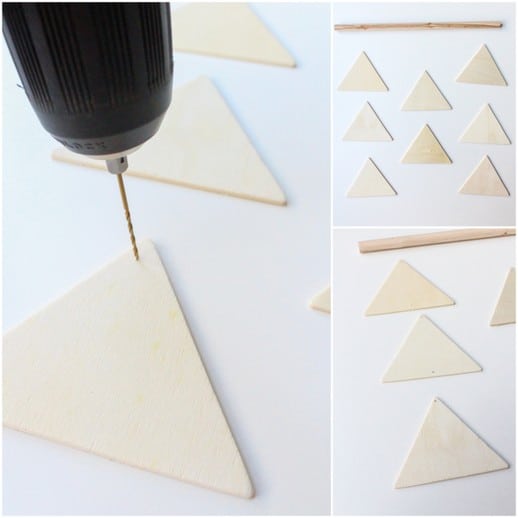 First, lay out the triangles and dowel rod how you'd like for them to hang in the finished product. Once you have them configured how you'd like them, drill hole in the tops of all of the triangles, and on the bottoms of all of them but the bottom row.
Tape off the designs for your triangles and paint them accordingly with craft paint and foam brushes. I even got a little frisky and dusted glitter onto some of the wet gold paint on mine.
Next, use the fishing wire to tie the triangles together and to hang each row on the dowel rod. Once all of your rows are tied on, knot once long strang of twine to each end of the rod to use as the hanger.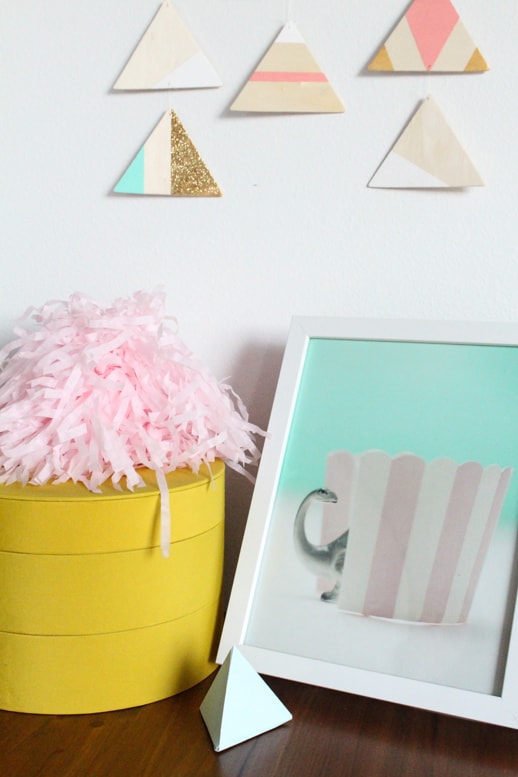 Depending on how you style it and the colors you choose, this mobile wall art can fit just about any setting.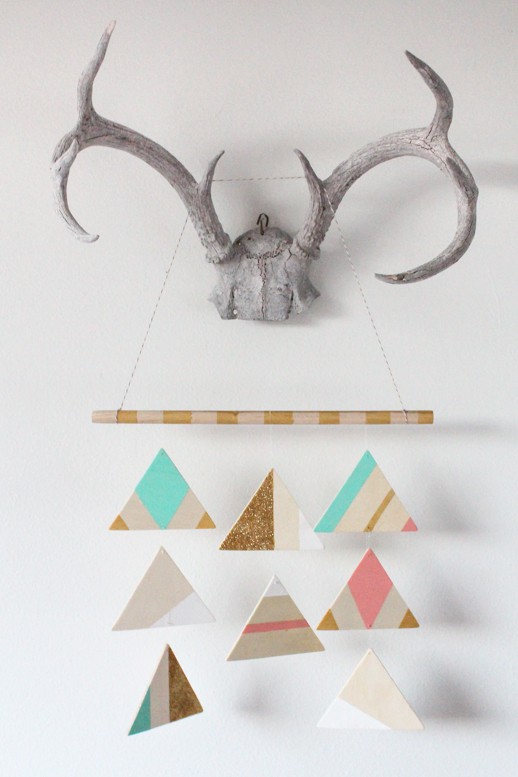 Kelly of Studio DIY // Brittni of Paper & Stitch // Chelsea of Lovely Indeed // Melanie of You are my Fave // Ashley of Sugar & Cloth // Melissa of The Faux Martha // Erin of Art Social // Lauren of A Fabulous Fete // Jenny of Hank & Hunt