If you're a long time reader of Sugar & Cloth, you may remember this post from last Christmas season  when I teamed up with Martha Stewart Living (see the feature here) for the first time to decorate my Christmas nook. We're back at it again this year, but now you'll get your DIY fix by seeing how I hosted a holiday craft party! You've gotten bits and pieces of the details through the week like the DIY santa hat stirrers and red currant champagne cocktail, but now you can see it altogether.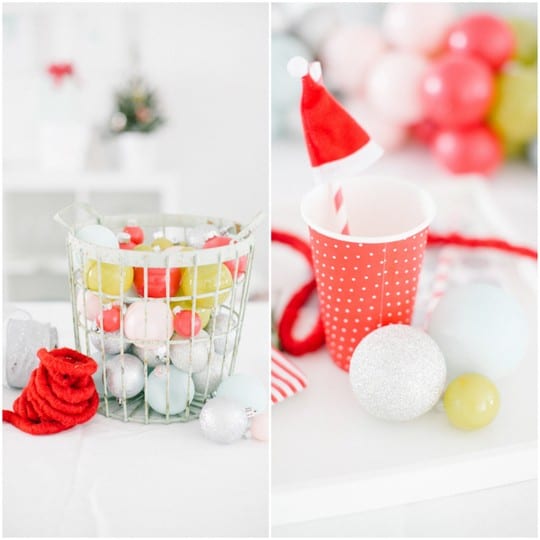 I love using vibrant colors mixed with a little sparkle here and there for the holidays. To make the color-block ornament garland pop, I used Martha Stewart Living paints from Home Depot in Sea Glass matte, Sultana satin, Ballet Slipper Pink matte, and Persimmon Red matte on plain bulbs. Then I tied in the Martha Stewart Holiday Frost collection by adding the touch of sparkle I was looking for with silver glittered bulbs.
I had everything painted and on display for guests to choose from to make the project simpler.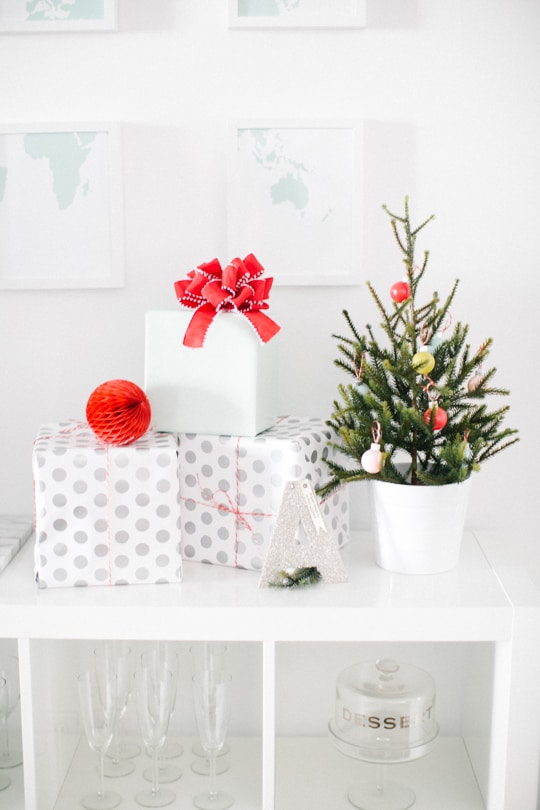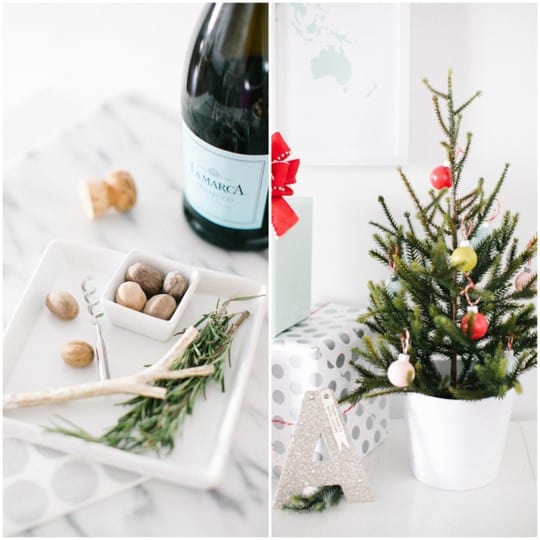 The cocktails and hors d' oeuvres made a perfect pair on my marble cutting board with a few twigs of rosemary for color. The honey pear and ricotta crostini recipe was so simple which is perfect for a low-stress party you can actually enjoy as a host.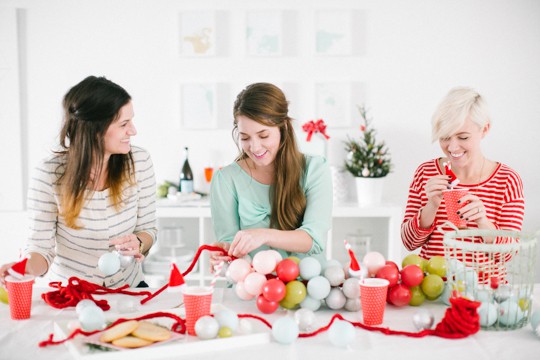 Also, we spent so much of the time laughing hysterically that Kim could barely snap photos of us looking normal, and by normal I mean something other than squinty eyes, tears of laughter, and trying not to spit out our red currant cocktails. You know, just the usual Sugar & Cloth party.
Check back tomorrow for the full tutorial on my take on the modern ornament garland! And seriously, how cute is my lovely friend Kari? She's an ornament garland pro, totally out shined all of us.
All photos by Kimberly Chau Photography, post sponsored by Martha Stewart Living
sources: santa hat stirrers, DIY // Martha Stewart Holiday Frost collection, ornaments // red champagne, cocktail via Martha Stewart Living // bulb paint colors by Martha Stewart Living at Home Depot // red polka dot cups, Ikea // silver polka dot wrapping paper, Hobby Lobby
All of the product featured in this post was provided by the Martha Stewart Living team to celebrate the 'Tis the Season of Doing holiday campaign going on now at The Home Depot.