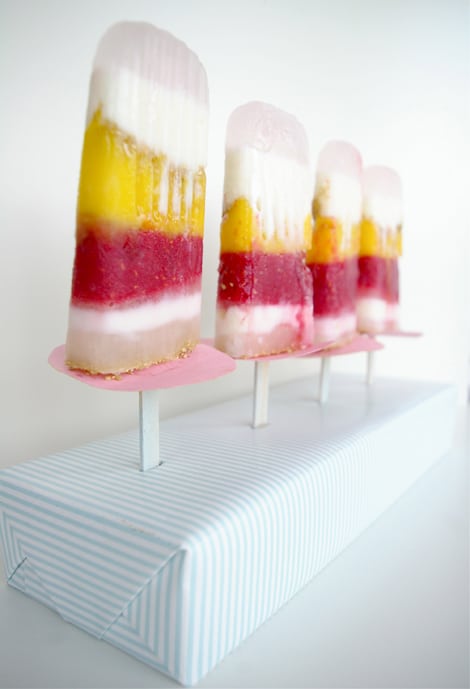 If you stopped by yesterday, then you may have noticed my DIY Striped Popsicle Stand for the staple snack of summer. It's surprisingly easy to make, and cutting out some drip catchers will keep it looking pretty! Also, you can make the stand as big or as small as you need it to be.


MY LATEST VIDEOS
Flower foam
Gift wrap
Scissors
Tape
Cardstock
Exacto knife

To make the stand–
1 | Wrap the foam in wrapping paper just like a gift, while leaving the sides a little long so that you can tape them on the bottom (seeing extra tape isn't pretty).
2 | Use your popsicle molds to determine where to cut slits into the foam to hold the popsicle sticks, and then use the Exacto knife to cut through.
3 | Stick the ends into the slits to make sure they fit, and you're ready for real popsicles!
To make the drip catchers–
1 | Use an object thats the same width as your popsicles and trace however many you need onto card stock, then cut them out.
2 | Use the Xacto knife to cut slits into the middle of the circles to make inserting the popsicles easier.
Optional: Add a little glitter to the bottoms of your drip catchers for a pop of sparkle!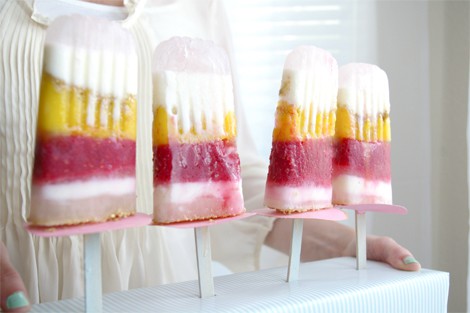 The best way to serve your popsicles is to go ahead and put them in the stand, and then insert it into your freezer so that you're armed and ready when your guests are!
Check out these other awesome posts!