I'm a big believer in the phrase "feeling good, is looking good". After all, beauty is in the eye of the beholder, and you're never going to please everyone. So instead of chasing trends that just aren't for us, exhausting ourselves dieting, and beating ourselves up, I'm all about conquering the little things here and there to conquer with easy self-care tips for feeling confident in yourself.
Am I back to my pre-baby body? Hells no. I earned my baby weight in the form of all the glorious cookies for 41 weeks, ha! Do I go to the spa all the time? Only in my dreams. Do I spend a ton of money on clothing? I would say no, but my husband may beg to differ. My point here is that sometimes we just gotta work with what we got.
I'm super excited to be teaming up with Pantene (hello, good hair days!) for this one because they're all about sharing the message that feeling good makes all the difference in your daily life, which I LOVE.
Specifically, we're talking about my new favorite shampoo and conditioner collection for detoxing your hair with activated charcoal so that you can really milk the timing in between washes a little longer. Basically, that means I can have less greasy hair in between my several days between washes (This is a judgment-free zone, right?). It's my life's dream, haha! We'll chat more on that further down.
Whether you gave birth, adopted, are fostering, or anything in between, when you're in the thick of the infant stages, you need some tried and true confidence boosters…
My Easy Self-Care Tips for Feeling Confident in Yourself (Especially After Baby)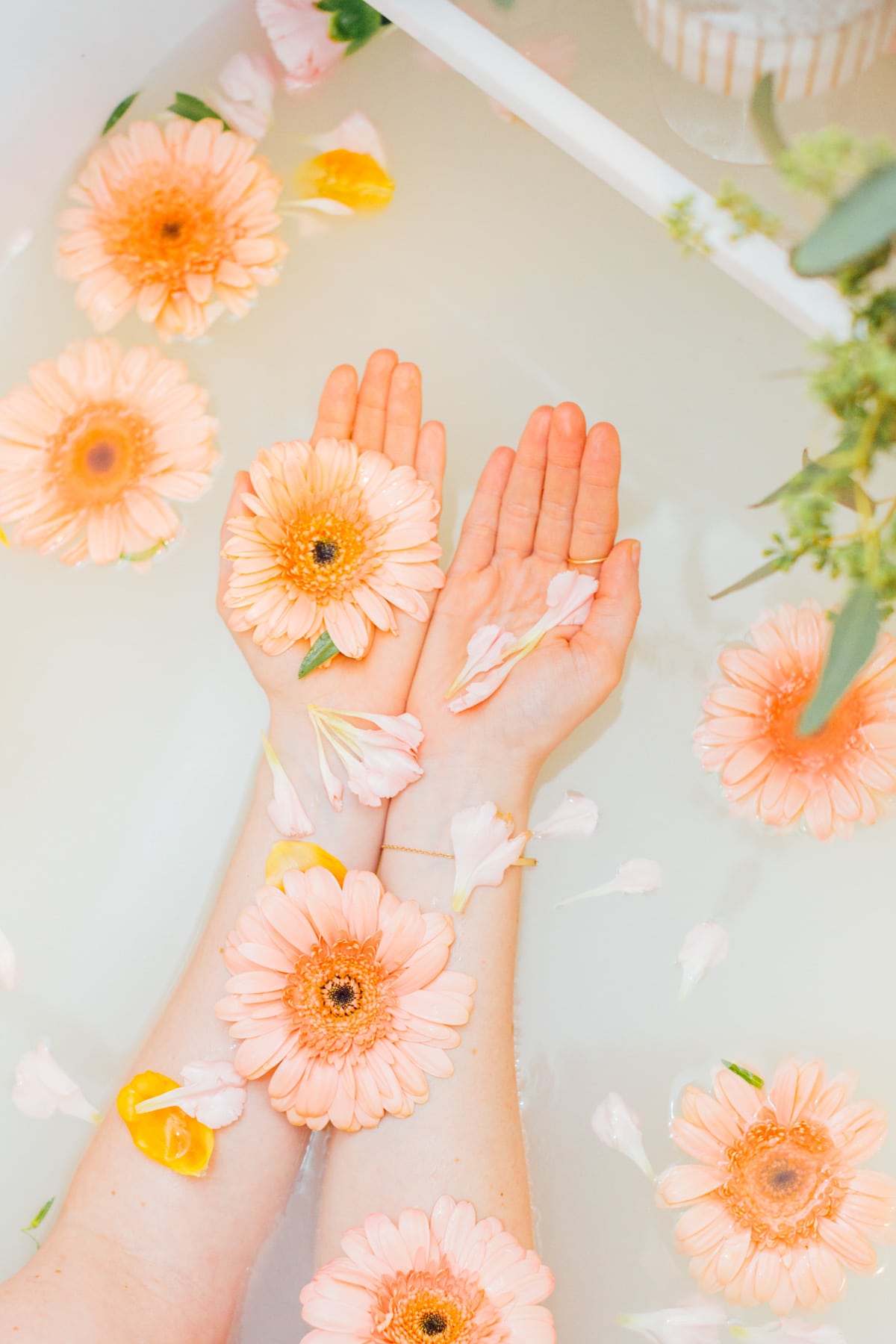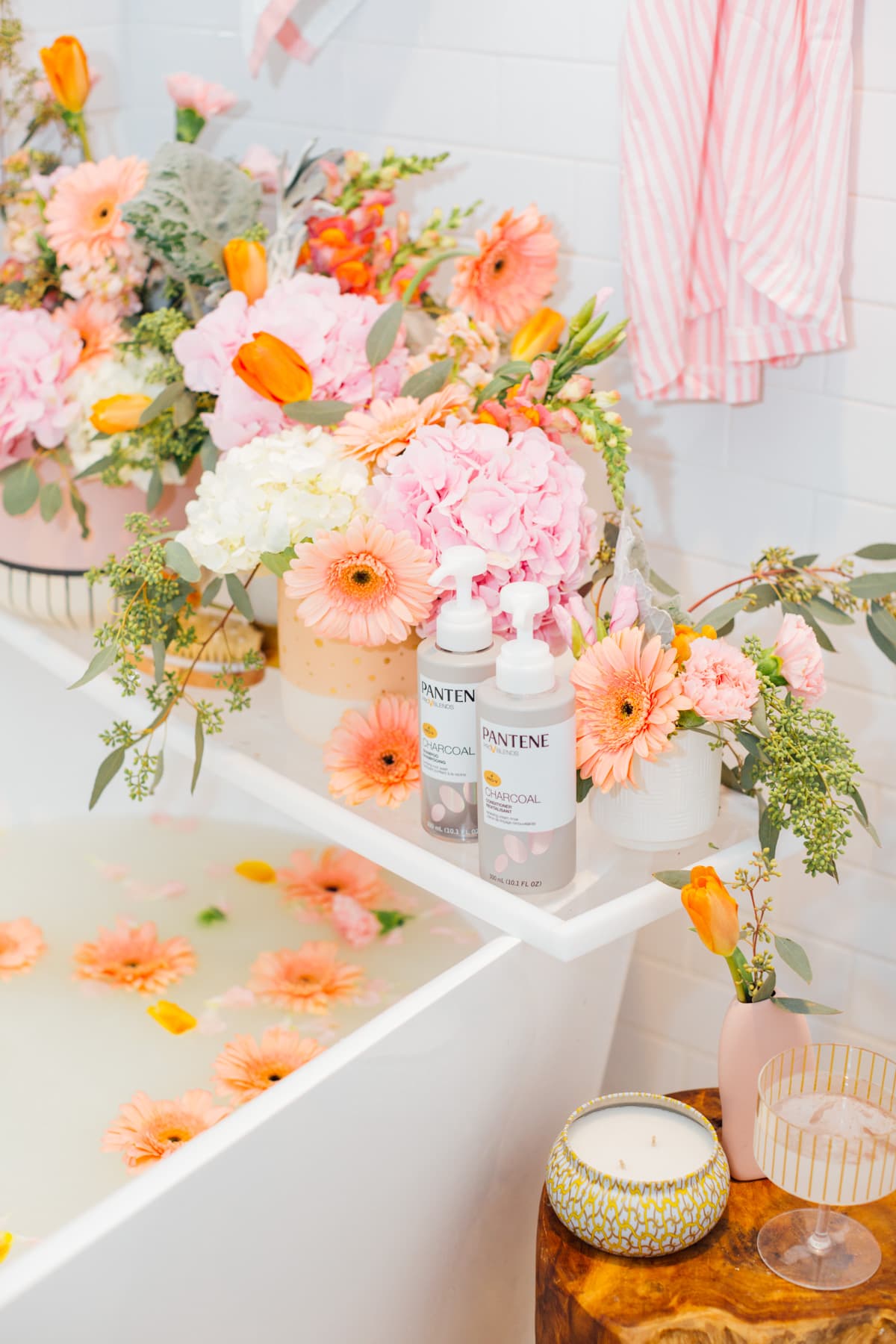 SET A NEW STANDARD | TIPS FOR FEELING CONFIDENT AFTER BABY
Let's be real, there are A LOT of things that are not the same as they were before. Lol to that being the understatement of the century, but moving on!
There's a lot to be said for giving yourself grace. I've found that holding myself to a realistic standard in really simple ways is crazy helpful.
For instance, if you used to put on a full face of makeup, heels, and your favorite mini skirt every morning before baby, it's not realistic to expect the same of yourself after baby when you're busy keeping a small human alive and well, too.
Instead, I give myself a new mental standard of saying "Okay, I'm going to be sure to put mascara and concealer on X number of mornings, even if I don't leave the house."
Not only is it good for getting yourself out of a slump, but then on the days that you really go all out, you can think to yourself "HOT DIGGITY I nailed today!" instead of thinking "I'm always falling short".
STAYING CLEAN | TIPS FOR FEELING CONFIDENT AFTER BABY
Staying clean — this may sound like a given, but trust me, once you have an infant, you realize that squeezing in a shower before you involuntary fall asleep somewhere at the end of the day is easier said than done. That said, never underestimate the power of feeling squeaky clean even if that means letting your hair air dry and putting fresh PJ's back on.
This is where my new love of the Pantene Charcoal Collection Shampoo and Conditioner comes into play because it's awesome for people with an oily scalp so that you can really hit the reset button (and save on double the dry shampoo in my case, ha!) so it stays cleaner in between washes. AKA the perfect new parent tool for your box of confidence tricks! Snag both for 20% off to try it out with "20PNTCHARC" until the end of October right here!
Plus they're free of all of the parabens and bad things while still being purifying and nutrient-infused with activated charcoal, pro-vitamin B5 and antioxidants. I could go on because I just seriously love it so much, especially when the Houston humidity is my worst enemy when it comes to instantly greasy hair, but enough about my scalp problems.
WEAR WHAT YOU LOVE | TIPS FOR FEELING CONFIDENT AFTER BABY
I stopped wearing things I didn't feel really good in: You know how sometimes you see trends and think "Oh my gosh, so cute!" And then you try them on yourself and feel like a lobster trying to make high heels look cute? Well, I've totally nixed any of that "trying to make it work" stuff when it comes to my wardrobe.
While I may not own everything that's super stylish, I do try and ask myself "do I feel confident wearing this for whatever comes my way today?" before I walk out of the house in it. That doesn't mean you have to dress like you're headed to an awards show either.
For instance, some days I ask myself that question and all that's on the agenda is paint touch-ups at the studio, so I dress accordingly for that while still making sure I don't want to hide in a corner if someone says "hi" while I'm out and about.
I still have PLENTY of my rachet gym clothes days, but when it comes to getting up and getting ready, it's a sure fire way to feel good in your skin.
BRONZED GODDESS | TIPS FOR FEELING CONFIDENT AFTER BABY
This may or may not apply to you, but never underestimate the power of a little bronzer (I love this one!) to make you feel alive after a long a night with the baby.
MINIMIZE YOUR ROUTINE | TIPS FOR FEELING CONFIDENT AFTER BABY
I MAJORLY minimized my getting ready routines after having Gwen. I kid you not, I can put my entire "face on" and style my hair in under 15 mintues flat now (if you're interested in seeing those routines, let me know!).
I love a good "night out" look here and there, but that's just not realistic for me on a regular basis. I'm definitely in the "your everyday gal" category when it comes to that.
Not to beat a dead horse, but minimizing the work in my routine is definitely where the Pantene Charcoal Collection Shampoo and Conditioner becomes my BFF. It's perfect for getting away with just a quick hair wand touch ups several days in between washes, just saying!
TAKE A CHANCE ON YOURSELF | TIPS FOR FEELING CONFIDENT AFTER BABY
Sometimes we definitely put ourselves on the back burner and don't want to spend the money on ourselves for a mani/pedi, an afternoon massage, or even a face mask to use at home after the kiddos are asleep.
I've found that if I schedule or buy it in advance, that it forces me to follow through so that I don't feel like I was wasting my family's hard-earned money. I have to say, I never regret it in the end!
CLOTHES THAT FIT WELL | TIPS FOR FEELING CONFIDENT AFTER BABY
My friends, the days of buying clothes online that magically fit perfectly are loooong behind me. I've got some lumps in weird places these days, and I'm just being honest.
Do I still buy online? For sure…like literally everything, haha! I just don't flinch an eye at sizing up and buying what I know flatters my body type instead of what I want to fit *someday*. I know you know what I'm talking about! ;)
There's no worse feeling than being in a hurry to get somewhere, a baby crying in the background, and you're racing the clock on naptime all while not being able to find something that fits or feels good.
Take the time to purge the "meh" things and keep a small section of tried and true "you" things lined up instead.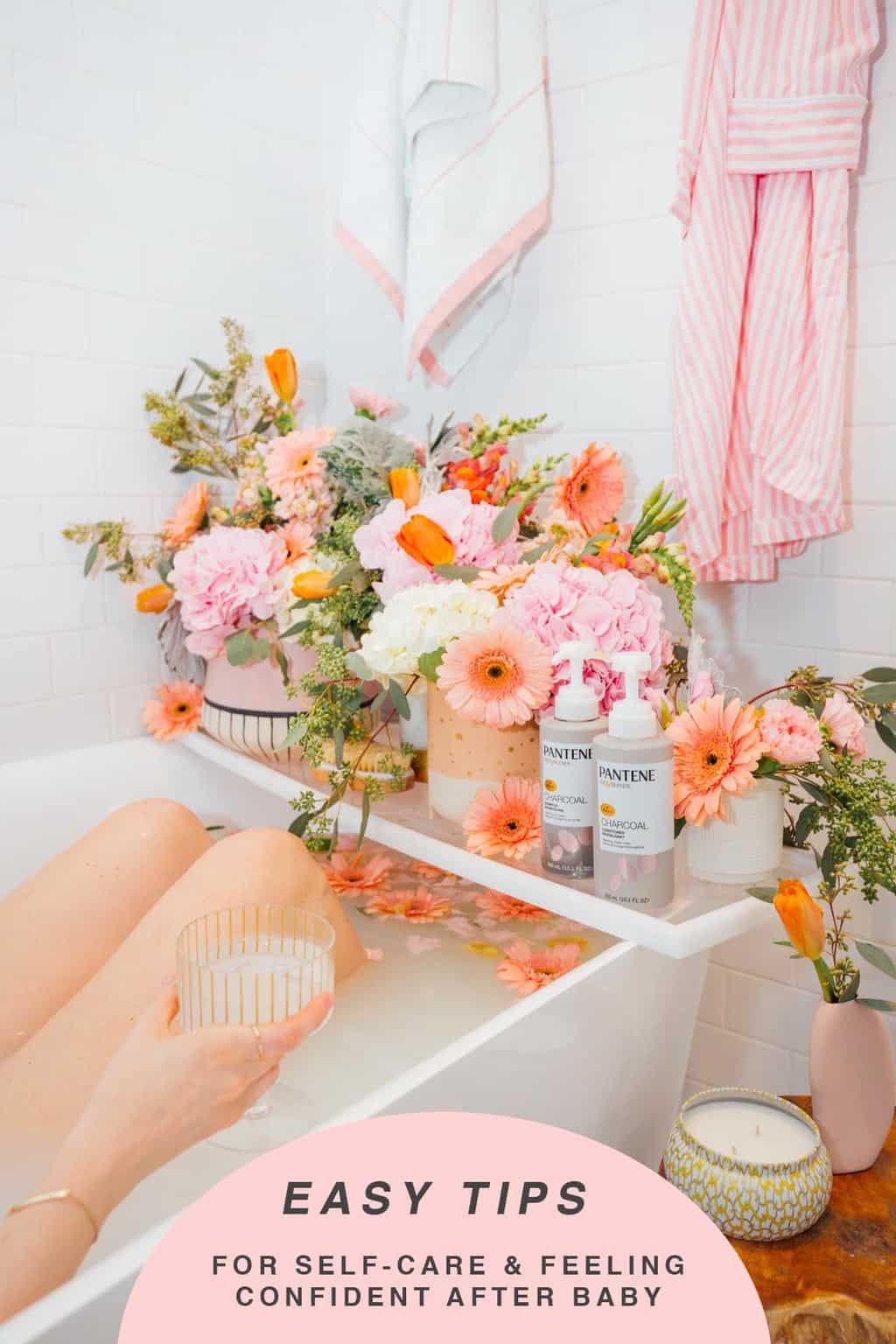 This is a sponsored conversation written by me on behalf of Pantene. The opinions and text are all mine. Sugar & Cloth has chosen to donate 5% of all sponsored campaigns to charity, which you can read more about right here.