photos and recipe by Nanette of Cultural Chromatics
Nothing like Valentine's Day to have an excuse to decorate with lots of little hearts and eat loads of chocolate. And that pretty much sums up this dessert. These easy, no-bake dark chocolate pot de cremes are the perfect dessert for Valentine's Day, whether it's with your sweetheart or your best friends. And if you're looking for something a little more 'adult', you can add a few tablespoons of Bailey's to spice things up.
Ingredients:
5 oz dark chocolate, chopped
3/4 cup whole milk
1/2 cup heavy whipping cream
3 egg yolks
2 tbsp sugar (add more or less depending on how dark your chocolate is)
1/8 tsp salt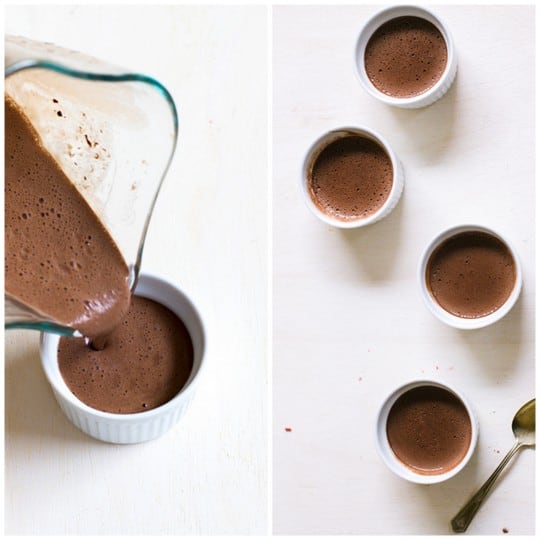 Put the chopped, dark chocolate into a blender. If you want to spike your pot de creme, add the Bailey's in with the chocolate. Whisk the egg yolks, milk, cream, sugar, and salt together in a small saucepan. Gently heat, whisking the whole time, until the mixture thickens enough to coat a spoon, which should take about 5-6 minutes.
Make sure to keep whisking and keep an eye on the milk mixture– you don't want to overcook it so the egg becomes a scramble! Once it's thickened, pour it over the chocolate and blend until all the chocolate is melted. Pour into ramekins and refrigerate for about 2-4 hours until
it's solid. Top with whipped cream and enjoy!