photos and recipe post contributed by Nanette Wong of Cultural Chromatics
Nothing screams holidays more than gingerbread. While everyone's busy crafting their adorable and candy-filled gingerbread houses, I've been dreaming of a rich, most, flavorful gingerbread. And to be perfectly honest, gingerbread just screams to be paired with stout. Even though I'm not a beer connoisseur, something about stout and gingerbread just fits together, like hot chocolate and marshmallows… and this mini stout gingerbread cake recipe.
This recipe is a little more detailed than usual, but trust me, it's worth the few extra steps!
Ingredients:
1 cup sugar
1 stick butter
1 cup stout
3/4 cup molasses
2 large eggs
2 cups flour
2 tsp baking soda
2 tbsp cinnamon
3/4 tbsp ground ginger
1/4 tsp nutmeg, 1/8 tsp cardamom (these are optional)
1/2 tsp salt
1/4 cup chilled whipping cream
1 tbsp molasses
1 8 oz pack cream cheese
1/3 cup butter, softened
1 1/2 tsp vanilla extract
1 1/2 cups powdered sugar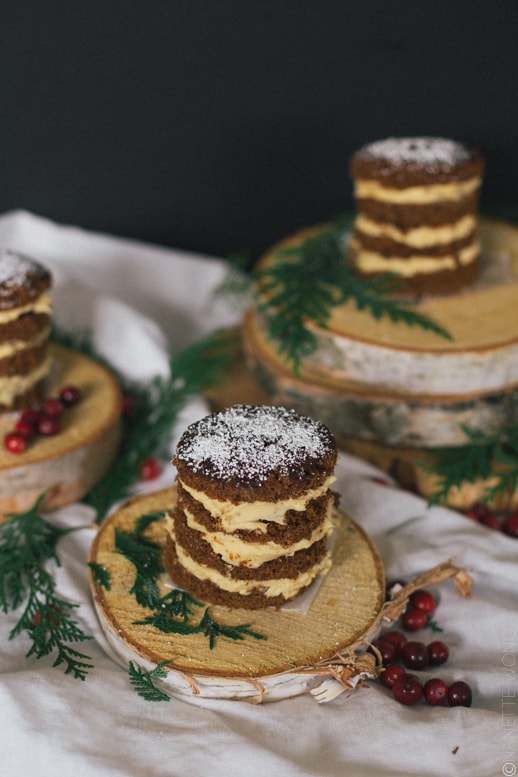 First, preheat the oven to 350 degrees F. In a small saucepan, bring the molasses and stout to a boil. Once it boils, turn off the heat and add in the baking soda. Let sit until it stops foaming.
In a large bowl, beat the sugar and butter until blended. Beat in the eggs, 1 at a time. In a separate bowl, sift together the flour, salt, and the spices. Slowly add the flour to the eggs, mixing the whole time.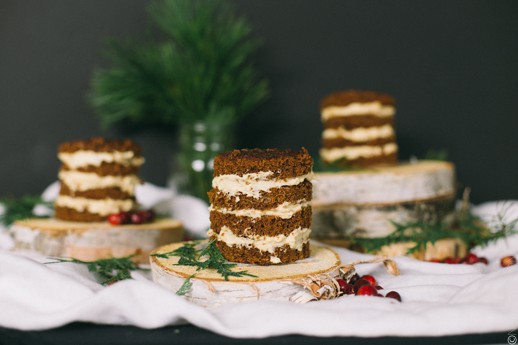 Finally, mix in the cream, then add in the stout and molasses. Pour in a 13″x9″ cake pan for 40-45 minutes.
While the cake is baking, whip up some frosting! Simply mix together the cream cheese, molasses, butter, vanilla, and powdered sugar until well blended. You can make mini cakes like here simply by using round biscuit cutters to cut out the layers and spreading frosting in between.