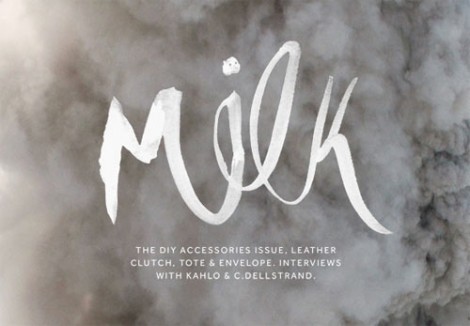 It's pretty apparent by now that Sugar & Cloth is a DIY driven blog. From ballet flats to lamps, you can make a pretty huge variety of things from the tutorials on this blog. So, it comes as no surprise that I would love the hype behind the DIY high fashion app, MILK.
MILK was created by a 21-year old designer, Natasha, from New Zealand. The application (specifically for tablets) features six to nine new and easy-to-follow tutorials ranging in cost and time required in every issue. Um, awesome! So far her featured projects range from a DIY iPad case to leathers totes, with a few lifestyle recipes mixed in.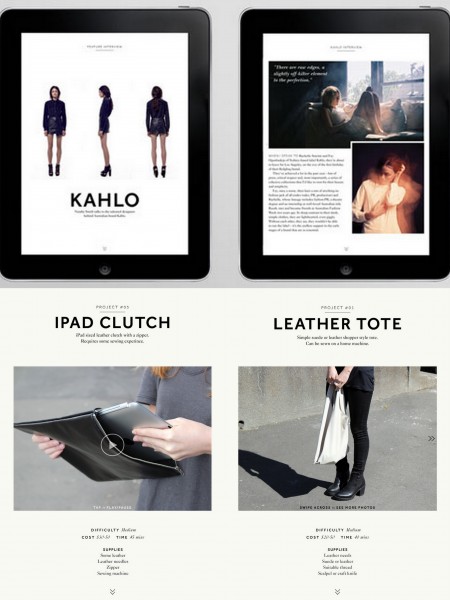 Here's an excerpt from her article in Mag+:
Tell us a about your idea?

MILK actually started as my honors level project at university, I was researching the disposible nature of fashion today, and I came across DIY fashion tutorials and their popularity among fashion blogs. However I noticed there were no go to resources or publications, especially those which took cues from high fashion, as the DIY aesthetic is mostly rooted in handicraft. So MILK was born, and I decided it would be a great way to create a publication with a stronger emphasis on design. I chose to feature 6-9 DIY projects an issue which looked at latest street style trends and translated them into easy tutorials. Plus, create feature interviews and work by other bloggers and crafters who were interested in the fashion and DIY.
You can find more of Natasha on Milk & Mead!