I've been seeing colors, abstract shapes, and all kinds of twists on the modern mirror lately. Since moving into my own place, I've found that it's my favorite way to add a little character to a room.
Plus, Ashley taught me that adding a mirror to a space can make it seem significantly larger. That's never a bad thing, especially when you happen to live in "one bedroom" (ahem, studio) like me, Kayla.
To spread the love, we hunted down some of the best modern statement wall mirrors floating around, and we think you'll be pleasantly surprised to find so many unique options. We've got a little of everything at every price point…

1. This circle mirror is pretty much everywhere because it's such a good price! It's the one Ashley used in her guest bedroom (pictured above.)
2. Jared & Ashley kept seeing this colorful guy while traveling and were super excited to find it on LuisaViaRoma.
3. Loving this prism one.
4. Another colorful find!
5. Super into the idea of an asymmetrical mirror.
6. All gold mirrors are starting to pop up every (we even used one for this DIY!), but this is the prettiest and least expensive one I've seen!
7. For those of you who prefer a geometric look.
8. Everyone needs a blue mirror, right?
9. I like how simple this wood frame mirror is.
10. This pink one is super soft and feminine.
11. How cool is this mirror that sits in a shelf?
12. Simple and rectangle. I like this one a lot.
13. Couldn't leave out a token hexagon option!
14. This is perfect for a bathroom or hallway.
15. A cool teardrop shaped mirror.
16. Another shelf/mirror that'd be perfect in an entryway!
17. Pink ladies, unite.
18. The blue on this mirror gives it a really cool vibe.
19. I need this beveled cutie.
20. Love the idea of this mirror with hooks in my home.
I think my favorite part of this post is that once I started shopping, I couldn't stop noticing how many of the designers were shops Ashley mentioned after visiting Scandinavia. Did you spot one that you especially like? What do you think of the colored mirror trend? I'm dying to give it a try.
PS: If you love the look of modern statement wall mirrors, I really love these DIY color block mirrors that our girl, Brittni, whipped up!…
Kayla Haykin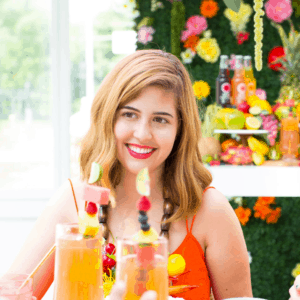 Besides being the operations and marketing manager for Sugar & Cloth, Kayla Haykin also dabbles in online shopping – a job she finds very important.
You can find her around the studio sourcing inspiration for the next big trends and Sugar & Cloth favorites..