photos by Jared Smith
I am by NO means a fitness guru. I even added the "semi" and "ish" to this post title to reiterate that I'm not one of those people that spends a lot of time each week slaving in the gym (clearly, ha!), or skipping out on dessert or brunch dates to stick to a die hard diet. That said, I also wasn't blessed with a naturally fast metabolism either (it's cool Mom and Dad, I'm totally not super, duper bitter…still), so to help keep things in moderation, I'm sharing my tips for keeping semi active and healthy.
Since I don't have designated times or days for working out, I try to keep moving throughout the week with little measures here and there. I'm not sure how many of you use Jawbone or a fitness tracker, but since I spend A LOT of time on the computer writing posts and returning emails, it's been a saving grace at keeping me motivated to get up and take walking breaks. If you do have a Jawbone, be sure to link up with me so we can be teammates!…
-Tip 1-
An Activity Tracker
I actually just switched to a Jawbone UP3 from a different fitness tracker because A) my new band is white and gold (so naturally I would need one!), and B) because most of my friends and family have Jawbone specifically and I wanted to be able to sync with them! It's by FAR the cutest fitness band in my opinion, and you know anything with gold on it totally fits my style (and also happens to match the blog and studio, ha!).
You can find me under hello(at)sugarandcloth.com if you search by email! My goal is 70,000 steps a week, which is on average 10,000 a day, but some days make up for others. Since I just switched to Jawbone, it doesn't show the history from my old band, so I'm starting new!
I also like that it tracks my sleep without me having to do any steps before bed for it to know to go into sleep mode, which my last one didn't. Not to mention the battery life is about 1,000 TIMES better than my old one, which is worth it alone!
You can even setup reminders for it to nudge you when you it's time to go on a walk break, go to sleep, or eat an afternoon snack to skip the lull, but I haven't delved to much into those yet, so maybe you can give me tips there!
-Tip 2-
A Food Log
The second, thing I always do (even when it sucks to know!), is log what I eat into MyFitnessPal. I have it set to sync my steps from the Jawbone UP3 app, but I've been using it so long that I'm more used to it than I am to tracking calories directly from the Jawbone app, so I keep it around.
It's awesome for being able to look things up on the go, since most restaurants and food items are already in the food bank, all you have to do is search to pull them up and log them. A lot of times I think I should be on track, but once I load everything in I realize that I'm actually cutting it WAY to close to daily calories! It's perfect for keeping weight loss or weight management goals.
I've toyed with the idea of getting the Withings Smart Scale in order to sync all three together to automatically log my weight to stay on goal, but I'm a little nervous to, haha! Do any of you have this?! I'd love to know what you think! Part of me wants to know, but then part of me wants to just enjoy my cheat days without the guilt the next time I check it.
-Tip 3-
Plan Meals in Advance
If I don't actively make sure that I'm keeping healthy foods around, or planning calories around days/events that I'll be eating more calories, than I won't stay on track. For instance, if we're shooting a cake recipe for the blog, I know that I HAVE to cut some things out the rest of the day, which means bye, bye afternoon coffee or frozen yogurt after dinner.
This also means taking my lunch to the studio so we don't eat in the cafe downstairs everyday (or hello, Chik-fil-a, haha). It's more work at the grocery store and the evenings before, but it's worth it for staying on track and feeling more confident.
-Tip 4-
A Cute Water Bottle
To be honest, I'm terrible at remembering to drink enough water. I don't drink sodas, but I can put down some coconut soda water and iced coffee like no one's business! You can set a reminder on your Jawbone to drink more water if you want, but I've found that if I keep a cute water bottle (with a straw, no idea why that makes such a difference!) around, then I'm twenty times more likely to consume more throughout the day.
All in all in really makes a huge difference with water weight for me, so I've now started making sure this is at the top of my to-do list.
-Tip 5-
Don't Skimp Out on Good Vitamins
My Mom and Dad are really into holistic health, and I always kind of disregarded a lot of it until the last few years. I don't know if it's getting older, or the stress of work/life, but I tend to get sick easier now than I ever have, so I splurge on a good multi-vitamin, probiotic, and fish oil flavored liquids that I take routinely every day.
It makes a huge difference on my overall mood and energy level, which helps put everything else in sync, too.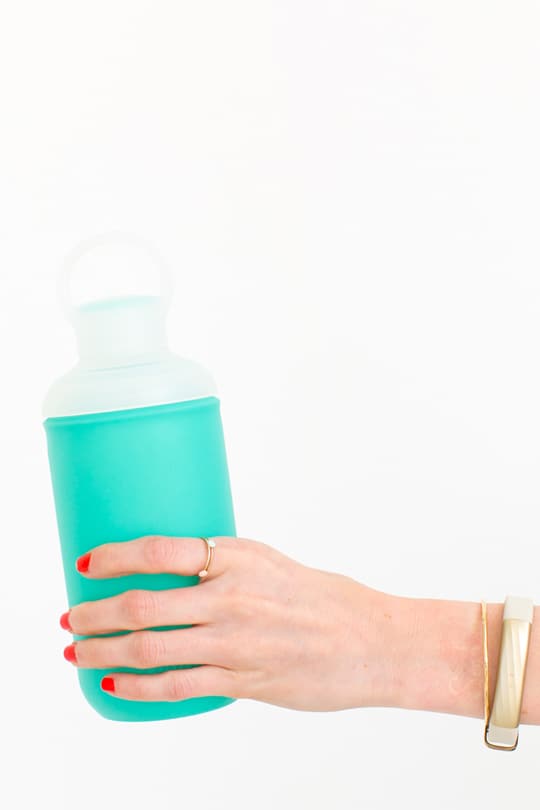 Do any of you do the Seven Minute Workout, by chance? I've been doing that a lot lately too, which makes me feel like I'm targeting muscles and not just walking, but it doesn't require a trip to the gym either!
I'd love to hear some of your tips and tricks too, and be sure to sync up your Jawbone with mine so we can be teammates!
This post is made possible by Jawbone. Thank you for supporting the brands we love that keep bigger and better DIY's, and even sweeter sweets coming straight to your inbox!