We're finally back in town after SXSW and our Chicago trip, and we're excited about the weather finally feeling like Spring. Not that we really need any reason to wear pastels, but it's always nice when we have an excuse to switch up our wardrobe "because of the season". Plus, the arrival of Spring means a few months of bearable outdoor weather, which is a real treat here in Houston!
I, Kayla, have rounded up a few of our favorite finds to add a little color to your wardrobe for the season change…
Such a sucker for a good blue and white stripe ensemble.
This t-shirt is the perfect fit, and comes in all of my favorite colors! I already snagged it in a white, and a yellow.
Prettttty into these shoes!
Ash & Jared got me this blush backpack for my birthday, and I'm obsessed with it!
Ban.do just dropped a bunch of new bags & this clutch is one of our faves!
Cutest dress for special occasions!
My idea of a good crop top.
Not sure if I can pull off these blue trousers, but I'm definitely going to try.
I want this dress so bad!
Other Stories always kills it. This off the shoulder top is my new favorite!
P.S. I always think of this clip from Miss Congeniality during this time of year. Anyone else with me?
Kayla Haykin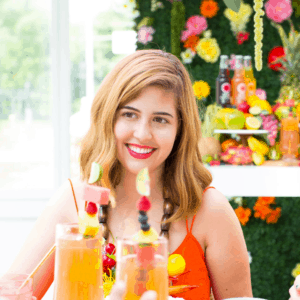 Besides being the operations and marketing manager for Sugar & Cloth, Kayla Haykin also dabbles in online shopping – a job she finds very important.
You can find her around the studio sourcing inspiration for the next big trends and Sugar & Cloth favorites..