I've always been a small earrings kind of girl, but lately, I've started getting a wild flair. My Pinterest has been all over the fun and abstract jewelry game for a while now, and it's making me see things differently! Don't get me wrong, I'm still partial to my favorite pair of tiny gold bars, but I'm also all about getting out of my comfort zone. After all, I'm still the same girl who covered her head in polka dots, stopped traffic in Boston, and added pom poms to everything she owns…
Naturally, I asked my favorite personal shopper, Kayla, to scour (and model!) our favorite places for cool and quirky statement earrings, but still just the right amount of gold. Anyone else with me on team statement earring?!..

Everyone needs a pair of these pink pom poms.
These pearls are a touch of classy with a little bit of sassy! (see what I did there?!)
Marble, always.
Loving these abstract ovals.
These pill shaped earrings would go perfectly with the gold pill box I just got.
Emily Green, an earring genius.
A touch of mint is always a good idea..
How pretty are these hanging bars?
Very cool gold disc earrings.
Already bought these geometric hoops!
Into these pink and gold cuties.
Fan-girling over these rectangle studs.
Also really like those pink studs!
Starburst earrings, yes please.
I may or may not be a complete earring addict – but I do think I NEED all of these. Am I the only one?
SaveSave
Kayla Haykin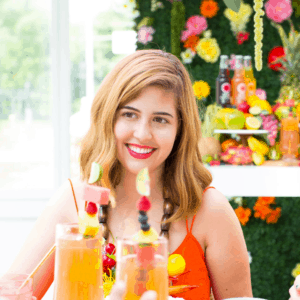 Besides being the operations and marketing manager for Sugar & Cloth, Kayla Haykin also dabbles in online shopping – a job she finds very important.
You can find her around the studio sourcing inspiration for the next big trends and Sugar & Cloth favorites..