Correct me if I'm wrong, but I feel like summer essentials are just one of those things that change every year. I almost never wear the same bathing suit two years in a row, and my beach bag almost always looks like it's been through a tsunami at the end of just one season, let alone trying to make it through two. Granted, this could have something to do with my getting bored easily, but it is what it is.
Am I the only one that trades everything out each year? Please say you do too so that I feel a little less shamed. Nonetheless, this my current summer wish list. Also I should add that my summer wish lists never actually fully purchased (if at all) so don't think of me as too fancy, we're just wishing here.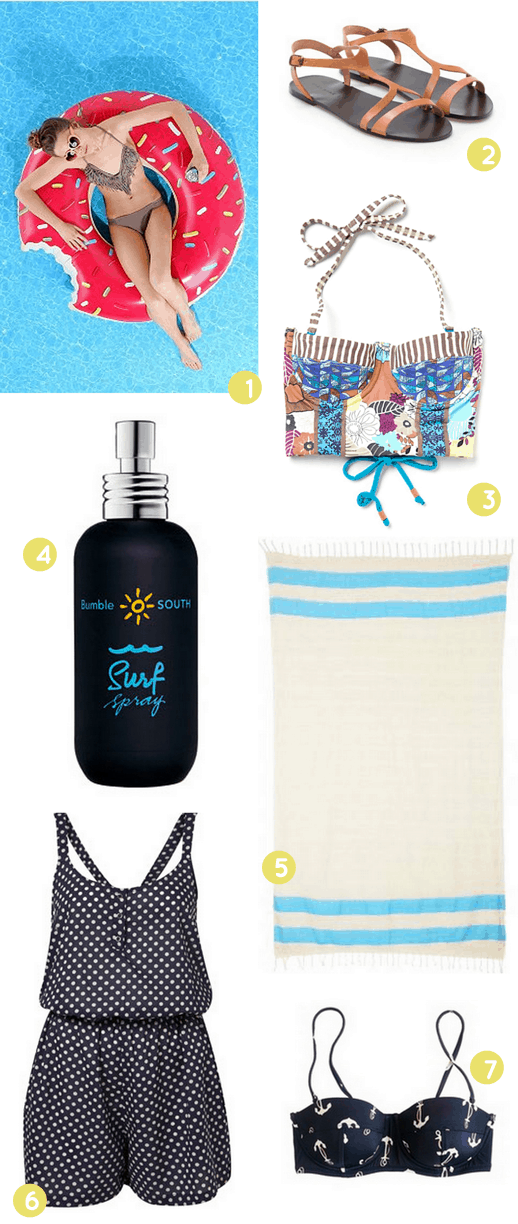 P.s.- My little summer secret is to buy multiple tops to mix and match with basic bottoms, which makes it easy to switch it up without the extra cost. Do you have any summer essential secrets of your own to share?
1 Urban Outfitters donut pool float, $18 // 2 Zara women's leather sandals, $59 // 3 Anthro maajii bikini top, $65 // 4 Bumble & Bumble surf spray // 5 Latitude blue striped beach towel, $45 // 6 Topshop polka dot strappy cover up // 7 J. Crew anchor bikini top, $54
Check out these other awesome posts!