As long as you aren't living under a rock, you probably noticed (based on my clear excitement over on IG) that we celebrated Jared & I's nuptials a few weeks back. Not even rocks can hide from this excitement, which about sums it up. While I can't share the wedding or my bachelorette photos just yet, I'm super excited to spill allll the details soon In the meantime, I thought I'd share our essentials for a perfect bachelorette weekend on account of I'm headed to Nashville for Caitlin's celebration this weekend too!
Basically there's enough Smith family wedding action going on to keep 52 weekends booked solid, and I'm not mad about it. Plus I've never been to Nashville for longer than 24 hours, so I'm excited to explore it a little. I'm also getting to squeeze in a short slumber party with Pizzazzerie, and 3 day reunion with Kayla and Brittni in Chattagnooga. They have THE cutest hotel there that we're staying in, so keep an eye out for it.
In the meantime, here are some bachelorette deets…

For my party, we all piled into the car, and drove a couple of hours to stay at The Wilde House just outside of Dallas in the cutest little town, Ben Wheeler! It was the perfect place to play inappropriate games, eat too much candy, and attempt some post hangover (or as I like to call it "feeling delicate") yoga.
Each guest arrived to the house and found a gift box filled with the Essentials for a perfect bachelorette weekend on their bed. The world's cutest flask, matching sweatshirts, and cotton candy were an obvious must!…
Matching sweatshirts, duh. We love these ones because they are cute but also have an awesome cause behind them!
Candy from Sugarfina.
Flowers everywhere! These CB2 vases are our favorite to get the job done.
Peek a boo clutches for all.
These coupes were pretty necessary for the weekend..
How cute is this Wary Meyers soap?
Maybe the cutest flask ever.
Custom Minted stamps designed by my main squeezes.
This tray was perfect for our spa night.
Morning after pill box for those who are feeling a bit "delicate." (AKA, hungover.)
Prettiest nail colors!
Cotton candy is a must.
Artifact Skin Co has the prettiest goodies!
A letter board for innuendos, lyrics, and funny quotes all weekend.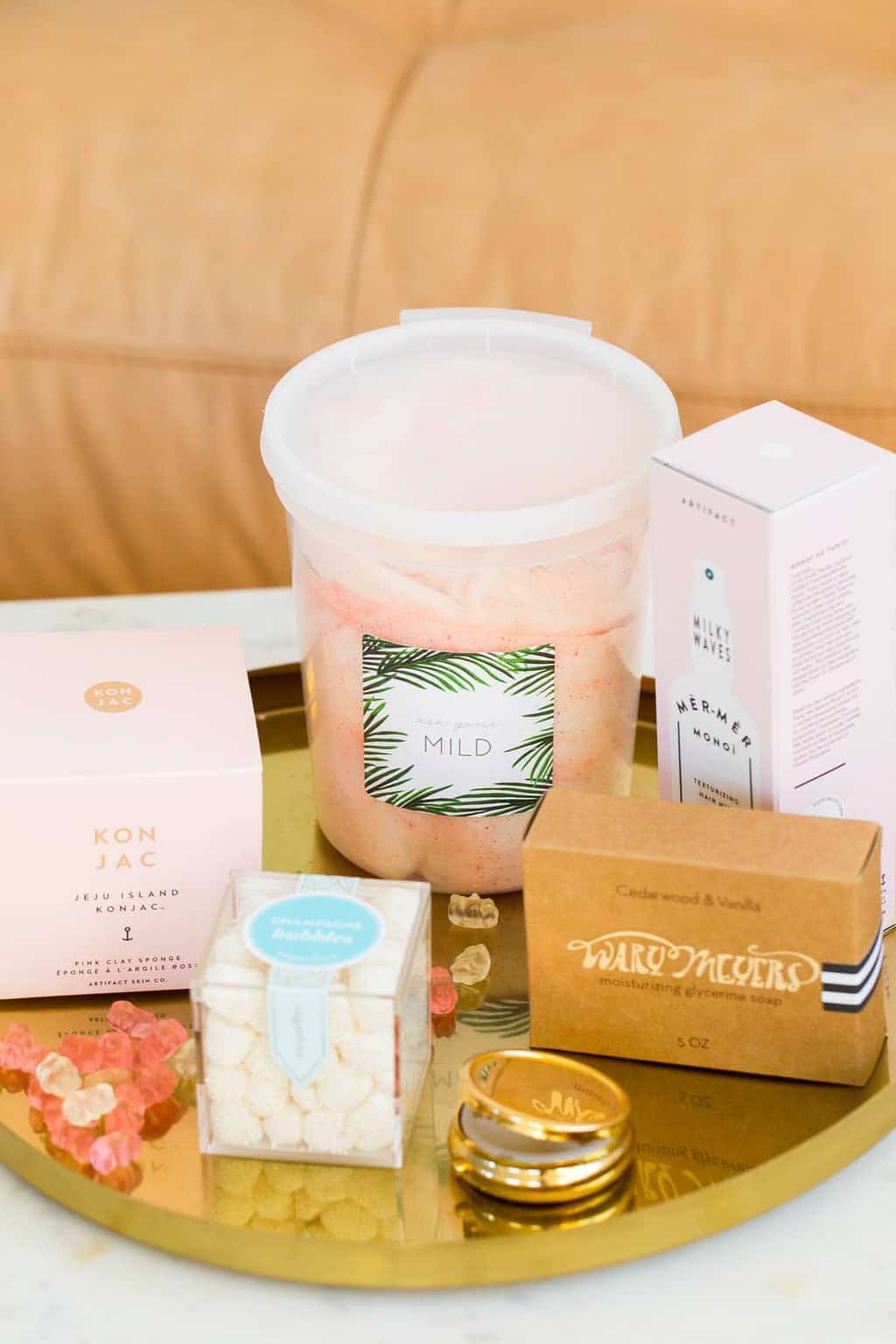 Did you all have bachelorette parties? My ideal night involves staying in with our cat, Thomas, so we opted for a pretty chill weekend instead.. What does your ideal girl's weekend look like?! Are there any essentials for a perfect bachelorette weekend that we missed?
SaveSave