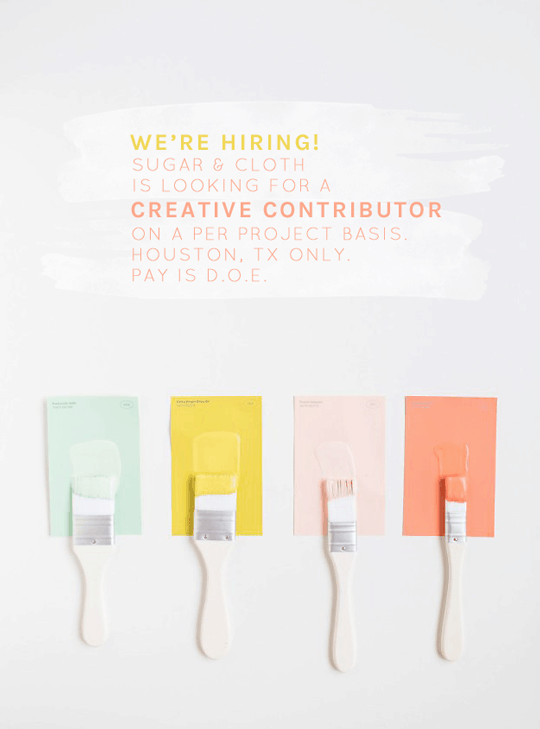 Well, after hearing all of your wise words from this post, and have decided that I need to admit that I need extra hands! That's why we're hiring a creative contributor!! To start, I just need help on a per project basis throughout the week days anywhere between the hours of 10-4. The days and hours will vary depending on our current project schedule, but they will be planned in advance, or could be coordinated for set days if need be, and could become a regular position for the right person.
The perfect candidate would need to be organized, self-motivated, hardworking, a creative thinker, and most of all, meet the Sugar & Cloth brand aesthetic. Most days we'll be working from the S+C studio in East Downtown Houston, so you would also need reliable transportation to get to and from. Students are welcome, but this isn't to be considered an internship, you'll definitely be put to hard DIY work!

Tasks to be expected:
– Executing or assisting the making and/or styling DIY projects for the blog
– Preparing supplies for projects and/or general web content
– Other general creative tasks required for preparing items for workshops or local events
You must also be able to answer yes to the following Q's:
– Do you love cupcakes?
– Should you be admired for your work ethic?
– Do you love macarons?
– Do you love coffee?
– Are you willing to strive for the success of the company?
If this is you, fill out an application here. In case this isn't you, but you know someone who might be a great fit, feel free to spread the love! We'll be accepting applications for the next week, so please don't be alarmed if you don't hear back from me right away.