Well we're officially off on our next adventure! For the sake of bringing you all along with us as best we could, we plan to do quite a bit of IG story'ing, plus I thought I'd share what I'm packing for our honeymoon! After all of this travel lately, I have a few new favorite things.
We weren't originally going to go on a honeymoon since we were going to have a destination wedding on Harbour Island. Since that changed and we decided to elope, we spent the extra money we budgeted (plus about a million flyer points) to book a trip to Tahiti for two weeks! Needless to say we are beside ourselves excited, and Taylor from The Simple Sol helped us plan the whole shebang!
A lot of you have also been asking when we'll share more wedding photos, and while we won't be sharing them all for a little bit, it wouldn't hurt to give you a few peeks from behind the scenes. All of this to say there's a little bit of something for everyone here…

Beach Bag / Clutch / Old Fashioned Cocktail Kit / Fruit Pill Holders / Sunglasses / Henri Bendel Suitcase / Running Shoes / Neck Pillow / Palm Swim Suit / Wave Spray / Pink Slides / Henri Bendel Makeup Bag / Beach Towel / Cucumber Wipes / Balm Dotcom /
I'm still on the hunt for the perfect new swimsuit for this Summer but haven't quite found the one yet. I wore this striped one piece about a million times, so I'm ready for something new! I might actually be the pickiest person in the world when it comes to bathing suit shopping.
As for the luggage, I've started carrying on a TON. Not because I pride myself on being a light packer (I literally jam pack it to where the zipper almost rips off), but because having delayed luggage is the worst. This is my first trip using the Henri Bendel wheelie and duffle combo (the color of mine is called otter, coming out soon!) to sneak by with a luggage carry-on and a "personal item" that also happens to be packed to the brim, too.
As for the wedding behind the scenes — it ended up being QUITE the road trip. We rented a giant cargo van from Houston, then drove it to Austin to pick up furniture goodies from Birch & Brass, then picked up this cool convertible to use for our getting ready shots in lieu of traditional makeup photos.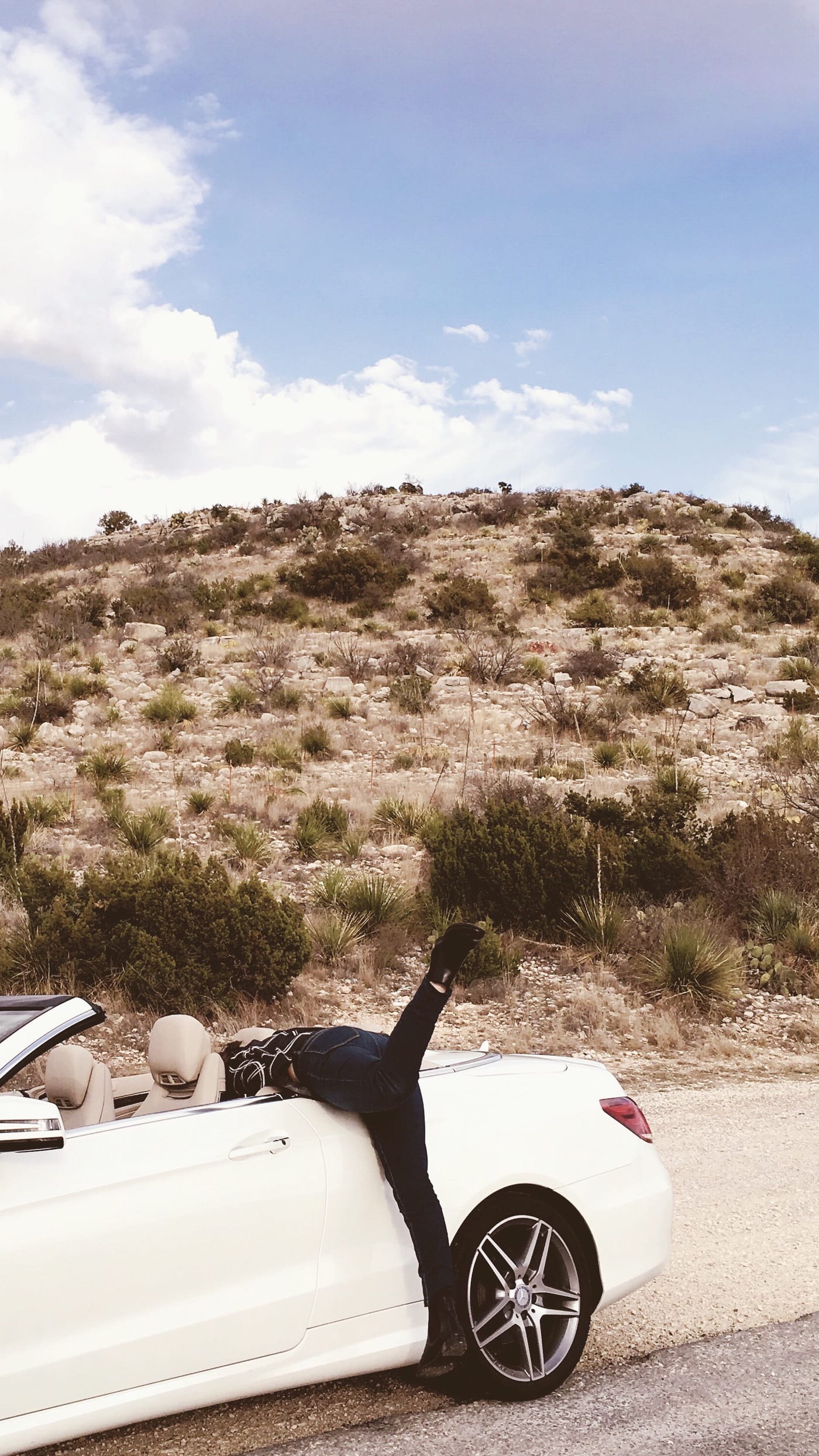 Kayla and I got to the drive the car while Jared manned the massive van (I was apparently not qualified for safe driving there, haha). We had a grand old time jamming to music while simultaneously blaring the heat because 68 degree weather in a convertible in the interstate induced wind isn't quite as comfy as it seems, haha.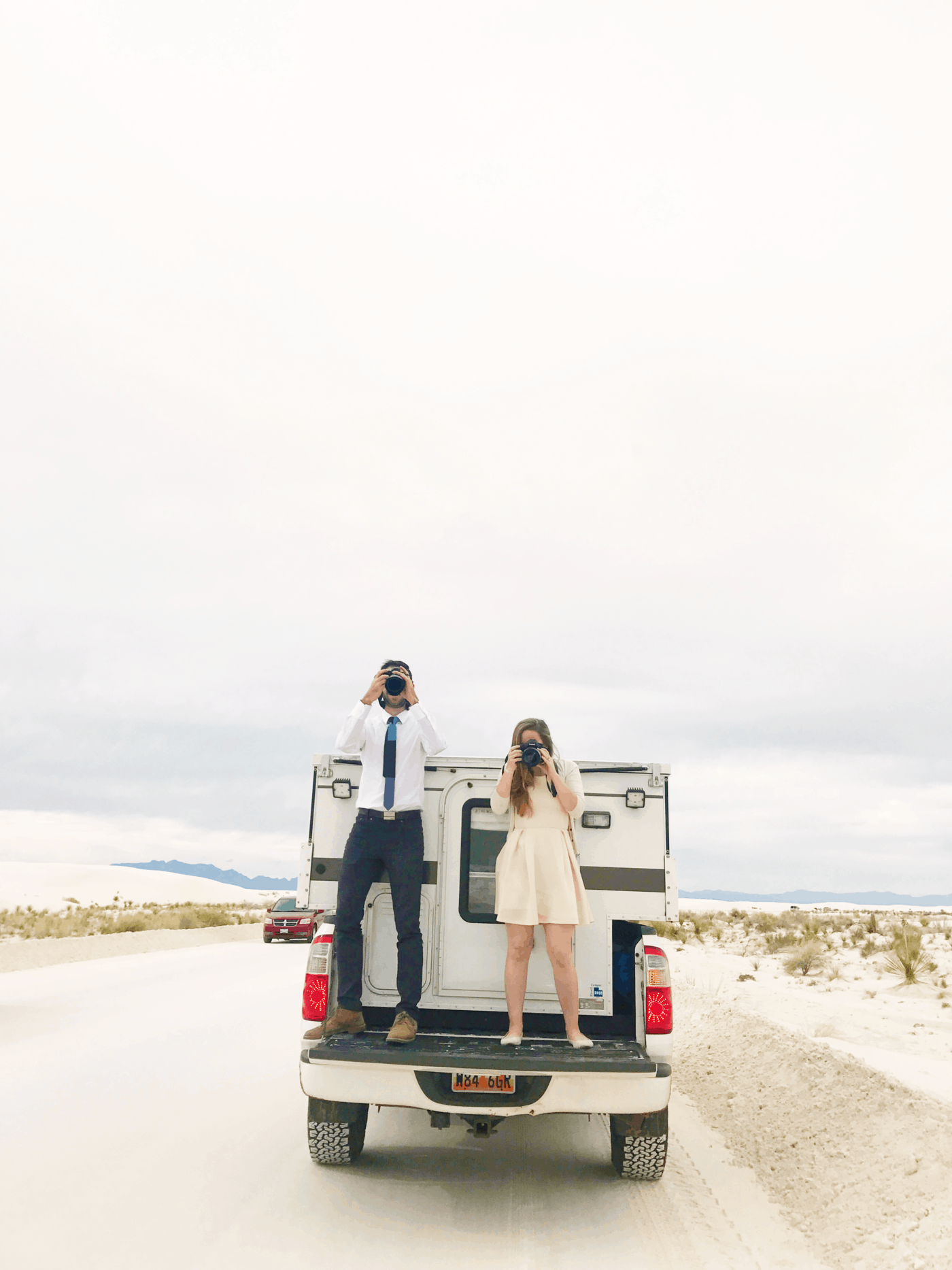 We also got to work with the dream team that is Modern-Atelier and Cotton Weddings for video and photography. This is how they captured some of the "getting ready" shots that we're referring to as we drove through the entrance of White Sands! We'll do anything for the shot, am I right?!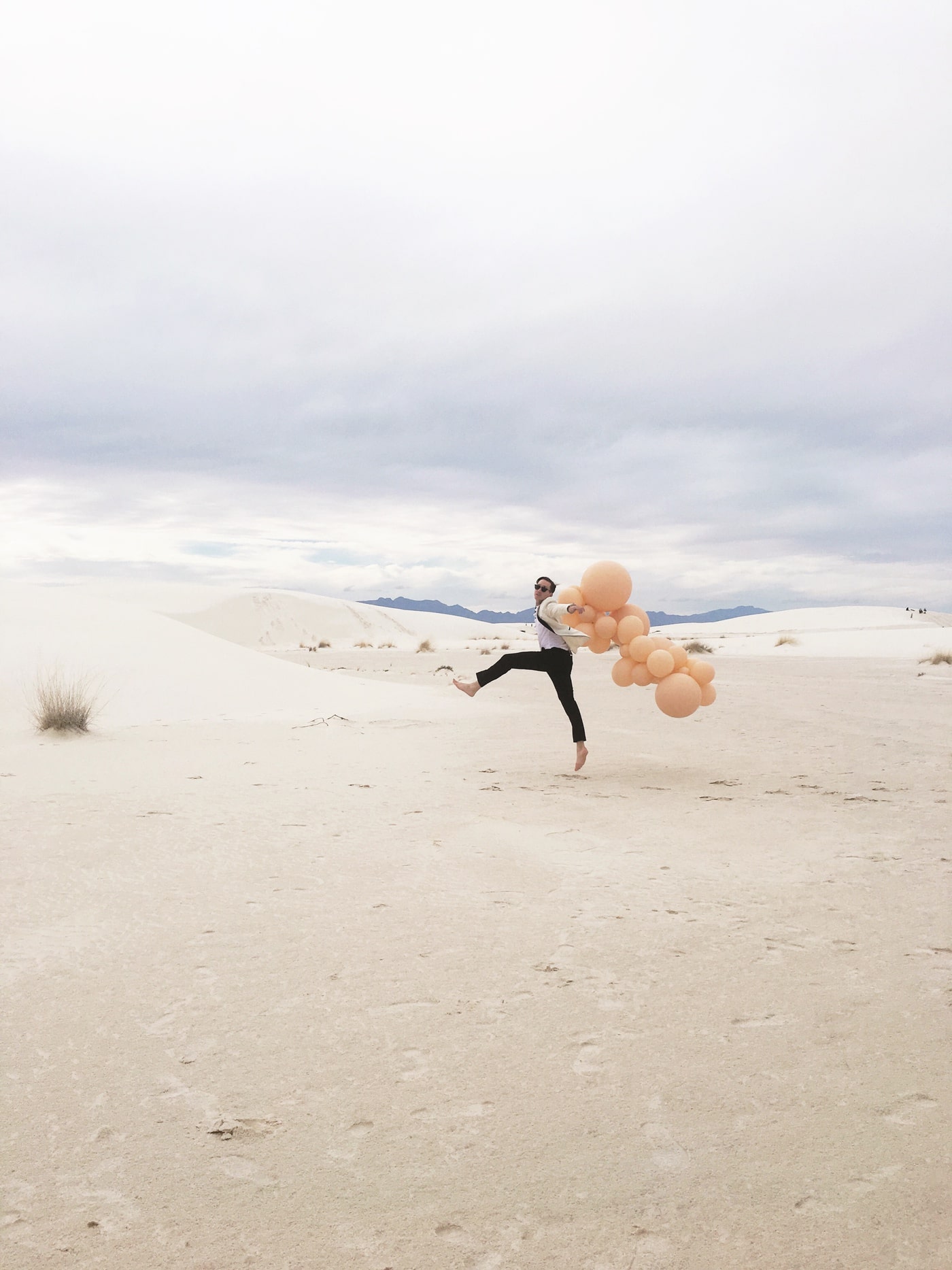 So excited to share the rest of the big day with you all over the next few months! Until then, you know where to find us ;)