We figured since the kids were headed back to school, you all might want a little creative schooling too! We've loved hearing the success stories that you've shared with us from our online class, so we put together a list of some before & after from our Cool Photo School inspiration images and success stories!
I think we can all agree that looking back on our first photos (ughm, this DIY of mine!?) can be pretty heart-wrenching, so we're super thankful for these fellow creatives who are willing to let us share how far they've come with you all. Hopefully it will bring you a little boost of inspiration!..
First up is Deborah who says — "I loved how practical #coolphotoschool was. It gave me the confidence and guidance to try new photography and styling methods. While I still need to practice, #coolphotoschool has changed the way I think about taking and editing my photos and I am so happy with the results!". You can find more on her blog Pure Sweet Joy and on her Instagram at @puresweetjoy.
_________________________________________
Abbey said — "I LOVED the cool photo school! It really is a thorough (and fun) guide to visuals- from styling, composition, to how to use a DSLR camera, and then editing tips. It gave me all the tools I needed to feel comfortable behind the camera! I am a textile artist and graphic designer, and took this class before the release of my blog! Thank goodness I did, it was honestly the best money I have ever spent towards my brand!
It's so easy and fun to follow. I think that was my favorite part, it felt like I was back in art school just learning from super cool friends. It has also given me the confidence to shoot super fun content for my blog!
Since taking the cool photo school two months ago, I have gone from 1,000 followers to 5,000 today. I really credit so much of this to the fun content I have been able to create thanks to the tools I learned in Cool Photo School!!"
You can find more of Abbey on her blog, The Daily Disco, and on Instagram at @abbeyeilermann.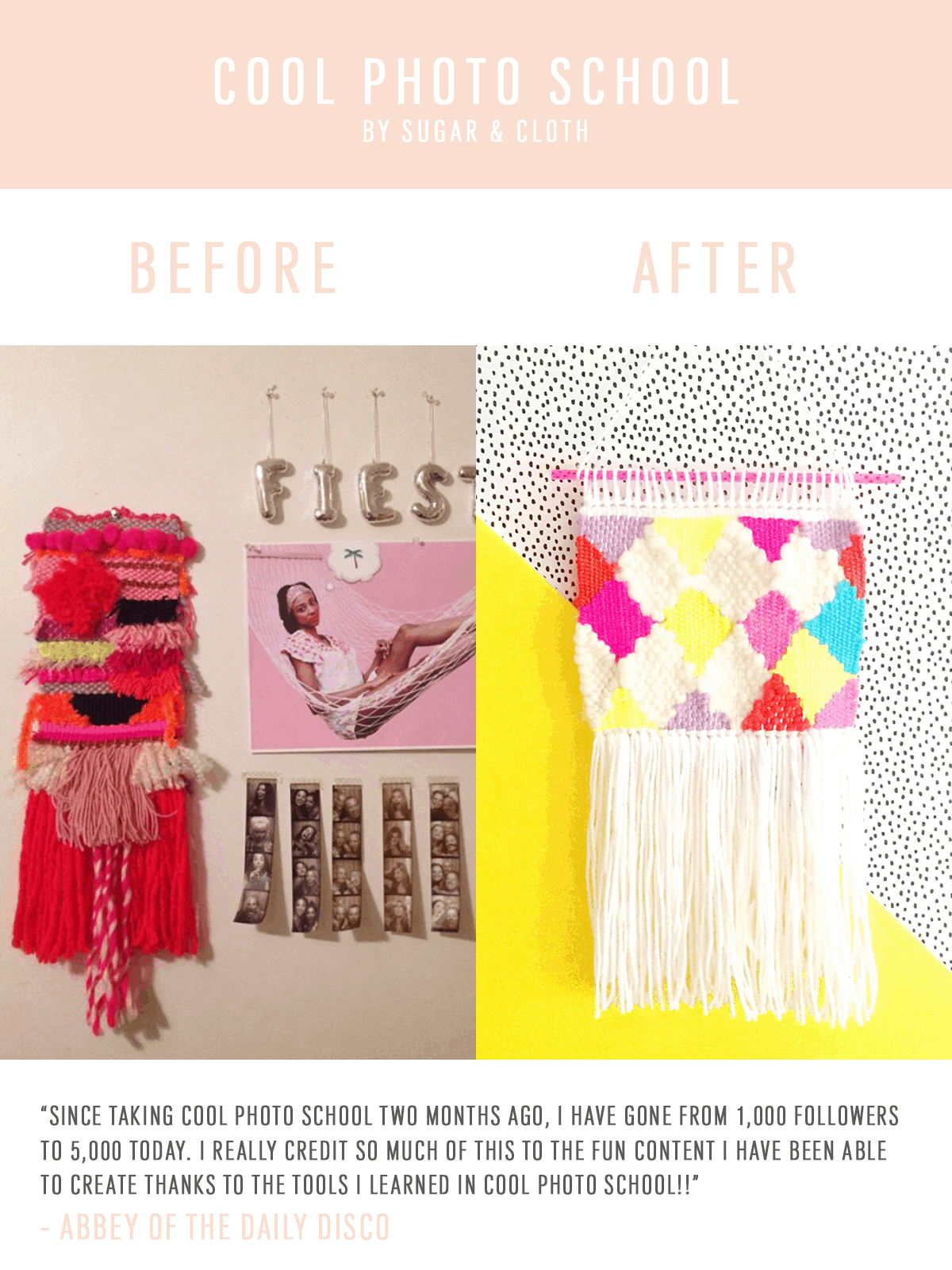 _________________________________________
Tori said — "Cool Photo School took the overwhelming out of photo editing for me. If only I knew these tips and tricks six years ago! Ashley and Jared have such a fun and simple way of teaching they made me feel like I could conquer the world (okay, or at least Lightroom)."
You can find more of Tori's images and entertaining ideas on her blog, Thoughtfully Simple, and on Instagram at @hostesstori.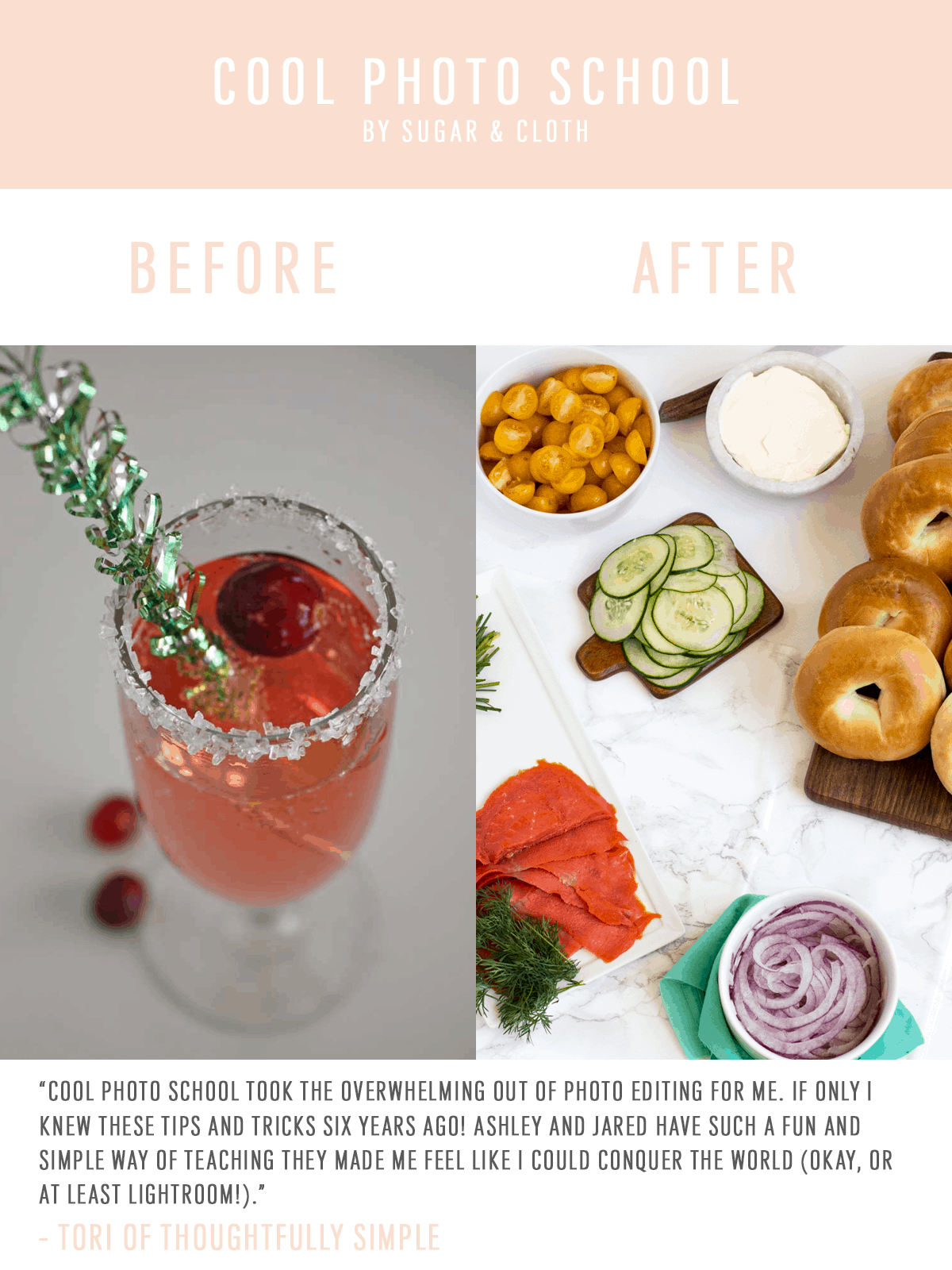 _________________________________________
We've met Kara several times in person at events in Texas, so we're so excited to have a fellow Texan in the testimonial crowd!
Kara said — "I feel there was so much helpful info in the videos such as using colorful backgrounds (which I now use quite a bit), fun styling tricks, and how to edit my photos in Lightroom, but the thing I value the most was learning how to use manual on my DSLR. I used to use the portrait setting with the ISO set to auto (sort of a middle ground between manual and Auto), but now I shoot fully in manual and I feel the colors, brightness, and sharpness of my photos are so much better!"
You find more of Kara's DIY project on her blog, A Kailo Chic Life, or Instagram at @kailochic.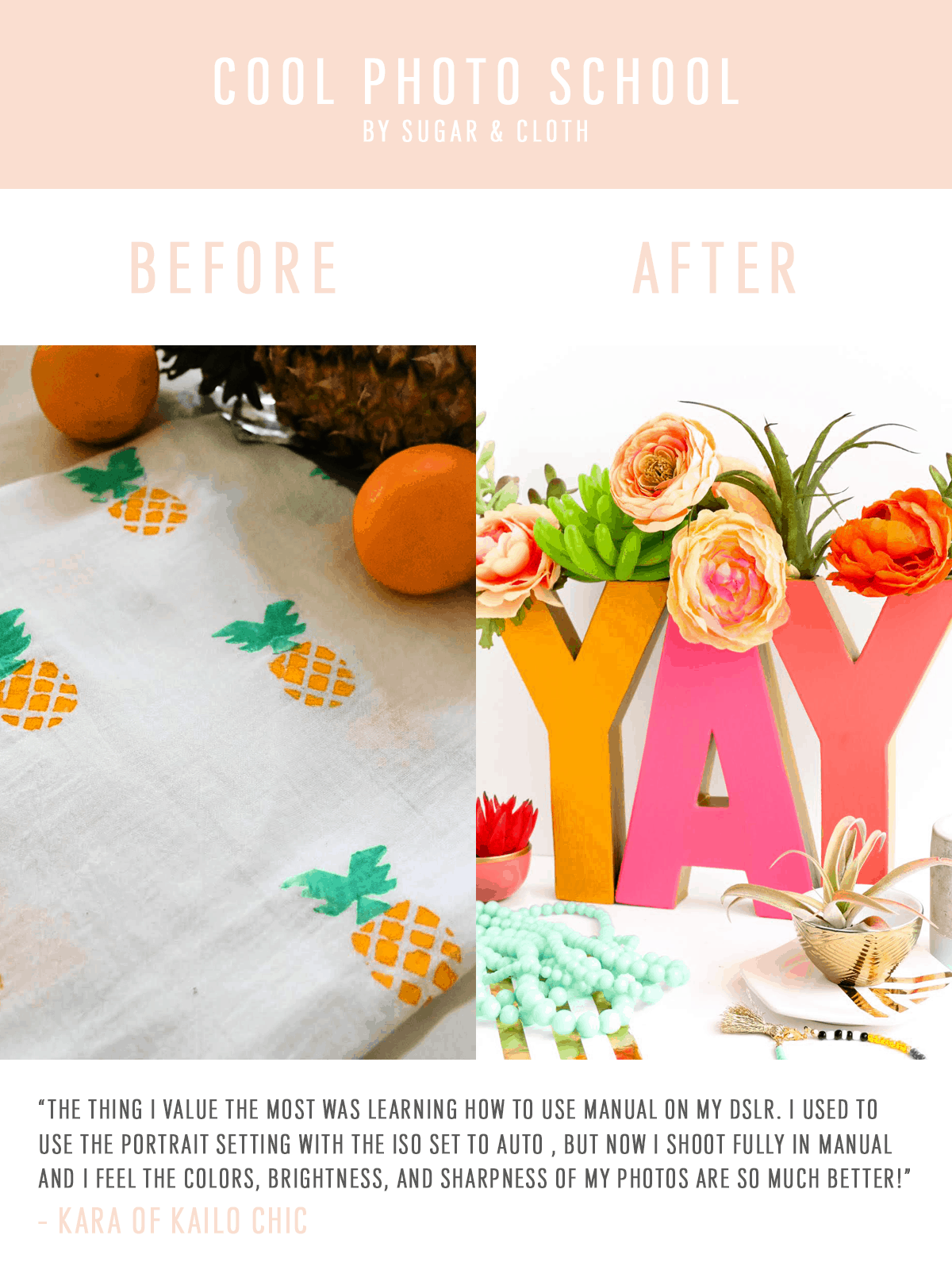 _________________________________________
Obviously we LOVE hearing how practical the class is. We're also no professional teachers by any means, but we had no choice but to figure out photography in the ways that were easiest for us. We had no formal training, we're just teaching all of the things we learned along the way, so it's great to know we're able to relay it in a simple and easy way!…
In case you're hoping to jump in head first with Cool Photo School, we're offering the class for 25% OFF between now and September 15, 2016 with code "backtoschool"!
In the meantime, we've loved hearing how much you loved the class, so be sure to let shoot us an email if you have a testimonial you'd like to share, too!