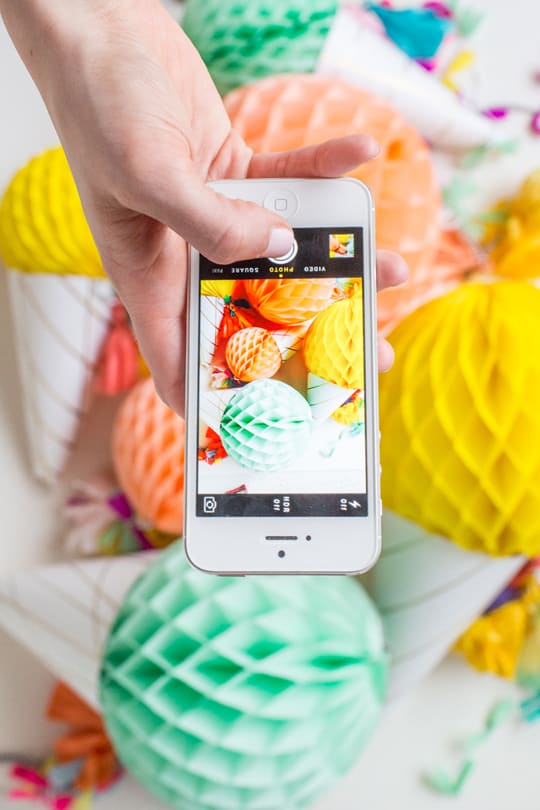 Before I delve into this quick thought, I want to say that I'd love to hear your feedback and thoughts on how you may balance your social media presence. As the daughter of a counselor, I'm a firm believer that sometimes you just have to talk things out to figure them out, and I'm super excited to hear your perspective on this topic. So, here goes the story on my trouble with social media…
Ironically, I've always loved social media for the most part. I remember when Facebook used to require a college email address in order to sign up, and I had to wait a whole year to catch up to my friends that were a bit older than me before I could join this elite, cool kids club that was known as having a Facebook profile. Clearly a lot has changed between then and now, and fast forward ten years later, here we are discussing this first world problem as we know it. To say it bluntly, I'm a little tired of social media.
I'm a little tired of feeling like my profession (as the editor and main voice behind this blog), that I'm required to jump on every social media train early and corral as much of a following as I can, by being as entertaining and cool as I can look online (and that's definitely just it). Don't get me wrong, I love keeping up with friends and being inspired by creatives I've never heard of before. I love reading your comments, and the kind things you have to say about the content we create (it really makes my day!). I love that you can even use social media as a way to meet new people locally, or to promote a cause that might not otherwise have a voice. I love that we can find out about injustices in the blink of an eye from one share on Twitter, and that we can all debate the color of a (black and blue) dress as an entire collective group in a matter of days.
As much good that comes from the entertainment, creativity, and information we get from social media, I'm just tired of the pressure to keep up. Yes, there are things we all have to do that coincide with our careers that we have to just look past and keep trucking through for the good stuff, but I'm talking about the grey areas, like the question of what's sharing too much and what's sharing too little? Or the competitive side of it that no one really talks about much, where we're in this quiet race to get as many followers, friends requests, and likes as we can (it's true, don't pretend it's never crossed your mind!).
I think we can all agree it all gets chalked up to "everything in moderation", or sticking to what's comfortable to you, and I believe that's true. I'd just like to start a conversation here by saying maybe I just don't want to be on Periscope because I'd probably turn blood red in the face from stage fright, or have a small breakdown where I'm eating a cupcake while also crying and talking about my to-do list for that week. Maybe I just want to enjoy hanging out with Jared and our family and friends on the weekends without having to Snapchat live whatever (likely unexciting, mind you) thing that we're doing, instead of being in the moment. I'm never going to get this time or these experiences back.
As small business owners, we don't get a ton of time to ourselves or weekends off, and I really cherish the time that we do. I also really cherish just having a quiet moment in between DIY projects that we're shooting to share here on the blog with you, and sometimes I'd rather just embrace the few minutes of quiet than to style a quick photo and think of the perfect caption for twenty minutes to post on Instagram. I also would rather not post anything, then to post something fake from my day pretending like everything is bows and bubble gum when really I feel like throwing the nearest macaron.
I say all of this, and today I'll still Instagram something, login to check Facebook, retweet on Twitter.. you name it. I just wanted to use this as a big sigh of relief to have at least said it out loud. I'd love to sort it all out and find my rhythm and pace, the things I'm comfortable with sharing with the online world, and the things I'm not, but I haven't figured it out yet.
One thing I know for sure, is that I'm super thankful for those of you that care to follow along with this crazy story that is Sugar & Cloth. I'm even thankful for those of you that keep me on my toes with grammar errors, tips and new techniques for DIY, and those of you that just take the time to ask a question so you can make your own S&C project. In return, I want to make sure we're staying authentic to was feels right, and true, and just what feels like "us" and not what is everyone else. I also want you all to feel that I (we) are just normal, approachable people that don't live an overly glamorized life (though still thankful for the cool experiences we do get to have), and we have plenty of bad days where no sugar is to be had, too.
I'd love to hear your experiences or take on this!
P.S.- While we're all on the topic of being open and honest here, I'm SUPER TIRED OF NATIONAL HASHTAG HOLIDAYS. It's a love/hate relationship that I can't even keep up with! I laugh, then I cry, then I look for the nearest #smoresday/ #popsicleday/ #cookieday/ #watermelondday/ #dogday/ #younameitday to eat, hug, or photograph…