Color Block DIY Hanging Mirror — You can make this color block DIY hanging mirror by customizing a surprisingly simple home decor item!
Hello DIY'ers! It's Teri from The Lovely Drawer, here to bring you a tutorial for some cute wall candy. I'm convinced that everyone is fond of a perfectly round mirror right now, and I'll hold my hands up and say I've purchased one myself, but I wondered if you could make your own unique version. A handled chopping board is the perfect base material and if you buy one that already has the hanging hole, then you don't even need to get your drill out (I avoid using drills at all costs, you see_) to make this DIY hanging mirror!
You can choose the colors for your mirror and a size that suits your space, too. It took me a little while to work out what would hold a mirror securely to the wood but I can safely say my research paid off!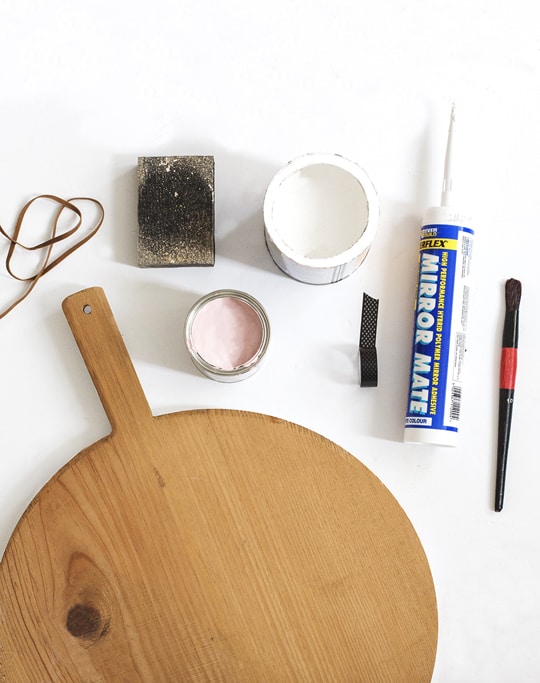 Materials Color Needed To Make A Color Block DIY Hanging Mirror
Wooden chopping board with handle
Round craft mirror — 1-1.5 inches smaller than your chopping board circumference
Masking tape
Two paint colors — for the wood
Paint brush
Cord or string to hang it by — I used suede.
Sanding block
How To Make A Color Block DIY Hanging Mirror
If your chopping board has an obvious finish/gloss, then you may find sanding it down will help the paint to take better.
Paint the board white, but leave a section in the middle where the wood is bare. This needs to be slightly smaller than your mirror size. You can either mark this out or just roughly paint up to the space.
Take the paint around the sides of the board and around the back.
Leave to dry. Once dry you may want to apply another coat for even coverage.
Then, with the tape, mask a diagonal line across the circle. The edge of that line can be your guide when applying the colored paint.
Once again take paint onto the bottom area, whilst leaving the space in the middle, as you did with the white paint.
Take the color round the sides to finish off the look and leave to dry. You may want to apply a second coat.
Peel away the tape and make sure the area left in the middle is really smooth, with no treatment or finish left. This should be the case if you already sanded the board. But if not, then make sure to sand the exposed wood at this point.
Following the instructions for the mirror adhesive and with the cartridge slotted into the gun, create lines of glue within the area of exposed wood and then secure your mirror fairly swiftly. Make sure the border around the mirror is even.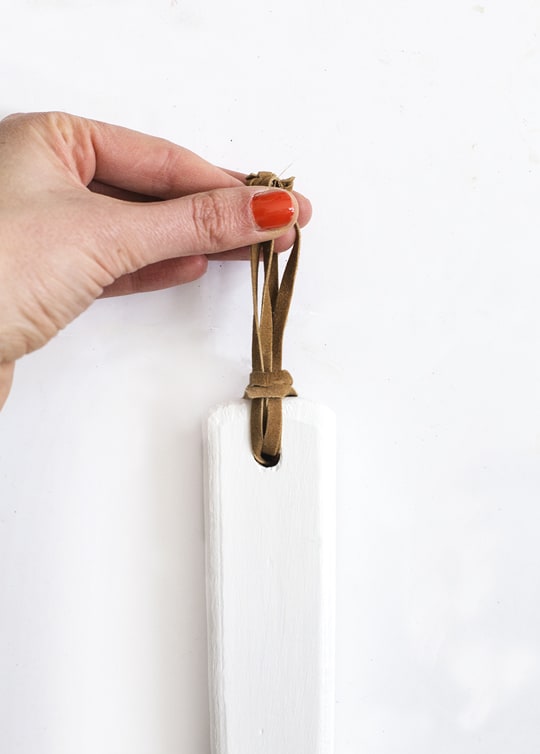 Cut two strips of the suede cord to a hangable length and tie a tight double knot in each to create loops. As my mirror was quite a large one, it was important to double up the cord for extra strength.
Thread both loops through the hanging hole from and loop them over the other end of the cord.
Now you're ready to hang the mirror. Be careful to hang this on a wall plug rather than just a screw otherwise it may not take the weight.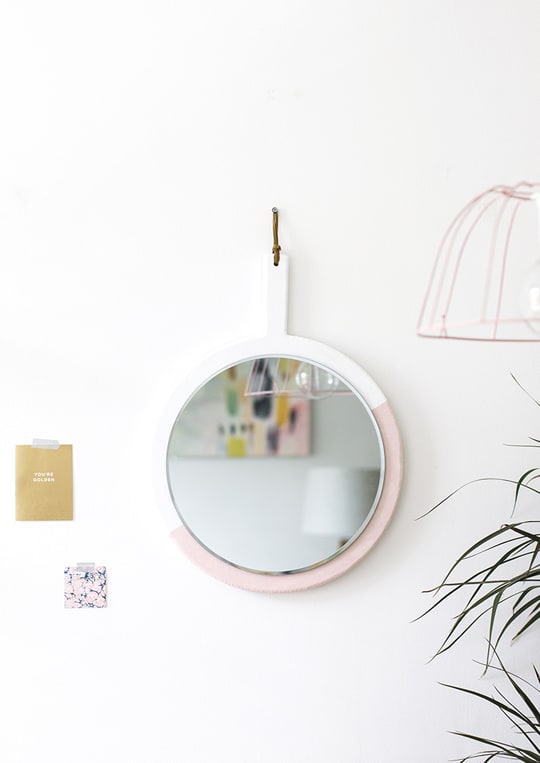 There you have it! Whether you want one for you bathroom, living space or in your bedroom for morning primping it will add a lovely focal point to the room.
Who knew a chopping board could be handy for anything other than cooking, yeah?!
Teri Muncey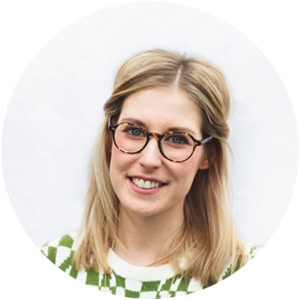 Teri Muncey is a designer, illustrator, stylist, crafter. Originally trained in print and surface pattern design, she has since had five years experience designing in-house for a greetings card company, and now creates The Lovely Drawer full-time from her little London flat.