Sharing our maternity photos and thoughts for the new year in our new home at 8.5 months pregnant, swollen, and feeling huge!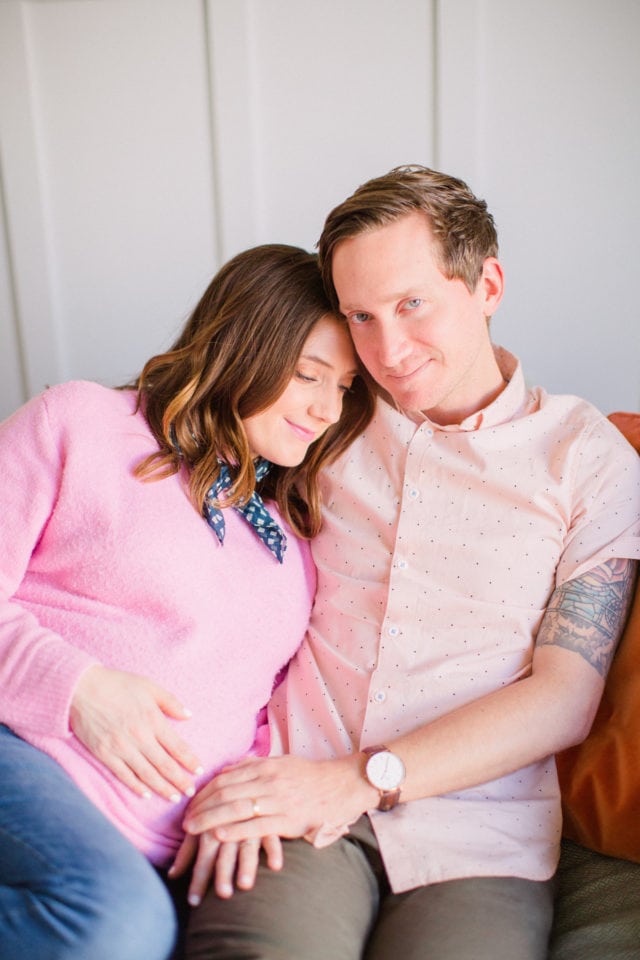 While I'm still in denial it's time to for everyone to get back to work, sharing our maternity photos seemed fitting since that's the only thing on my mind these days!
I had big plans to recap my thoughts on last year and some of my favorite memories and projects we've worked on.
But I'm having the worst complex with putting into words my perspective on that.
I think I got so burnt and overwhelmed by the end that I've blocked out a lot of it and have become solely focused on right now — transitioning into mom life.
That's not to say that Sugar & Cloth won't be your regular go-to for DIY, home decor, and sweets inspiration.
I just mean that I'd rather focus on these new moments and all the exciting things coming than on last year.
Eventually, I'll put some scrambled thoughts together, I'm sure!
While we're on the topic of babies, we're actually having two this year just a few months apart!!
One perfect little girl, and one HUGE passion project we've been working on for almost two years now!
We're super excited to be launching a product line in early 2018!
I won't go into too much detail just yet.
But we'll be sharing plenty of sneak peeks around here and on Instagram soon.
So keep an eye out.
Any guesses on what you think it will be?!
In the meantime, here are our very low-key maternity photos that we had taken by The Cotton Collective in our home to remember this time by.
Word to the wise: Don't do as I did and wait until you're 8.5 months pregnant, swollen, and feeling huge before scheduling a maternity session.
At least, it involved ice cream..