photos and recipe post contributed by Nanette Wong of Cultural Chromatics
Before Nanette delves into her always stunning recipes, I wanted to thank you for your perpetual kindness from yesterdays post. It's a huge sigh of relief, and you mean more to me than you know! Though I may not always get the chance to respond to every one, I read all of your comments and they always brighten my day! Now, I'll step over and let the pro get to it! – Ashley
I'm going to preface this with an apology. If you're on a diet, I'm very, very sorry, but this.. well let's just say, this isn't diet friendly.
But it's completely, utterly, unequivocally worth it (have I got you convinced yet?). It's the holy grail of ingredients: chocolate, cheese, and crusty bread. There may also be a dab of butter here and there, but whatever. This Chocolate and Mascarpone Crostini is sweet, salty, creamy– it pretty much hits all the deliciousness factors. And the flecks of sea salt are the proverbial 'cherry' on top, bringing out the sweetness of the chocolate and creaminess of the cheese. Trust me, it's worth it!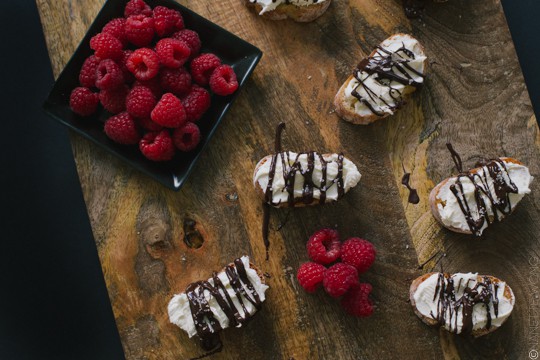 Cut your baguette into slices. Lightly spread butter on each slice, and toast until it's as dark as you like. I baked my slices in the oven at 350 degrees F, for about 10 minutes. Let the bread cool for a few minutes. My burned fingers are a lesson as to how important this is.
While it's cooling, break the chocolate into large chunks, microwave in 15 second intervals until it's nice and melty. Spread mascarpone onto the bread, drizzle with chocolate, and lightly top with sea salt.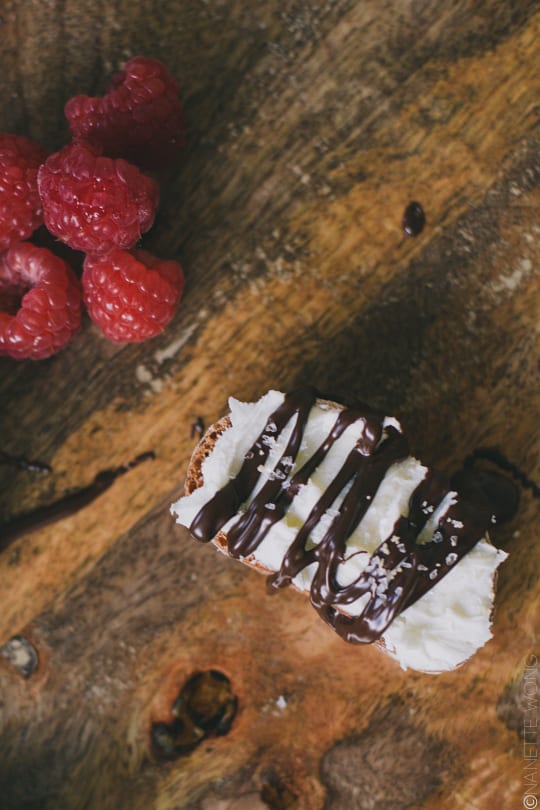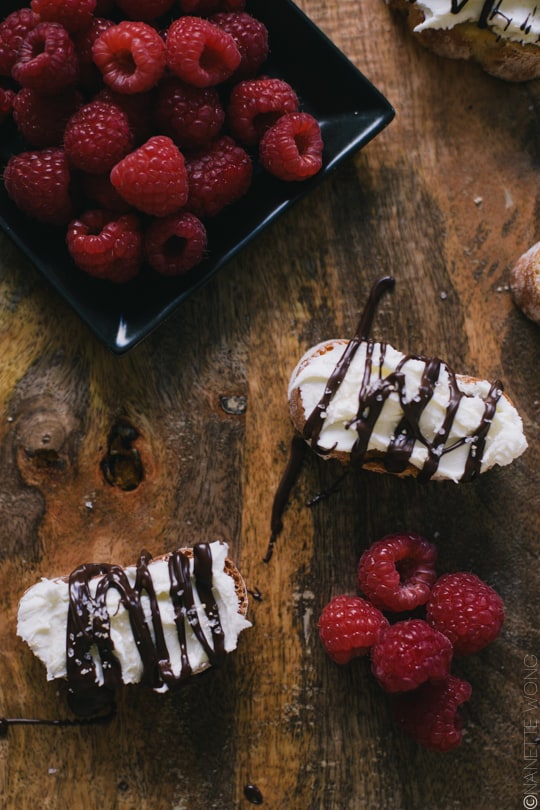 And if you're on a diet, enjoy yourself and don't feel guilty. This may sound cheesy (ha! I know, I know), but life is really about the small pleasures in life– and we all know a little bit of chocolate and cheese won't kill ya. xo, Nanette