featured image via @heyprettybabyphotography
After MUCH ado, I'm excited to share the details of the new Sugar & Cloth color wall and our launch party recap! It took me a little while to get to posting about it because I wanted to do something fun with featuring your colorful images this time around!
We've been working behind the scenes to bring you a gallery that features your photos from the hashtag! That seemed infinitely more interesting than a bunch of photos of me being super pregnant in front of a wall, right? You can see the full hashtag gallery here and we'll be updating it to add more images from the #sugarandclothcolorwall feed, so be sure you share your photos so we can include you!
On top of the new gallery feature, we're super excited to have the newest color wall location at GreenStreet downtown! It's still super close to our studio, and this time we added a little twist with a set of ombre stairs to pair with the color wall for a bonus photo-op. They might actually be my favorite part (but don't tell!).
Instead of using the same exact colors as the last color wall, we used a new selection of Sherwin-Williams resilience acrylic paints. A huge thank you to them for donating the paint for this installation! I'm sure you can imagine the amount of time it took me to hand pick alllll of those stair colors, and they're still speaking to me, haha. This is why I can't have nice things… just kidding…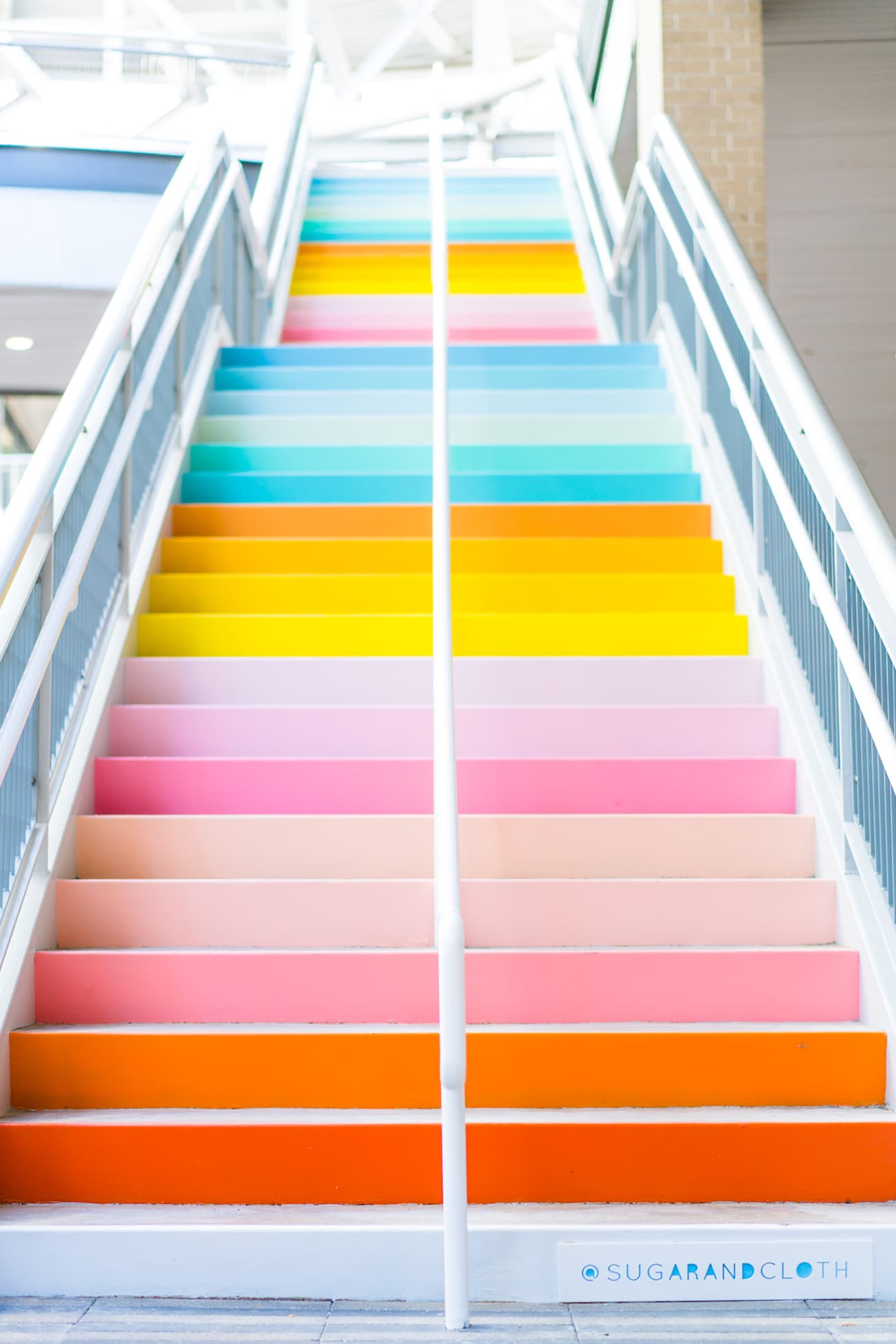 As for the party, we had Deep Eddy Vodka mixing drinks (sadly I had to stick with just TopoChico), DJ Stashwell covering music, balloons garland props from Poppies for Grace, and Happy Endings food truck with the BEST kimchi fries on the block.
I was terrible at keeping up with IG stories during the event, but luckily we had Chris Luong shooting video for us to catch the full recap! Of course, it's not a color wall party without props galore, so there were plenty of those too.
Brace yourselves to see PLENTY more color wall photos coming soon! I'm excited to take baby girl there for some photos, too.
Don't forget to tag us in your images as well as use the hashtag so we can add you to the gallery!
event photos by Fudge Lump