Watermelon Feta Flatbread Recipe — Paired with a glass of rose, this watermelon flatbread recipe as an appetizer or main course is the perfect way to celebrate summer produce in a unique way!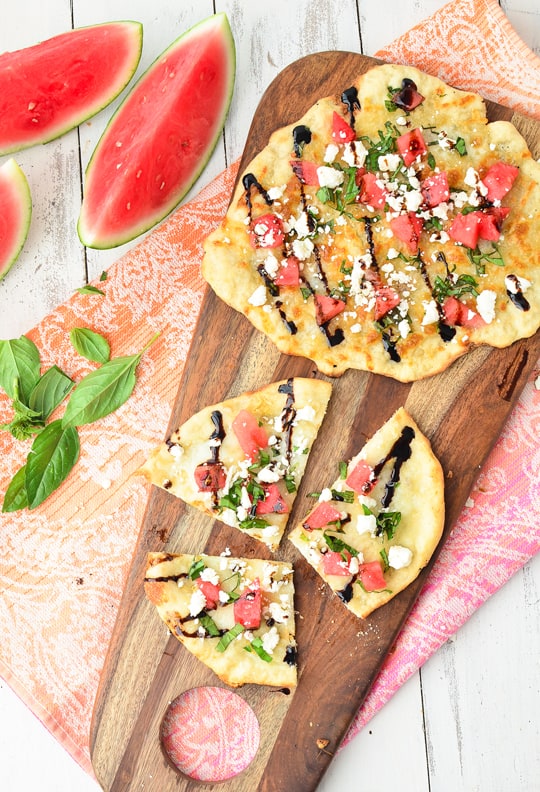 To me, summer is all about casual entertaining. And by casual, I, Alex, mean I want to entertain almost nightly without having to put in much work (don't we all?).
Sure, I love a good dinner party as much as the next food-loving gal, but summer is not the time for it. I want fast and easy, while still being everyday fancy, so I made this watermelon feta flatbread recipe a for a quick girls-night get together, and to say it was a hit would be an understatement!
Flatbreads are perfect for low-fuss entertaining. One part pizza, one part sharable dish, they don't need to be piping hot to be delicious.
I typically set a few out in trays around the living room to allow everyone to help themselves while I'm taking care of more important things, like pouring the wine!
Paired with a giant glass of rose, this watermelon flatbread appetizer is the perfect way to celebrate Summer produce in a unique way…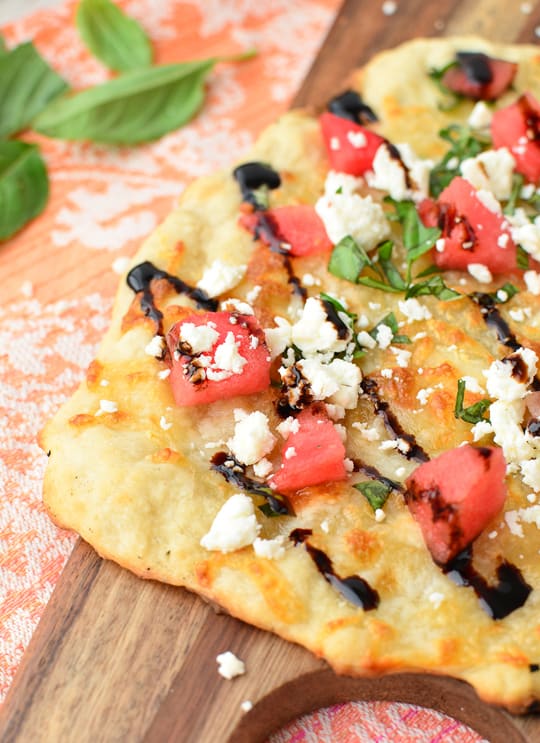 I was first introduced to the pairing of watermelon and feta by my cousin a few years ago. I admit, I was skeptical of the combo at first but one bite later, I was hooked.
If you like sweet and salty, you are going to love this. Fresh cut watermelon and briny feta is pure magic.
While I've been serving this salad ever since, I wanted to come up with something new that was just as delicious but a little more special.
I also rely on prepackaged pizza dough that I buy from Trader Joe's but feel free to make your own if you're feeling up to it.
Just don't substitute thicker pre-made pizza crusts as it won't have the same texture, the flatbread should be chewy yet almost crispy.
To me, the difference between a flat bread and a pizza is the toppings. Use a light hand when topping these; you want the topping to be sprinkled on, not overly full.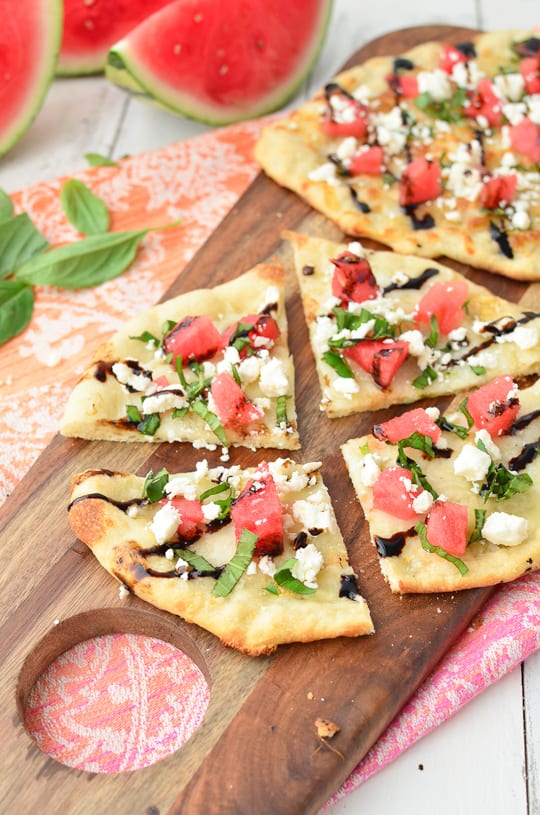 Ingredients Needed To Make Watermelon Feta Flatbread Recipe
1 package pizza dough (I use Trader Joe's original crust)
2 tsp. olive oil
1 clove garlic, finely minced
¾ cup mozzarella cheese
2 cups watermelon, finely diced
½ cup basil, julienned
½ cup feta cheese
balsamic reduction, for drizzling
How To Make Watermelon Feta Flatbread Recipe
Preheat oven to 400 degrees F. Roll out the dough until fairly thin, about 1/4″ thick. I divided the dough into fourths and then rolled each one out but you can also make this one large flatbread. Place on a lightly greased pizza stone or baking sheet. Rub with 2 tsp. oil and rub in minced garlic.
Place in the oven and cook until just toasted, about 5 minutes. Check in around minute 3, depending on how thick your flatbread is you may need to let it cook longer or pull it sooner. Remove from oven and sprinkle on mozzarella cheese, then return back to the oven and cook until melted and golden brown.
Remove from oven and let cool slightly. Top with watermelon, basil, and feta.
Drizzle with balsamic reduction and serve!
Notes: To make your own balsamic reduction: Pour a cup of balsamic vinegar in a small saucepan over medium heat. Bring to a slow boil, then reduce to a simmer. Stir occasionally and allow to simmer until reduced by at least half. Let cool and transfer to an airtight container; place in the fridge until ready to use.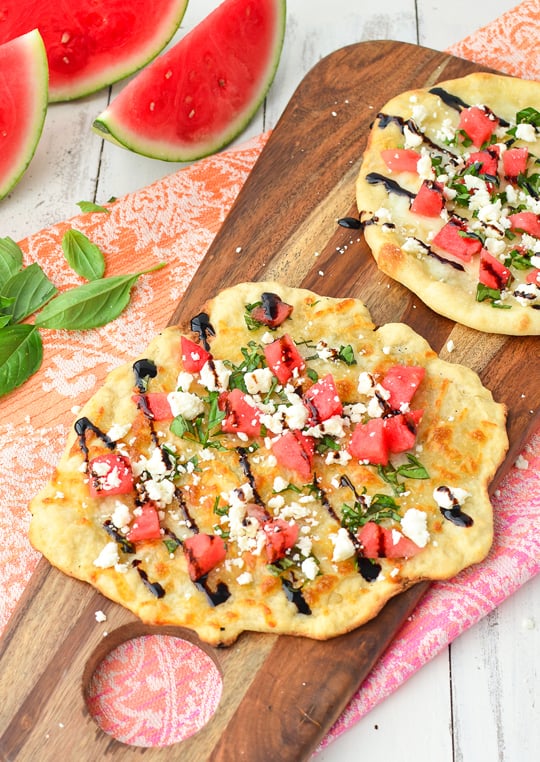 Do you have a favorite low-maintenance dish for entertaining?
Alexandra Caspero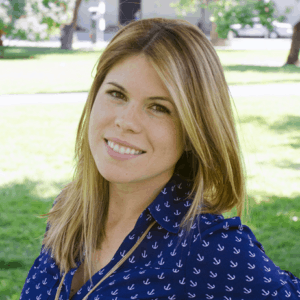 Alexandra Caspero is a Registered Dietitian and yoga instructor with a passion for travel, pasta and avocados. Her blog, Delish Knowledge, focuses on making whole-food eating deliciously simple.