Sharing 13 ways to creatively organize in every space of your home. Whether it's big or small, every room needs to be tidy.
Since we're prepping to move in less than a month, we're excited to take full advantage of gaining a clean slate.
(And by prepping, we mean that we've brought home one measly cardboard box.)
We've been searching high and low for creative ways to organize and use space. And these are a few favorites to recreate.
13 Ways To Creatively Organize
1 — Use wall mounted vintage enamel holders to clear kitchen space.
2 — Clear clutter by putting everyday kitchen spices and sugar on a cake stand.
Repurpose cake stands to hold hold olive oil, salt, pepper, and other frequently used seasonings
3 — Display your jewelry organizer with bell jars, candle bases, and jewelry stands.
– Pottery Barn
4 — Disguised storage bins with book spines.
– Roadside Photographs
5 — Put some wheels on it with rolling storage bins.
– Serena & Lily
6 — Display colorful wrapping papers in a clear or mesh bin.
– Marcus Design
7 — Keep the vintage alive by storing your craft supplies in tin containers.
. – The Fancy Farmgirl
8 — Convert a closet into a desk area to maximize space.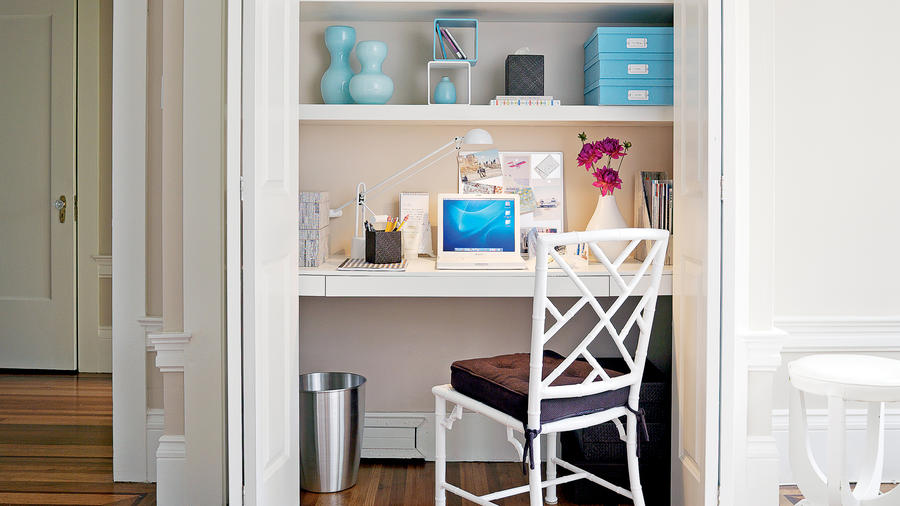 Do you work from home but are lacking space and want a designated work area? We love this office in a closet idea.
Just remove the closet pole, add an upper covered storage area, a floating middle shelf, and a minimal work desk and you've got your own home office!
9 — Repurpose old suitcases to organize miscellaneous supplies.
–
10 — Insert additional boxes and shelving to your tables.
11 — You won't forget anything with a life-size chalkboard wall calendar.
– Martha Stewart
12 — Keep your papers in one place with this adorable retro magnetic memo board.
This DIY Magnetic Organizational Board keeps all your lists, coupons and receipts and more in one place.
13 — Add an open locker at your entry or mudroom.
Shoes, bags, umbrellas — There are so many things needed by the door for us to grab and go to get out of the house. This Color Block DIY Wooden Locker one of the ways you can creatively organizer all your belongings.