Rose Infused Homemade Caramels Recipe — These perfectly pretty and sweet caramels make the perfect edible gift!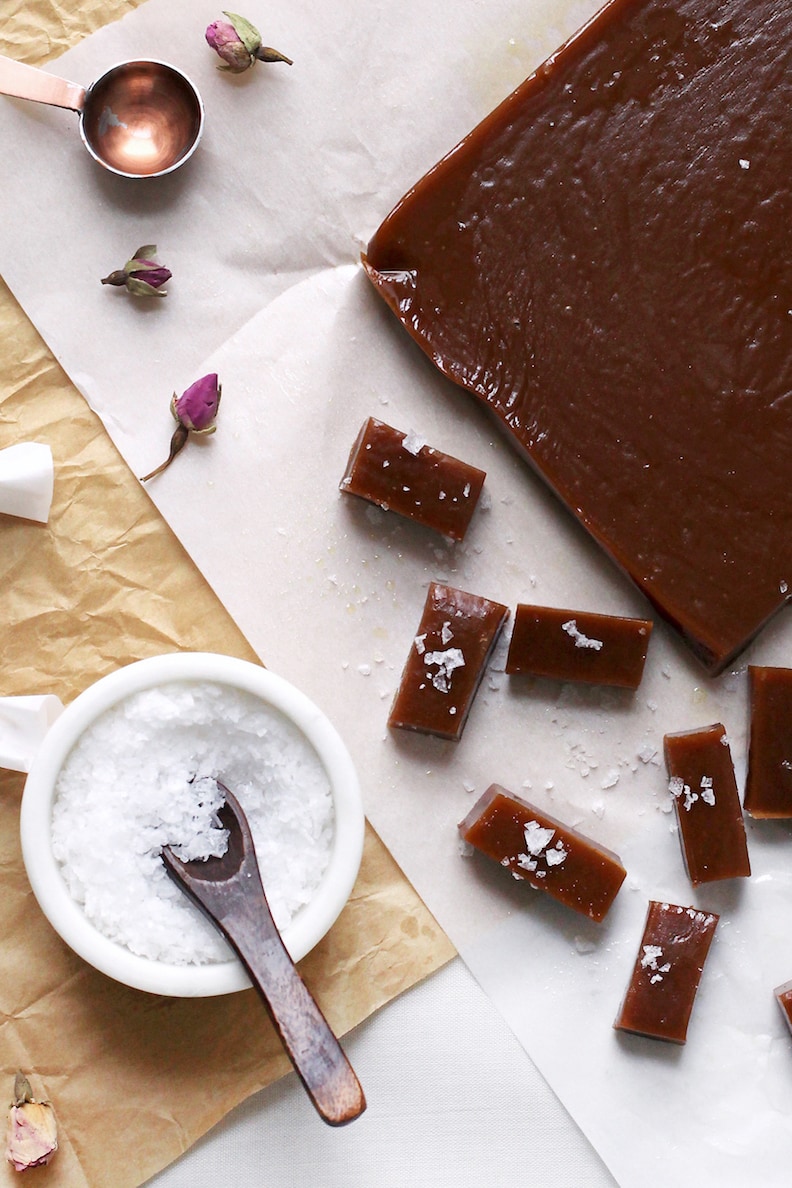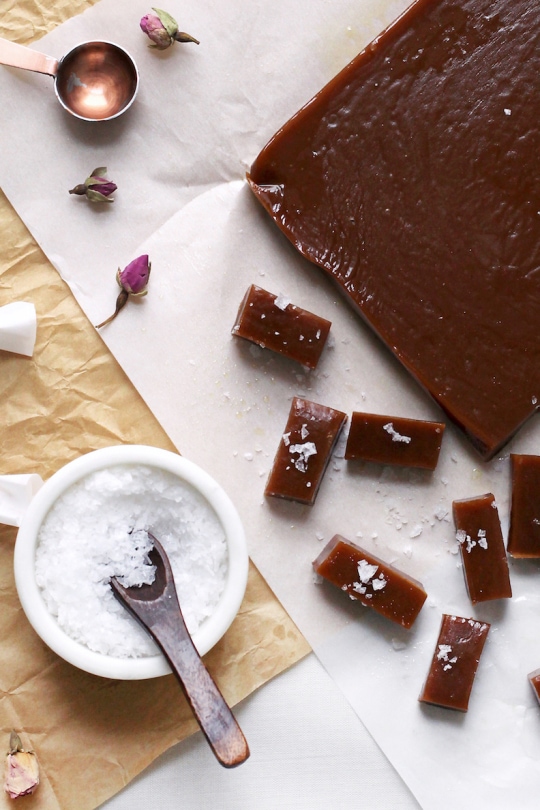 About the time Valentine's Day hits, so does my (Alyssa) desire for spring weather.
While I'm sure that it's mostly due to the fact that I'm so over wearing big puffy coats, I also think it's slightly triggered by all the Valentine's Day flowers.
I mean, February is basically the unofficial month of roses, right?! This is also coming from people who are no stranger to flowers…
While you may prefer your blooms to be in a vase, I find adding them to my food to be a nice change of pace and the perfect way to encourage spring to come quickly.
This homemade caramels recipe has a relatively simple ingredients list (FYI you can find rose water and rose petals either at a health food or spice/herb store or in the middle eastern/Turkish food section of your grocery market), and though the process is bit intense, they're well worth the effort.
After all, it doesn't get much sweeter than combining candies and flowers into one!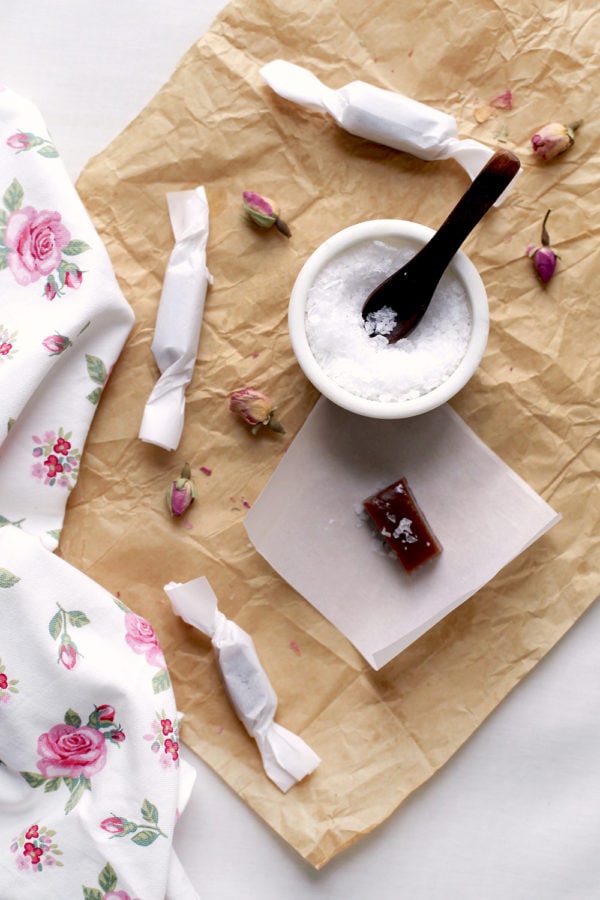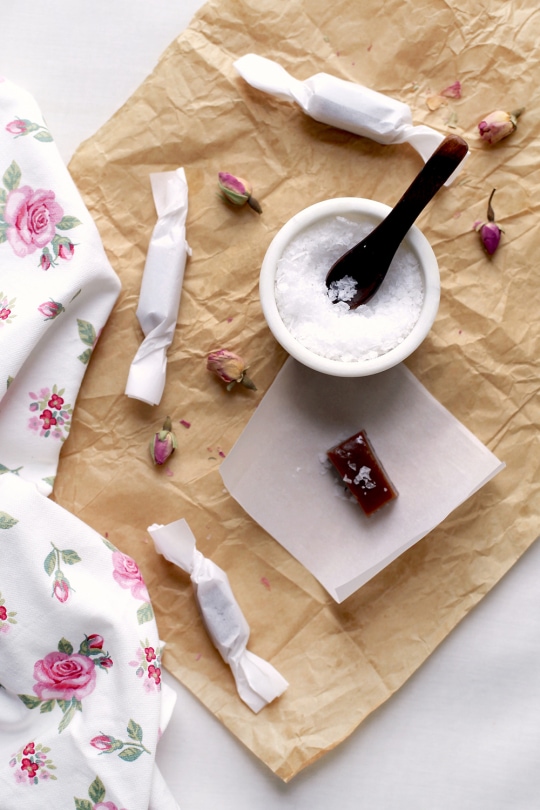 However you typically prefer to enjoy your flowers, I promise that these rose-infused homemade caramels are a treat no one will be able to resist.
Stopping to smell the roses is nice and all, but stopping to eat the roses (aka enjoy a sweet bite) is way more fun!

As they say, sharing is caring, and since this recipe makes a lot, you should definitely share!
FYI, since these caramels are a hardy candy that needs no refrigeration and they're a perfect treat/present to ship to dear ones that might not be near.
And whatever you don't eat or share, store in an airtight container to prevent the caramels from getting too hard.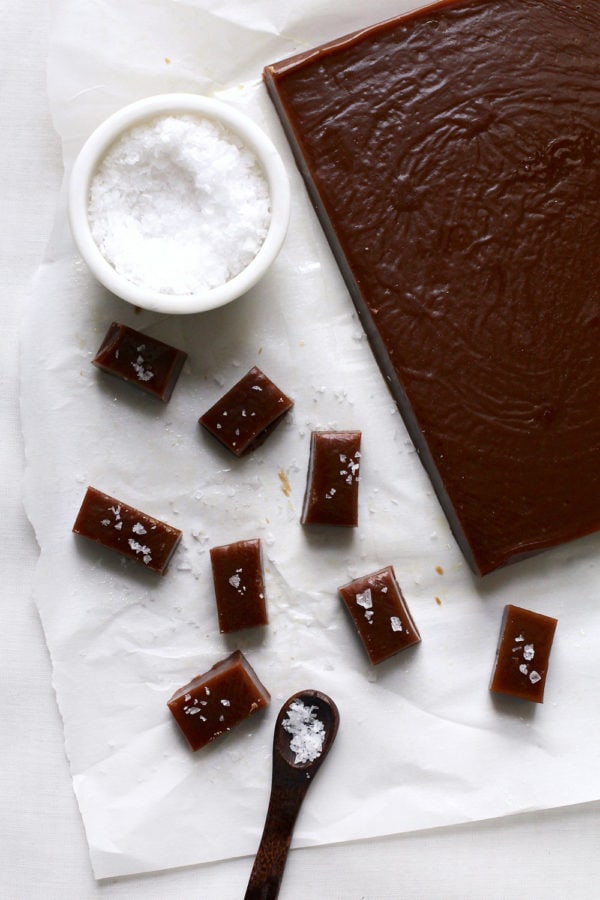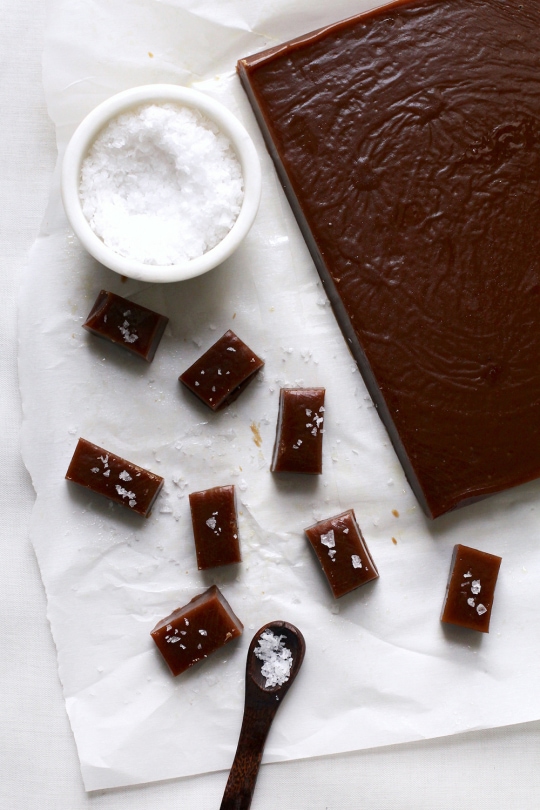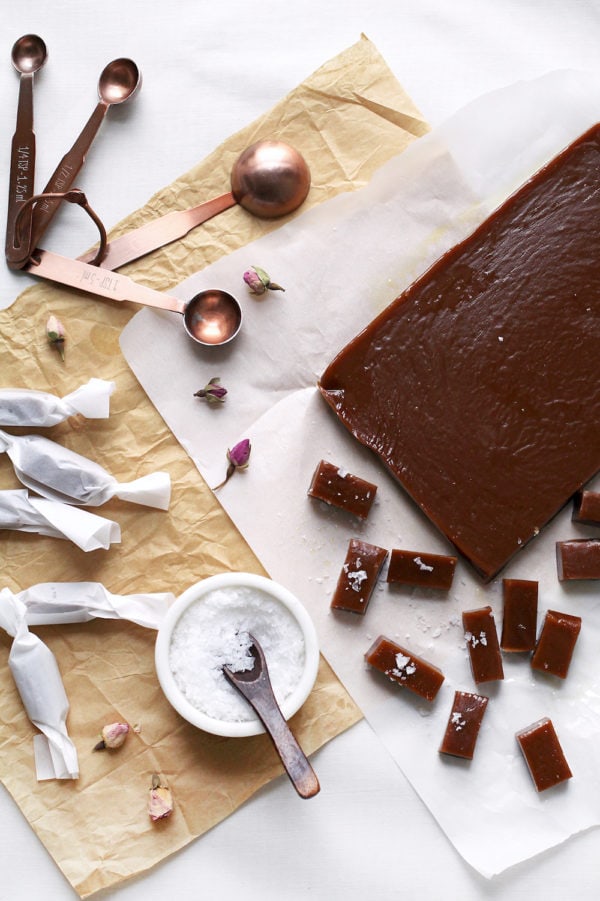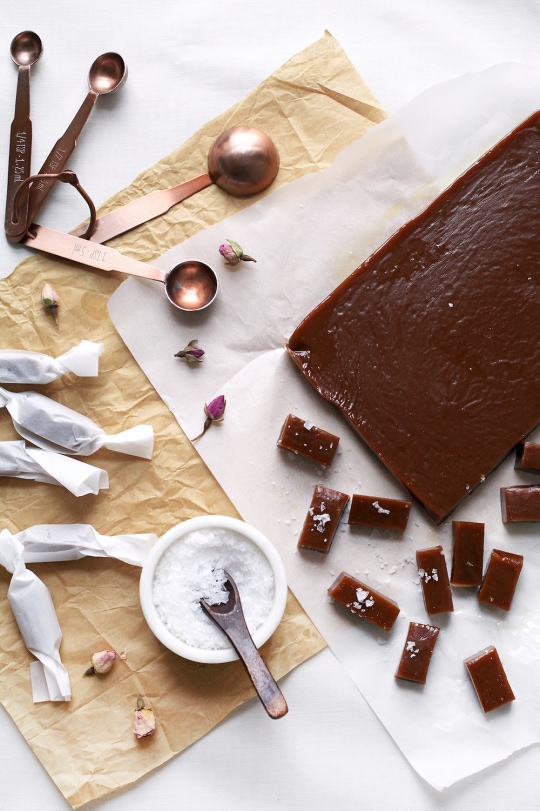 While I've had many a caramel candy, the delicate rose flavor in these provide a sweet change of pace.
What are your thoughts on roses/flowers in food? Are you a fan, or do you prefer them in a vase?

How To Make Homemade Caramels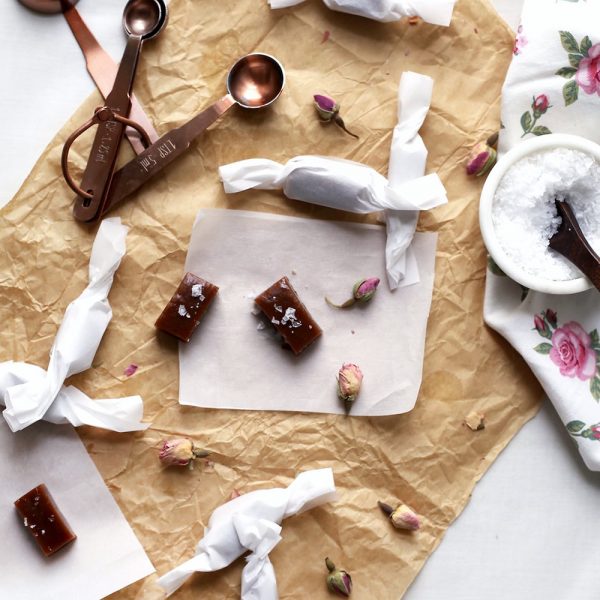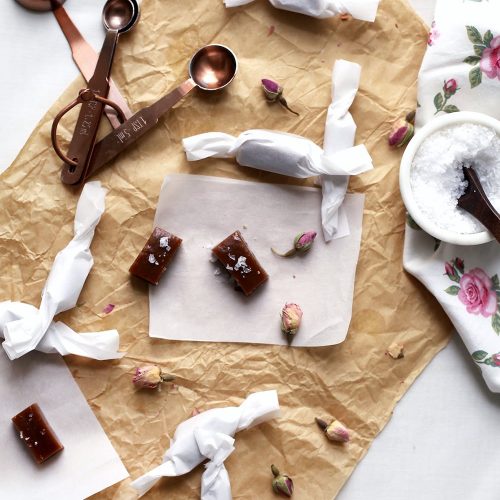 Homemade Caramels – Rose Infused Caramels Recipe
This rose infused caramels recipe makes for the perfect edible gift or fancy bite for your wedding or bachelorette party...
Equipment
Sauce pan

Baking pan

Candy thermometer
Ingredients
2

cup

heavy cream

cooking spray

1

tsp

vanilla

1/4

tsp

salt

1/4

cup

unsalted butter

2/3

tbsp

rose water

1

cup

corn syrup

1

cup

brown sugar

can also eliminate this & just use another cup of granulated sugar

1

cup

granulated sugar

2

tbsp

dried rose petals

typically be found at a spice/herb or health food store

Maldon sea salt flakes

optional for topping
Nutrition
Calories:
193
kcal
|
Carbohydrates:
29
g
|
Protein:
1
g
|
Fat:
9
g
|
Saturated Fat:
6
g
|
Cholesterol:
32
mg
|
Sodium:
44
mg
|
Potassium:
29
mg
|
Sugar:
28
g
|
Vitamin A:
375
IU
|
Vitamin C:
1
mg
|
Calcium:
23
mg
|
Iron:
1
mg
Instructions
To a small sauce pan, set over very low heat, add the heavy cream and rose petals. Allow to simmer, stirring occasionally, for 20-25 minutes.

Meanwhile, to a large saucepan, add the sugars, corn syrup and 2 tablespoons of rose water. Stir just to combine, then set over high heat. Cook, without stirring, until it reaches 285-290 degrees on a candy thermometer.

While the sugar mixture is cooking, drain the cream mixture through a fine sieve to remove the rose petals (there may be a few very small pieces that remain, which is totally fine).

Then, add the cream back to the small saucepan along with the butter and salt. Place the pan on a medium heat burner and cook, stirring every so often, until the butter has melted.

Just as the butter is finished melting, the sugar mixture should be reaching its required temperature of 285-290 degrees. Once it does, remove it from the heat.

Carefully, and slowly, pour in the cream mixture, whisking to combine it (be very careful of this step as the caramel will bubble up and can even pop a bit).

Immediately, place the pan back on high heat and cook, without stirring, until the temperature on your candy thermometer reads 245-250 degrees.

As the caramel mixture is cooking, line an 8"x 8" baking pan with parchment paper, then lightly grease it with cooking spray. Set aside.

Once the caramel has finished cooking, remove the pan from the heat. Quickly and carefully (again, the caramel can bubble up a bit), whisk in the vanilla and 1 teaspoon of rose water.

Immediately pour the mixture into the lined and greased baking pan. Do not scrape the sides or the bottom of the pan, just tip the pan over until the caramel stops drizzling out. Set aside and allow to cool for at least 5 hours, or overnight.

To cut the caramels, remove the block of caramel and parchment paper from the baking pan. Place it on a cutting board, and, using a very large sharp knife, carefully slice it first into long strips that are about ¼" x ½" thick.

Then, cut those strips into 1 ¼" x 1 ½" pieces. Sprinkle with salt flakes, if desired, and wrap in parchment or wax paper squares (I found squares that were approximately 4"x 5" worked best).
KEYWORD:
homemade caramel