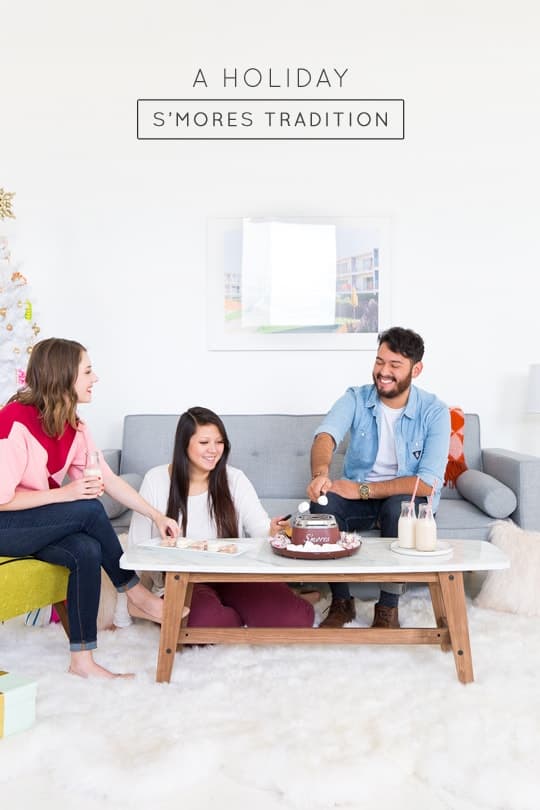 Are you guys tired of hearing about holidays and traditions from me yet? Hopefully not, because I'm introducing yet another new element to our annual Christmas celebration this year with a little s'mores party action (…and my five other new traditions, but you know…). Can you blame me, though? This little guy is so super cute!
To show him off, I took it upon myself to jazz up the studio a bit with some affordable holiday style and invited some of our studio neighbors over. And by invited I mean that I told them to dress cute and act natural because almost no one gets out of the studio without a least one photo to prove it.
It also let us test drive our new studio sofa (we finally got rid of the miserably hard to clean white one!) and coffee table setup that I picked out from…wait for it…Walmart.com. Now before you judge, and because I like to keep things super transparent with you guys, I feel compelled to admit that I was hesitant about it.
They're not exactly the first place that comes to mind when I think of modern and cool, but then it kind of blew my mind to find out that I could order basically this entire room online and it was still in our budget. So for those of you that are turned off by the in-store thing, or for those of you wishing you had known you could get this $89 coffee table before your holidays guests arrived long before now, let me show you what I picked out…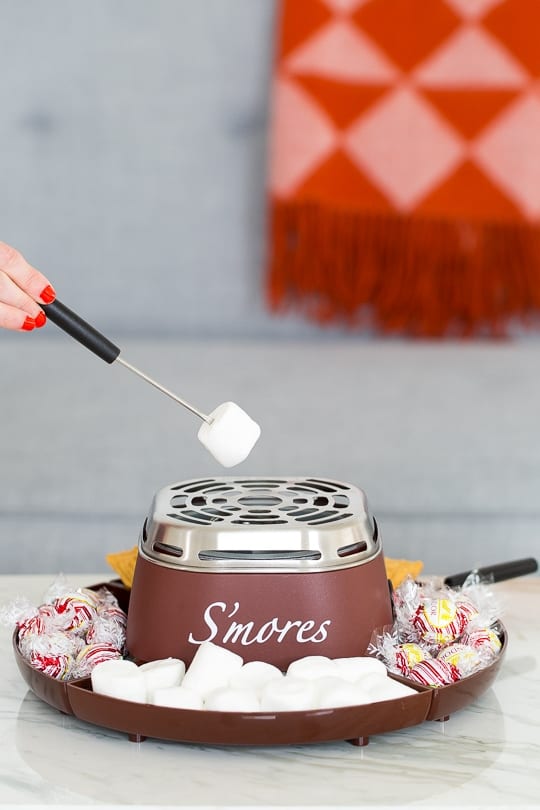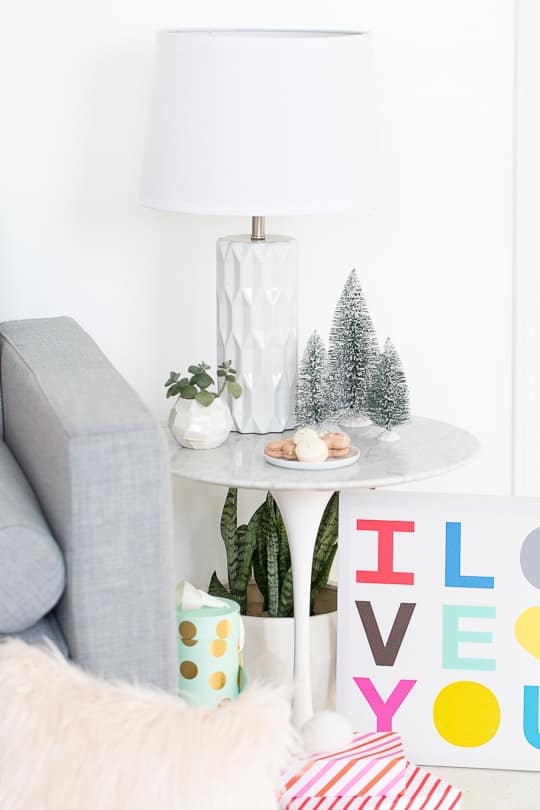 So here's what I didn't realize before (and no, this isn't a paid quote, I was just genuinely fascinated by this new-to-me info): when you search on Walmart's website, you can actually shop from lots of vendors (like Wayfair!), plus their exclusive line collaborations like The Pioneer Women (LOVE her, #fellowbloggerforthewin) and Better Homes & Gardens.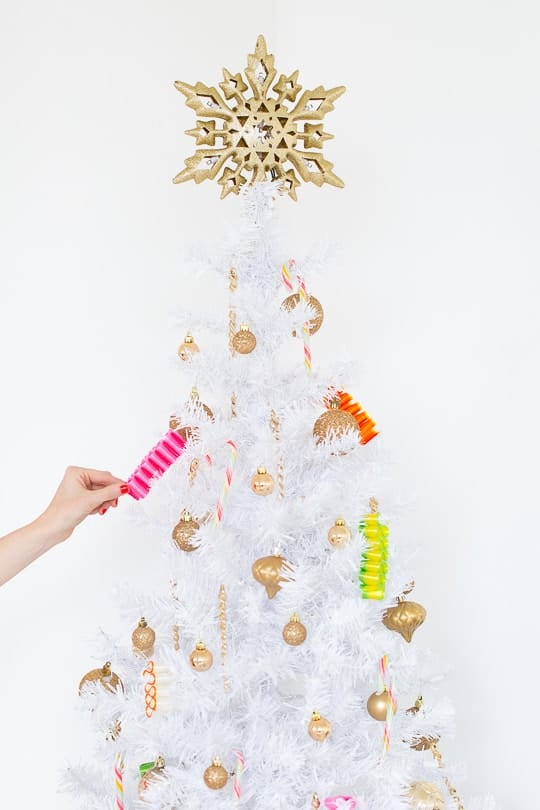 So, first things first, we naturally needed a white tree with touches of gold tree and pops of color (I used candy ribbon!) to match my favorite color combo.
We also couldn't resist a few holiday macarons as a "side dish", if you will. Luckily we're surrounded by macarons enough that I think calling them a side dish is actually a genuine phrase around here, ha!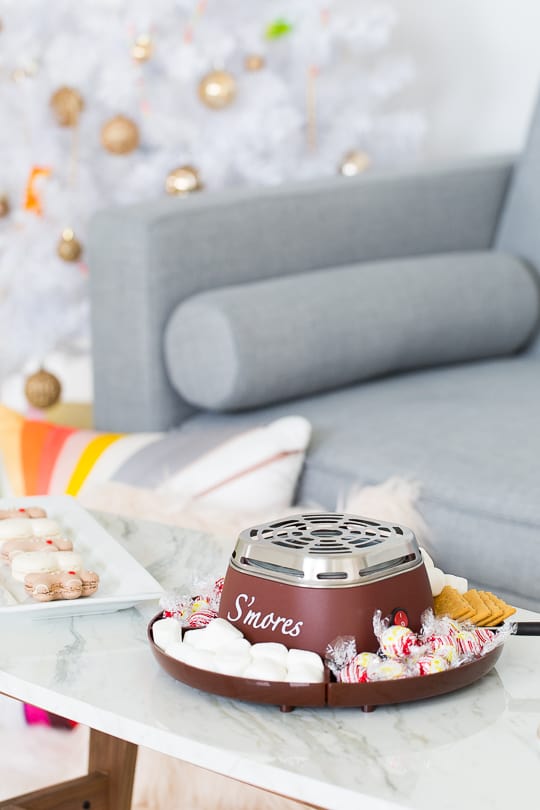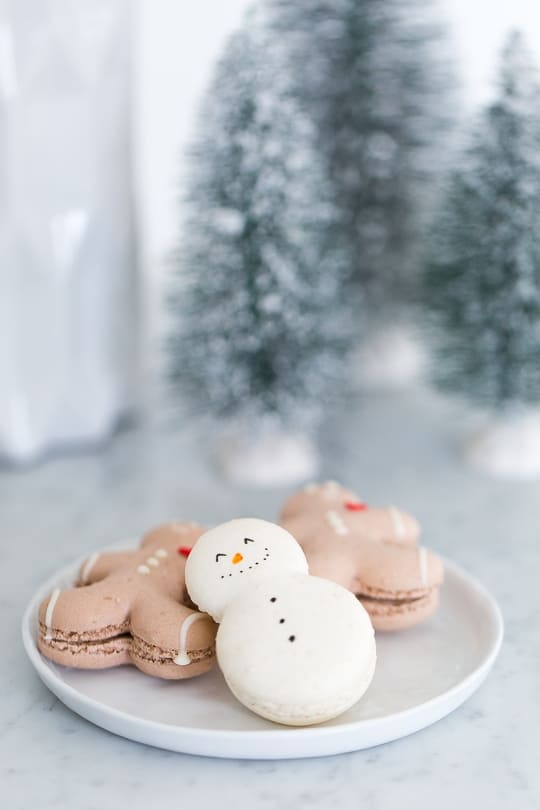 I do love this faux marble coffee table, except I realllly wanted this one but it was sold out. I do like the way the one we got ties in with the accent chair legs, plus you know I love a good marble look!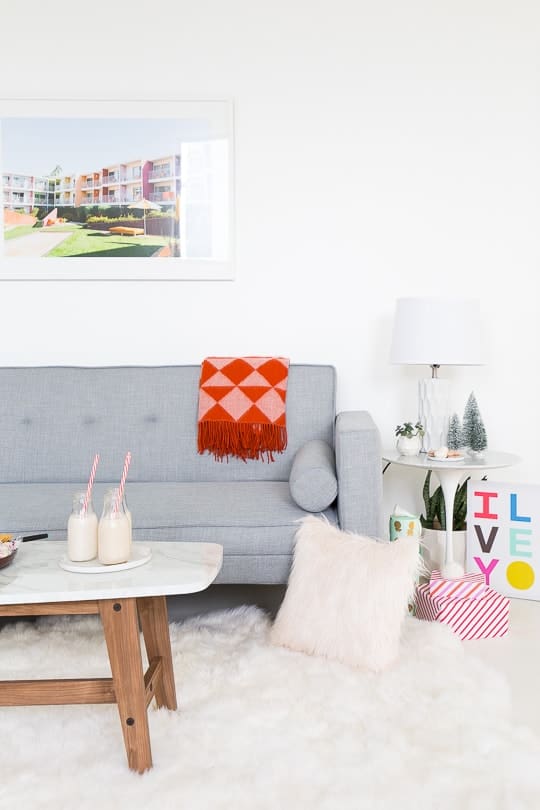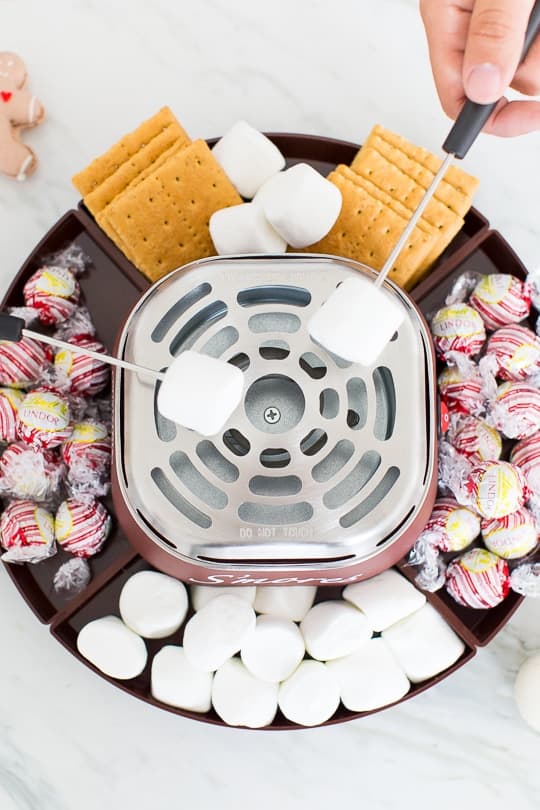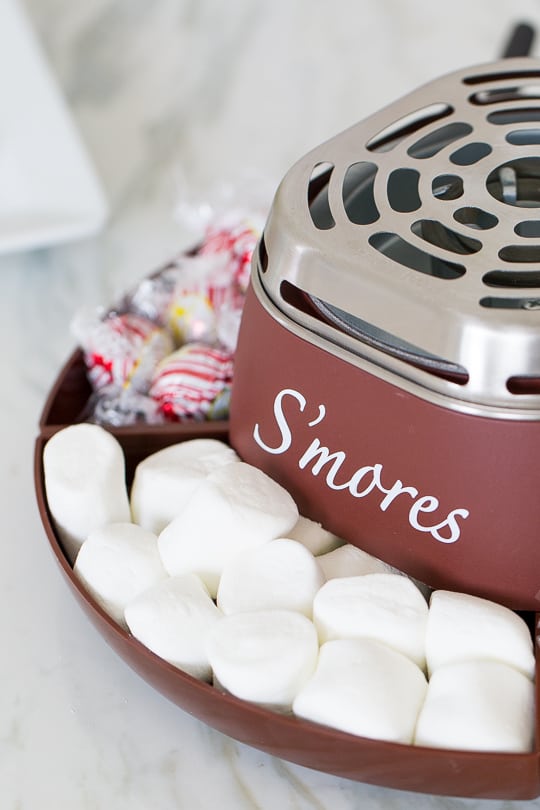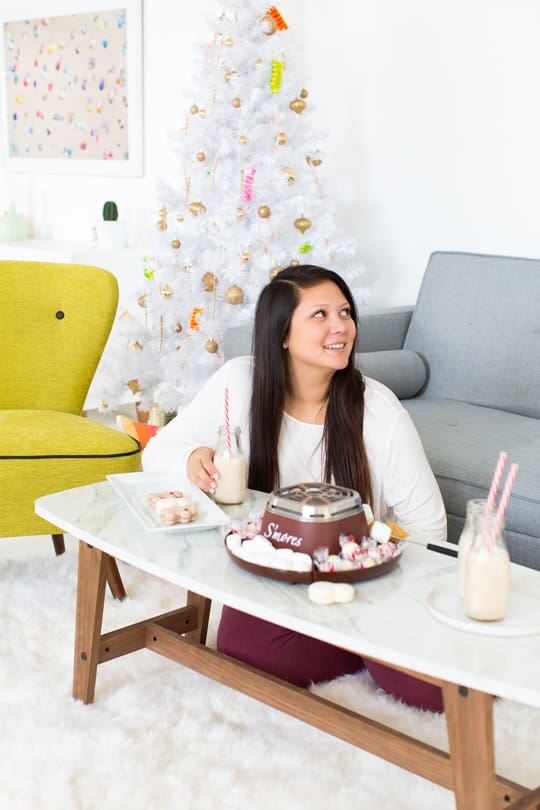 To tie it all together, I stuck with my current shag rug obsession and snagged this one. I mean, I may be bias considering I forced a midday s'mores break upon her, but I think Annie looks pretttty cute in our new setup!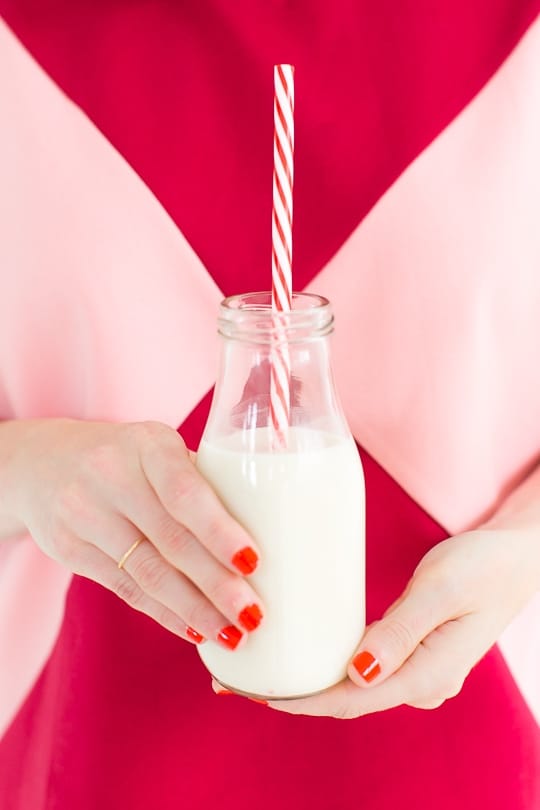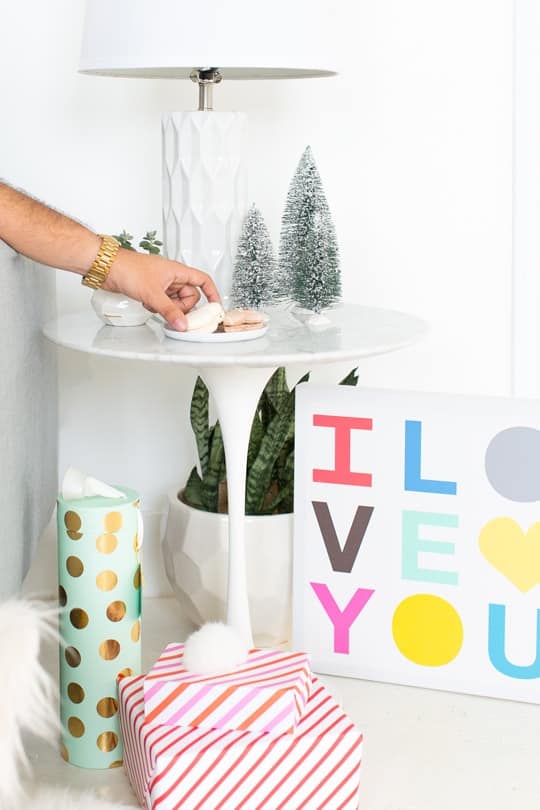 I also think the faceted lamp, colorful wall art, and color wheel pillow fit perfect with the bright, retro vibe of the studio. I think the whole 9 by Novogratz line is really fun.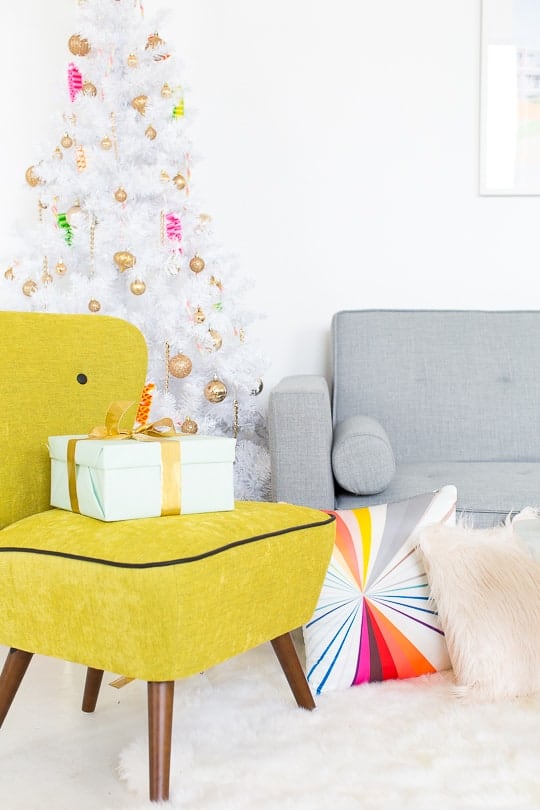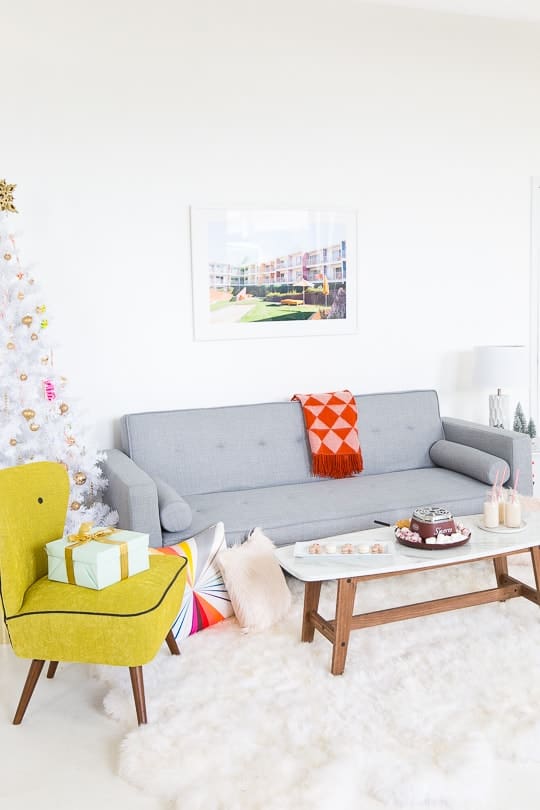 So what do you guys think?! Did we at least inspire you to pick up a tabletop s'mores maker to bribe your friends with during the holidays? If you snag some things, be sure to share your spaces and parties with #affordablestyle so we can follow along too!
You can see all of our Walmart.com selects right, here.
Room sources: linen sofa, $399 // coffee table, $89.98 // accent chair, $135.99 // I love you wall art, $24.97 // color wheel pillow, $14.97 // marble tulip side table, $180 // pre-lit white tree, $39 // s'mores maker, $19.44 // fur decorative pillow, $9.97 // glass milk bottles, $3.97 // two pack faceted lamp set, $39 // lamp shade, $12.97// plastic striped straws, $2.94 // shag rug, $340.09 // icicle ornaments, $8.99 // assorted gold ornaments, $14.98
This post is made possible by Walmart. Thank you for supporting the brands we love that keep bigger and better DIY's, and even sweeter sweets coming straight to your inbox!