Deck the halls with these delicious Christmas cocktail recipes! From spiked eggnog to Christmas martinis, here's to merry good times.
It's coming up at that time of year, and whether you want to drink to celebrate or drink to forget the family drama, drink up while being festive all the way!
These Christmas cocktail recipes are great for a single serving. Nut many also work for punch-bowl style.
However you make it, and however you drink it, you'll enjoy everything more with each delicious sip.
Turning a Cocktail into a Party Punch
Although some of these drinks require shaking, many of these cocktails can be prepared in large batches in advance.
Anything that makes the holiday prep easier is great, right?
If the drink requires shaking (such as creamy cocktails or eggnog), it is more difficult to prepare in advance because the drink will curdle thanks to the lactose.
However, if the drink doesn't require shaking, simply increase the number of servings in the recipe.
Then, mix it with ice and keep it chilled in the fridge or freezer (depending on the ingredients in the drink, of course).
Just make sure to hold off on adding any carbonation to the drinks until they're ready to be served to keep everything bubbly and fresh.
If you're looking to make your drinks look extra festive and make them the talk of the party, then use ornaments!
It is not too complicated to make ornaments into glasses, and they will make any drink taste that much more festive.
Christmas Cocktail Recipes
1 — Christmas Old Fashioned Recipe
This old-fashioned will put you in a Christmas mood thanks to its delicious combination of Angostura bitters, bourbon, and gingerbread simple syrup.
2 — Boozy Frozen Hot Chocolate
Frozen hot chocolate seems like a conundrum, but it is perhaps one of the best things on this planet.
What's more, this recipe is boozy. So drink up and cool down!
3 — Christmas Cookie Ice Cream Shot
Although the recipe is for a shot, it is easy to make a bigger portion and cocktail version.
Plus, this recipe works great for kids and adults alike with small adjustments.
Both versions require Christmas cookie ice cream, white sprinkles, and simple syrup.
The kid-friendly version asks for milk and green food coloring, while the boozy version uses creme de menthe and white creme de cacao.
4 — Gingerbread Martini
If you're looking for a creamy martini, look no further.
This gingerbread martini is impossible to resist and is packed with cinnamon, allspice, and ginger while being not overly sweet.
So, if you're worried about breaking the limbs off of your gingerbread man, worry no more with this delicious, drinkable gingerbread cookie.
If you want to stay in a gingerbread party theme, try out some ideas in this Christmas Cottage Gingerbread Party.
Or if you're into everything French, try this Eiffel Tower gingerbread!
5 — Christmas Martini
If you want an easy martini that tastes like Christmas, this is it.
This martini is easy to mix together, and the cranberry juice makes it a very festive red.
Plus, if you're hosting a big party, it can be made in a pitcher or punch bowl for easy preparation and serving.
6 — Christmas Morning Mimosa
If you're having a Christmas morning brunch, this mimosa is perfect!
This Christmas morning mimosa is sweet and very red thanks to the cranberry and pomegranate juices, while the sparkling wine makes it bubbly.
7 — White Cosmo
This is an iconic drink that can be customized for countless occasions.
The White Cosmopolitan delicately combines white cranberry juice, elderflower liqueur, and citrus vodka.
8 — Christmas Margarita
Margarita? Christmas? Cranberry and pomegranate? Say no more!
This Christmas margarita will make any party come alive thanks to its layers of flavor and bright red color.
9 — Holiday Spice
This Holiday Spice cocktail is best described as a piña colada with a Christmas spin or a tropical spin on eggnog.
The drink uses egg, milk, and coconut vodka as a base and is topped off with allspice, nutmeg, and cinnamon.
One sip will whisk you away to a tropical paradise in the cold winter months.
10 — Poinsettia Punch
Poinsettias are one of the most beautiful flowers. And this drink being, a poinsettia punch, is no different.
11 — Mrs. Claus' Wildside Punch
Mrs. Claus certainly has to let loose, given she's surrounded by elves and stuck in the North Pole year-round while her husband travels the world.
This 4-ingredient fruity tequila punch is easy to make, easy to drink, and perfect for big holiday gatherings.
12 — White Chocolate Candy Cane Cocktail
This next cocktail is for all you candy cane lovers out there! It's a rich and creamy drink that's perfect for sipping on a cold winter day.
And thanks to the white chocolate liqueur, it's like having a candy cane in a glass!
Wine-Based
13 — Host Spiced Wine
If there's a holiday party, then there will always be mulled wine being served.
And probably because it's super easy to make. You can make it way in advance in a slow cooker.
Plus, you can personalize it to be as spicy or as sweet as you'd like.
14 — Holiday Wine Spritzer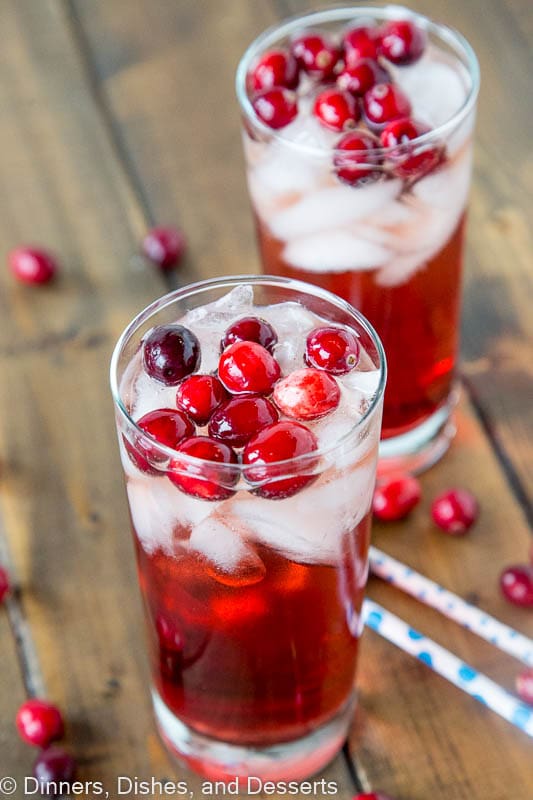 Wine spritzers are the perfect cocktail for a light and bubbly feel. Jazz it up with a holiday feel, and you're set to host a party!
This holiday wine spritzer is made up of 1/3 red or white wine, 1/3 ginger ale, 1/3 cranberry juice, and topped with fresh or sugared cranberries.
15 — Holiday Manhattan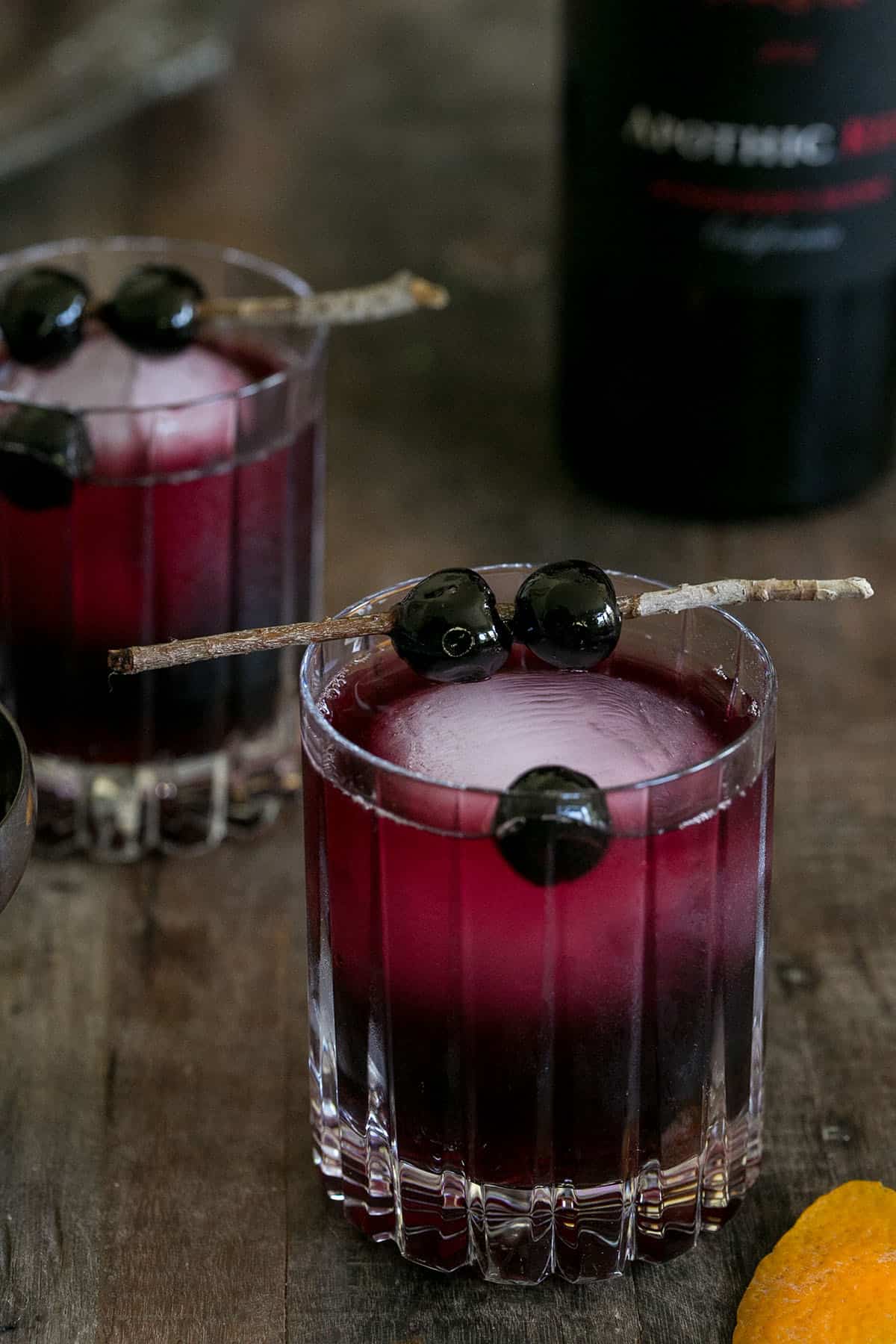 Why have a classic Manhattan when you can have a bolder wine Holiday Manhattan?
Simply stir a shot of bourbon, a shot of simple syrup, and 2 ounces of red wine. Try to use full-bodied reds like a Cabernet Sauvignon or Zinfandel.
16 — Red Wine Hot Chocolate
Red wine and hot chocolate? Sign us up!
Take some semisweet chocolate chips, milk, and your favorite red wine (preferably a dry, fruit-forward like shiraz or merlot), and heat them over low heat.
Then, stir in some vanilla and sea salt when the chocolate chips melt.
17 — Christmas Sangria
This Christmas sangria will have you wondering if you're on a beach in Spain or hosting a Christmas party surrounded by snow.
This cocktail is filled to the brim (literally) with delicious seasonal flavors like pears, pomegranates, and fresh cranberries.
It also has dry white wine and white cranberry juice to keep it light and refreshing, while the pear brandy and ginger beer give it a bubbly boost.
Eggnog Variations
18 — Peppermint Eggnog Milkshake Shots
These shots are so delicious you won't be able to help but make them in bigger portions (AKA punch bowl size).
Made with peppermint ice cream, white peppermint chocolate bark, eggnog, sugar water, and crushed peppermint.
Freeze it, and then serve it up!
Don't forget to top it off with some peppermint bark for extra flavor and festiveness.
19 — Eggnog Martini
If you have too much eggnog on hand, worry not.
Simply mix it with amaretto and vodka to create a simple yet delectable boozy eggnog martini.
20 — Fireball Eggnog
Fireball is going into many new drinks these days. And there's a great reason why. This cinnamon whisky is absolutely irresistible.
This recipe is prepared with eggnog, and then, shaken into a frothy delicacy with hints of amaretto for additional sweet nuttiness.
More Holiday Recipes
So whether your Christmas is poolside or in snowy mountains, there are endless Christmas cocktail recipes to make to light up your days during wintertime.
Don't forget to enjoy every sip! And here are some festive recipes to pair with those holiday season cocktails —