Working on your holiday cookie tray? Here are 12 Christmas cookie tray ideas and sweet treat recipes for you. They're sure to be a hit on Christmas!
One of the most fun (and most delicious) parts of Christmas is the cookies — making them, decorating them, and, (of course) eating them.
Something that can step up your cookie game for Santa this year is to also make a cookie tray to give an even more finished look to your hours of cookie preparation.
Regardless of if you're using cookie tins, decorated treat bags, large trays for parties, or small plates, with these Christmas cookie tray ideas, you'll automatically make the "nice" list every year.
Christmas Cookie Tray Ideas
1 — Christmas Cookie Dessert Charcuterie Board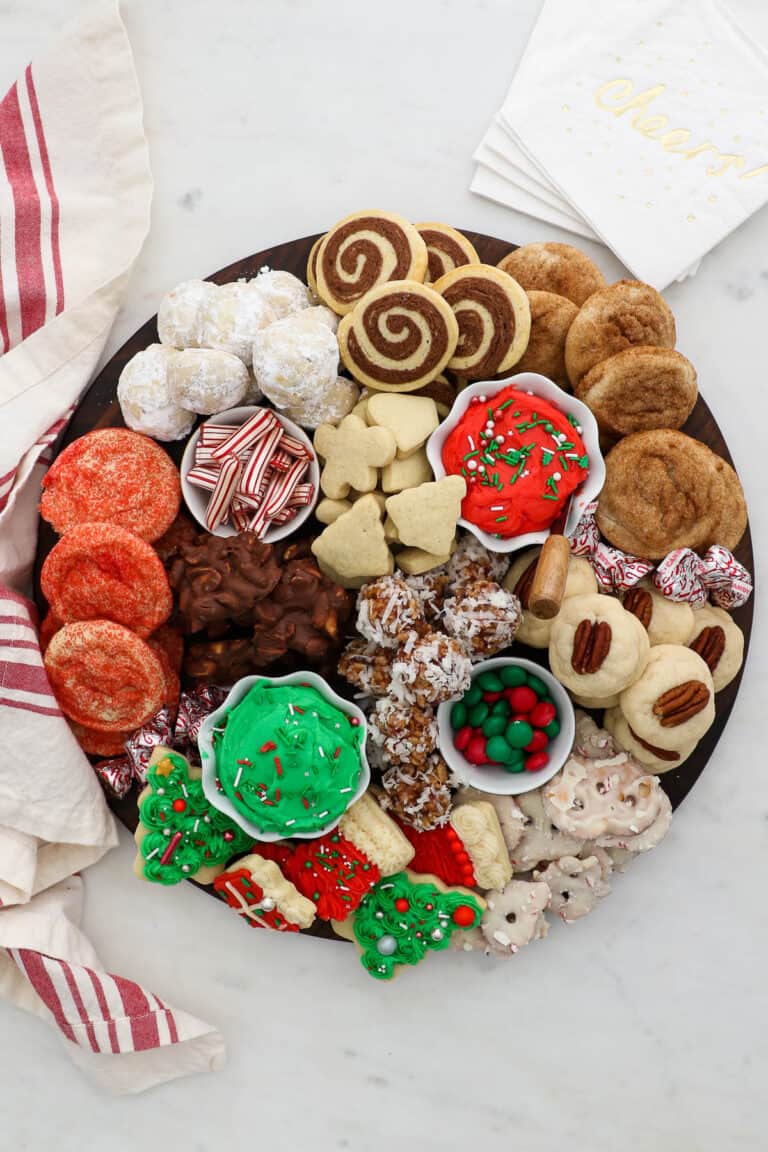 When it comes to presentation, it's a must to have a good base.
So choosing your board (shape, color, and material) is important.
Once you have the board and cookies ready, arranging is the fun part.
The largest cookies should be placed first and placed around the outside of the board, making them easier to grab.
Layer the more unique cookies as you move toward the center of the board and place the smallest cookies in the center, stacked, to add height.
Make sure that no cookies have the same color or texture if they're placed next to each other.
If you have nuts or small candies, use small, shallow bowls and place them on the board also.
If you have any holes peeking out between cookies, use candy (such as Hershey's kisses or small candy canes) to fill them up.
2 — White Chocolate and Peppermint Board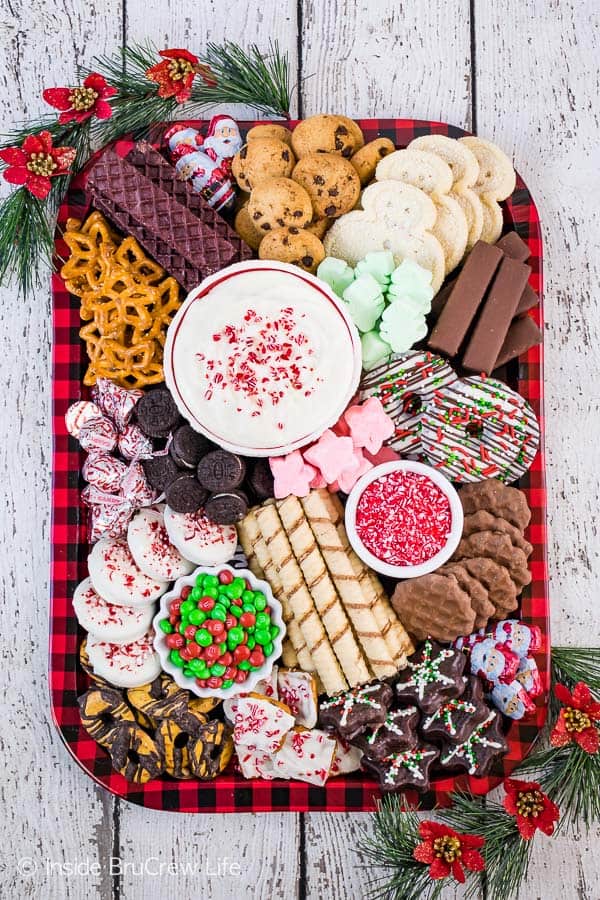 If you're looking to switch up your board this year, try this white chocolate and peppermint board.
The cream cheese-based white chocolate dip is a great addition to any peppermint fan.
Plus, the possibilities to serve with it are endless.
From pretzels and Hershey kisses to marshmallows and Oreos, you're sure to enjoy this great holiday treat.
3 — Christmas Sugar Cookie Board
View this post on Instagram
This Christmas cookie board does a great job of combining every flavor, texture, and decoration into one board.
It starts off with basic cookies scattered throughout.
However, by adding decorated frosted cookies and holiday-colored gummy bears, it adds an extra festive effect to the board.
Plus, this board is special in that it has a Santa in the corner that fits additional treats — in this case, Peeps.
4 — Christmas Cookies and Candy Dessert Board
Although this Christmas dessert board uses a lot of cookies, it also puts a big emphasis on using candies that other boards in this list leave out.
For example, gum drops, gummy bears, Cadbury chocolates, peppermint butter mints, candy canes, and Christmas-themed Peeps and M&Ms.
5 — Everything Red and Green Christmas Board
Christmas is all about color, and this tray gives a great example of just that.
Instead of having a typical brown and tan snickerdoodle, this everything red and green Christmas board has only red and green cookies on it.
While a lot of the items on this board aren't homemade, it's easy to throw together at the last minute and incredibly delicious.
6 — Non Traditional Christmas Cookie Tray
If you're less stingy about the color theme of your tray but want to stay festive, this Christmas cookie tray is a great example.
All of the cookies on it have a Christmas-themed shape or give off a winter feeling.
Pair it with some hot buttered rum for even more fun!
7 — Holiday Cookie Tray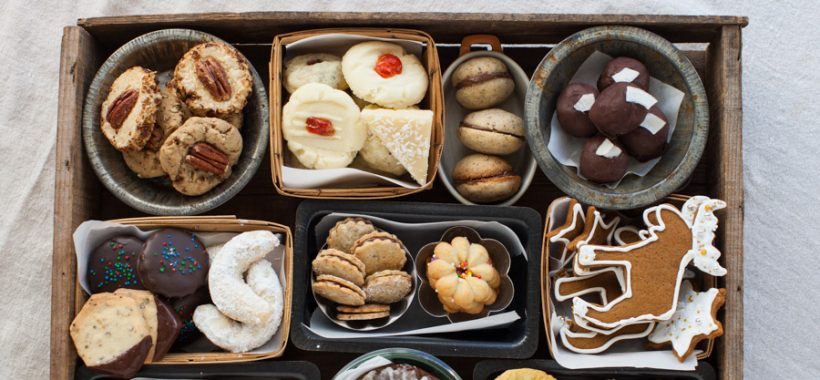 This holiday cookie tray takes a different approach to most.
It segregates each cookie type into its own holder while still looking fabulous.
It uses a variety of small, mismatched items around your kitchen to make it come together like mini loaf pans, small bamboo produce baskets, butter dishes, and tiny tart pans.
8 — Tempting Christmas Cookie Tray
If you're looking to tempt each person with a cookie or two, this temping Christmas cookie tray will do the trick.
It should have several types of cookies on it — one decorated cookie, one kid-friendly item, one type of shortbread, one chocolate-based item, one item that has fruit or jam, one square item, and something with nuts.
9 — Holiday Cookie Platter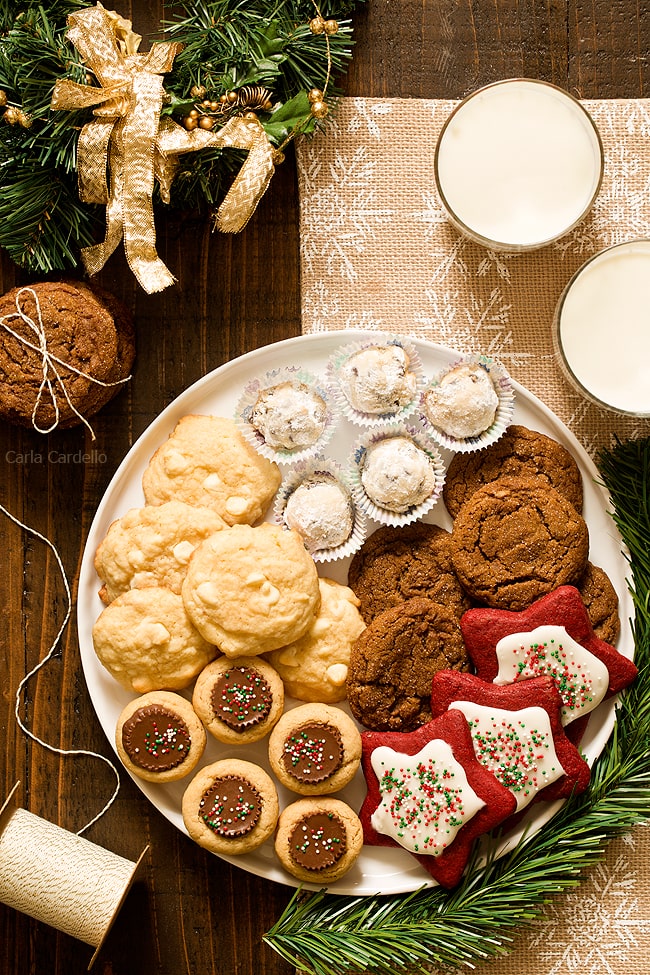 Looking to change up your holiday cookie platter this year?
This cookie tray has you covered.
It doesn't use traditional Christmas cookies, but it's every bit as delicious as the next.
The cookies featured in this cookie tray are chocolate chip snowball cookies, lemon white chocolate chip cookies, gingersnaps, peanut butter cookie cups, and red velvet sugar cookies.
10 — Christmas Homemade Cookie Charcuterie Board
There are a variety of ways to arrange a Christmas homemade cookie charcuterie board, and none of them are wrong.
This board in particular takes the following steps.
1 — Take a rectangular or square plate of cookies and place it on the center of the board.
2 — Start in one corner and make a "pile" of cookies.
Do the same with each type of cookie on the board as you go around, making sure each color, shape, and style of cookie differs from the one next to it.
3 — Sprinkle little candies around the tray and fill empty spaces or holes with fresh greenery, such as rosemary.
11 — Christmas Cookie Platter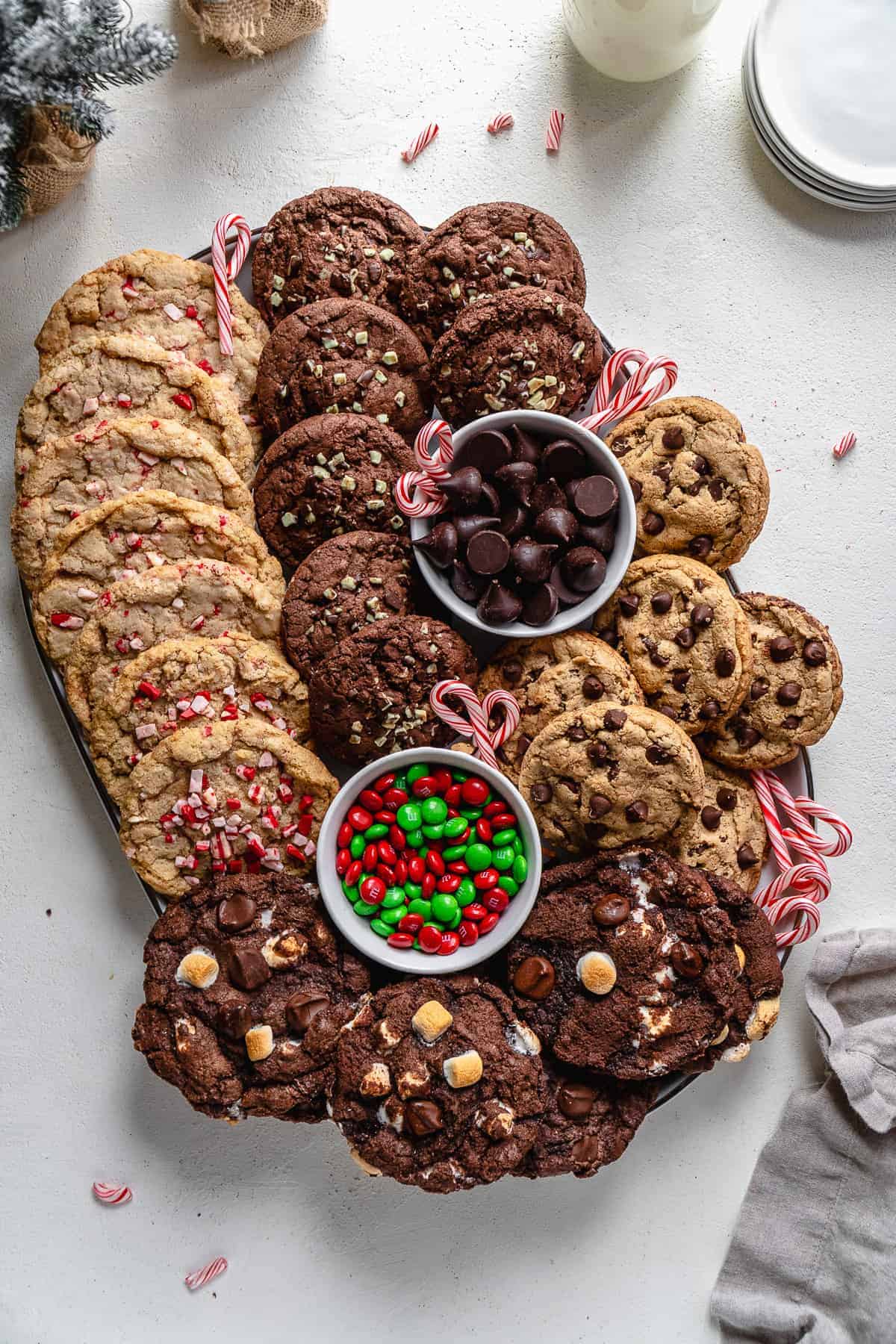 This Christmas cookie platter takes a different approach to "fillers."
When there's a blank space between cookies or your board is bigger than you thought and you have extra space, add in some fillers such as:
— Nuts: Salty nuts are a great way to offset the sweetness of the cookies and candy.
— Candy: Red and green M&Ms are classic.
— Fruit: Strawberries are red and make the board festive.
— Popcorn: Think puppy chow or funfetti popcorn.
— Cheese: Both sweet and savory.
12 — Perfect Holiday Cookie Platter
Not everyone's definition of perfect is the same.
But this perfect holiday cookie platter is so versatile it's hard to say it's not perfect!
Every cookie platter needs at least one type of sugar cookie — one type of frosted cookie, at least one spiced cookie (gingerbread, eggnog, snickerdoodle, molasses, etc.), and at least one cookie that isn't a typical flat and round cookie (for example, a ball-shaped cookie).
When it comes to adding candies and fudge, make sure things are different colors.
Don't make everything brown or white.
Toffee and truffles are also great additions to any holiday cookie platter.
Christmas Cookie Recipes
1 — Failproof Sugar Cookies
If you're like me, there's a 50% chance you mixed up the salt and sugar.
So having a failproof sugar cookie recipe on hand is always a good idea.
Plus, sugar cookies are great "blank slates," making them easy and incredibly fun to decorate.
2 — Funfetti Reindeer Cookie Sandwiches Recipe
These funfetti reindeer cookie sandwiches are not only cute to look at with the little antlers but delicious to eat with cookies encasing the delicious filling.
These are surprisingly easy to make, which makes it a great activity for the whole family this Christmas!
3 — Brown Butter Toffee Cookie Recipe
Just by reading the title, our mouths are already watering.
They're easy to make (you probably already have everything in your kitchen), easy to pack up for events, and will be the first cookies to go off your Christmas cookie tray.
4 — Holiday Cookie and Sprinkle S'mores
A yummy play of a yummy cookie.
These Holiday cookie and sprinkle s'mores are a great way to get your s'more fix without getting too messy.
With a delicious cookie and chocolate underneath, this cooked marshmallow is topped with sprinkles and graham cracker bits to make the best s'more you've ever had.
5 — Christmas White Chocolate-Dipped Pretzel Rods
A fan of pretzels dipped in anything?
Look no further than these Christmas white chocolate-dipped pretzel rods.
They are crunchy thanks to the pretzel, creamy thanks to the white chocolate, and easy to decorate for the whole family from icing (use food coloring to make the white chocolate green or red) or covered in holiday-themed sprinkles.
6 — Christmas Chocolate Kiss Cookies
A classic Christmas cookie, these chocolate kiss cookies are a great cookie to have around the house or to take to any holiday event.
They taste delicious, are incredibly easy to make (kid-friendly!), and are easy to travel with despite their shape.
7 — Snowball Cookies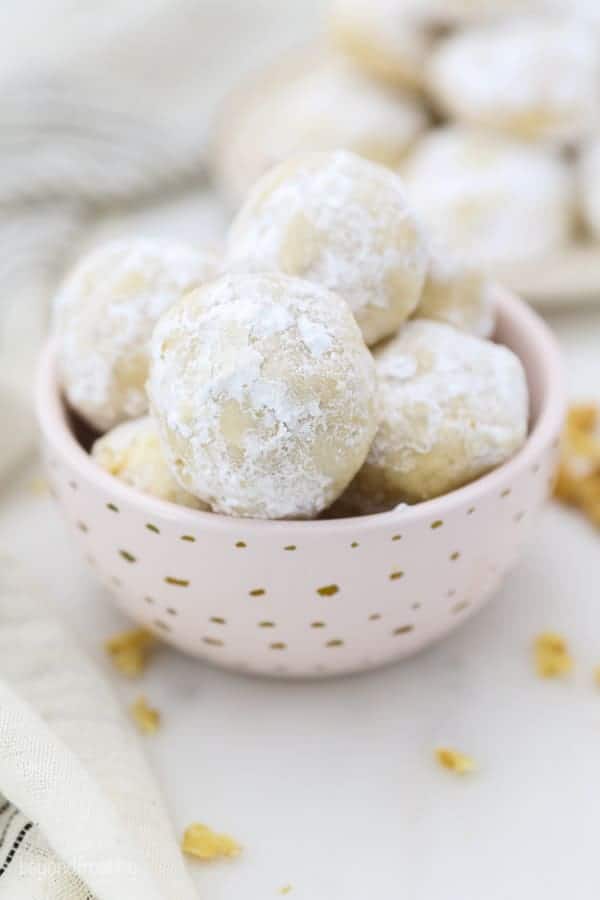 Another classic irresistible Christmas cookie, these snowball cookies are easy to throw together at the last minute and are easy to pack up for any event.
Just make sure no one has a nut allergy.
The buttery cookie combined with the powdered sugar on the outside makes this cookie melt-in-your-mouth good.
8 — Chocolate Peanut Butter Stuffed Cookies Recipe
Chocolate and peanut butter are like peas and carrots, an unequivocal match.
These chocolate peanut butter stuffed cookies are a great example of that.
Thick and moist chocolate cookies with peanut butter stuffed inside.
You can't go wrong!
9 — Christmas Monster Cookies
If you're a fan of M&M cookies, also known as monster cookies, this is a great kid-friendly recipe to try.
Instead of using any color of M&M, these Christmas Monster Cookies use red and green M&Ms, oats, chocolate chips, and peanut butter to make it more and more delicious with every bite.
10 — Soft Frosted Eggnog Cookies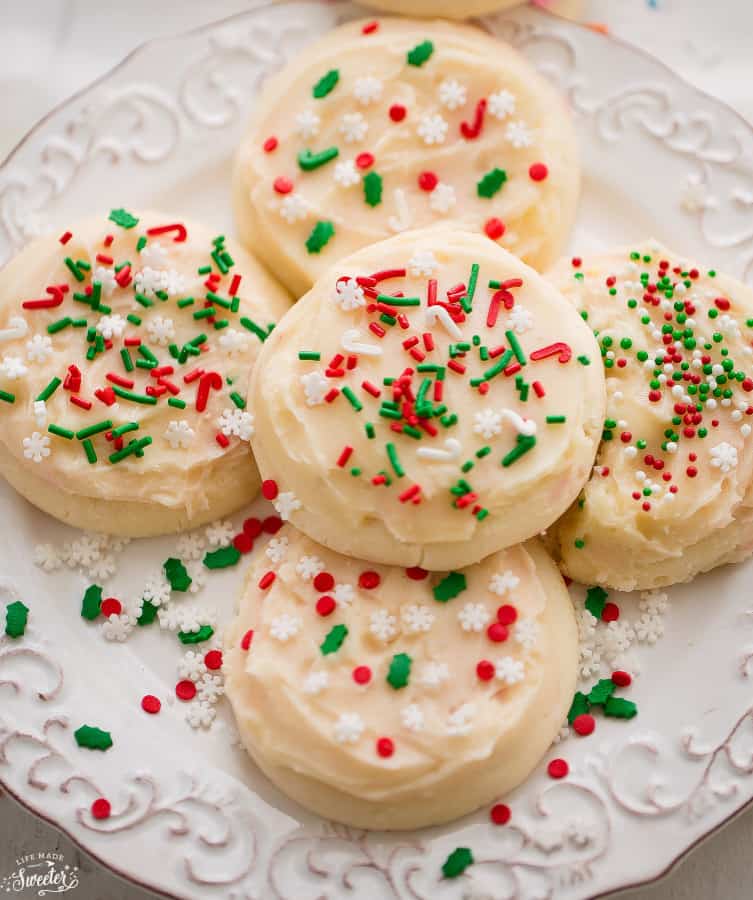 Eggnog? Cookies? Yes, please!
These soft frosted eggnog cookies are the perfect addition to an eggnog-loving household.
Whether you dip it in milk or rum/brandy, these eggnog cookies will definitely fix any craving you've had for the creamy drink this year.
11 — Candy Cane Cookies
If you want to take your cookie-making preparation up a notch, these candy cane cookies are twisted as can be!
They're easy to whip up but more intriguing to bake than using a simple ice cream scoop.
12 — Santa Claus Sugar Cookies
Looking for a cookie to make for Santa this year?
Look no further than Santa himself with these Santa Claus sugar cookies.
They're delicious in taste and incredibly decorative.
Plus, they'll make a fun family project!
13 — Christmas Tree Cookies
These Christmas tree cookies are absolutely as delicious as they are festive.
With a sugar cookie base, a pretzel trunk, and green icing decoration, these cookies are going to be your new Christmas go-to.
14 — Reindeer Pretzels
If you only have 30 minutes to spare and still need a homemade treat, these reindeer pretzels are fast and easy to make.
Not to mention how adorable they are with their eyes and red noses!
15 — Snowball Swirl Cookies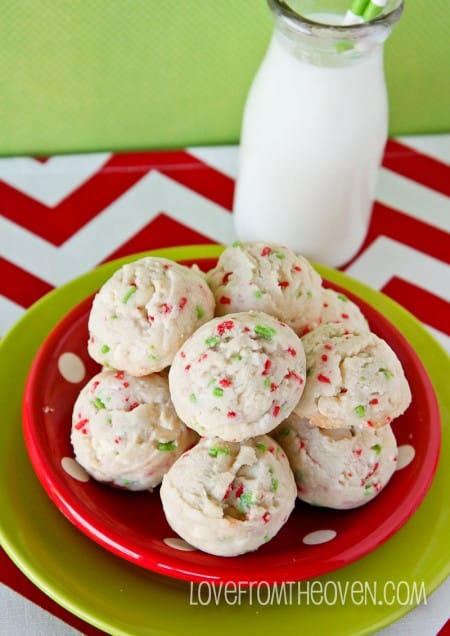 If you're looking for something simple but festive, these snowball swirl cookies are a great choice.
They're buttery soft and have white chocolate chips and holiday sprinkles baked in throughout.
What's more, they're easy to throw together at the last minute.
More Easy Cookie Recipes
Other Favorite Holiday Recipes