You can never go wrong with having an arsenal of cookies recipes bookmarked. And this snickerdoodle cookie recipe is seriously the best!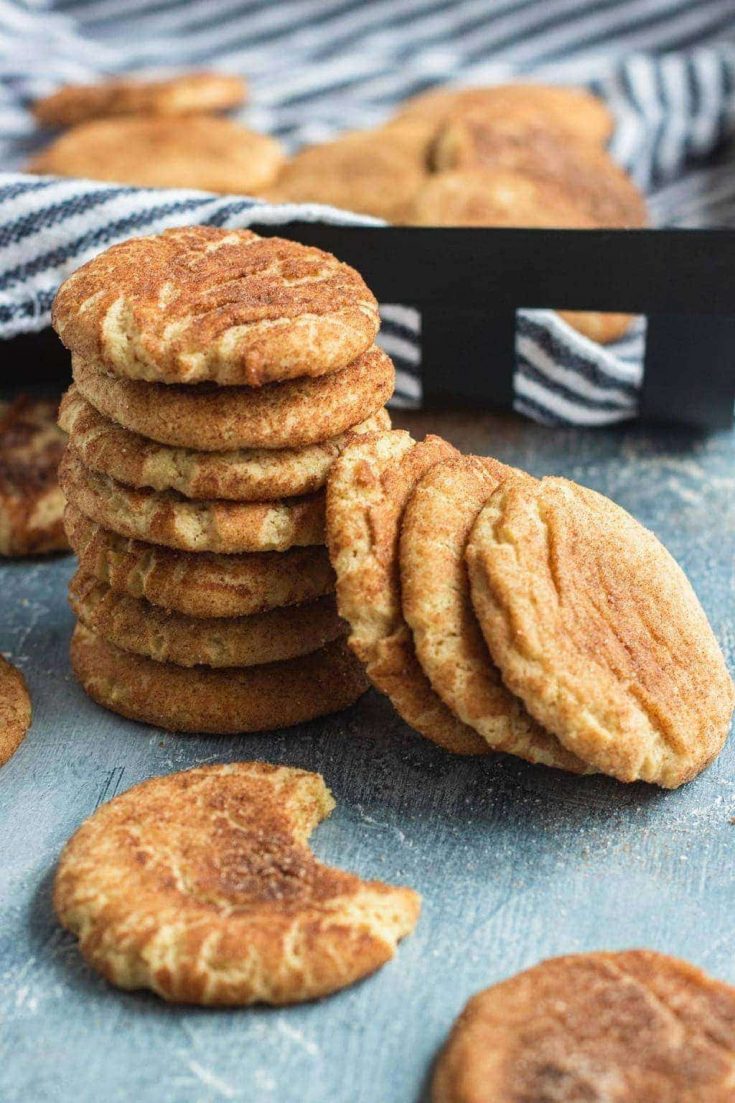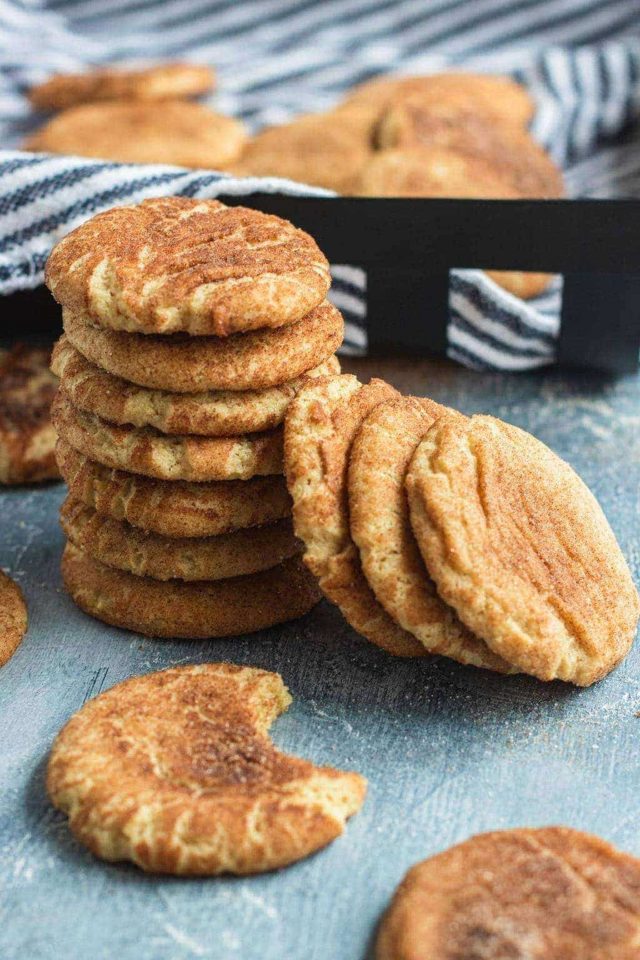 While it's technically the perfect season for baking, we pretty much consider cookie season to be year-round!
I, Rebecca will be forever in love with a great recipe for classic chocolate chip cookie. However, I'm also a fan of more seasonal options like snickerdoodle cookies!
There's something really cozy about freshly baked cookies and the gooiness of warm snickerdoodles.
And I know you'll love this recipe as much as we do because they're so easy to whip up and are always a crowd favorite…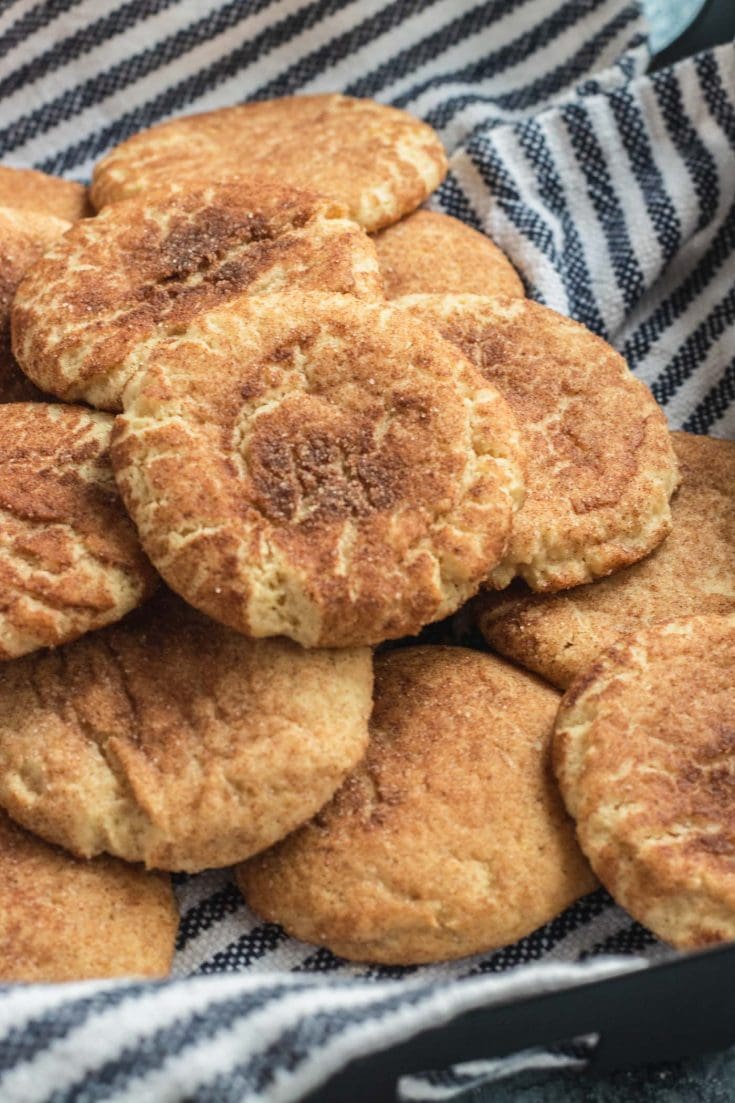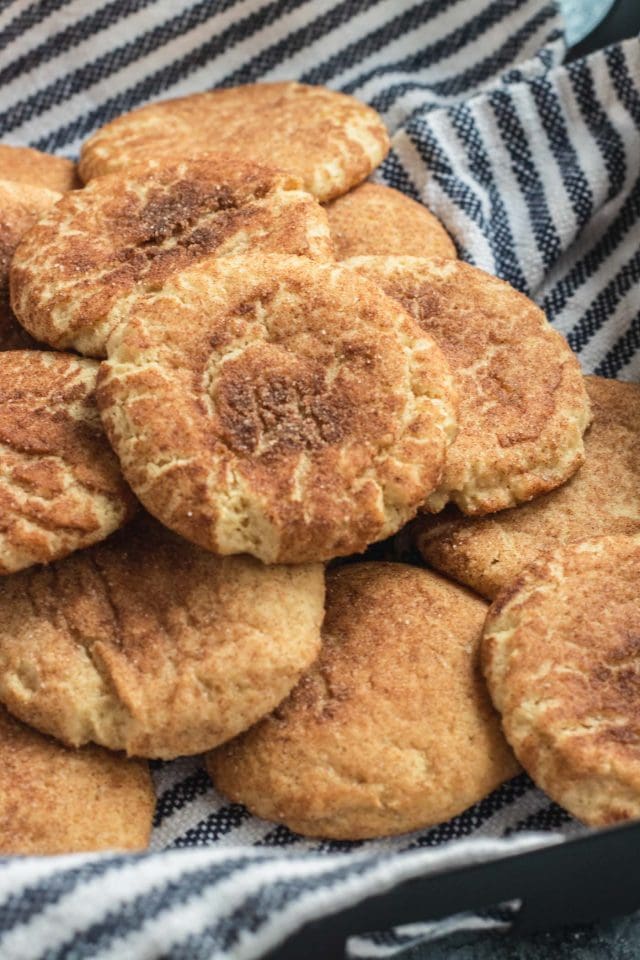 What are Snickerdoodle Cookies?
Snickerdoodle cookies are basically a sugar cookie dough rolled in cinnamon sugar mixture before baking. This recipe is an especially light and fluffy version of the classic snickerdoodle recipe.
They have a slightly tangy flavor from a special ingredient — cream of tartar baking powder. The special addition contrasts nicely with the sweet spiciness of the cinnamon sugar on the outside.
And really, the cream of tartar is what sets these apart from your average sugar cookie! That's what makes them lightly and fluffy cookies but soft with a nice bite.
I like to bake snickerdoodles for about 8 minutes. Then, I bang the pan a couple of times on the top of the stove as soon as they come out of the oven. This gives you a soft chewy cookie.
But if you prefer a cookies that are a bit crisper, leave them in the oven for a couple more minutes.
What Makes the Perfect Snickerdoodle Cookie?
This may be subjective to say what "the best" is, but there are some very important things to consider when looking to make the perfect snickerdoodle.
The most important thing might be: don't skimp on the butter! These cookies absolutely need a lot of butter to help them achieve their full potential and if you go with too little, you'll probably end up with a dry and crumbly mess.
Using butter at room temperature can also help yield better results since it will mix easier into your wet ingredients.
Make sure your eggs are at room temperature as well or else cold eggs could cause your cookie dough to turn out lumpy and gloopy instead of nice and smooth like mine below.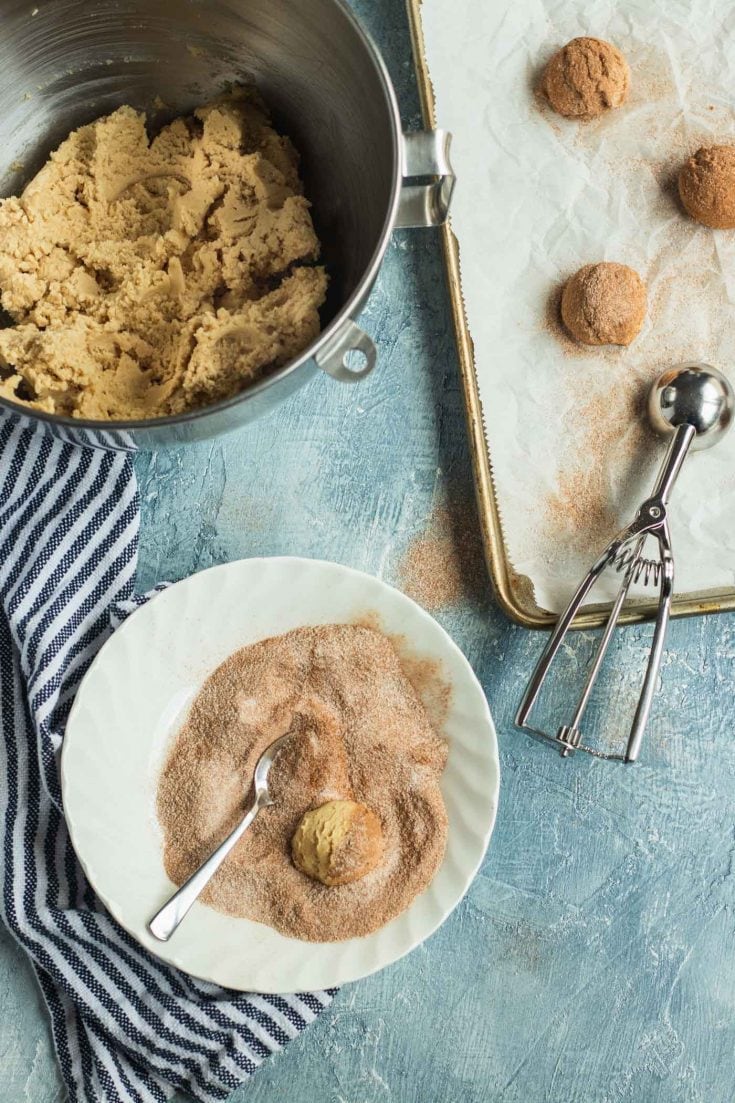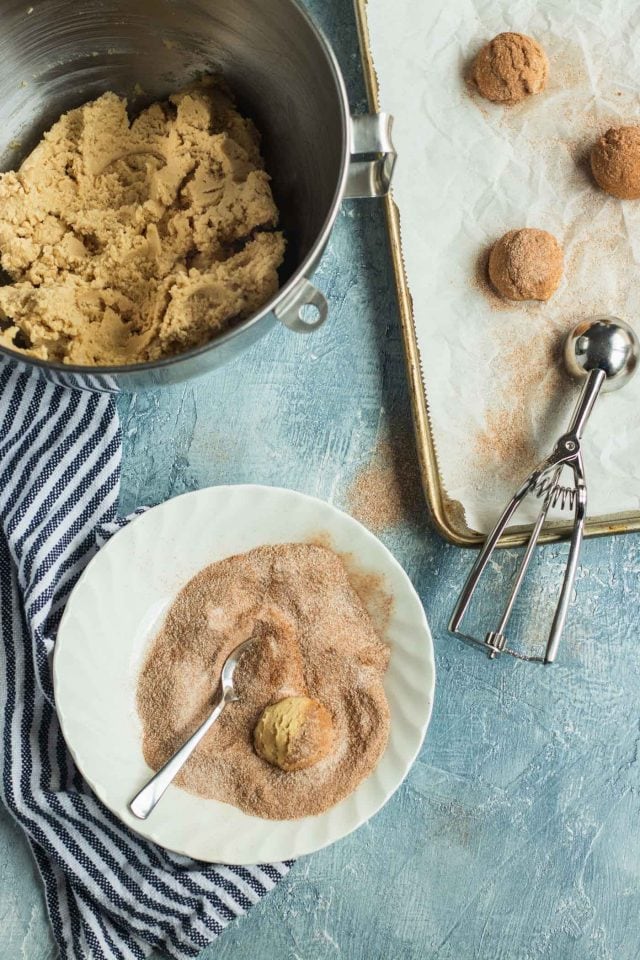 Ingredients Needed to Make Snickerdoodle Cookies
Softened butter
Brown sugar
White granulated sugar
Eggs
Vanilla extract
All-purpose flour
Cream of tartar — The key ingredient
Baking soda
Fine ground sea salt
Ground cinnamon
The Secret Ingredient: What is Cream of Tartar?
Cream of tartar, scientifically known as potassium bitartrate, is a by-product of wine making. It's actually a dry ingredient too!
It's an acid that forms in wine barrels as it ferments. Then, it's harvested and powderized from the casks.
But what does it do for cookies? Essentially, the cream of tartar interacts with the baking soda and creates a stronger rising action. It also lends a hint of a tang to the dough.
You can find cream of tartar in the spice section of the grocery store. If you don't bake a lot, it may seem silly to purchase it just for the 1 ½ teaspoon required for snickerdoodles.
However, if you store it in a cool, dark place (like the back of your spice cupboard), it won't actually go bad.
It may lose some of its potency after it's expiration date. But you can continue to use cream of tartar indefinitely if it hasn't gotten wet.
Snickerdoodle Recipe Without Cream of Tartar?
A snickerdoodle is a type of sugar cookie that contains cream of tartar as one of the ingredients.
Cream of tartar is a white crystalline powder with a slightly acidic taste and odor and acts as an agent to provide stability for egg whites when making meringue.
The ingredient can be left out completely or substituted for another acidic ingredient such as lemon juice.
In this case, the resulting texture will be more similar to a sugar cookie as opposed to a thicker, crunchier snickerdoodle.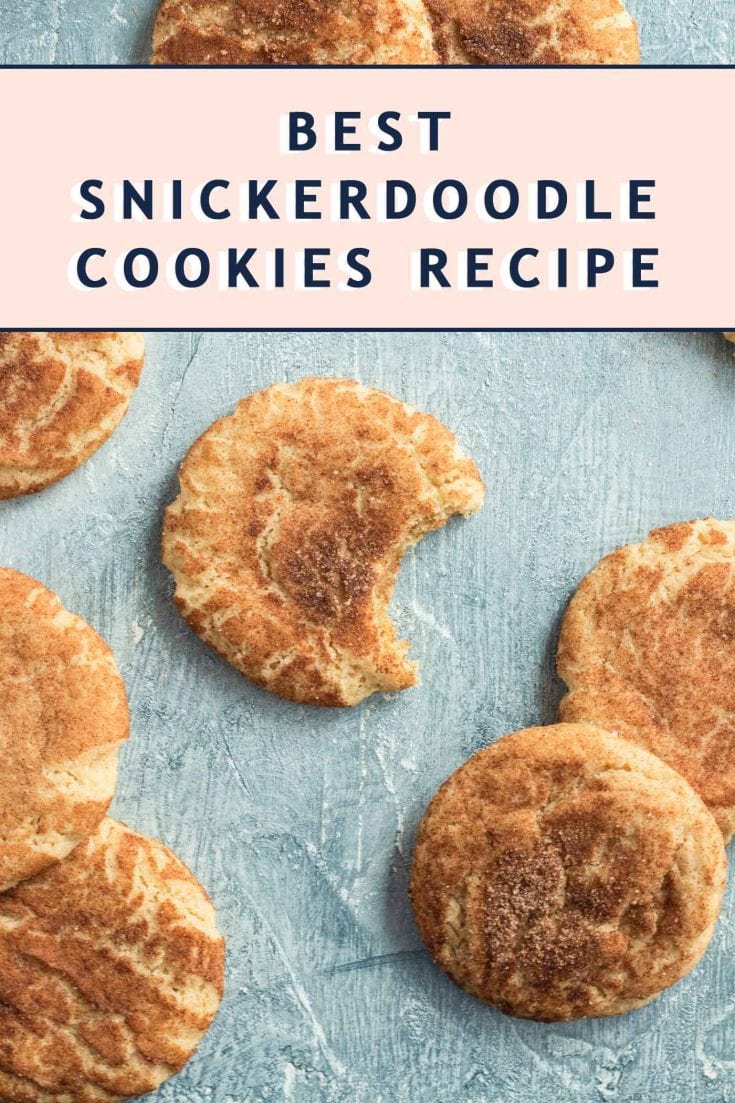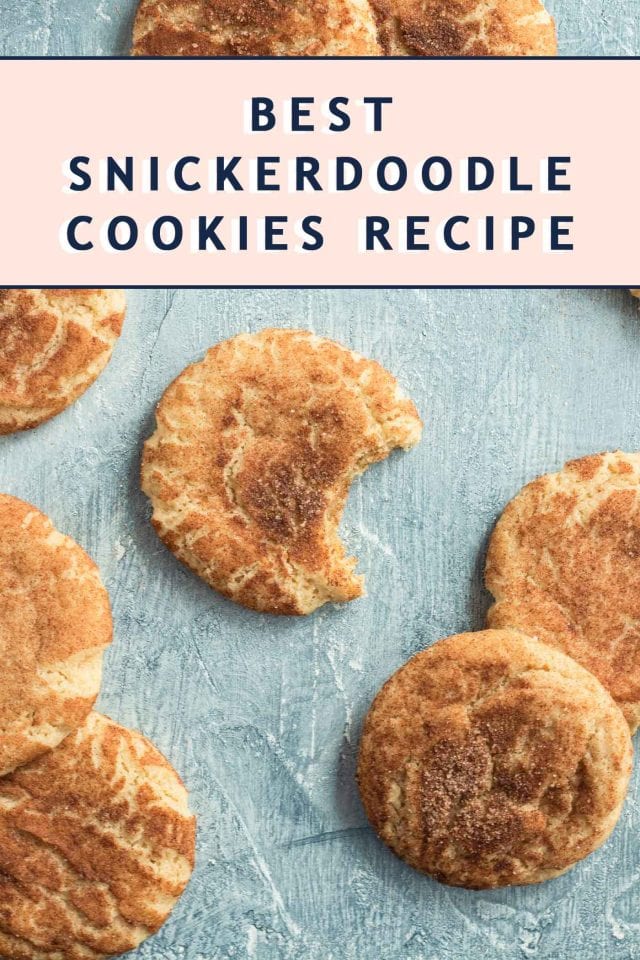 How are Snickerdoodles Cookies Made?
First, set out your ingredients to let them come to room temperature.
Butter obviously needs to be soft enough to cream. Plus, cold ingredients like eggs won't emulsify into the dough as nicely.
So you'll end up with a better cookie if you have it all at room temperature before you start mixing.
Line baking sheets with parchment and get the oven preheated to 350F.
Cream your butter and sugar together with either a stand mixer or hand mixer on medium speed for about 3 minutes.
Make sure to give it time to get nice and fluffy. This sets the stage for really soft, chewy cookies. The mixture will get a lot lighter as it whips.
Add the eggs and vanilla extract until they are completely combined.
In a separate bowl, mix together the dry ingredients (flour, cream of tartar, baking soda, and salt) to make sure they're well combined. Then, add in the wet mixture.
And now for the sugar and cinnamon mixture! You'll want this in a generously sized bowl. Mix the cinnamon and sugar in a bowl and set aside.
The recipe only calls for few tablespoons of granulated sugar. However, you'll need space to roll the dough balls in it. (I like to use a cereal bowl or small bowl).
Portion the dough out into 1 ½-2 tbsp. portions and roll them in the cinnamon sugar mixture. Don't be shy about how many times you roll the dough. You'll want them to be very coated in cinnamon and sugar!
Place them about 2-3 inches apart on the cookie sheets, then place them on a rack in the center of the oven.
Bake six on a tray for 8-10 minutes.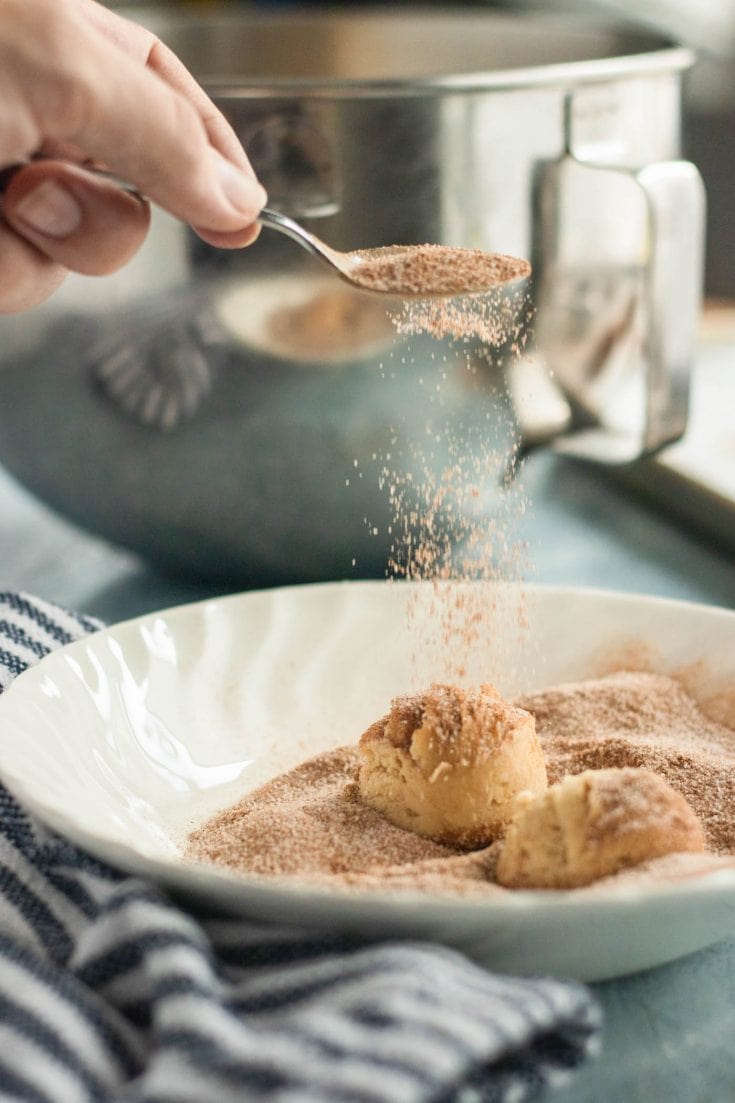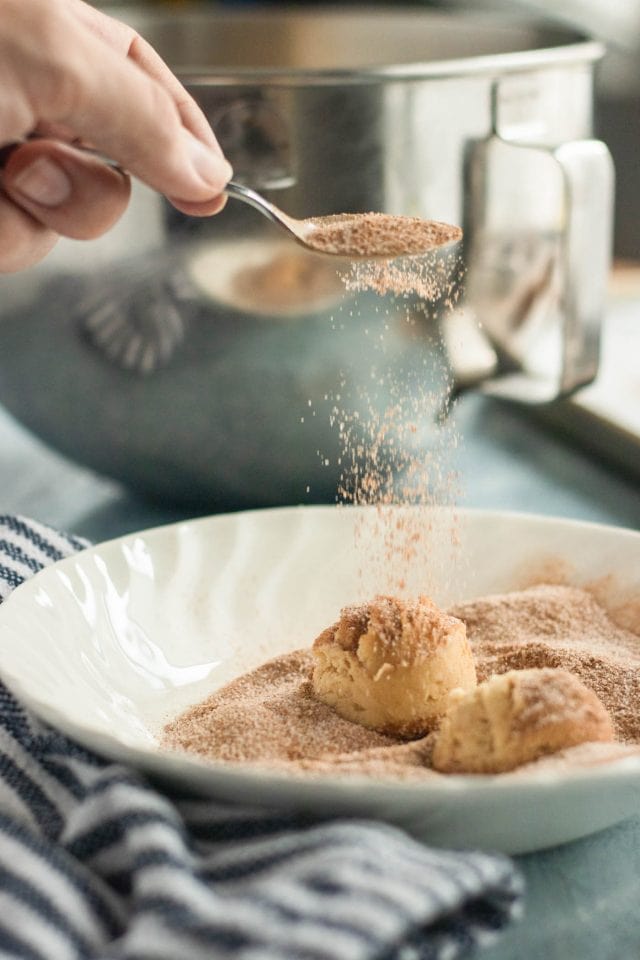 Tips for Baking The Perfect Snickerdoodle Cookies Recipe
— Use real butter for the best results.
— When you measure the flour, spoon it into the cup. Scrape off the excess with the flat edge of a knife. This gives you a more accurate measurement than scooping.
It's easy to pack a lot of extra flour in the cup if you scoop it out with the measuring cup. That could result in drier cookies.
— If you aren't short on time, chill your cookie dough for 30 minutes before placing them in the oven. Snickerdoodle cookies tend to flatten out but pre-chilling the dough will ensure that they come out fluffy and thick.
— Use a cookie dough scoop for evenly sized cookies that bake uniformly.
— Prefer a chewy texture? Give the pan a good whack on your sink as soon as you pull the cookies out of the oven. Or on the stove top works too!
(Basically any heat resistant, unbreakable surface works.) This will cause the hot air to deflate quickly. And you'll get wrinkly tops with chewy centers.
— If you want crispy edges, give the snickerdoodles an extra two minutes in the oven for a total of 10 minutes. You will get a light golden color. Make sure to keep an eye on the cookies because you still want the middle to be soft and chewy.
How to Store Snickerdoodle Cookies
The cookie dough can be made ahead of time and refrigerated.
First, pre-scoop the dough balls, and then, lay them out on a parchment-lined baking sheet.
Cover the sheet with plastic wrap to prevent them from drying out. Store in the fridge before baking or keep them in the freezer for 2-3 months.
To store the baked cookies, cool the cookies completely on a wire rack. Then, store in an airtight container for 4-5 days.
You can also freeze baked cookies for up to 3 months in the freezer. Thaw them overnight in the refrigerator before re-eating them.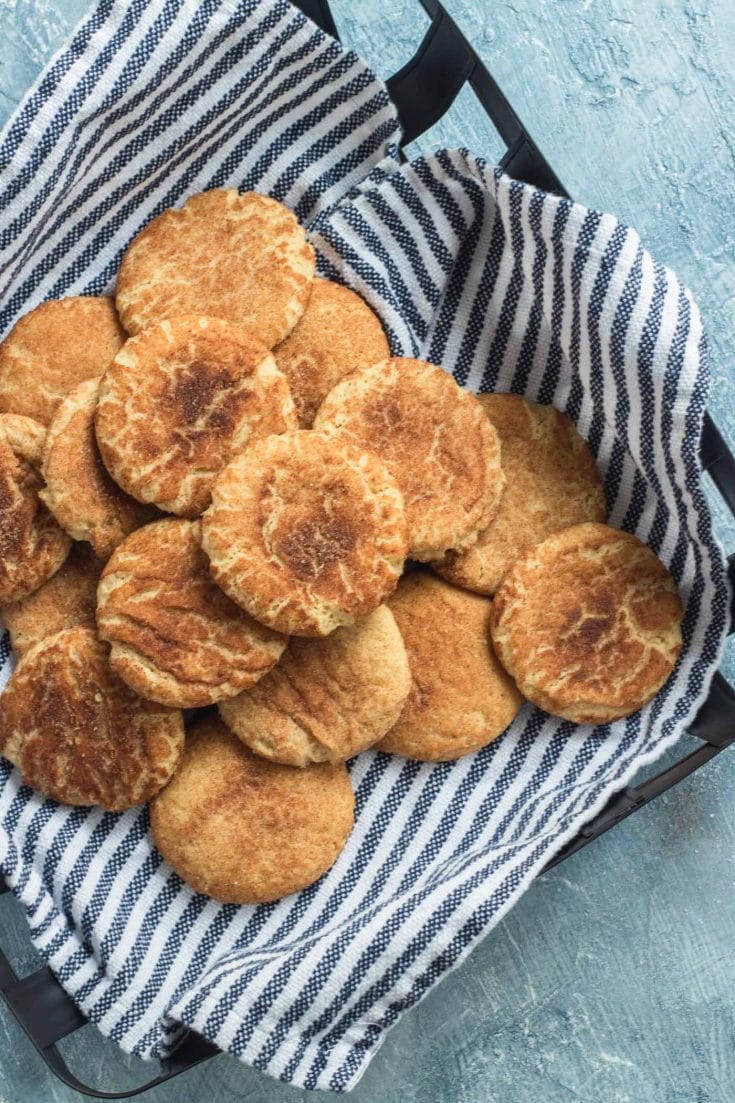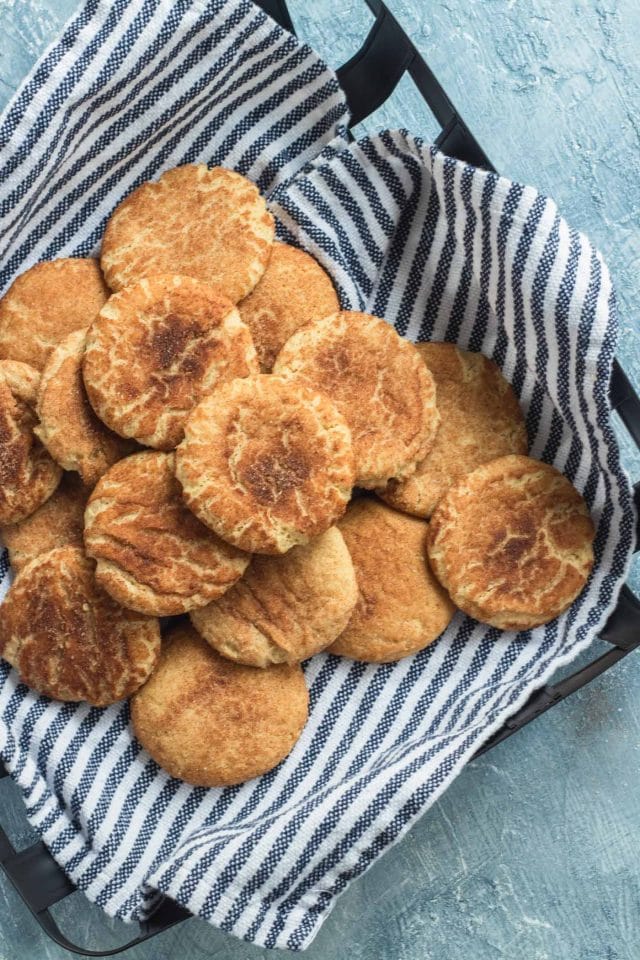 More Easy Cookie Recipes
Do you have any other seasonal favorites that are your go-to cookie recipes for gifting or entertaining? I'm always a big fan of macarons but love letting the kids help out with colorful sprinkle sugar cookies too.
Or you can just throw a real dessert wild card by serving champagne jello shots as an after dinner treat.
Looking for some other amazing recipes that will make you want to lick the sides of the bowl? Here are some of my favorites from our archives —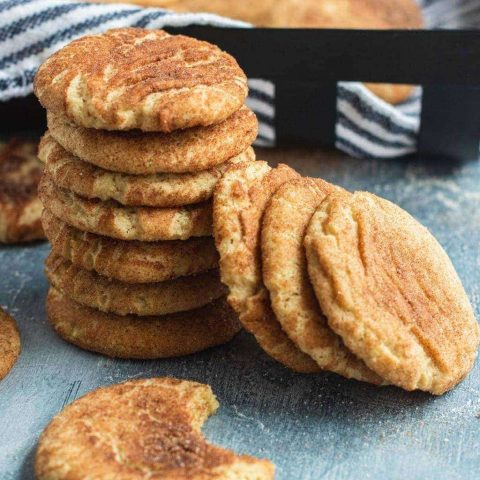 Best Snickerdoodles Cookies Recipe
A classic, light and fluffy snickerdoodles cookie recipe that will surely be a hit.
Ingredients
1

cup

butter

softened

3/4

cup

brown sugar

1/2

cup

granulated white sugar

2

eggs

1

tbsp

vanilla extract

3

cups

all-purpose flour

1 1/2

tsp

cream of tartar

1

tsp

baking soda

3/4

tsp

fine ground sea salt
Cinnamon Sugar Mix:
1/4

cup

granulated sugar

1

tbsp

ground cinnamon
Nutrition
Calories:
146
kcal
|
Carbohydrates:
20
g
|
Protein:
2
g
|
Fat:
7
g
|
Saturated Fat:
4
g
|
Cholesterol:
27
mg
|
Sodium:
160
mg
|
Potassium:
51
mg
|
Fiber:
1
g
|
Sugar:
10
g
|
Vitamin A:
205
IU
|
Calcium:
13
mg
|
Iron:
1
mg
Notes
Yields 2 1/2-3 dozen cookies.
Mixing Time: 15 minutes
Baking Time: 40 minutes-1 hour
Give the snickerdoodles an extra two minutes in the oven for a total of 10 minutes if you want the edges to get a little crisp
Instructions
Set out all of the ingredients to come to room temperature.

Line your baking sheets with parchment paper and preheat the oven to 350F.

Cream the butter and sugar together with either a stand mixer or hand mixer on medium speed for about 3 minutes, or until the mixture is light and fluffy.

Add the eggs one at a time and mix them in until they are completely combined, then mix in the vanilla extract. 

In a separate bowl, combine together the flour, cream of tartar, baking soda, and salt. Add it to the wet ingredients and mix until they have come together into a soft dough.

Mix the cinnamon and sugar in a bowl and set aside. 

Portion the dough out into 1 ½-2 tbsp. portions and roll them in the cinnamon sugar mixture.

Place them about 2-3 inches apart on the cookie sheets, then place them on a rack in the center of the oven.

Bake for 8-10 minutes, then remove them from the baking sheets to a wire rack to cool. You can also adjust the baking time to add a minute or two if you prefer crunchier cookies.

Cool them completely before storing in an airtight container. They will keep for 4-5 days.
KEYWORD:
cinnamon, cookies, snickerdoodle, sugar and cloth

Don't forget to share your snickerdoodle cookies with us on Instagram using the hashtag #sugarandclothloves. Looking for more quick and delicious recipes? Find them all right here with a few bites to go along with them!
More Of Our Favorite Cookie Recipes