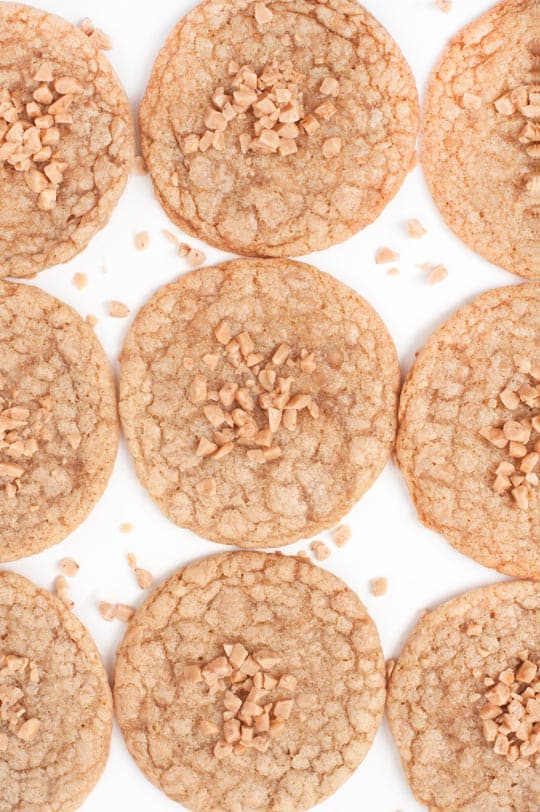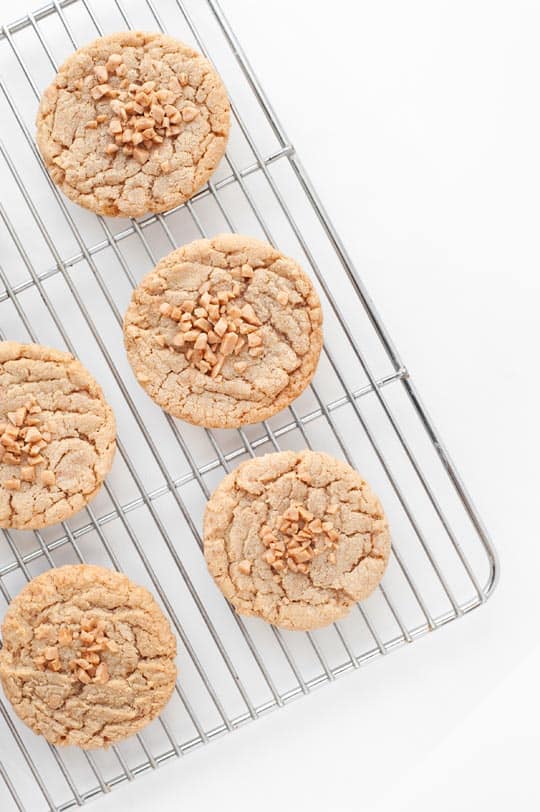 I know, I know we're on a holiday dessert kick right now, but you wouldn't really want me to withhold this brown butter toffee cookie recipe, would you?! We may have missed the neighborhood Christmas cookie swap, but these are a staple you can always have on hand. We're even showing you a cute DIY for delivering them to your favorite people, with just a few things you probably have laying around the house!
We're also introducing you new our newest contributor, Sprinkles For Breakfast! If that doesn't sound Sugar & Cloth appropriate, I don't know what does…
Brown Butter Toffee Cookies Ingredients:
2 1/2 cups flour
1 teaspoon baking soda
2 teaspoons cream of tartar
1/2 teaspoon cinnamon
1/2 teaspoon salt
1 cup unsalted butter, browned
1 1/4 cups brown sugar
1/2 cup sugar
1 egg and 1 egg yolk
1 tablespoon of plain greek yogurt
1 teaspoon vanilla extract
1 cup toffee pieces
1/3 cup toffee pieces for topping
Preheat the oven to 350 degrees and prepare a baking sheet with parchment paper.
In a medium saucepan, cook butter over medium heat while whisking constantly. The butter will begin to foam, and eventually start to turn brown at the bottom of the pan.
Once the butter begins to brown, transfer immediately to a stand mixer fitted with a paddle attachment. Let cool for 5 minutes.
Add sugars and mix until combined.
Add egg, egg yolks, greek yogurt and vanilla extract.
Add dry ingredients and mix until just combined.
Stir in 1 cup of toffee pieces.
Using a medium ice cream scoop, place cookies on baking sheet and bake for 8-10 minutes, or until the edges of the cookies begin to turn golden brown.
Take cookies out and immediately sprinkle with remaining toffee pieces.

DIY Cookie Bags
Kraft Bags (5″ x 7.5″)
Lavender or Rosemary Leaves
Pencil
Red, Green and Brown Stamp Pad
for the tree:
Place leaf down on the green ink pad. Using a paper towel, press down to make sure leaf if fully covered in ink.
Put the leaf down on the bag, and use paper towel to press down and stamp.
Repeat slightly next to the first stamp.
Dip pencil eraser into red ink.
Randomly stamp ornaments all over the tree.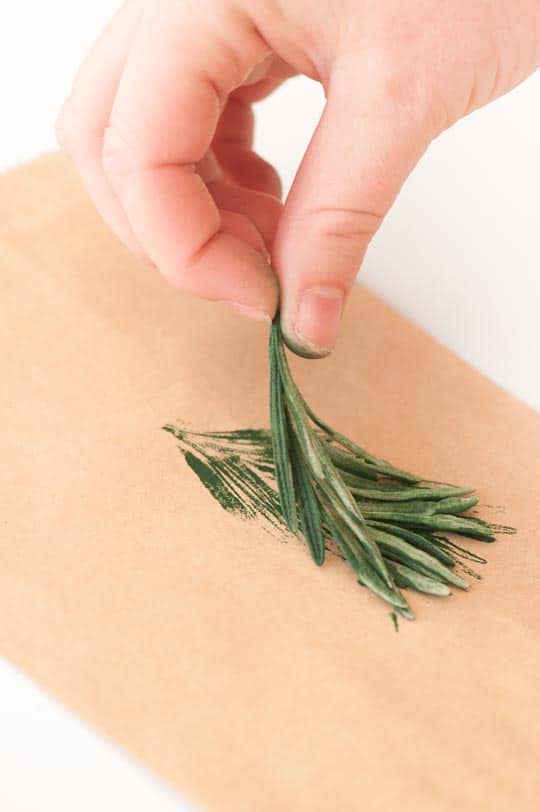 for rudolph:
Place leaf down on the brown ink pad. Using a paper towel, press down to make sure leaf if fully covered in ink.
Put leaf on the bag, use paper towel to press down and stamp.
Repeat 2″ away from the first stamp.
Dip pencil eraser in red ink.
Stamp a red nose.
for the heart:
Using a pencil, lightly draw a heart shape on the bag.
Dip pencil eraser in red and green ink, alternate stamping dots around the heart shape.
Erase leftover pencil marks.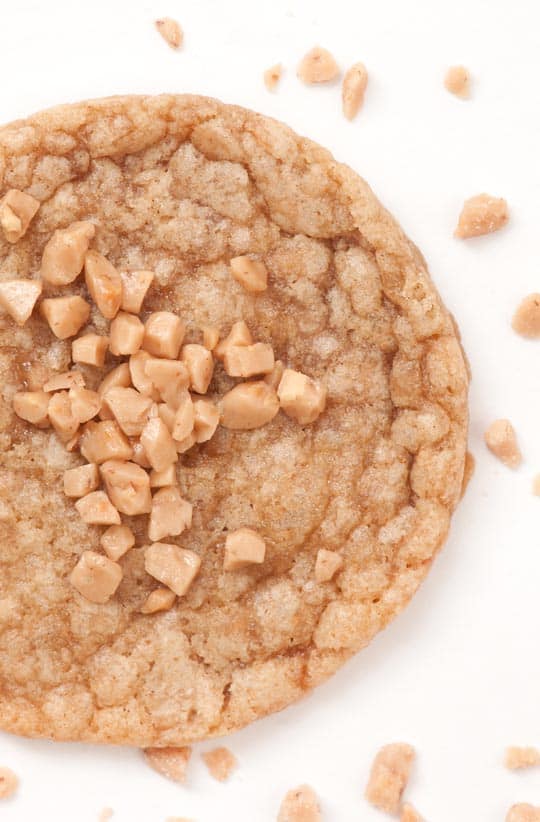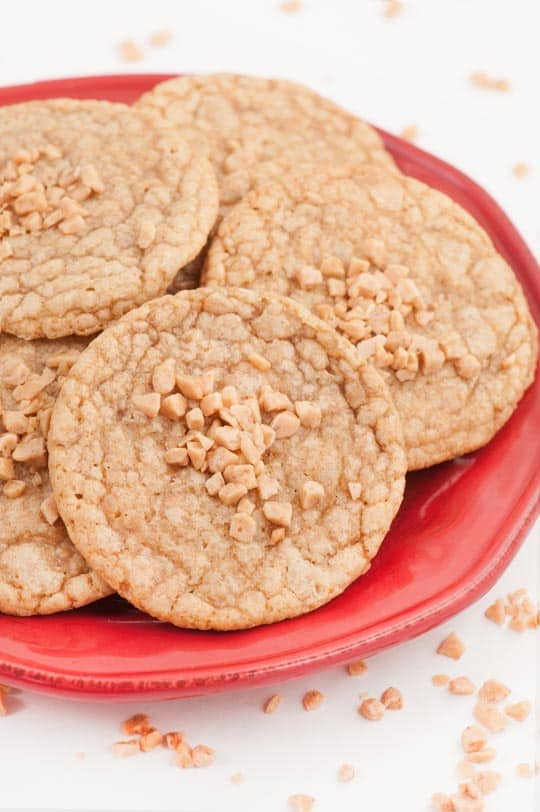 These treat bags are perfect for letting the kiddos help, are they not?! Plus it's a cute way to keep them occupied and away from sneaking peeks at the presents under the tree.
Lindsay loves to bake, and runs a blog called Sprinkles for Breakfast where I share delicious recipes, easy to follow tutorials, and colorful cakes. But most importantly, I attempt to prove that life is always better with sprinkles.