Wondering how to wrap your gifts in a fun way? Here are 20 gift wrapping ideas that you can use for special occasions.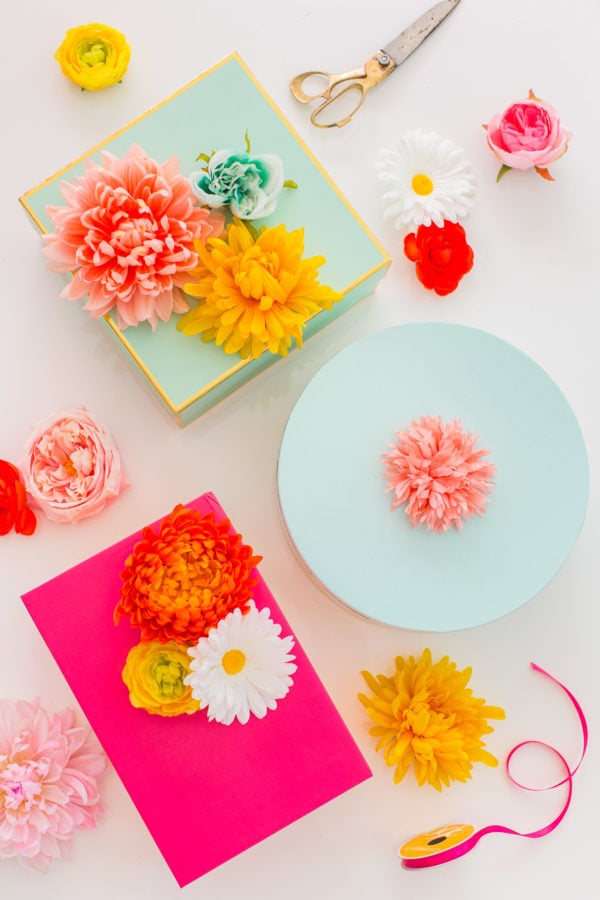 We hear the saying "don't judge a book by its cover" all the time, but seriously, first impressions are everything!
So after you've finally picked out the perfect gift, don't just throw it in a gift bag with lame tissue paper or wrap it with regular paper and a generic bow. (How boring is that?!)
Take your gift up a notch with our favorite gift wrapping ideas. (Because remember, the thought always counts, inside and outside.)
You've already done the hard part of shopping for a gift. (If not, then check out unique gifts for her, gifts for him, gifts for kids, and handmade gifts.
So don't worry, these gift wrapping ideas are oh so easy and one of a kind for any special occasion.
20 Gift Wrapping Ideas
1 — Faux Flower Gift Topper Stickers
Swap out the average bow for a DIY Faux Flower Gift Topper Sticker idea. This is especially a wonderful idea for anyone who loves flowers.
Simply hot glue some faux flowers on double-sided tape, stick it on a gift box, and voila! You've got the prettiest presentation.
2 — Fresh Flower Gift Box Idea
If you love the above idea but want to go the extra mile and have some extra time, top off a gift box with fresh flowers.
This DIY Fresh Flower Gift Box features the option of using a floral tube to keep the flowers hydrated.
3 — Use Colorful Twine
Utilizing colorful twine gives your gift wrapping a more ethereal and effortless look.
So if you still haven't perfected the art of tying a bow, this idea is just for you.
Plus, wrapping your gift in twine allows you to tuck little things like pine cones, cinnamon sticks, even dried orange slices, and more.
4 — Kraft Paper with Printables
There are so many uses for Kraft paper.
It's easy, affordable, and makes for great wrapping paper. (You can also substitute it with butcher paper).
This Kraft paper wrapping idea also includes free Christmas gift tags to download.
And if you don't want just brown paper packaging, the post offers ideas on how to decorate and layer Kraft paper.
5 — Scarf Gift Wrapping
This scarf gift wrapping idea offers a step-by-step guide on how to beautifully wrap your gift or stocking stuffers.
We love the idea of wrapping not going to waste and serving multiple purposes. You can even use our Patterned No Sew DIY Neckerchief.
6 — Wrap Your Bouquet With a Scarf
Another creative way to use a scarf is to wrap up flowers instead of gifting them in the store's cellophane packaging.
This eco-friendly DIY Flower Wrapped Bouquet shows you how to properly secure and wrap your flowers.
7 — Photos Can Also Function As Gift Tags
This photo gift tag is sentimental and personal, and lovely for sharing memories.
It pairs perfectly with our favorite photo gift ideas too.
8 — Emoji Gift Wrap
Your jokester friend or family member will LOL over this DIY Emoji Gift, and it also makes for the ideal year-round gift wrap.
9 — Stick On Letters
Apply stick on letters if you want to dress up your regular wrapping paper. They can serve as a gift tag or have fun with different phrases.
10 — Stamp It Up
Our DIY Lip Patterned Gift Wrap and DIY XOXO Gift Wrap employ stamps (as well as gold foil).
This is an easy project that you can even do with your kids.
And it can be applied to any holiday season or theme.
11 — Polka Dot Gift Wrap
This DIY Polka Dot Gift Wrap simply calls for just Kraft paper, an ink pad, and a pencil.
How easy is that? It's cheaper than sticking your present in a gifting paper bag!
12 — Paper Cup Gift Box
This DIY Paper Cup Gift Box is perfect for holding candy, desserts, and small treats and is constructed from a paper cup.
13 — Ornament Tags
Your Christmas gift wrap just got better with this DIY Monogrammed Ornament Gift Tag idea.
We love that it's a keepsake too that can hang on the tree for years.
If you pair it with simple wrapping, it can also be a year-round idea and not necessarily just for the holiday gifts.
This way, you can recycle and use old ornaments that you want to replace.
14 — Create Patterns With Washi Tape
Add playful designs to your wrapping, as seen in this DIY Washi Tape Wrap idea.
You literally just stick and cut.
And we highly recommend always having washi tape at home, especially if you're a crafter.
It's such a multipurpose masking taper that can be used to hang up pictures and drawings (without leaving the sticky residue) and decorate paper and cards, and journals.
15 — Texture Your Paper
Texture your gift wrap with these Folded Paper Gift Wrapping Ideas.
Folding your paper creates an eye-catching wrap, as well as embellishing it with pom-poms.
16 — Wood Veneer Confetti and Gift Tag Flags
These DIY Wood Veneer Confetti and Gift Tag Flags are fabricated from wood veneer taping (that only cost $7).
It's easy (5 minutes of your time), inexpensive, and looks store-bought!
17 — Paper Doily Craft
Paper Doily Crafts can add a texture and a pop of color to any ole wrapping.
They make for great accents and a vintage antique look to your gift.
18 — Gift Boxes With Stencils
Decorate paper-mâché boxes with adhesive stencils, as seen with this DIY Boxes With Stencils idea.
They can later be used for storing small craft supplies, photos, and other keepsakes in these boxes.
19 — Construct a Paper Gift Bag Out of Wrapping Paper
Turn wrapping paper into a DIY Paper Gift Bag. You can also apply this method to kraft paper or even a pre-loved envelope.
20 — Furoshiki Gift Wrap
Furoshiki are traditional Japanese square-patterned cloths used to wrap items.
It also refers to the sustainable art of wrapping goods.
This Furoshiki guide shows you the technique of wrapping your gifts with cloth and what fabrics to choose.
This method is also a clever way to wrap awkward shaped gifts (which we ran into during the holidays).
Gift Guides