We're sharing 51 of the best gift ideas for girls whether it's for Christmas gifts, birthday gifts, or something in between…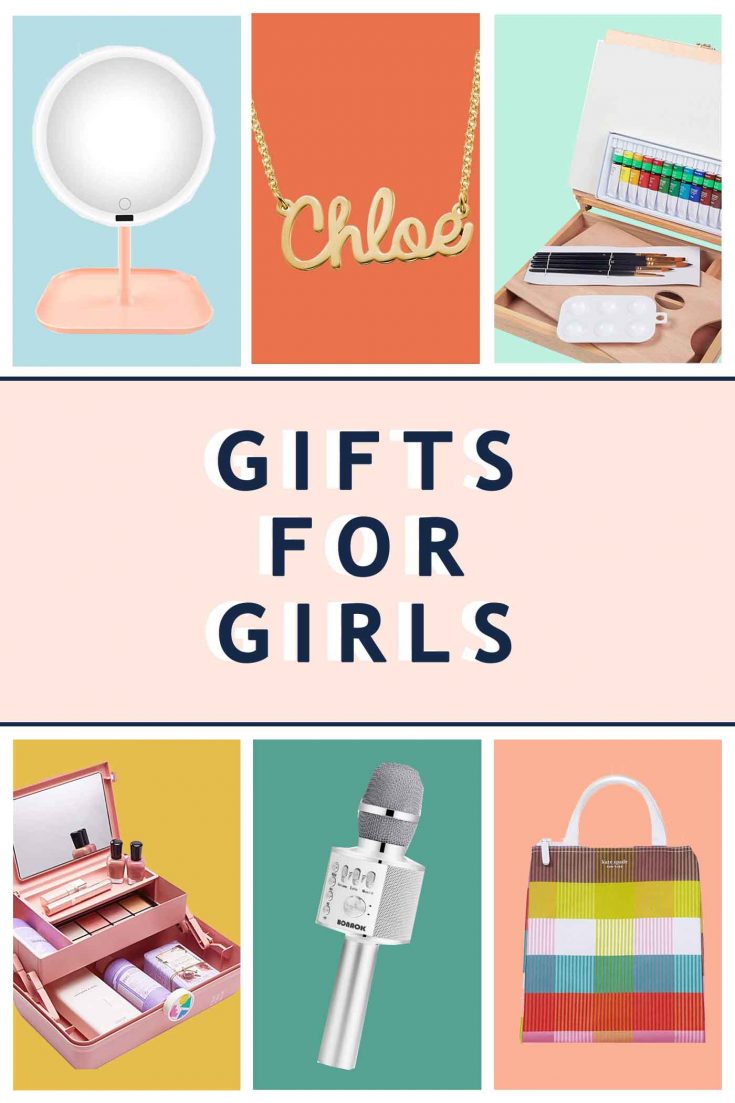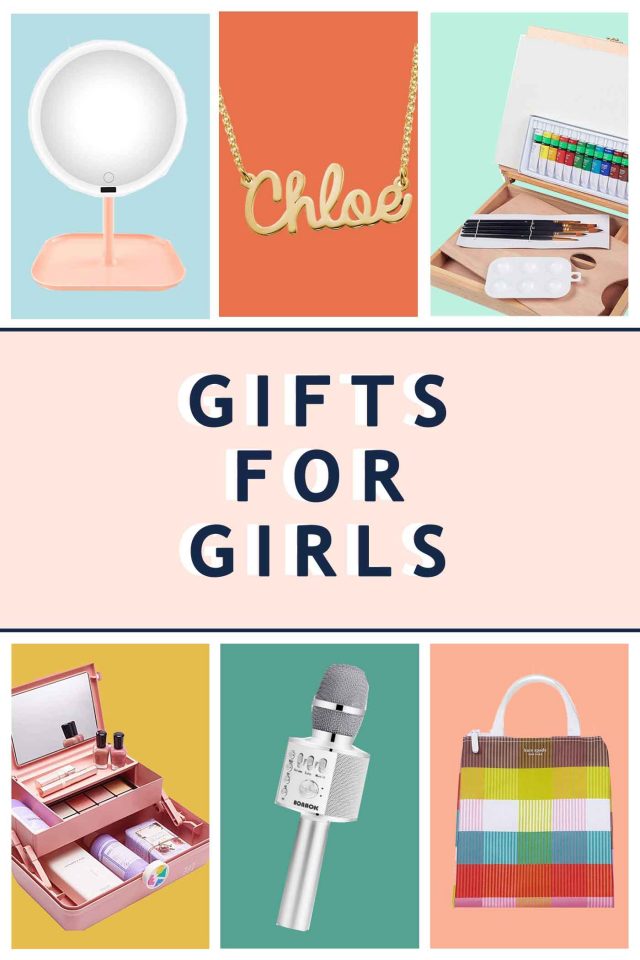 Let the present shopping commence!
We're continuing our tradition of bringing you the best gift guides for the whole family, and gifts for girls is one of our favorites.
Some of these presents for girls have held up from when we were tweens ourselves, and some are totally new to us.
If you're having a hard time picking out Christmas gifts for girls that they actually want, we've got you covered.
These are our favorite finds so all you have to worry about is how to beautifully wrap it up.
From personalized gifts to bath bombs, tech gifts, and holiday gifts, here are 56 of the best gift for girls…
Gifts for Girls | 51 Best Gift Ideas for Girls
1 — Personalized Triangle Chair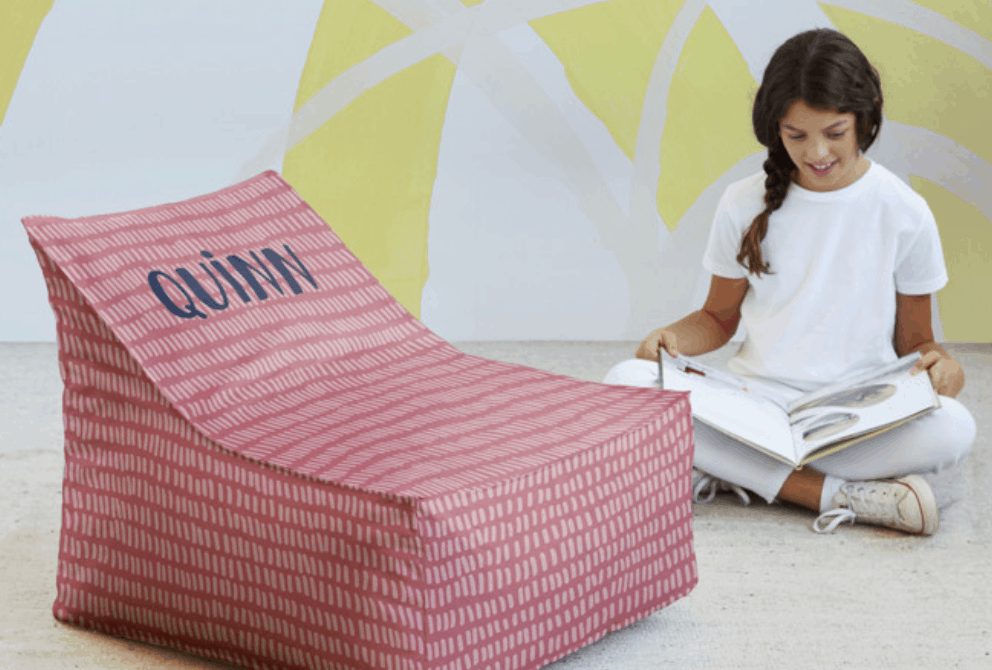 Whether you're shopping for gifts for ten-year-old girls or teen girls, this custom triangle chair will be a hit!
Every girl loves having a cute space to themselves and we love this modern take on a bean bag chair.
2 — Tumbler with Straw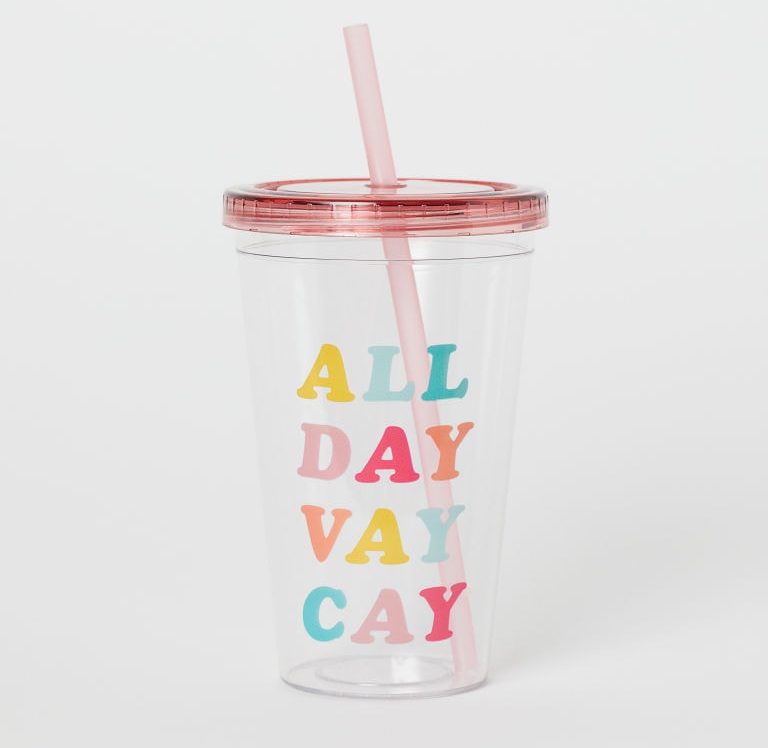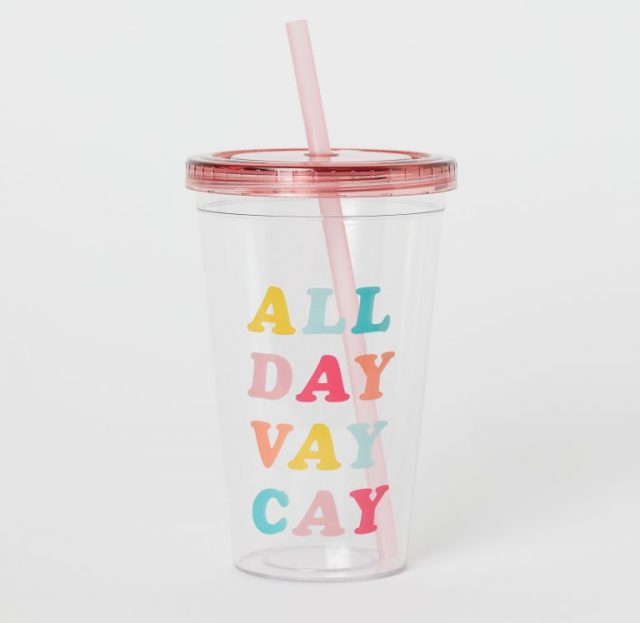 She can sip like she's on vacay with this cute summer inspired All Day Vacay tumbler.
3 — Tie-Dye Kit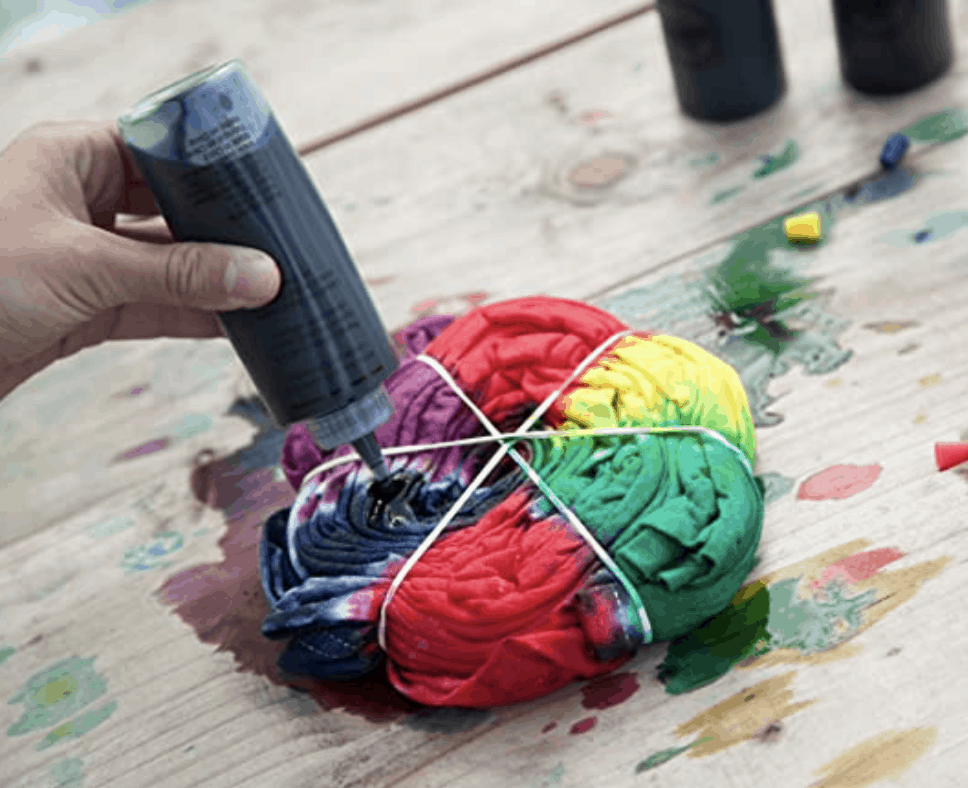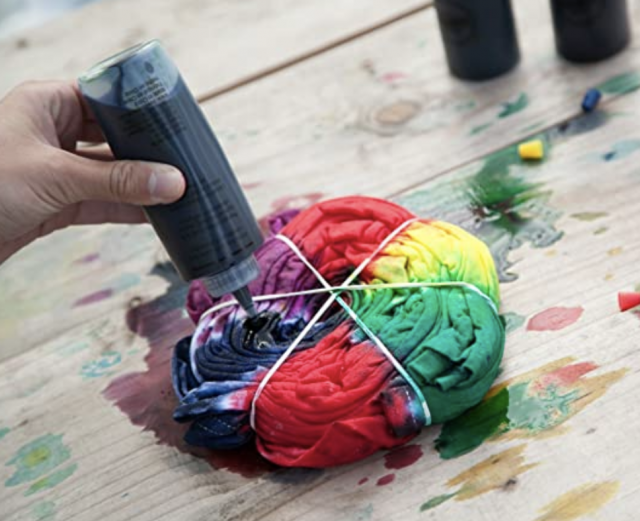 Let her create her own tie-dye T-shirts and textiles with this awesome tie-dye kit.
Bonus points if you have quality time to do it together!
4 — Turquoise Retro Mini Fridge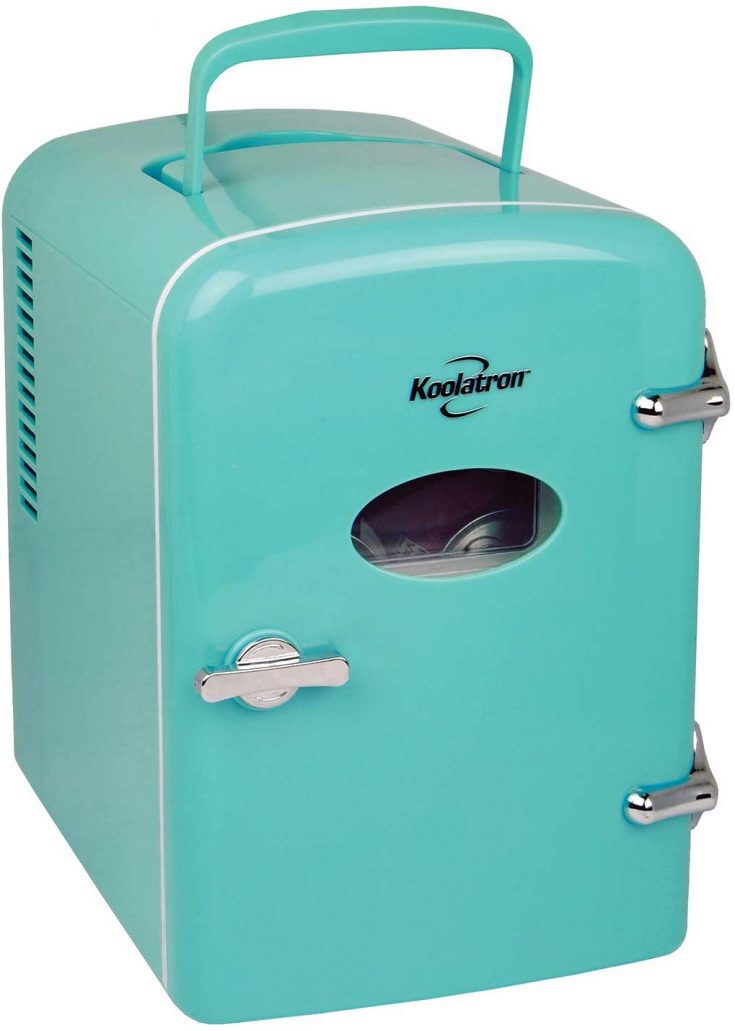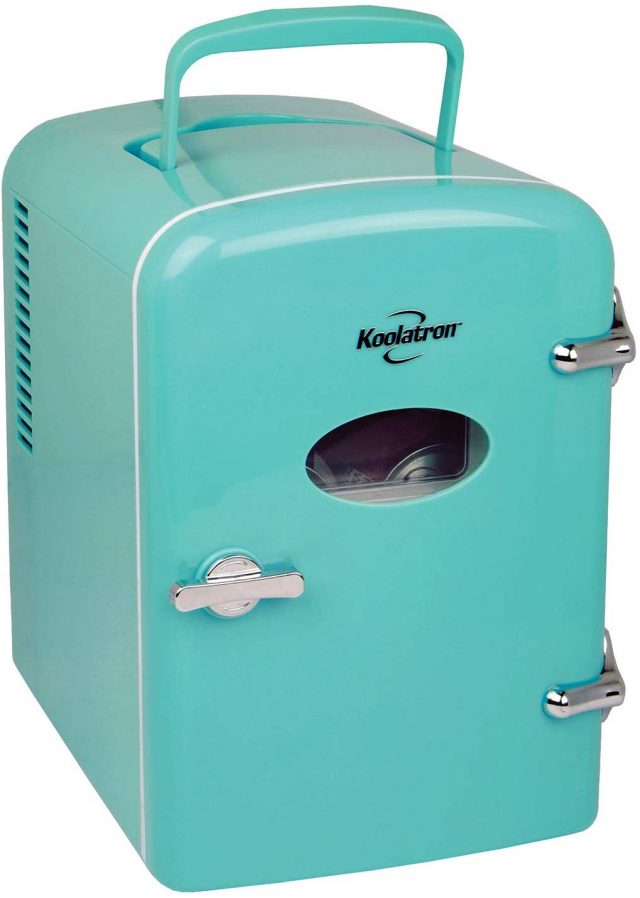 Nothing says teen spirit like soda and independence.
Create the illusion of a dorm at home with her very own mini-fridge for her room in a cool design, of course!
5 — Bento Box Tech Organizer
Tech gadgets and jewelry knick knacks are fun, but they need a home too!
All of her cords and gadgets will be easy to store at home, school, or travel in this bento box organizer.
6 — Cordless Hot Glue Gun
Your crafter enthusiast will love this convenient cordless hot glue gun.
It even comes with a stand and glitter glue sticks.
7 — Lip Balm DIY Kit
Keep her lips moisturized with this cute shea butter lip balm DIY Kit that she can make herself.
8 — Gold Initial Stud Earrings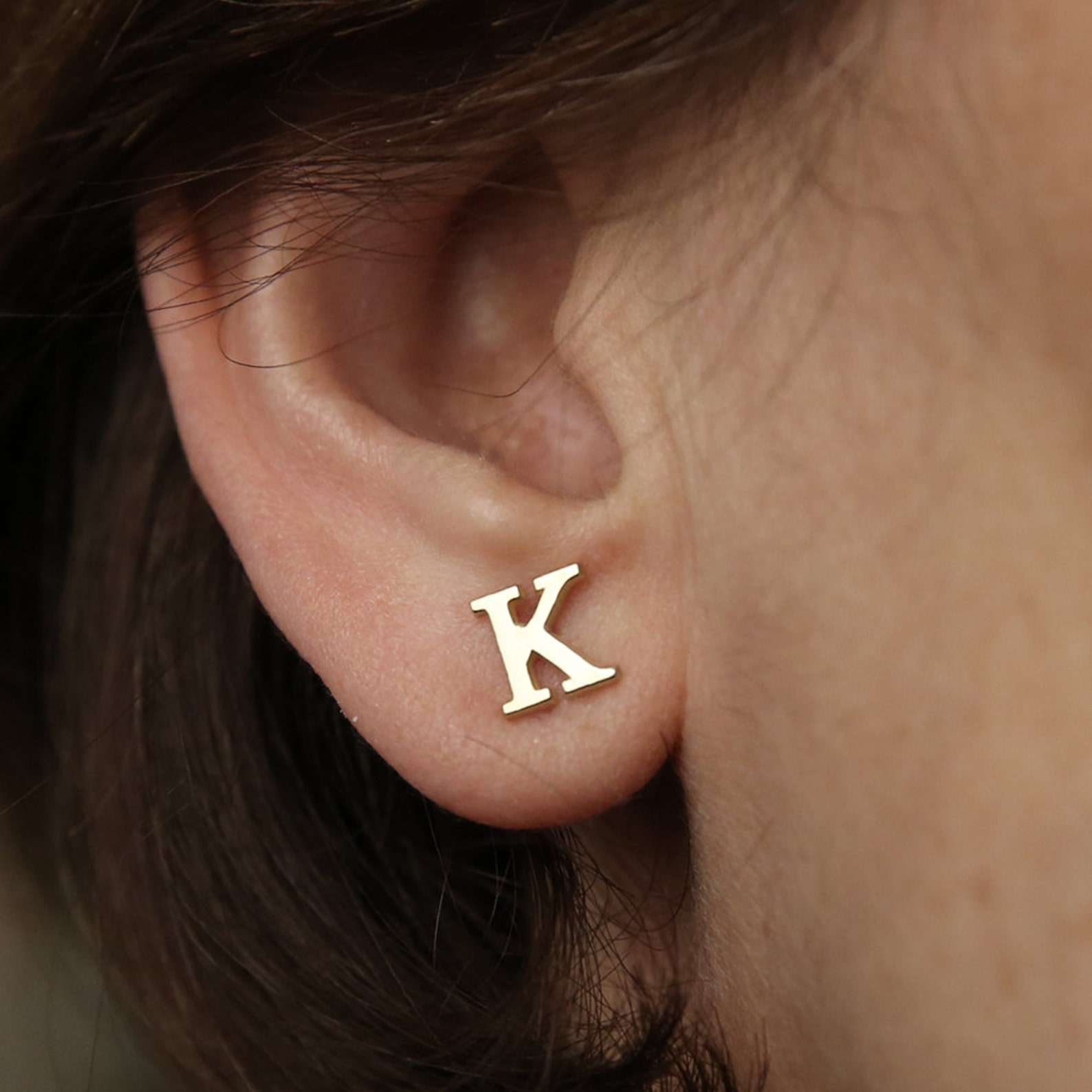 These cute gold initial earrings are perfect for her first real jewelry set for less than $60!
9 — Tool Kit
Get your girl a nice tool kit set of her own.
She'll feel empowered to take on handy little projects by herself and who knows, maybe she'll get the bug to build and fix all kinds of things!
10 — Rainbow Shoes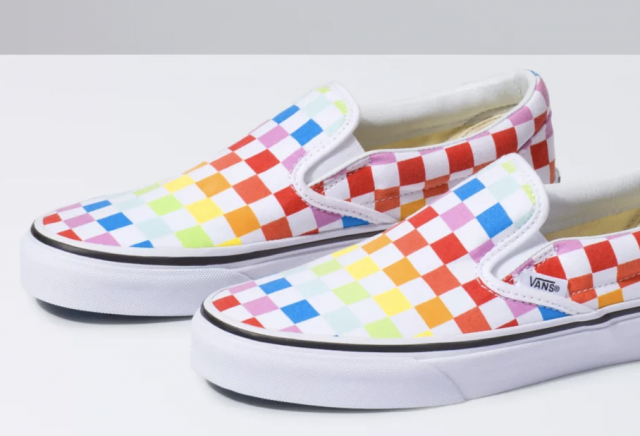 We love these fun rainbow vans slip-on shoes so much that might have to snag a pair for ourselves too!
11 — Custom Notebook for Girls
Add a pop of fun to her desk with this custom notebook from Minted.
She'll love having her name printed on it for safekeeping of her notes, ideas, and diary entries.
12 — Electric S'mores Maker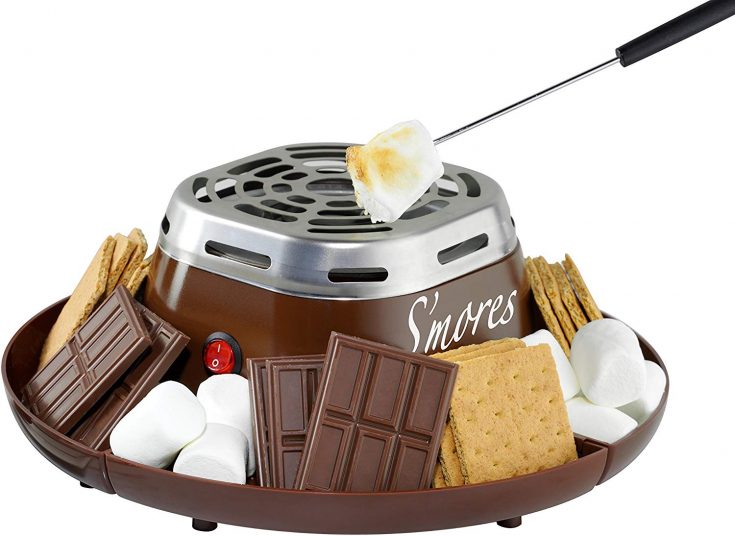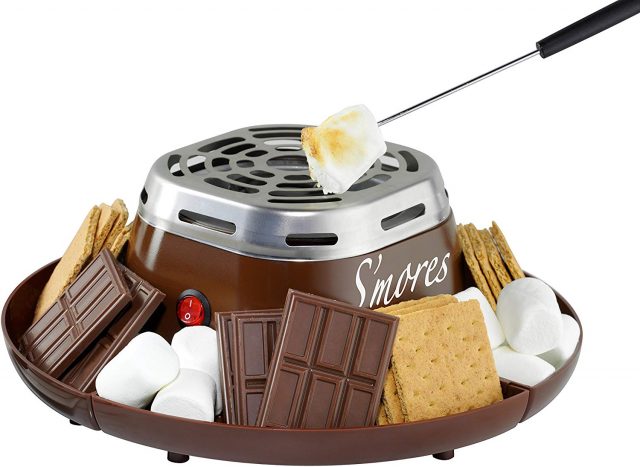 No campfire needed! Have s'mores anytime, anywhere with this electric indoor s'more kit. Food not included.
13 — Wireless Headphones
Wireless headphones are perfect for the bus, traveling, and just listening to music at home.
14 — Rainbow Polymer Clay Bracelets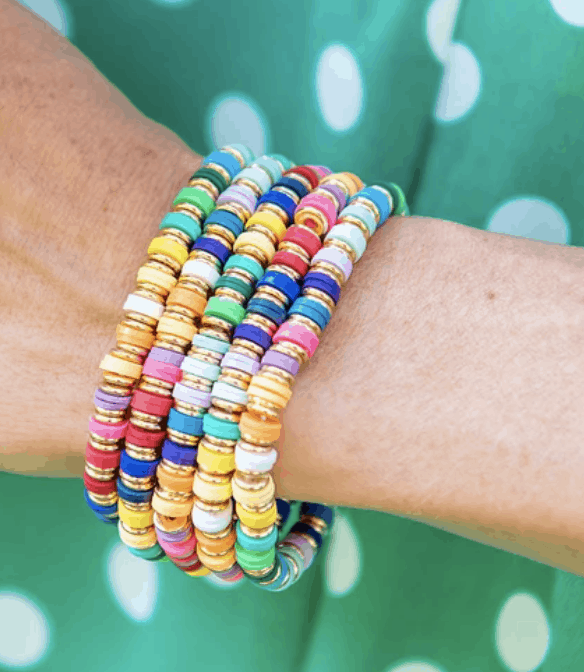 These rainbow polymer clay bracelets are colorful, fun, and perfect for stacking with her other favorite jewelry.
15 — Colorful Carry-On Luggage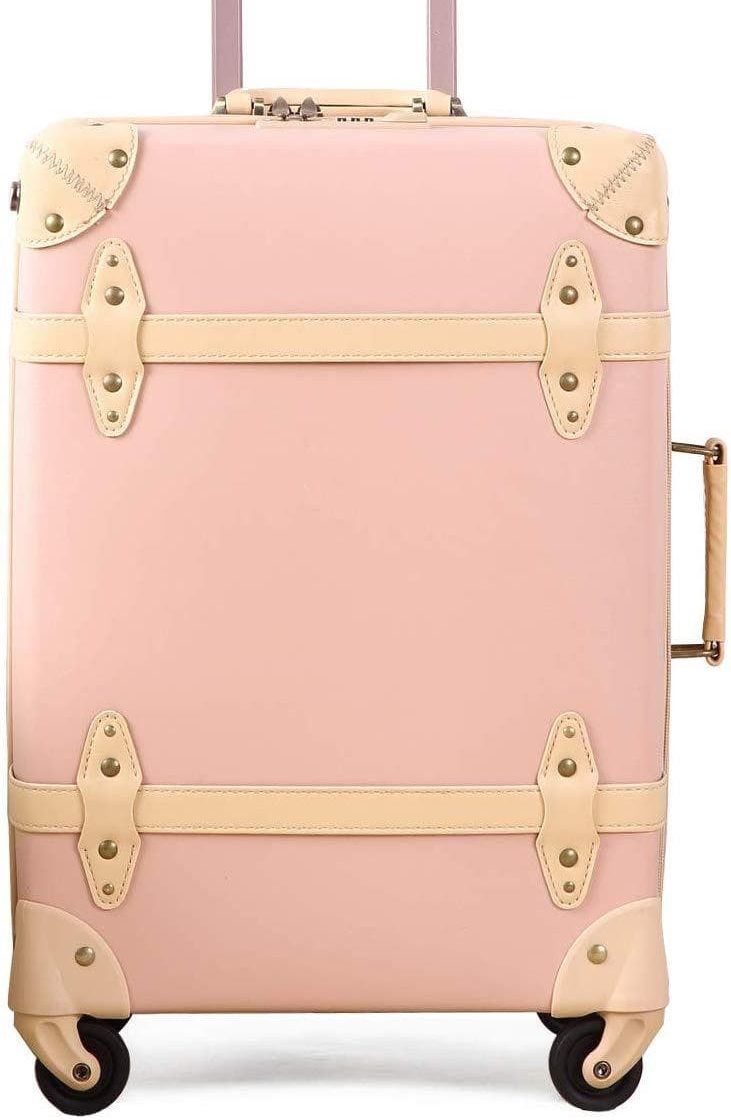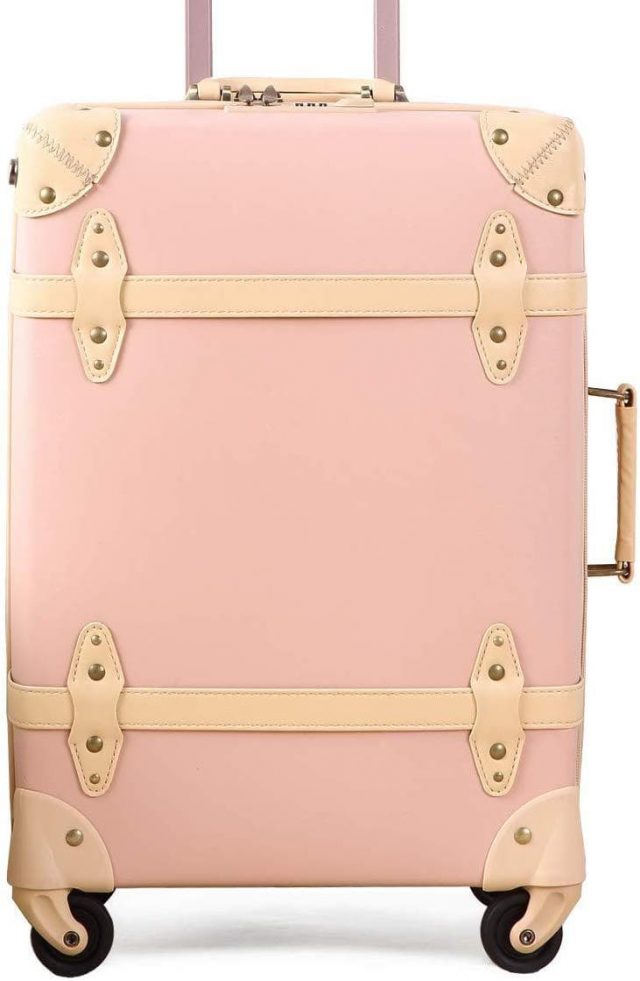 She'll be traveling in style with this colorful carry-on luggage.
Speaking of the best birthday presents for girls ever, she would be over the moon if you suggested a trip to go along with this one.
Also, be sure to keep an eye out for these on Black Friday!
16 — Velvet Scrunchie Set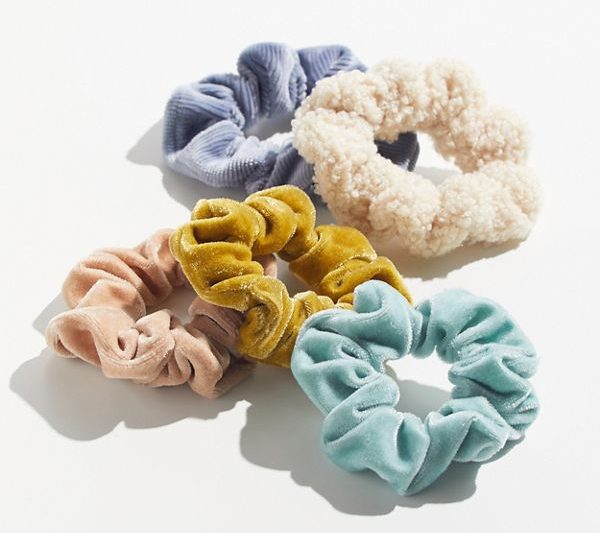 Scrunchies are back!
Get her a set of these pretty colored velvet scrunchies in a huge set for less than $10.
17 — Personalized Kids Apron
This colorful kids apron comes in several sizes and patterns, and you can personalize it with their name for free.
18 — Light Up Razor Scooter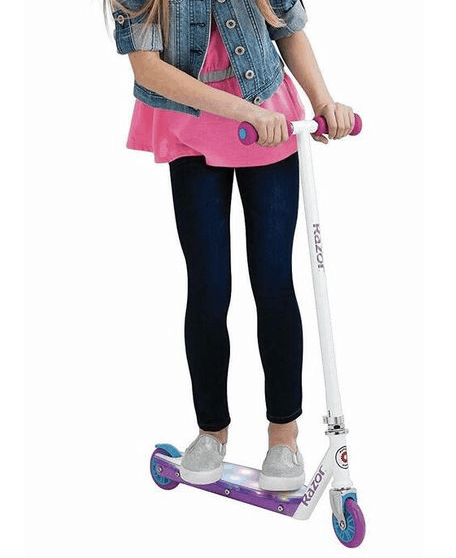 We had the most fun cruising through the neighborhood on one of these when we were kids, and so will she!
The Razor Scooter is an amazing gift and will not disappoint, especially when it lights up like this one.
19 — Rainbow Wall Hanging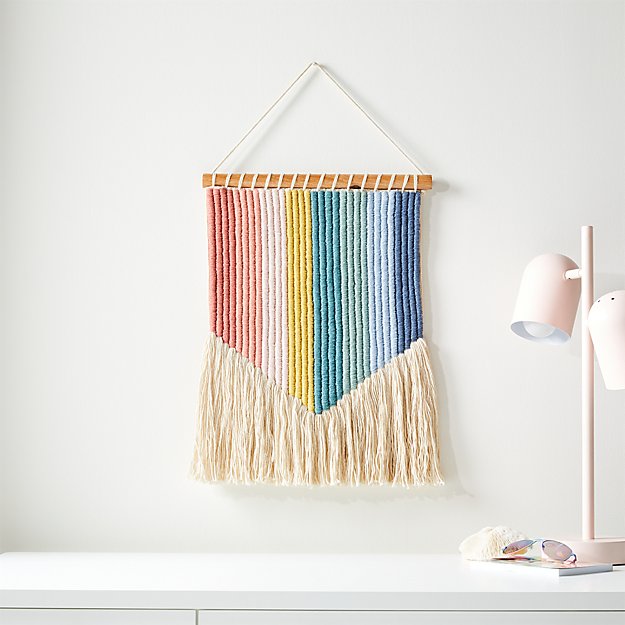 Room decor gifts are a great way for girls to update their space as they get a little older.
And this vertical rainbow wall hanging from Crate & Kids is so pretty.
20 — Poof Charging Keychain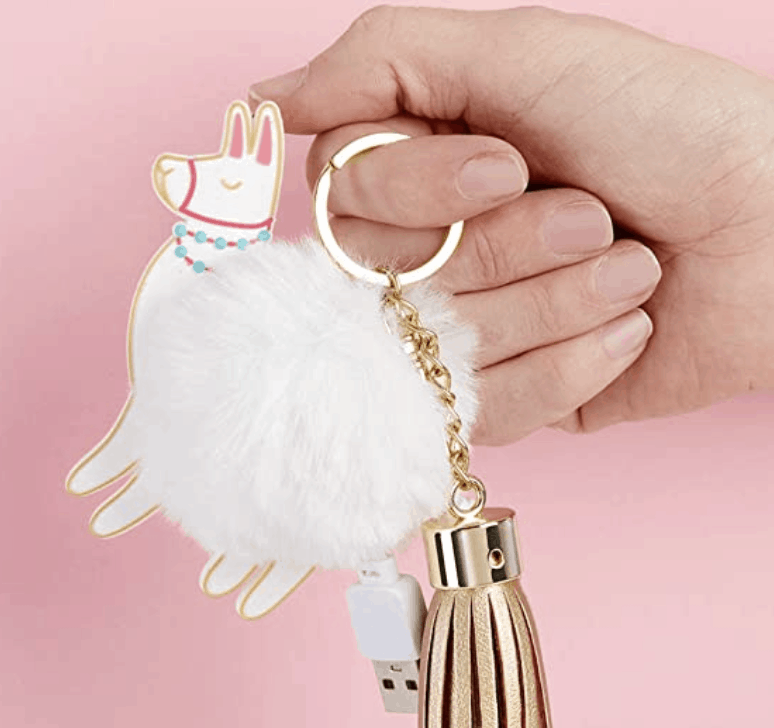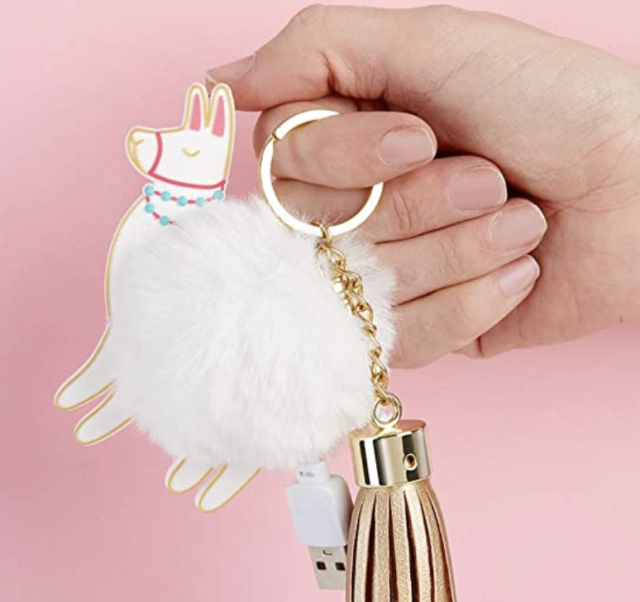 A great gift for mom and me, or for two besties!
These clip-on poofs are actually mobile power banks. Who says a tech gadget can't be fashionable too?
21 — Unicorn Spa Kit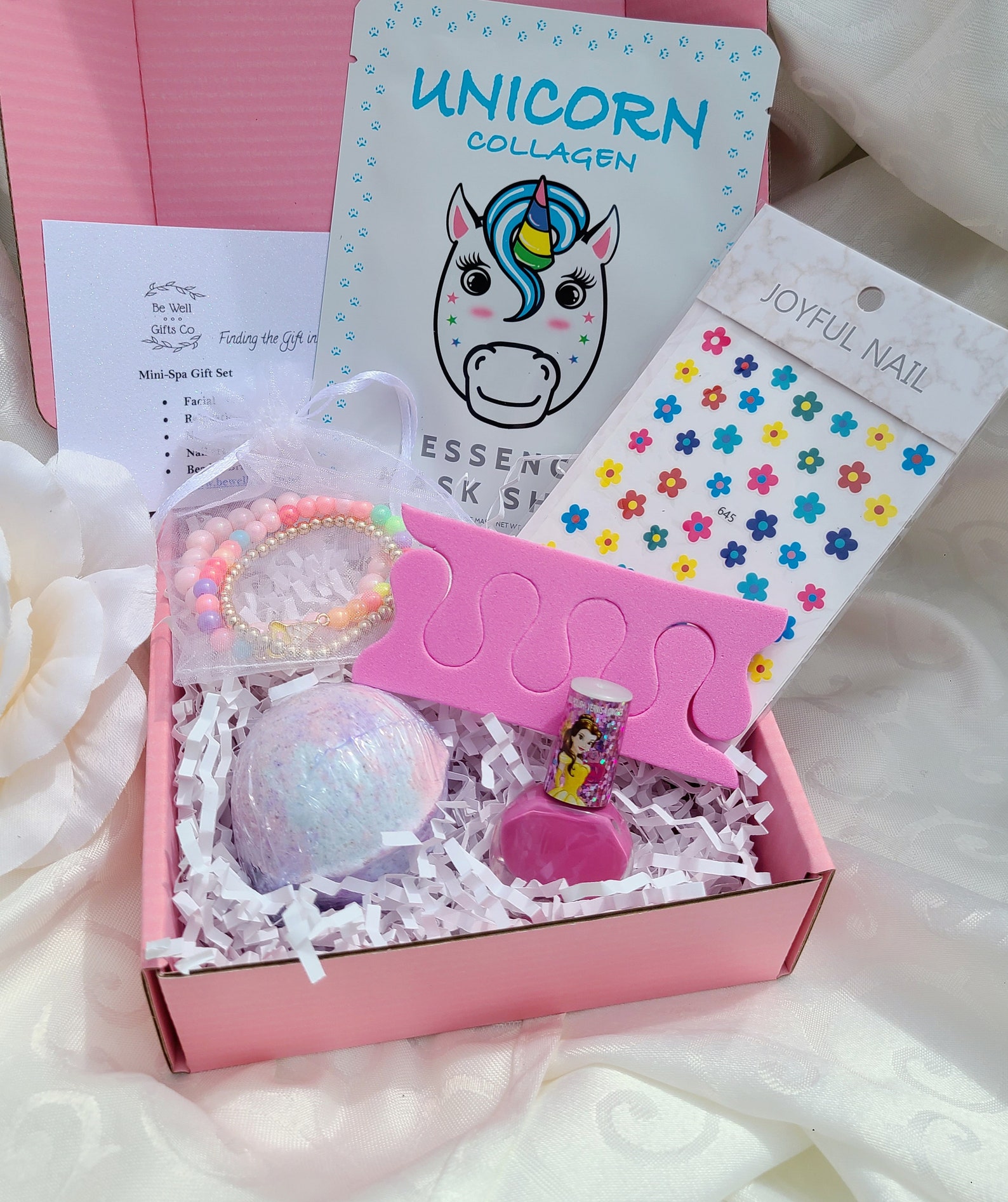 She'll feel as magical as a unicorn with this packaged unicorn spa kit.
22 — Kate Spade Lunch Box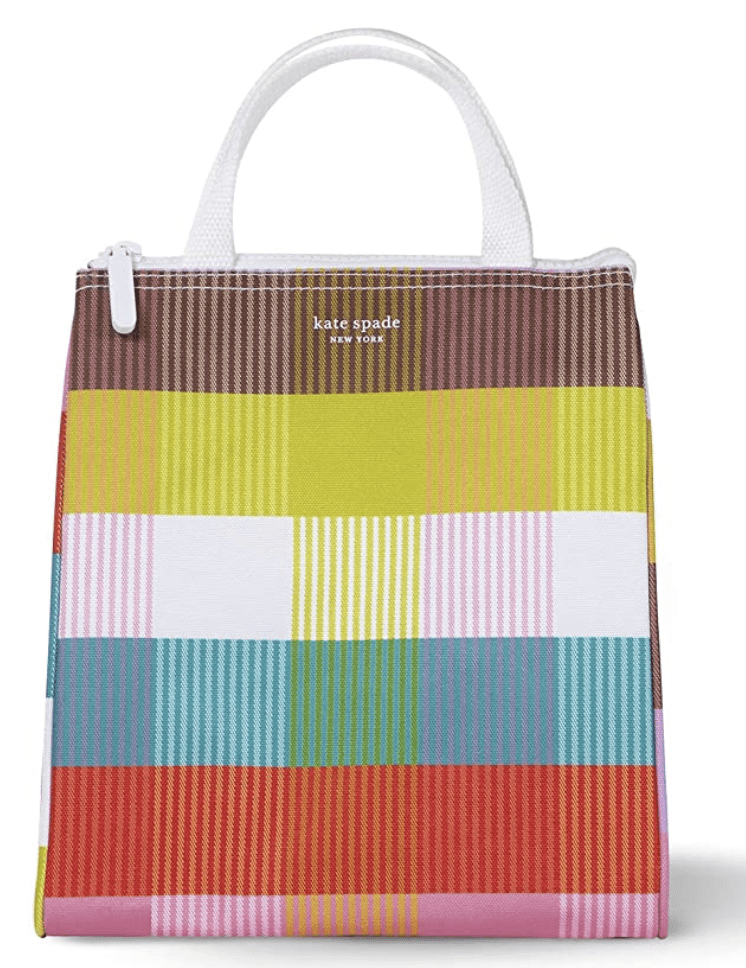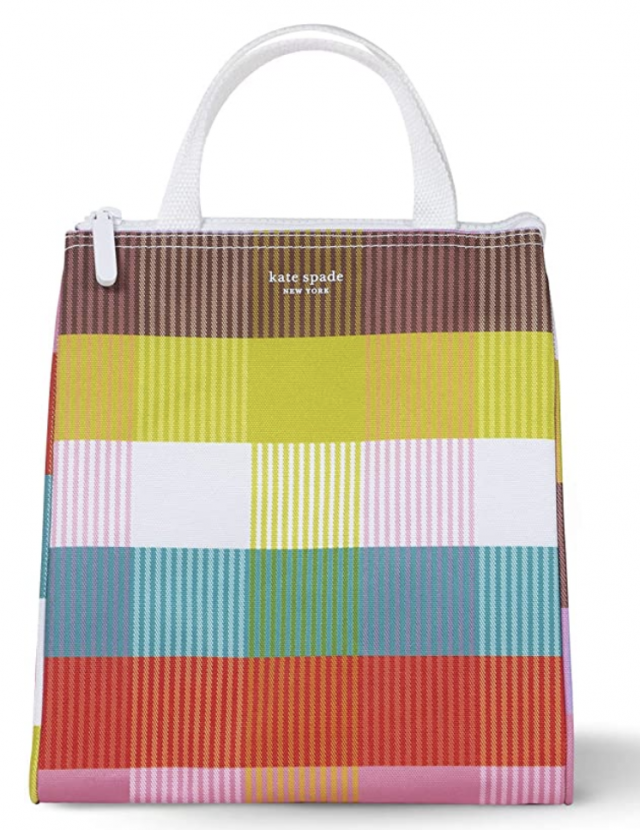 Pack her lunch in this cute, insulated lunch box from Kate Spade.
23 — Jelly Bag
These retro inspired jelly bags are perfect for storing all her little accessories.
They also make for a creative Easter basket idea.
24. Rifle Paper Co. iPhone Case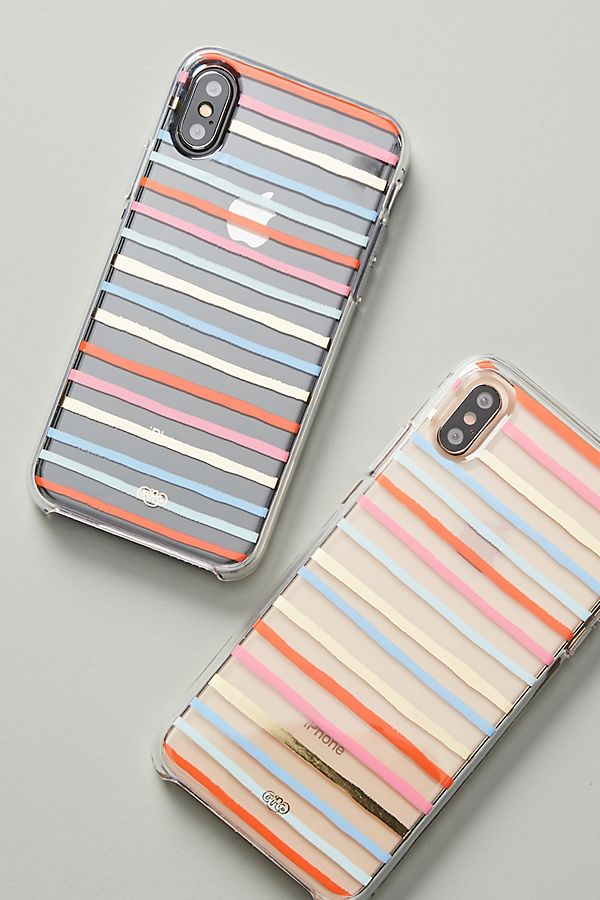 Protect her phone with one of these adorable iPhone cases by Rifle Paper Co., and maybe get a matching one for you…
25. House Desk Organizer Set
This cute little desk organizer set is both fun and functional for a girl's room.
They can also paint it to match their favorite color scheme!
26 — Painter's Box Set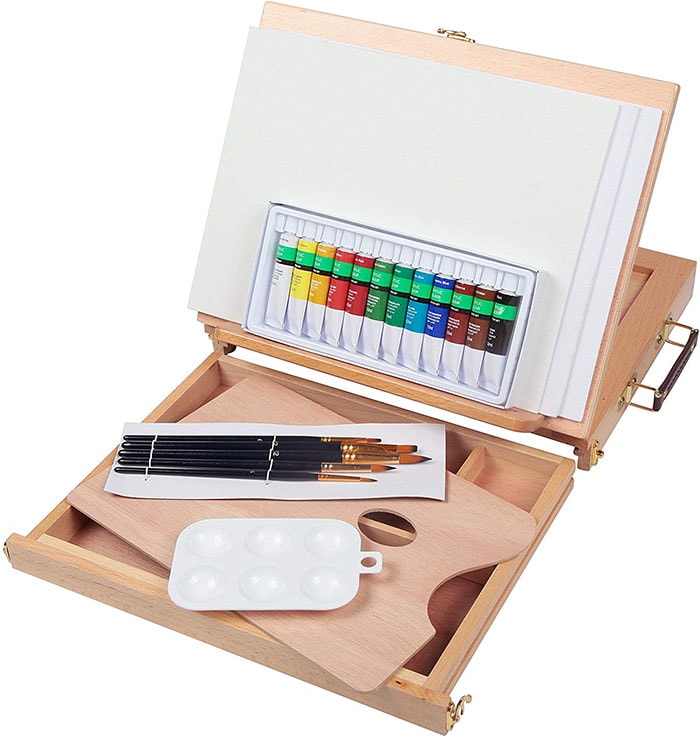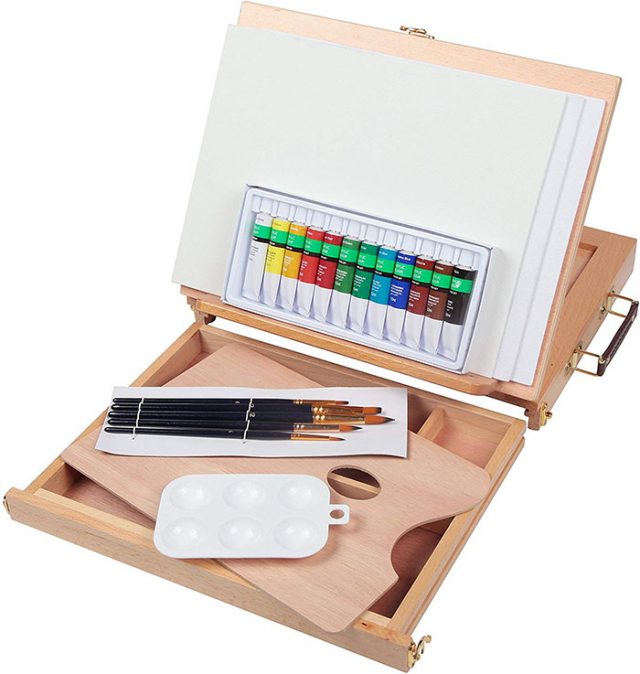 This painter's box set comes with everything she'll need — acrylic paint, brushes, canvases, and a palette.
The box itself even turns into an easel!
27 — Electric Mini Grill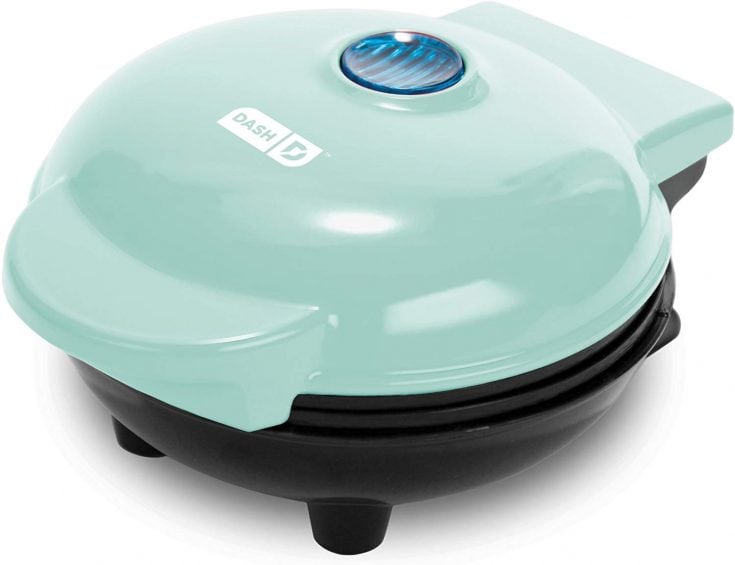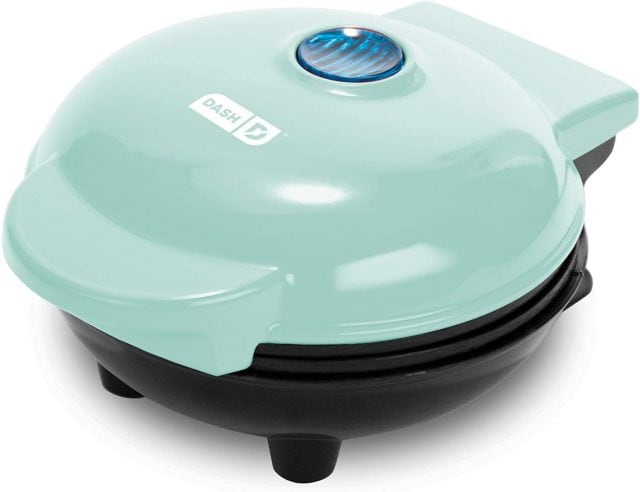 Inspire her inner chef with this cute mini grill.
She can whip up a panini, burger, and more with this portable electric grill.
Available in multiple colors. Recipe book included!
28 — Makey Makey Invention Kit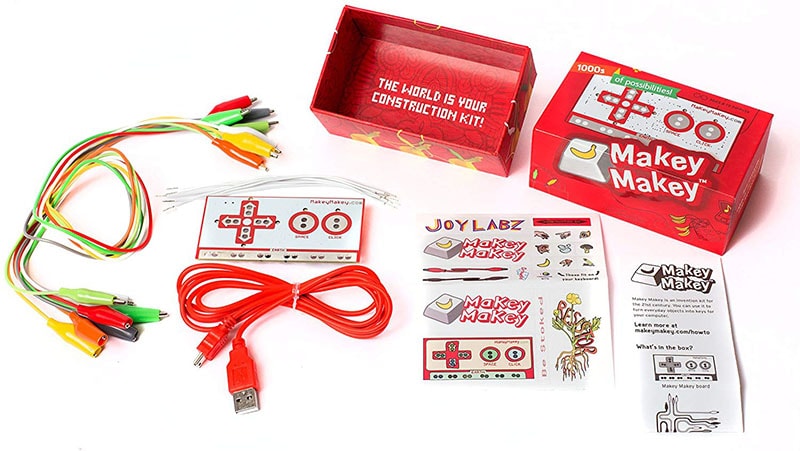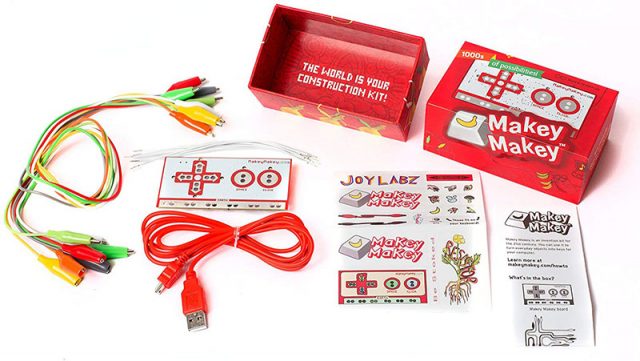 Let her wow everyone with a Makey Makey kit.
She'll be able to connect and control non-electrical objects in seconds with no programming.
We're impressed!
29 — Lumipets Color Changing Light
Gift her this adorable USB charging Lumipet Lamp.
It changes color with each touch or with a remote control.
You can chose from various animals like a puppy, unicorn, cat and more.
30 — Caboodle Organizer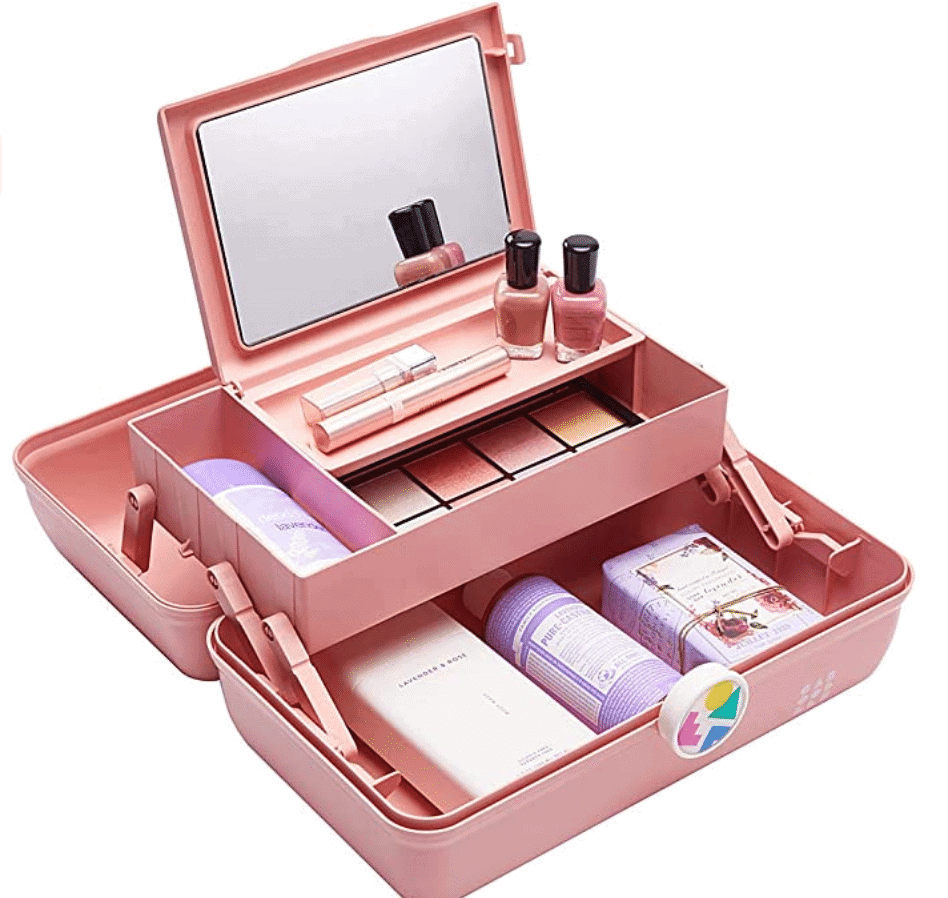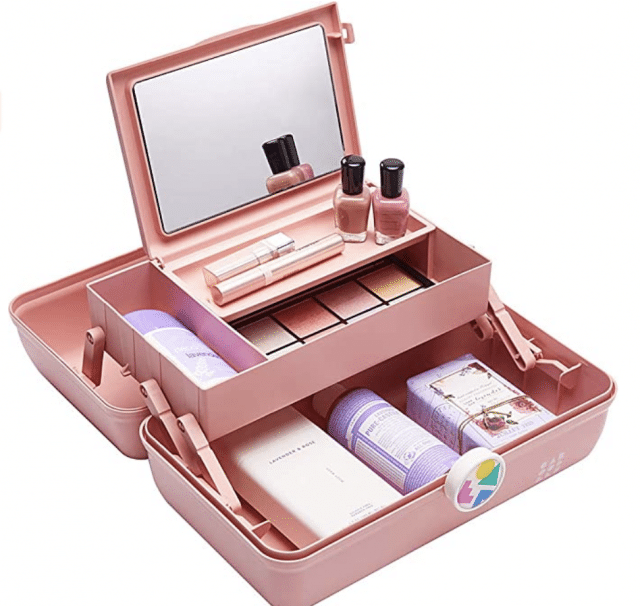 The classic Caboodle is back, and we love to see it!
It's one of those perfect birthday gifts for girls that are always well-loved.
Plus, you can fill it with a play makeup set for a larger gift idea.
31 — Rainbow Marker Set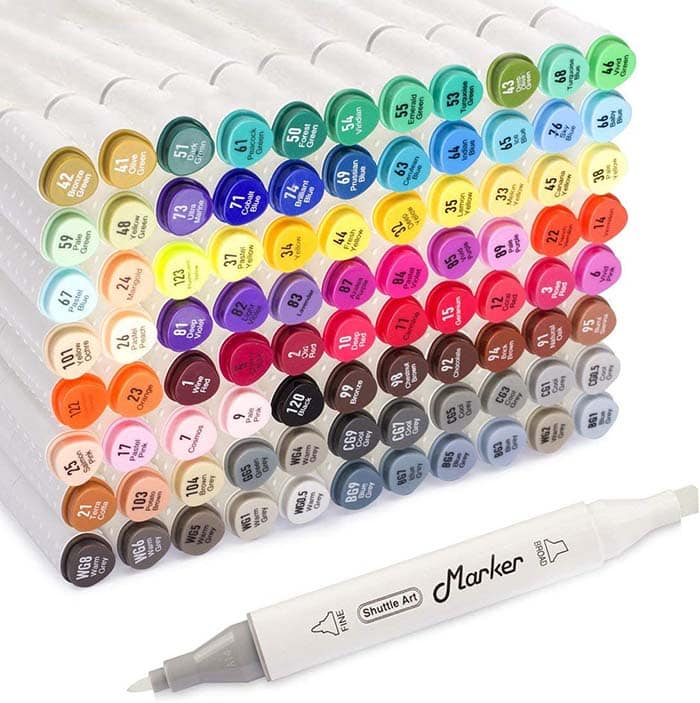 This marker set comes with 88 dual-tip markers in every color you can imagine.
It's perfect for the artistic personality, or even just for making school projects more fun.
32 — Personalized Gift for Girls Gold Initial Necklace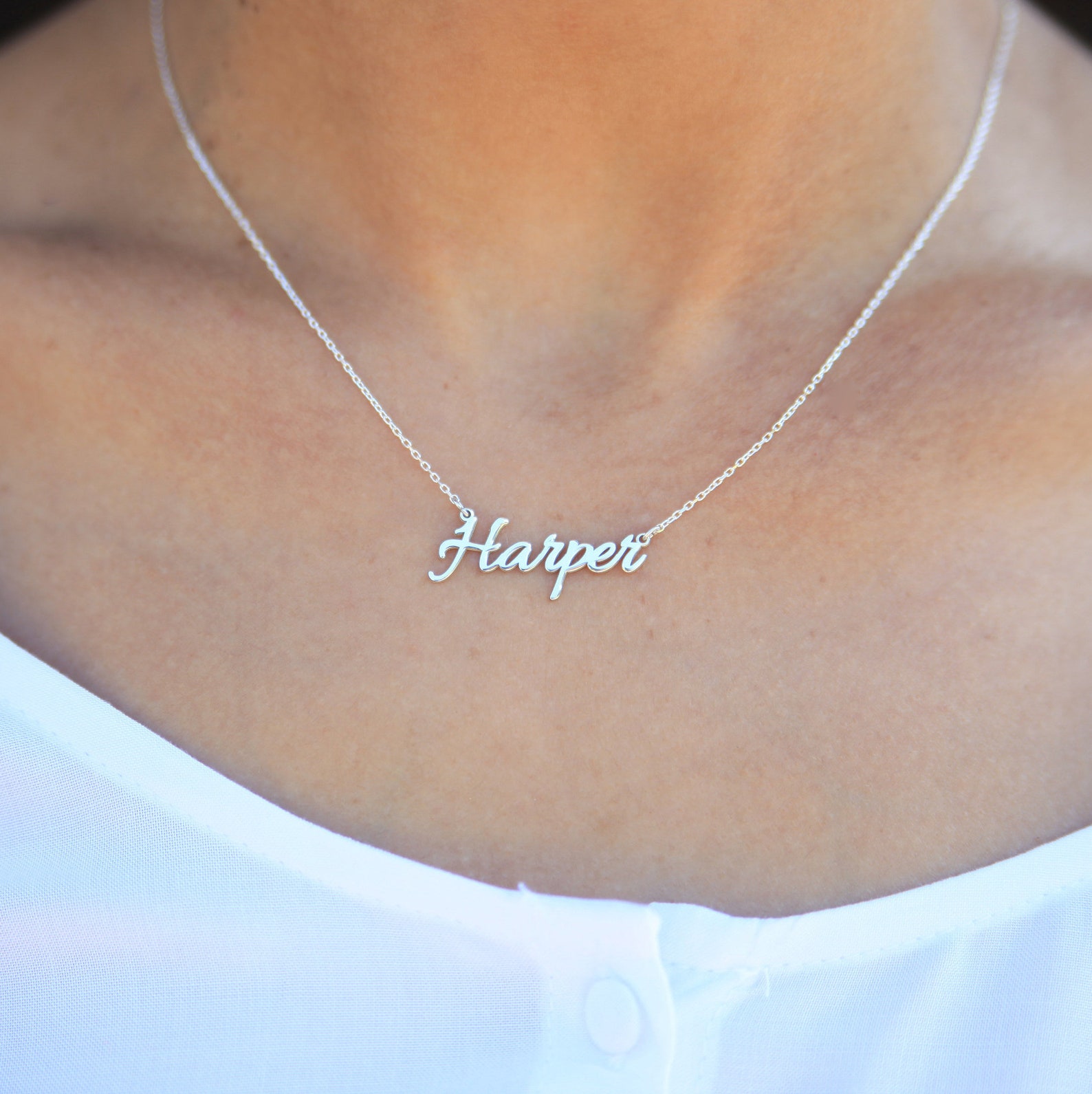 Give her a personalized name necklace in 14K gold, rose gold, or sterling silver.
This personalized gift idea is custom made so order early!
33 — Bluetooth Karaoke Microphone

She will have a blast singing her favorite hits karaoke-style with her friends and family.
This wireless karaoke mic is all she'll need to get the fun going!
34 — Hammock Chair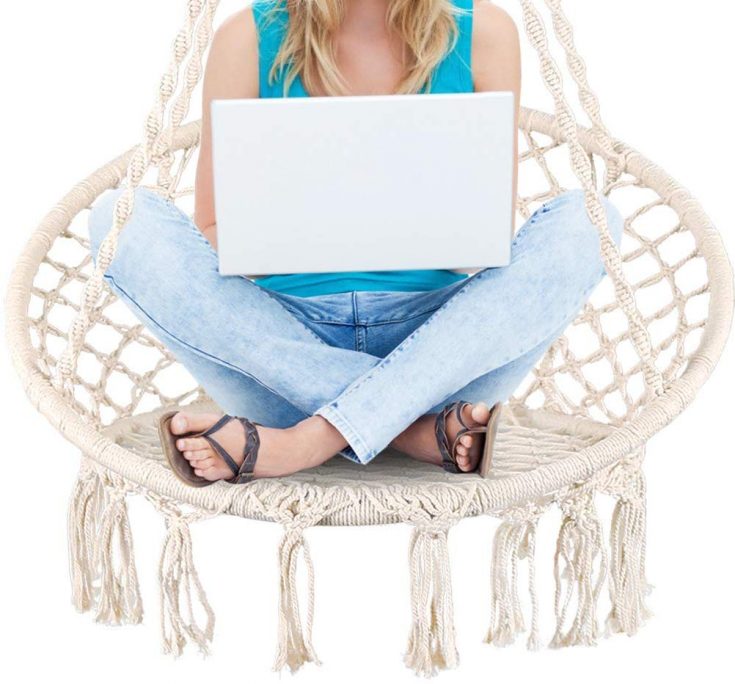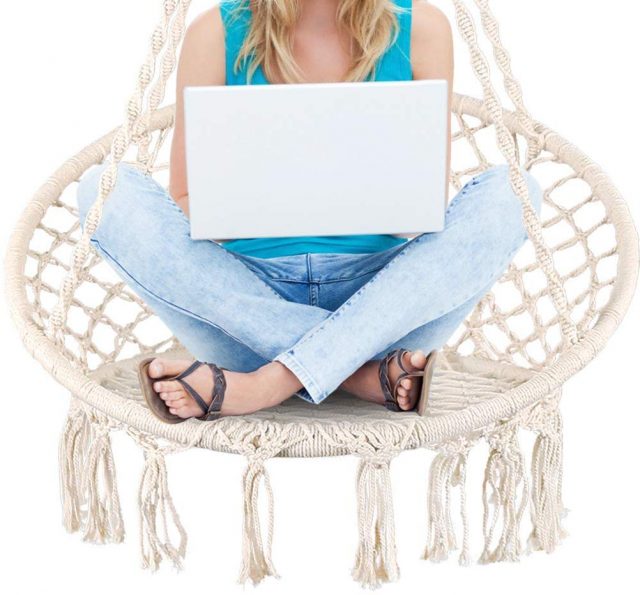 We have a feeling she'll be hanging out all weekend in this hanging hammock chair in her room or in the backyard.
35 — Candy Making Kit
She'll be able to make gummy bears, fruit snacks, hard candy, and chocolate with this candy making kit.
It's worth nothing that these are best as gifts for 10 year old girls and up unless being supervised.
36 — Vanity Mirror
She can either play pretend or try on her new moisturizing face masks with the perfect desktop vanity mirror to match.
37 — Remote Controlled String Lights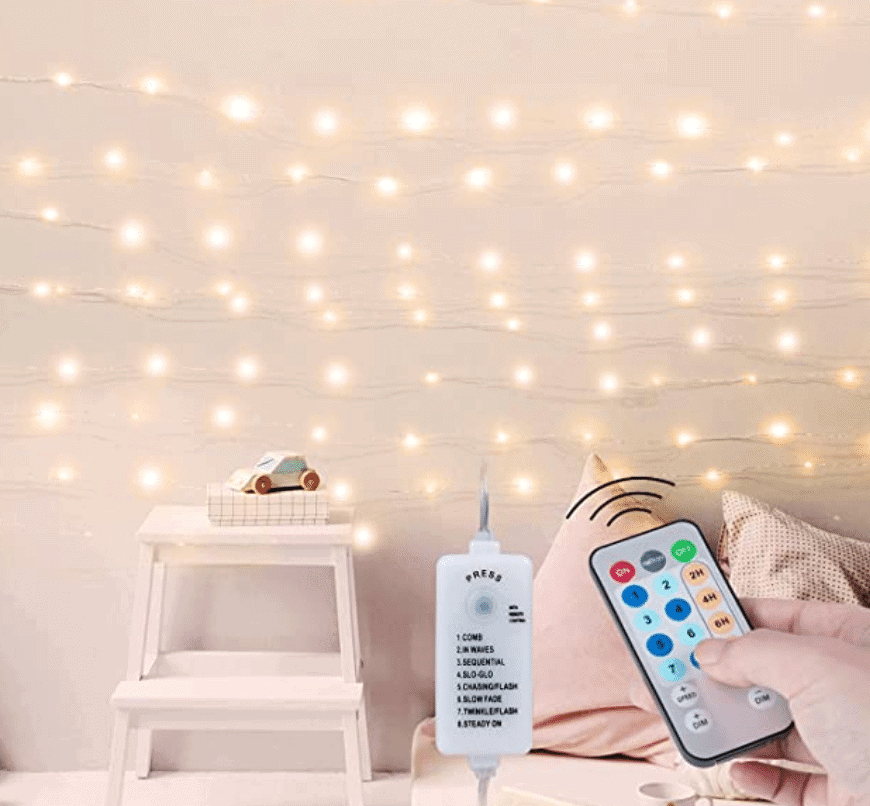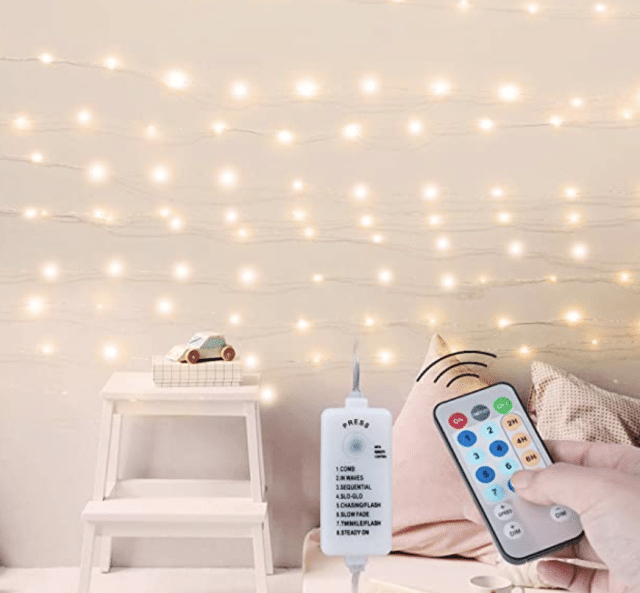 Every girl wants her room to feel magical, and these remote-controlled string lights will do just that!
38. Glitter Sneakers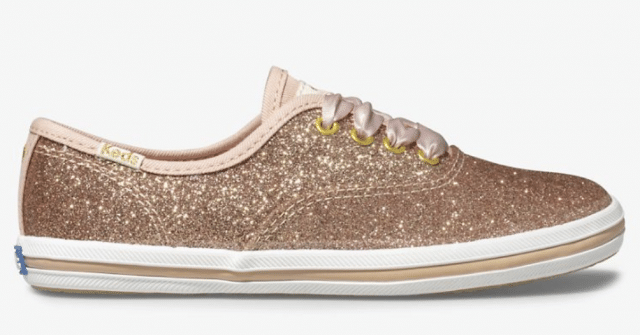 These gold glittery sneakers from Keds are great for holiday festivities, but who are we kidding, they're year-round in our book.
We love the addition of the pink ribbon laces for added glam too!
39 — Amazon Gift Cards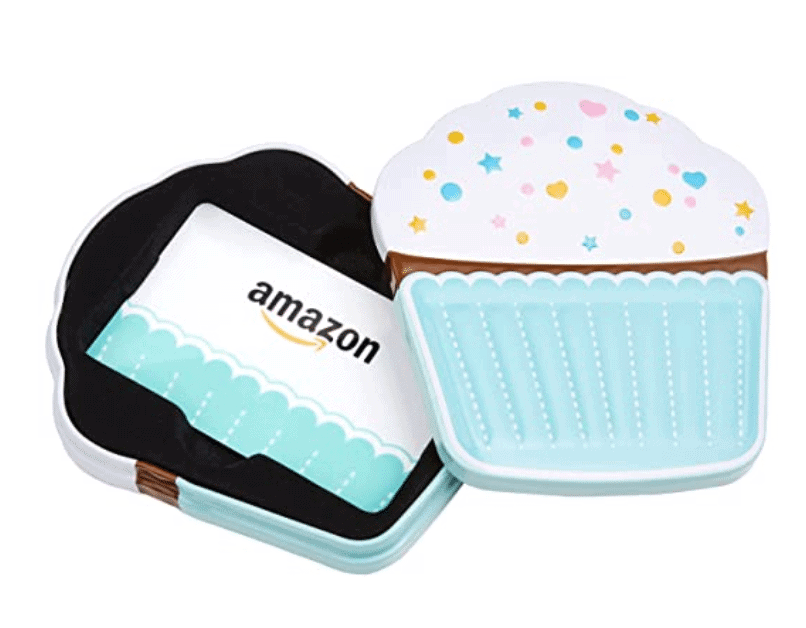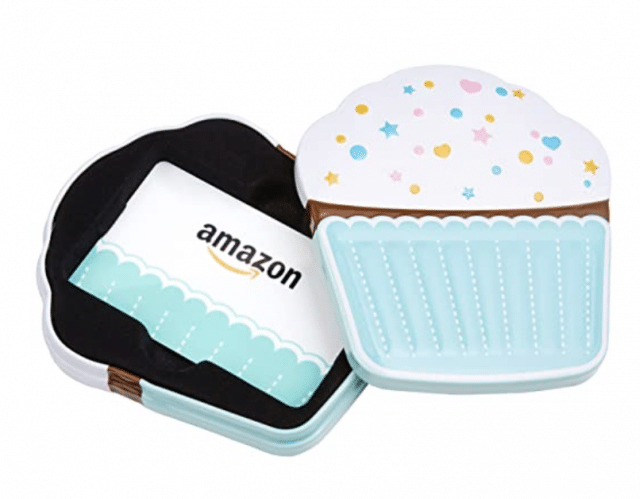 We all know that an Amazon gift card is a very well loved present these days.
You can use this one just about anyone on your list, but especially as a good gifts for girls when you're not sure what to buy.
And if you still want a uniquely wrapped present, check out these clever ways to wrap gift cards.
40 — Fujifilm Instax Camera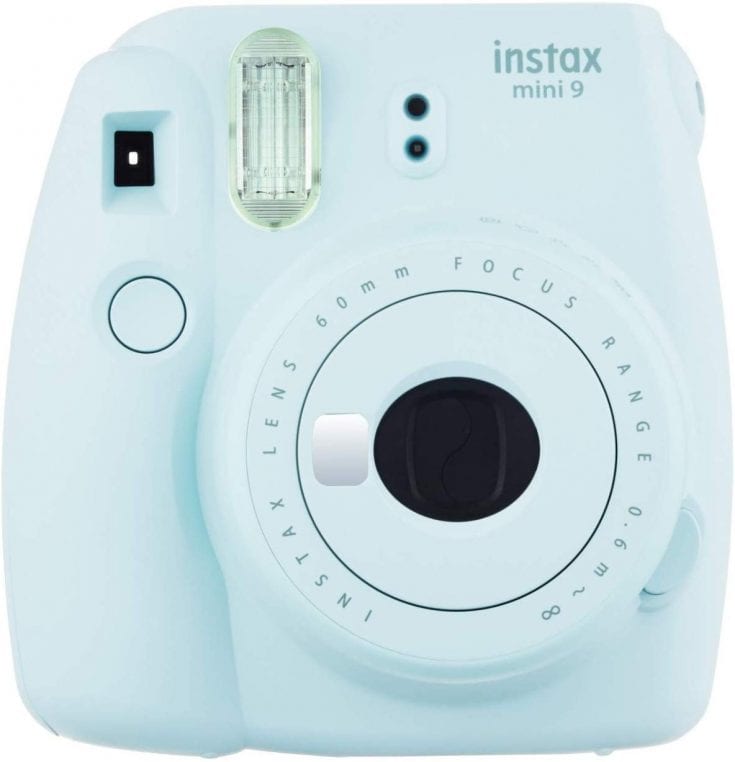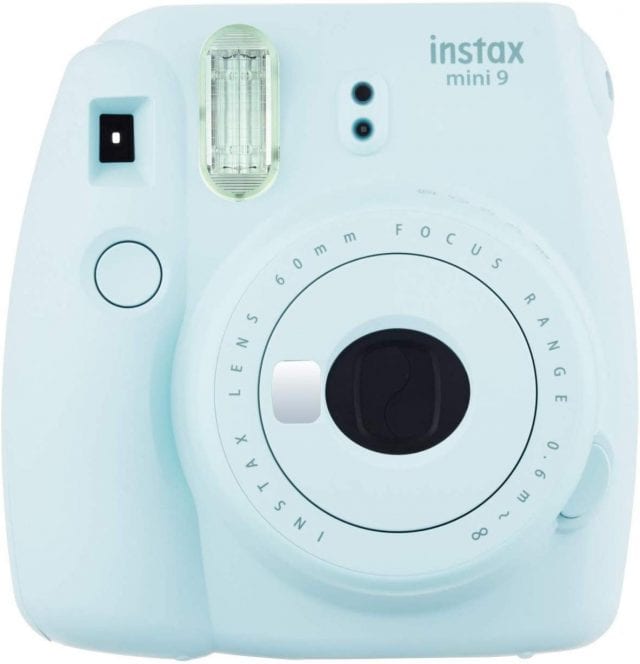 She will love having a Fujifilm Instax Camera to snap her favorite memories.
It may be old school, but there's no gratification like printing your photos instantly after taking them!
41 — Instant Film Flip Frame
The perfect add-on gift for the Fujifilm Instax Camera is this gold flip frame to display all of her favorite photos.
42 — Wireless Drawing Tablet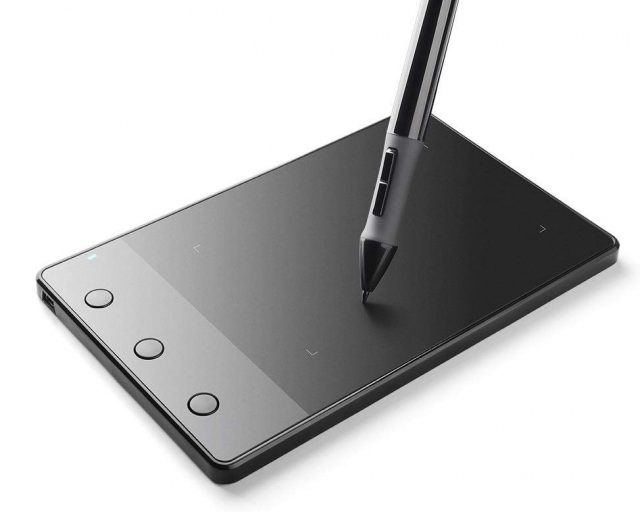 If she likes to doodle, she'll love this wireless drawing tablet.
She'll be able to draw something on the tablet and have it appear on the computer screen in real-time!
43 — Compliment Pencils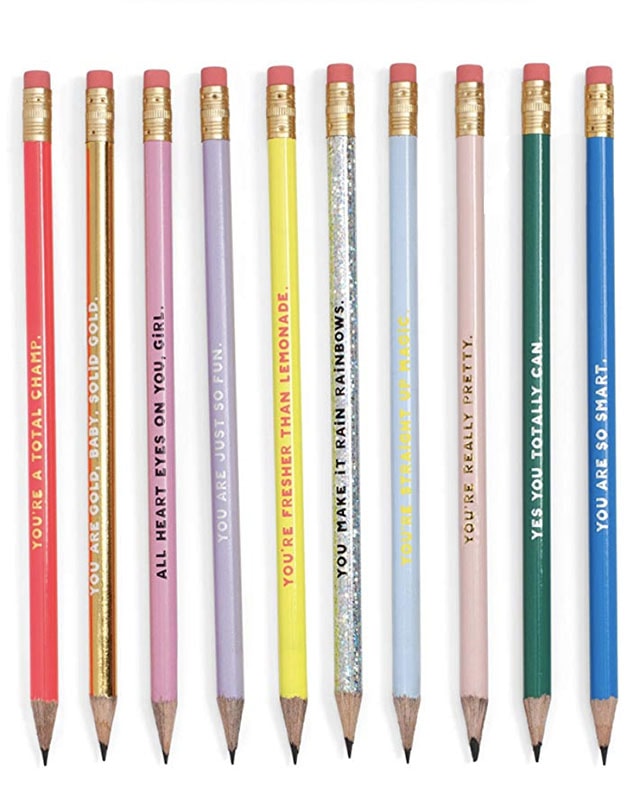 Compliment pencils as gifts for girls that keep giving!
When you can't be there to encourage her, her pencils can!
These compliment pencils will be the envy of the classroom, and might just give her the confidence she needs during that pop quiz.
44 — Clear Gold Stapler

This is the prettiest stapler for her desk, and would make a great stocking stuffer for organized tweens.
45 — Retro Bluetooth Speaker
This retro-inspired bluetooth speaker will look cute in her room while she enjoys listening to music from it.
46 — Bath Bomb Gifts for Girls
Bath bombs are always a good gift because they make bath time that much more fun.
47 — Cruiser Bicycle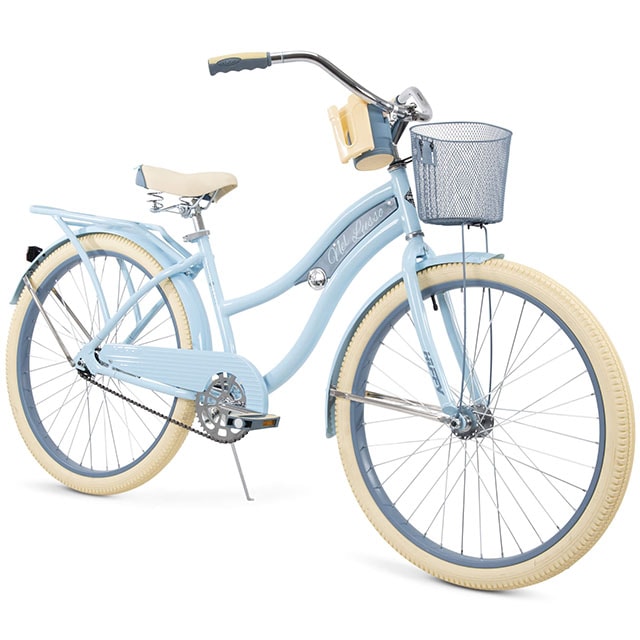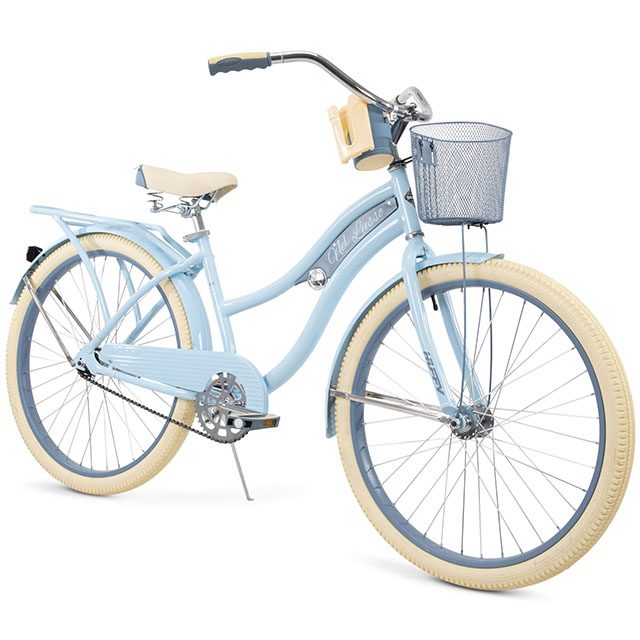 She can get around the neighborhood in style on this wide-wheeled cruiser bike.
The baby blue color is cute, and it comes with a front basket and an upright drink holder!
48 — Succulent Plant Magnets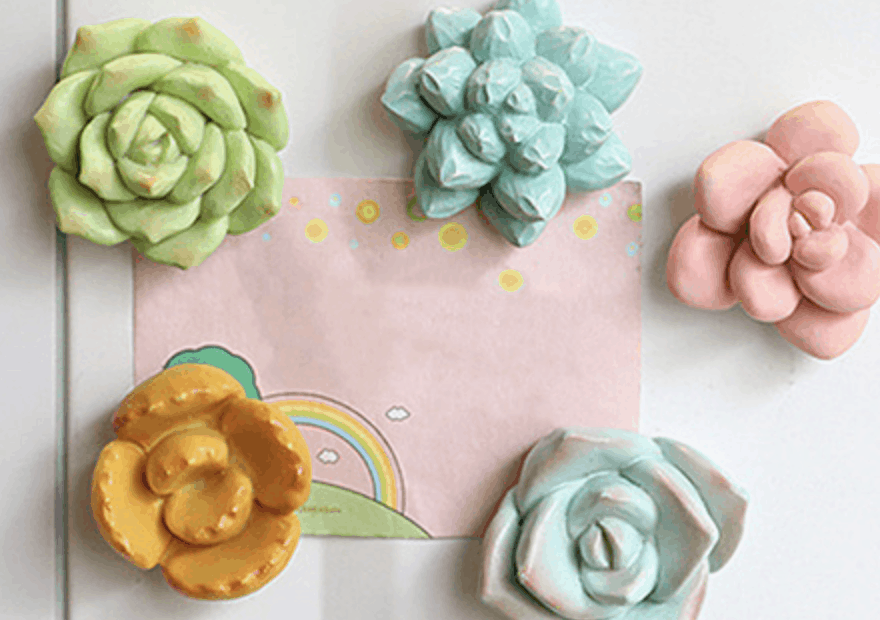 If she's not quite ready to take on house plants in her room yet, give her a few succulent magnets.
They're cute for her locker, room, or her mini-fridge.
49 — Fjallraven Kanken Backpack Gift for Girls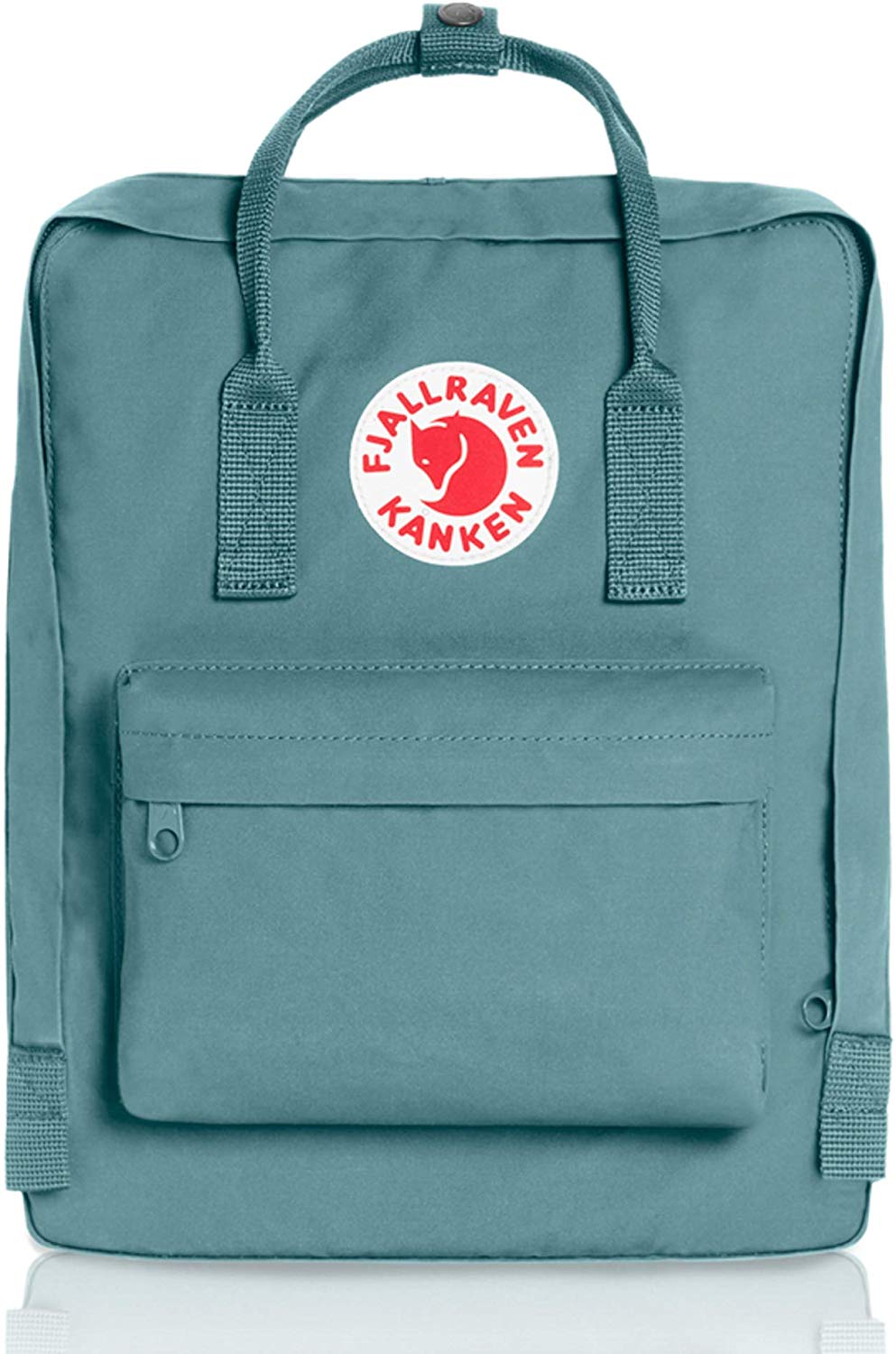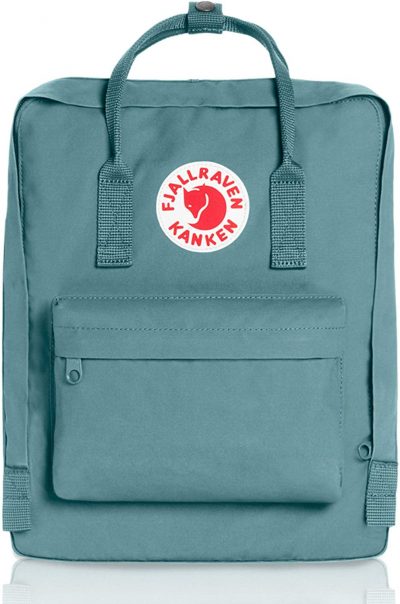 We're big fans of these popular Fjallraven Kanken backpacks that everyone seems to have.
They're the perfect size and they come in pretty much every color you can imagine.
50 — Custom Neon Sign
Light up her room with a custom neon sign.
Choose her name, a favorite phrase and your on font and design.
If you want something more subtle, opt for a cute neon heart instead.
51 — Jewelry Gifting Set
She can make her own jewelry with this Love Bug jewelry set.
Each container includes tassels, beads, clasps, and charms to create her own necklaces and bracelets.
More Gift Guides
Gift Guides & Unique Gift Ideas