We've rounded up the best-personalized gift ideas to add that special touch! Plus, customized gifts are perfect for any holiday or occasion.
If you're looking for a way to take your gift-giving up a notch, then customizing it is an easy guarantee to make someone feel extra special.
A personalized gift is a one-of-a-kind, thoughtful and truly meant just for your gift recipient which is why we rounded up the best-personalized gifts for anyone and any special occasion.
Whether it's a birthday gift, wedding gift, anniversary gift, Christmas gift, or just because gift, there's something for everyone with our one-stop personalization mall of items!…
Personalized Gift Ideas – The Best Customized Gift
1 — Personalized Foil-Pressed Stationery
Gift someone with personalized stationery so you'll always keep in touch. Hand-pressed in gold and silver foil, you can also customize the notecards with a photo, finished off with a gift box.
2 — Custom Address Sign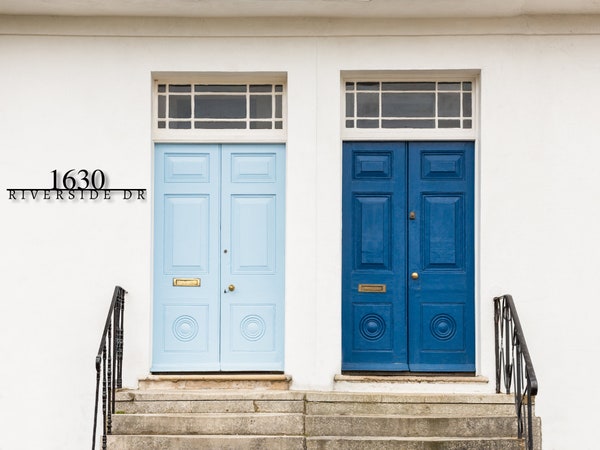 A great gift idea for couples who may have recently purchased home is a custom address sign. It's more unique than traditional house numbers and is a great touch for curb appeal.
3 — Initial Necklace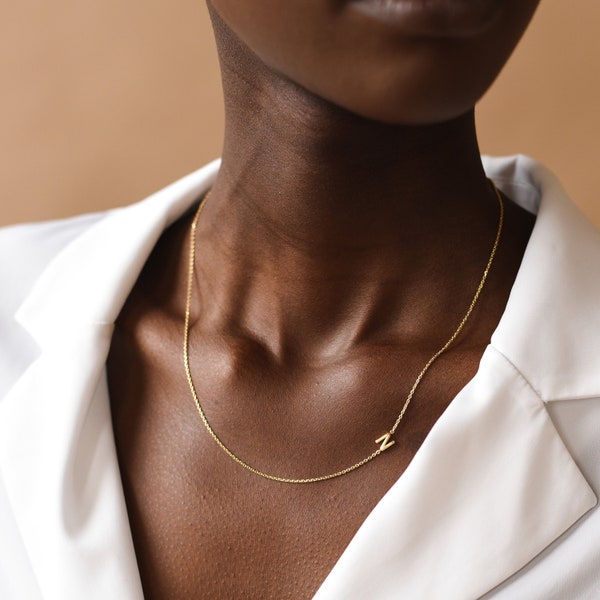 This handmade personalized initial necklace is one of our wardrobe favorites. Select multiple initials (or just one) in sterling silver, rose gold, and gold.
It's a dainty yet modern timeless jewelry piece and jewelry is always the best and most cute Valentine's Day gift!
4 — Personalized Phrase or Name Wooden Baby Blocks
If you're looking for a baby present or keepsake for a new mom, then these personalized wooden baby blocks are a really unique gift idea.
5 — Custom Leather Tag Throw Blanket
You can never go wrong with a cozy throw, and this one comes with a customized, handwritten leather tag sewn onto it.
6 — Customized Ceramic Name Pet Bowl
Even our pets need a little love, and I'm sure they'll show their excitement if you fill this custom ceramic name bowl with their favorite treats.
7 — Personalized Duffel Bag
This personalized duffel bag has high-density water-resistant material that will keep your belongings safe and dry, no matter what the weather is like.
You can easily pack everything you need for a weekend getaway or a longer trip in this bag, and the shoulder strap makes it easy to carry.
8 — Personalized Charcuterie Board
Not only does this custom serving board look way more expensive than it actually is, but you can also customize the color and size.
You can even pair it with our favorite DIY cheese knives.
9 — Custom Home Illustration
A watercolor custom home illustration is the perfect sentimental gift for new homeowners to frame and hang in their home sweet home.
It's an ideal group family gift or even for someone nostalgic for a favorite childhood place.
10 — Photo Calendar
Everyone needs a calendar! These photo calendars are designed by independent artists with our personalized photos and dates.
There are tons of designs to select from to suit your gift recipient's style. Plus, you can start the calendar at any month.
11 — Personalized Engraved Coasters
Personalize a set of handcrafted and engraved coasters in solid walnut wood or vegan leatherette. A holder or gift box is included to finish off a one-of-a-kind wedding or housewarming gift.
12 — Personalized Name Heart Cosmetic Bag and Travel Makeup Pouch
This personalized cosmetic and travel bag is ideal for makeup lovers, this trendy cosmetic case makes a great gift for Valentine's Day, Mother's Day, bridemaids, friends and family!
Perfect for travel, this makeup pouch can not only be filled with cosmetics but can serve as an everyday bag for your headphones, cell phone, sunglasses, and keys.
13 — Gifts For Dad: Handwriting Wallet
Personalized with a name and a message of your choice, this handwriting wallet will be a perfect sentimental gift for your husband or boyfriend on Father's Day.
The engraving on both sides could be in actual handwriting or in a nice font displayed in our photos.
14 — Personalized Cutting Board
The cooks in your life will love this personalized cutting board engraved on solid hickory.
Though meant for cook prep, the board can also function as a charcuterie and cheese board or fruit platter idea. It's definitely an heirloom piece to pass down for generations!
15 — Custom Name Yoga Mat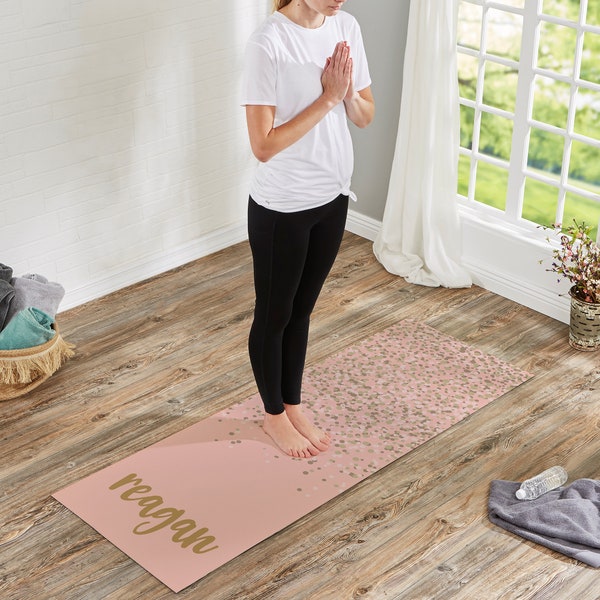 A custom yoga fitness mat is the perfect gift for the fitness guru, and there are tons of colors and patterns to choose from.
16 — Personalized Wood Phone Docking Station
Looking for a stylish and multifunctional charging station for your personal belongings?
Made of high-quality wood with clear lines, this docking station is perfect for organizing your mobile phone, keys, wallet, watch, and glasses.
It's also easy to assemble – simply follow the instructions included in the box.
With its smooth and retro design, our wood docking station makes a great addition to any home or office décor.
17 — Monogram Gifts Tote
This monogram gifts tote is perfect for any occasion, whether you're looking for a personalized gift for a special someone or a way to thank your guests for their support on your big day.
The tote features a classic monogram embroidery font in black, which can be customized with an initial. The high thread density of the monogram makes it stand out beautifully
18 — Custom Message Shortbread Cookies
Send someone special a box of custom message shortbread cookies from Uncommon Goods.
A name, a date, an invitation, a sweet message — the possibilities are endless. The cookies are individually wrapped and handmade in California.
19 — Birthstone Bracelet
Gift someone special with a personalized birthstone bracelet.
This is a great gift for moms and grandmothers to wear their kids' birthstones or even a group gift featuring all the birthstones of your best gal pals.
20 — Personalized Kids Chair
This personalized kids chair is the comfiest lounger couch for a movie night or book nook. It comes in multiple color ways. Remove the cover for easy wash care!
21 — Photo Gift: Custom Socks with Faces
Looking for something fun and lighthearted? Print any face (or even pet portraits) on a pair of crew custom socks. They make for hilarious groomsmen gifts and stocking stuffers.
22 — Customized Doormat
Looking for a unique wedding gift or how about this best housewarming gift? This customized doormat is hand-lettered and then sprayed with a waterproof and UV-resistant spray for a long-lasting gift.
23 — Personalized Apron
The chef in your life with love a personalized apron, featuring a waist tie, adjustable buckles, front pockets to easily access their stainless steel kitchen tools, and a customized name.
24 — Custom Pet Portraits Magnet
Gift your best friend who also has a furry four-legged best friend with custom pet magnets.
Simply submit a photo of the pet and a local artist sketches and illustrates a portrait before constructing the artwork on thick and sturdy magnet pieces.
25 — Tic Tac Toe Game
A customized twist comes about with this personalized tic tac toe game. Handcrafted initials replace the original X's and O's on an engraved unique board piece for family game night.
26 — Custom Address Stamp
Whether it's a newly married couple or a housewarming gift, a custom return address stamp is always a well-used gift.
27 — Your Handwriting Leather Catch-All
Submit your or your child's handwritten message to be engraved on a custom Your Handwriting Leather Catch-All.
The valet tray makes for a wonderful addition to a home, office, or entryway for all those important little things.
28 — Personalized Names Necklace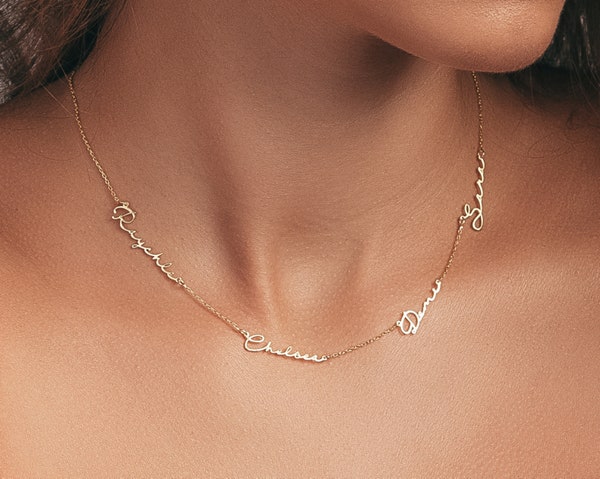 Give her a personalized name necklace in 14K gold, rose gold, or sterling silver. This personalized gift idea is custom-made, so order early!
29 — Custom Photo Art
Print all those favorite photos on Instant Gallery custom photo art. There's also an option for a professionally fitted frame and a wide selection of moldings to choose from.
30 — Customized Name Earrings
Ever since Carrie Bradshaw sported her signature nameplate necklace, we've been obsessed with the personalized name jewelry trend.
These name earrings are minimal and dainty enough for everyday wear to gift your most stylish girlfriends. Choose from various fonts and materials and if you're not feeling a name, you can always choose a custom word instead.
31 — Gift For Kids: Wooden Name Puzzle
Fun and educational, the wooden name puzzle is a one-of-a-kind toy that encourages letter and name recognition. Plus, it also makes for a pretty display!
Check these perfect baby shower gift ideas, Christmas or kid's birthday gifts.
32 — Personalized Jewelry Stand
Customize this hexagonal jewelry stands with initials and a message. The stand holds and can display watches, rings, cuff links, tie clips, and more for the dapper man in your life.
33 — Create Your Own Reel Viewer
Remember the classic reel viewer from your childhood? You can now create and gift your own grown-up version using personal photos with the Create Your Own Reel Viewer.
Assemble together those memorable shots like your baby's first step, vacation and getaway trips, big milestones, and more to be immortalized in a fun childhood gadget.
34 — Personalized Mugs
Everyone loves their morning coffee, and it's only made better with a custom portrait coffee mug to drink from. This is one of those customized gifts that will get plenty of good use.
35 — Personalized Connect Four Game
Get your fellow game-lover a custom connect four games with their names and anniversary date! It's a nice gift for parents or newlyweds, and even a cool wedding game idea.
36 — Custom Pet Portrait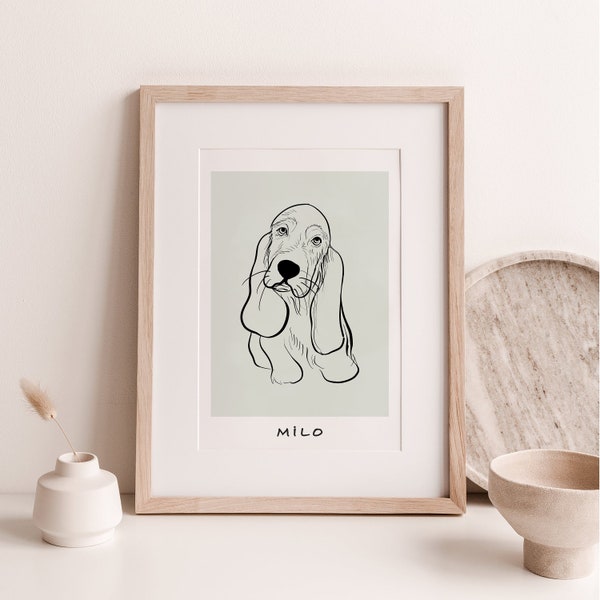 Commission a custom pet portrait of their favorite furry family member. We love this artistic hand drawn style that will make a great addition to any room.
Additional Gift Guides & Unique Gift Ideas
And in case you've missed our other gift guides, be sure to check them out too!