Check out our list of the best anniversary gifts for parents. We've compiled this gift guide to help you find something special!
Your parent's wedding day was probably one of their most important days. So why not continue celebrating that day with the perfect gift?
Because every year of marriage is a true testament of love, and their love is probably one of the first loves you've witnessed.
So let us take the weight off your shoulders. We rounded up 31 of the best anniversary gifts for parents.
With this unique list, you can step outside the box and really spoil your parents without breaking the bank.
Mom and dad (and don't forget the in-laws) will cherish these anniversary presents that range from sound wave art to shared experiences,
Want to make it more personal? We have the perfect custom anniversary gift ideas for your parents, too, like matching sweats and champagne labels for a special touch of personalization.
Wedding Anniversary Gifts for Parents
1 — Anniversary Ice Cream
Spice up the special occasion with this boozy ice cream that is delivered nationwide. This dessert pack includes four delicious artisan flavors blended with mixed cocktails, stouts, and wines.
2 — Music Wall Art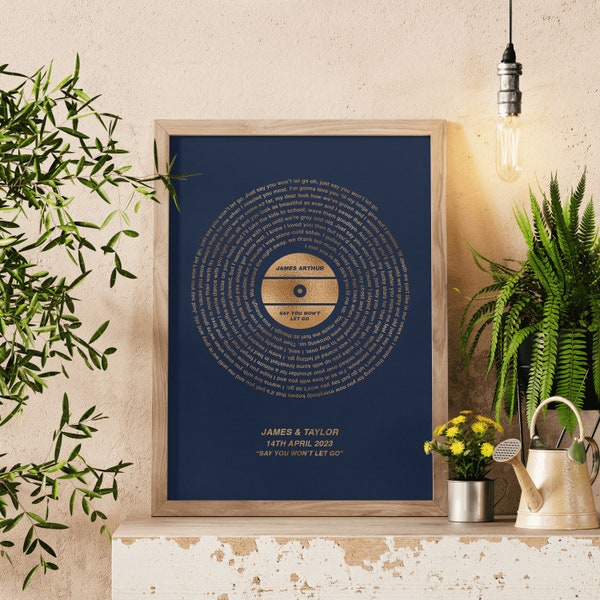 Share a beautiful reminder of your parent's wedding song with this black and gold lyrics wall art. The striking colors make for a beautiful statement piece and will catch everyone's eye.
Personalize it with their name and wedding date.
If you are looking for wall art under $200, try these budget-friendly wall decor pieces that are sure to bring life to your walls.
3 — Whiskey and Wine Glass Set
Gift these Mr and Mrs. whiskey and wine glass set for your parents' next anniversary so they can raise a glass or two with a cocktail.
4 — Custom Made Bucket List Book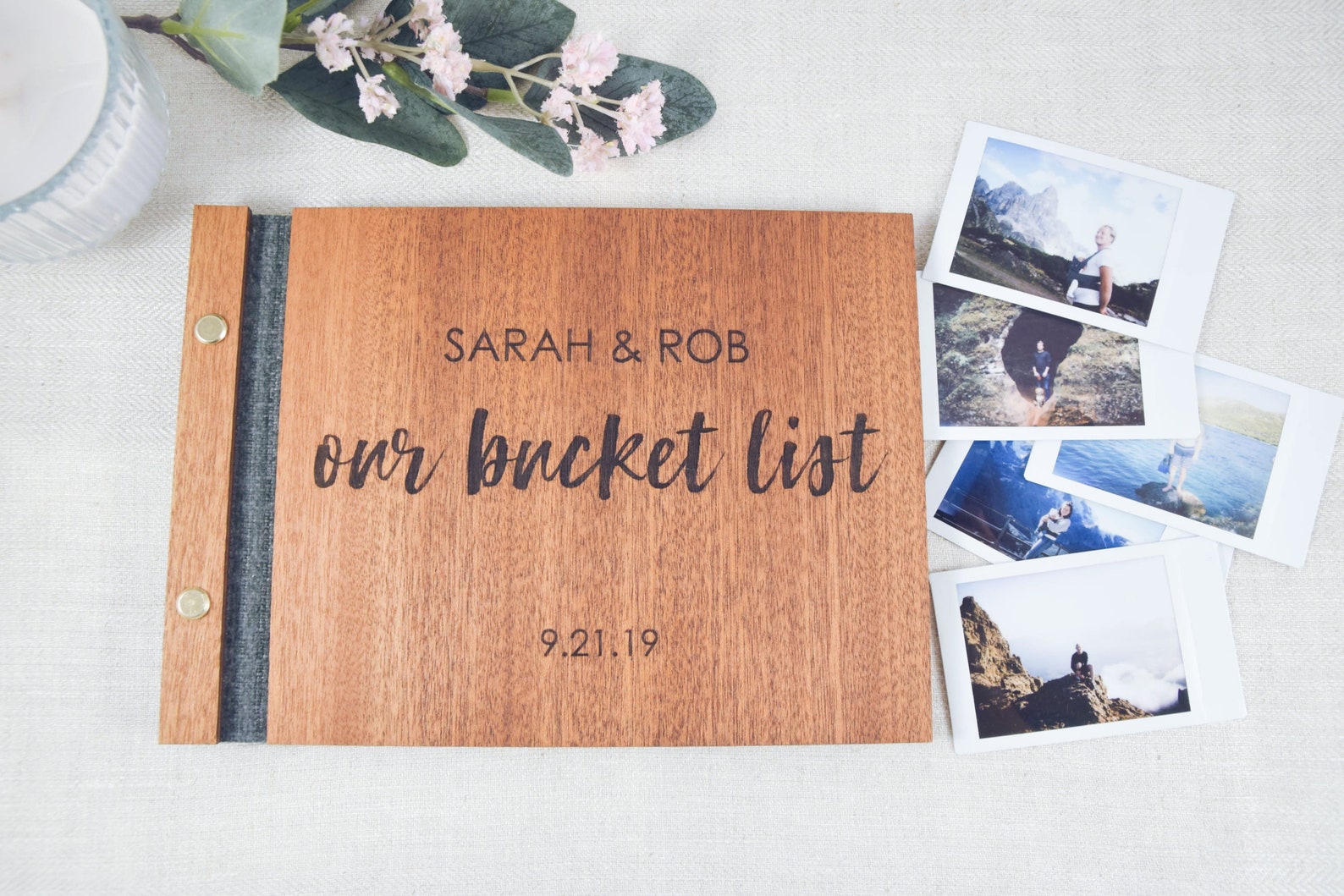 Life is about adventures. Share old ones and allow your parents to make new ones with a custom bucket list book.
Even add in ones that include you, so you get some fun out of it too!
5 — Experiences
We love the idea of gifting experiences and special quality time. So this Romantic Mapmaking Class from Uncommon Goods does just that.
Your parents will get to spend 90 minutes with a creative cartographer to create a map of their love story and geographic milestones and memories.
6 — Swing Sculpture
The Rooted in Love Swing Sculpture is a "tribute to a love that's both grounded and soars to great heights."
The artist hand-sculpts each piece. And you can even pick your family size or simply have two couples on the swing.
7 — Wedding Song Sound Wave Art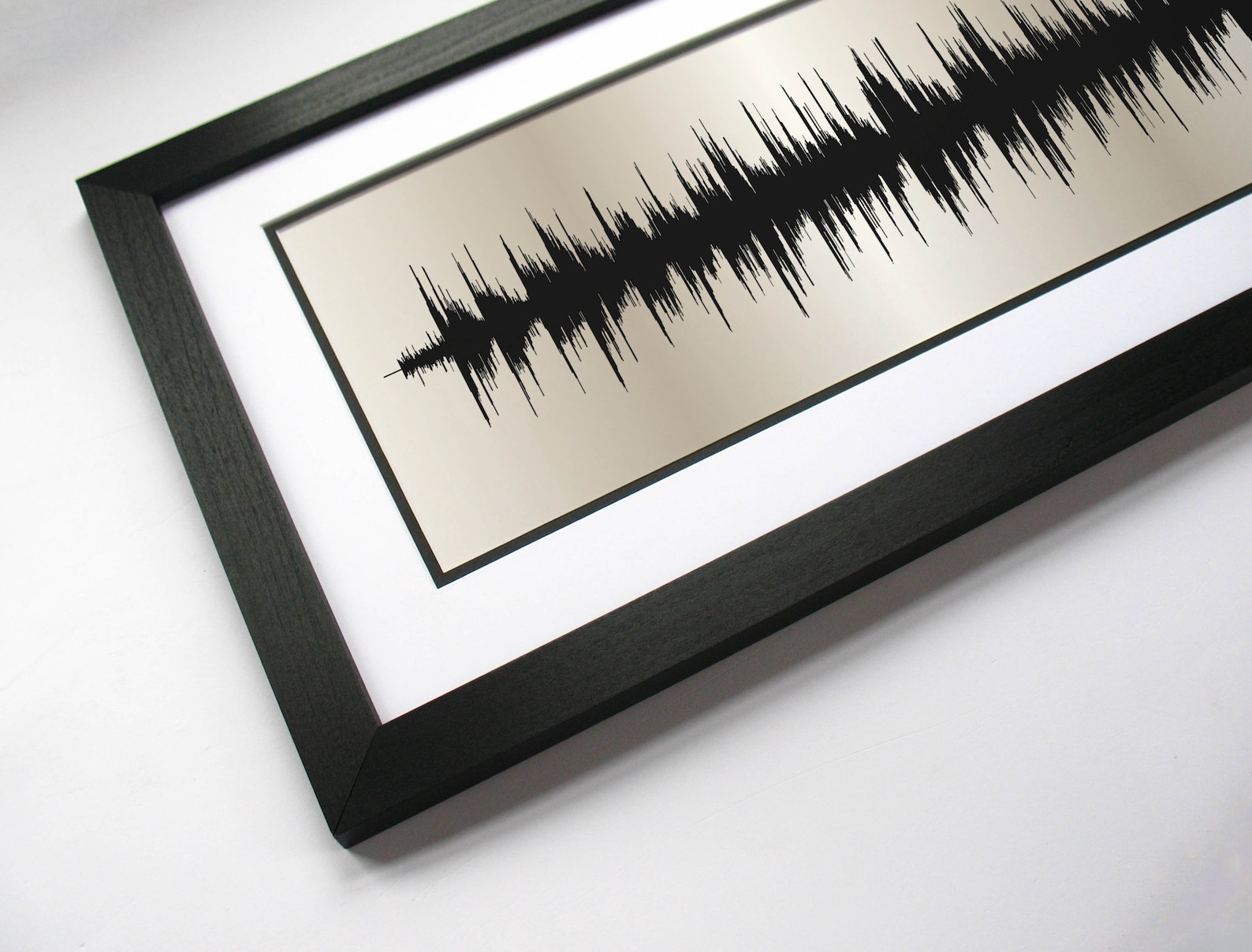 This is a unique anniversary gift that translates your parent's wedding song into sound waves wall art.
The traditional 30th-anniversary gift is all things pearl. So if you are looking for a 30th-anniversary gift, opt for the pearl print.
8 — Anniversary Figure
This anniversary figure is a minimalist art piece of a happy couple. It's perfect for the mantle, shelf, or table that can stand on its own or with other pieces from the Willow Tree collection.
Unique Gifts for Parents
9 — Personalized Bobbleheads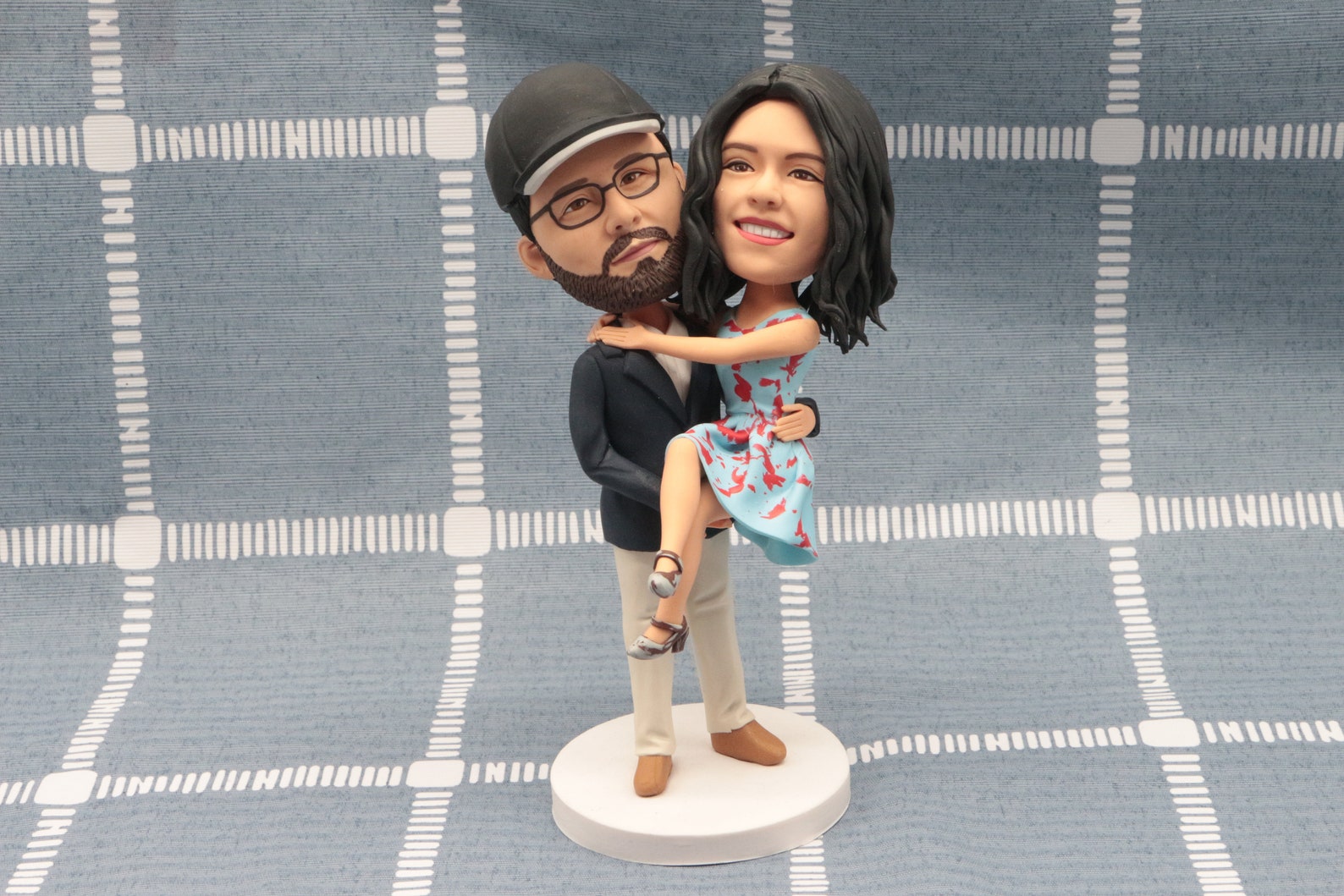 Personalized gifts always make the couple feel extra special. Gift hand-painted custom couple bobbleheads and have a good laugh watching them wiggle!
Send in your favorite recent picture, and they will do the rest. You can even add accessories.
10 — To My Parents Personalized Vase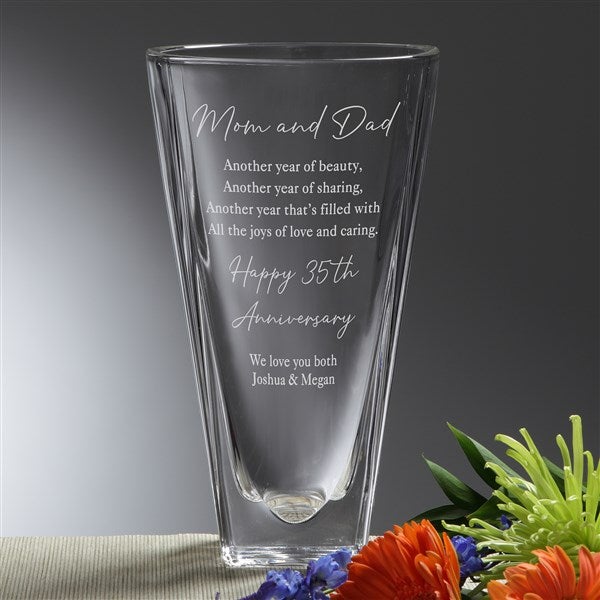 Everyone loves receiving flowers. Give them the perfect home with a To My Parents personalized crystal vase. It is a pretty large vase, so it should accommodate most bouquets.
11 — Modern Family Tree Art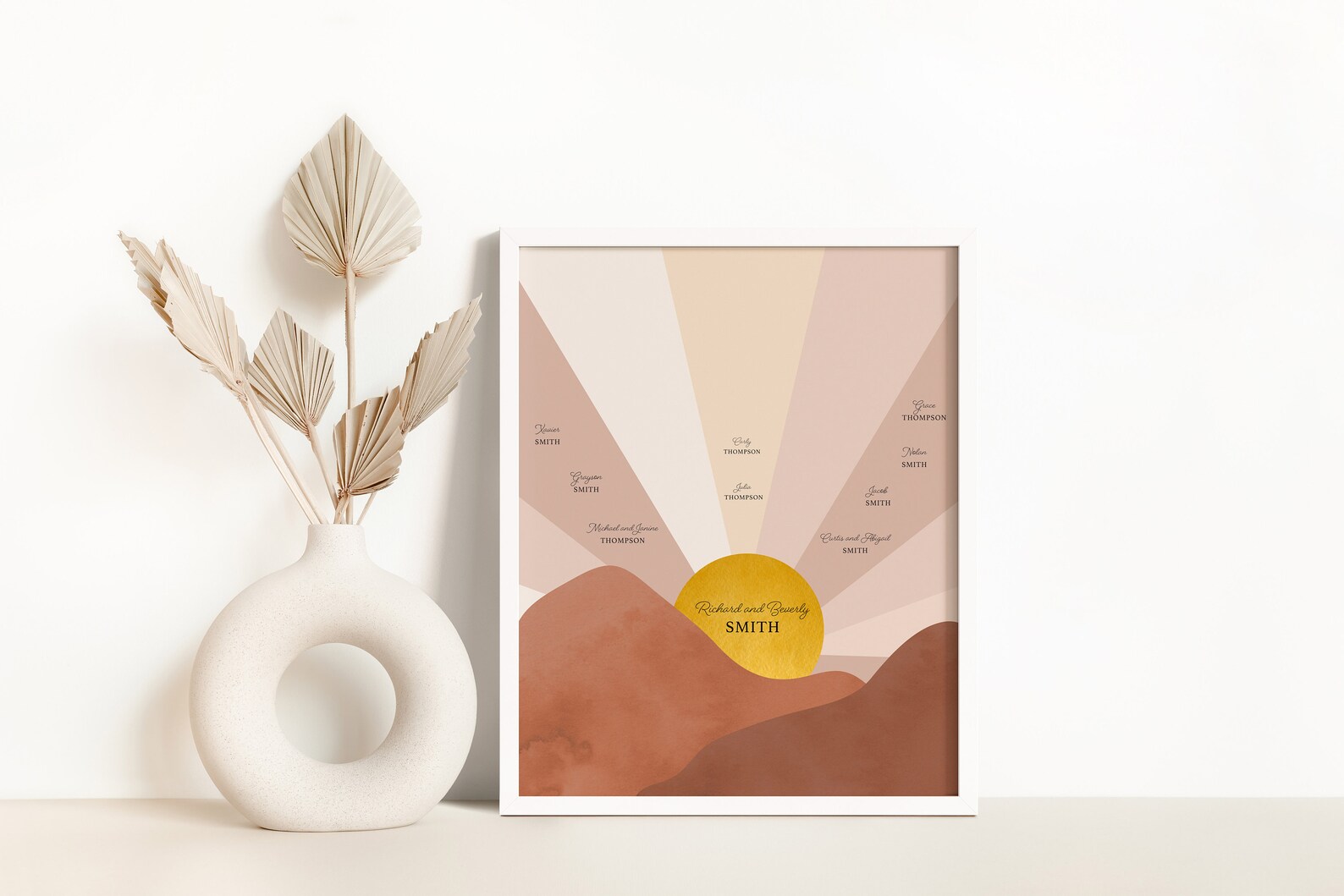 Do some family generation digging, and customize this modern Sunset Family Tree Art for a thoughtful gift for your parent's anniversary. The happy colors are sure to put a smile on their face.
12 — Family Candle
Give the gift of good smells with this classic family dictionary Definition Candle. Choose from vanilla or lavender scents. The sentimental soy candle burns for up to 50 hours.
13 — Knife Set
If your parents are into cooking like our in-laws, then they will appreciate a brand-new knife set. This one is even countertop worthy and our go-to kitchenware brand.
14 — Matching Embroidered Bath Robes
Everyone needs a bathrobe in their life. These matching embroidered bath robes are lightweight, 100% cotton, and cozy enough for year-round wear.
15 — Hoya Heart Plant
The heart-shaped Hoya is one of our favorite succulents. It is pet-friendly and low-key. (Your parents will only need to water it every 2-3 weeks).
The Hoya Heart Plant even ships and arrives already potted for its new home. Plants also tend to make for great Mother's Day gift ideas.
16 — Love Coupons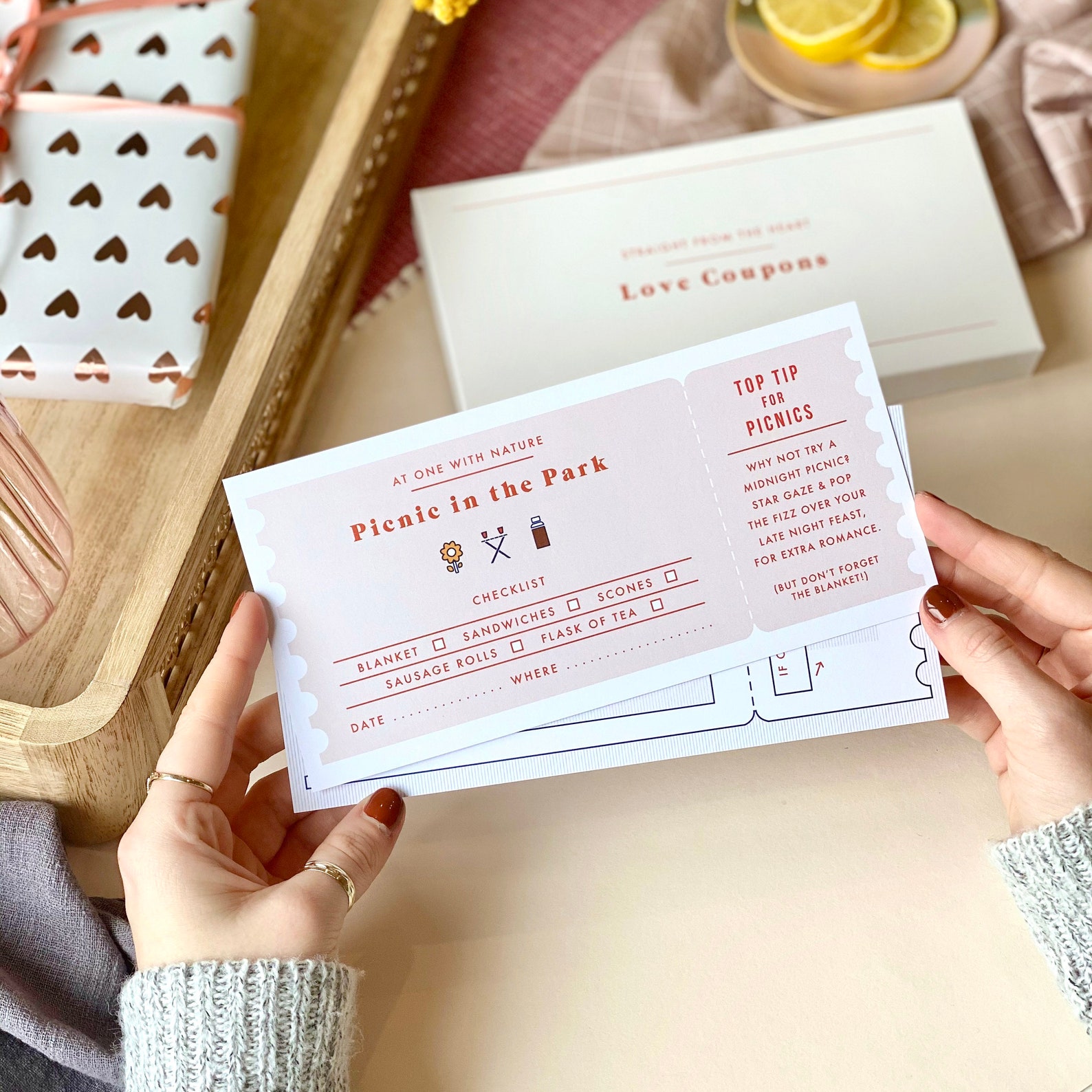 Give this unique set of Love Coupons that will help your parents go back to their honeymoon phase.
These 12 coupons feature ideas like breakfast in bed and picnics in the park. There's also a scratch-off golden ticket to customize.
17 — Essential Cocktail Recipes
Make classic and modern cocktails on a special day or any day with the Mini Bar: Essential Cocktail Recipe Notebook Set.
They are aesthetically pleasing to sit on the coffee table. The 100 recipes are organized by base spirits with space for your own notes.
For more detailed guides and cool cocktail recipes, check out our favorite cocktail recipes.
There is a lot of breakfast shot recipes to choose from, and surely you will be able to find one that you like.
18 — Customer Together Since Shirt
Parents who love expressing their love will enjoy this anniversary shirt. Personalize it with their wedding year for the best perfect anniversary gift.
19 — Best Mom and Dad Coffee Mugs
Packaged in a matching gift box, the Best Mom and Dad Coffee Mug Set includes a coaster and mixing spoon for your parents to enjoy their morning cup of Joe.
Customized Anniversary Gifts for Parents
20 — Wedding Outfit Art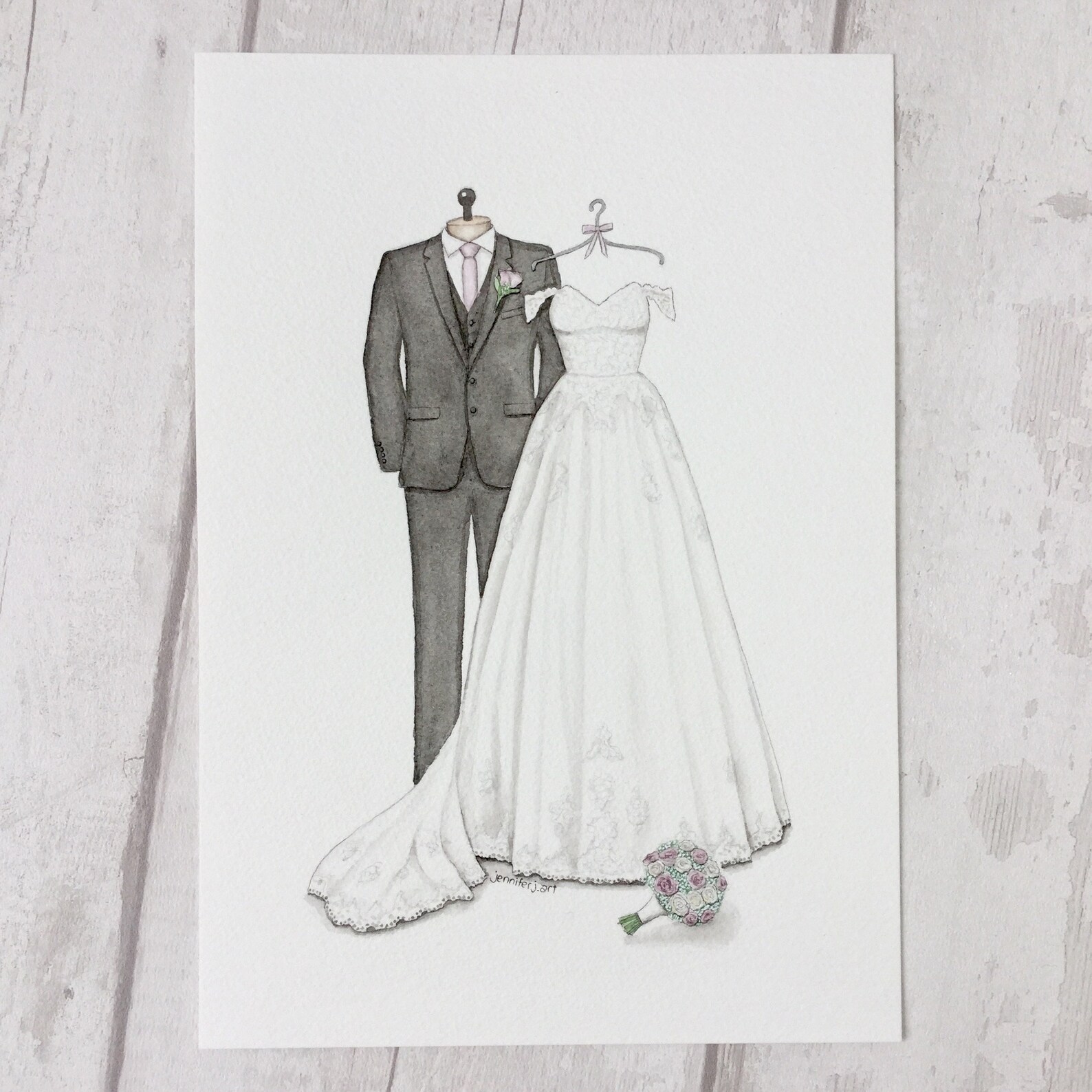 Allow your parents to remember their special day every day with a custom wedding ilustration of their wedding dress and suit. All you have to do is send in wedding photos.
21 — Engraved Cutting Board
This custom cutting board can be displayed or used for not just cutting but for a cheese or dessert board or fruit platter.
Plus, there are so many sizes, styles, and wood options to choose from to fit your parent's kitchen aesthetic.
22 — Family Name Sign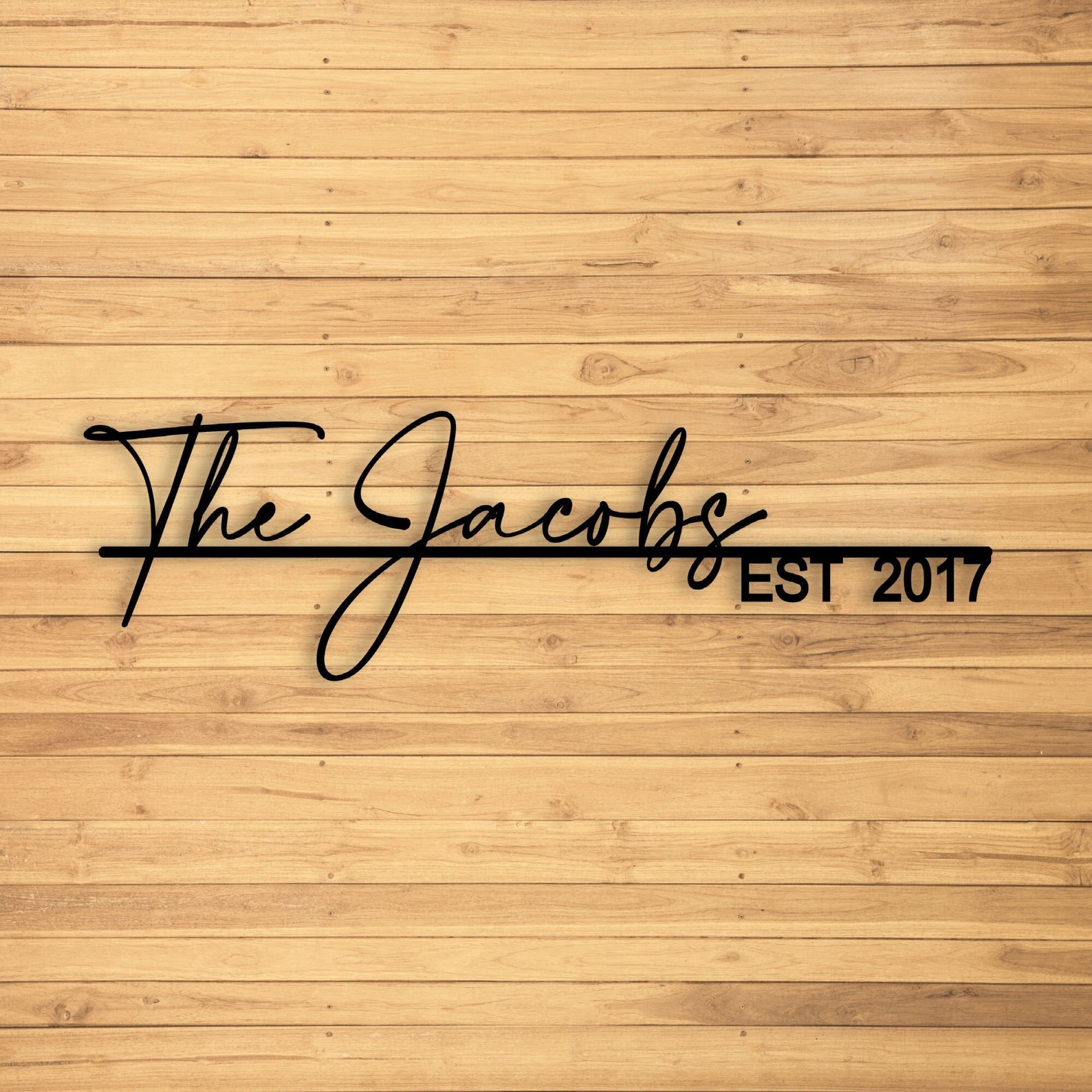 Gift this beautiful custom family name sign that can be hung at their entryway or outside since it's rust-free.
23 – Family Tree Blanket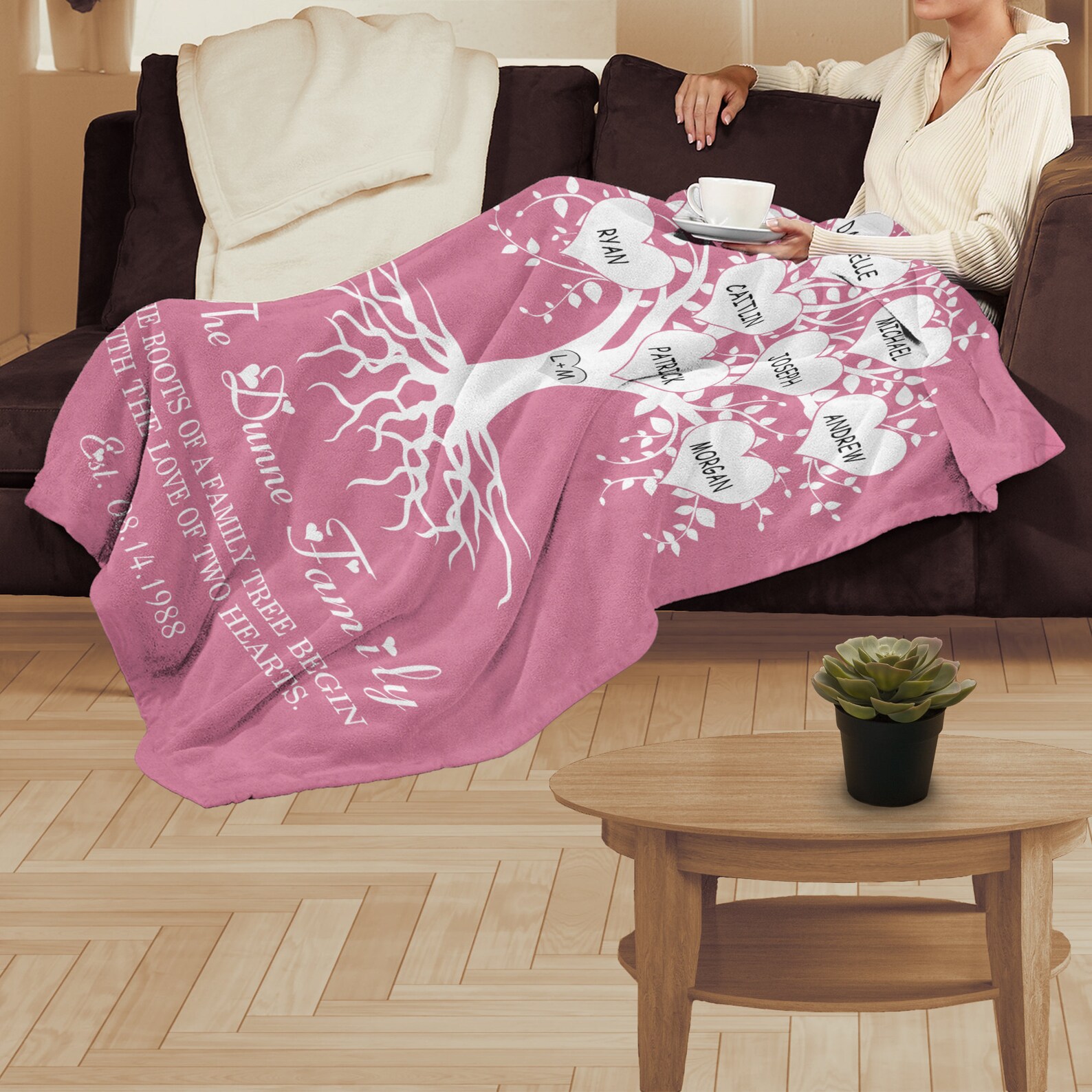 Warm their hearts (and their bodies) with a custom family tree blanket for them to cherish forever.
24 — Wedding Vows Artwork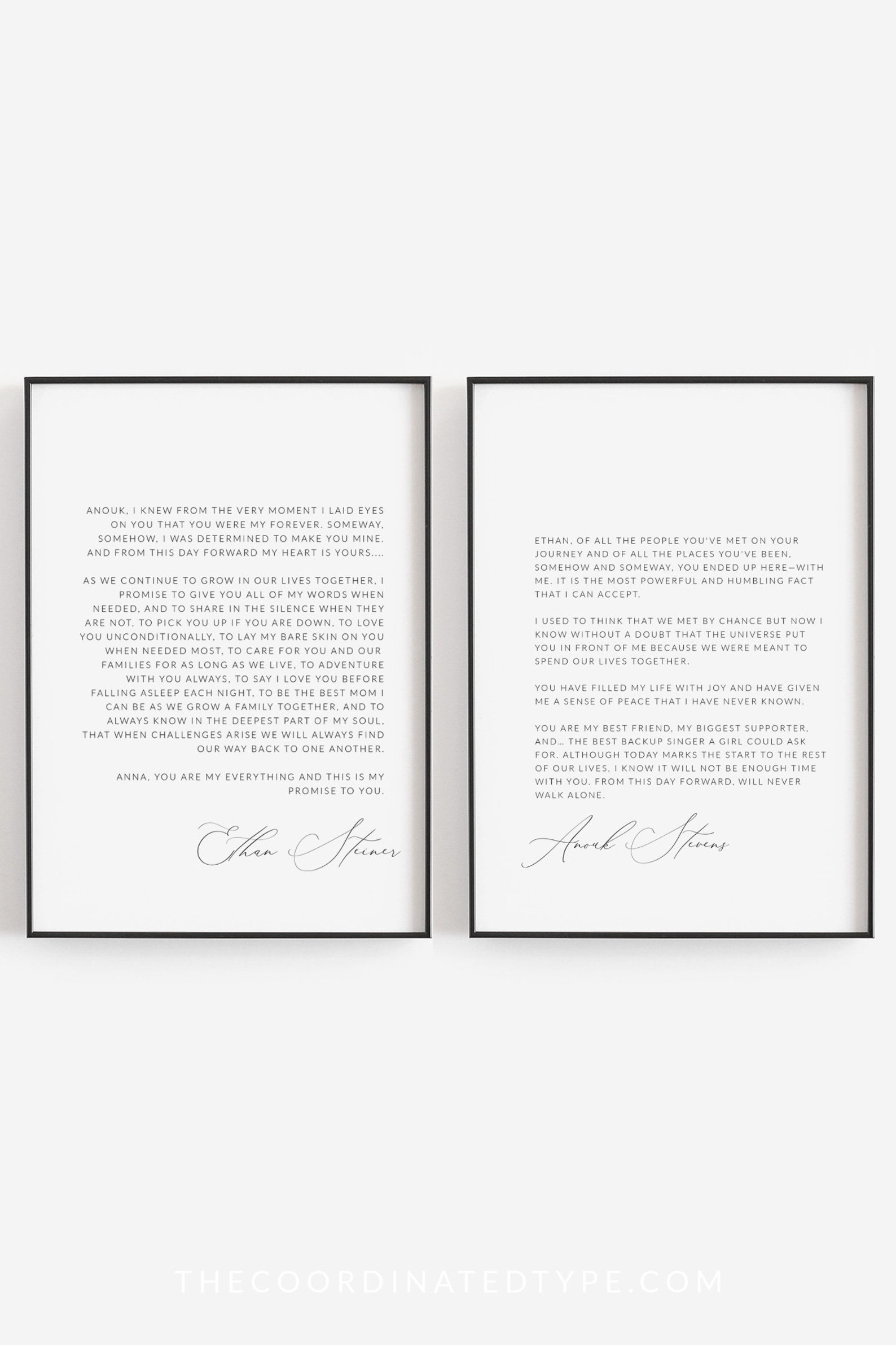 Vows are a special part of every wedding ceremony, and you can easily transform your parent's vows into meaningful custom vows wall art for their home.
Simply submit the vows, and a designer will send you a digital download to print and place into a photo frame.
25 — Family Portrait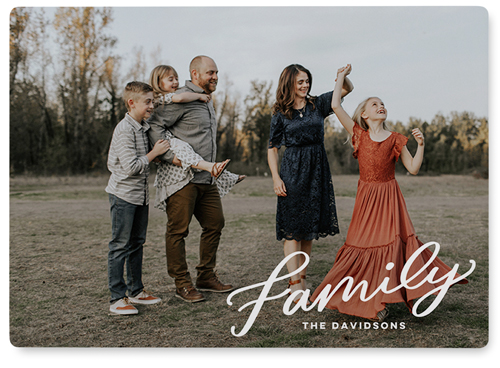 Family is the biggest blessing. Parents love photos so capture the perfect moment and hang it up forever with a family portrait canvas.
26 — Champagne Bottle Labels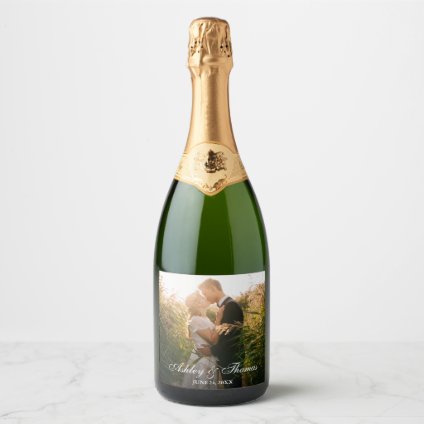 Every celebration calls for bubbles, and an anniversary is no exception. Make the bottle extra special with custom bottle labels of photos of the beautiful couple, or just choose your own personalized text.
27 — Wood and Marble Wine Chiller
Keep their wine cold for more celebrations to come in a custom Wood and Marble Wine Chiller. You can even add in a set of wine glasses and a bottle too!
28 — Where It All Began Map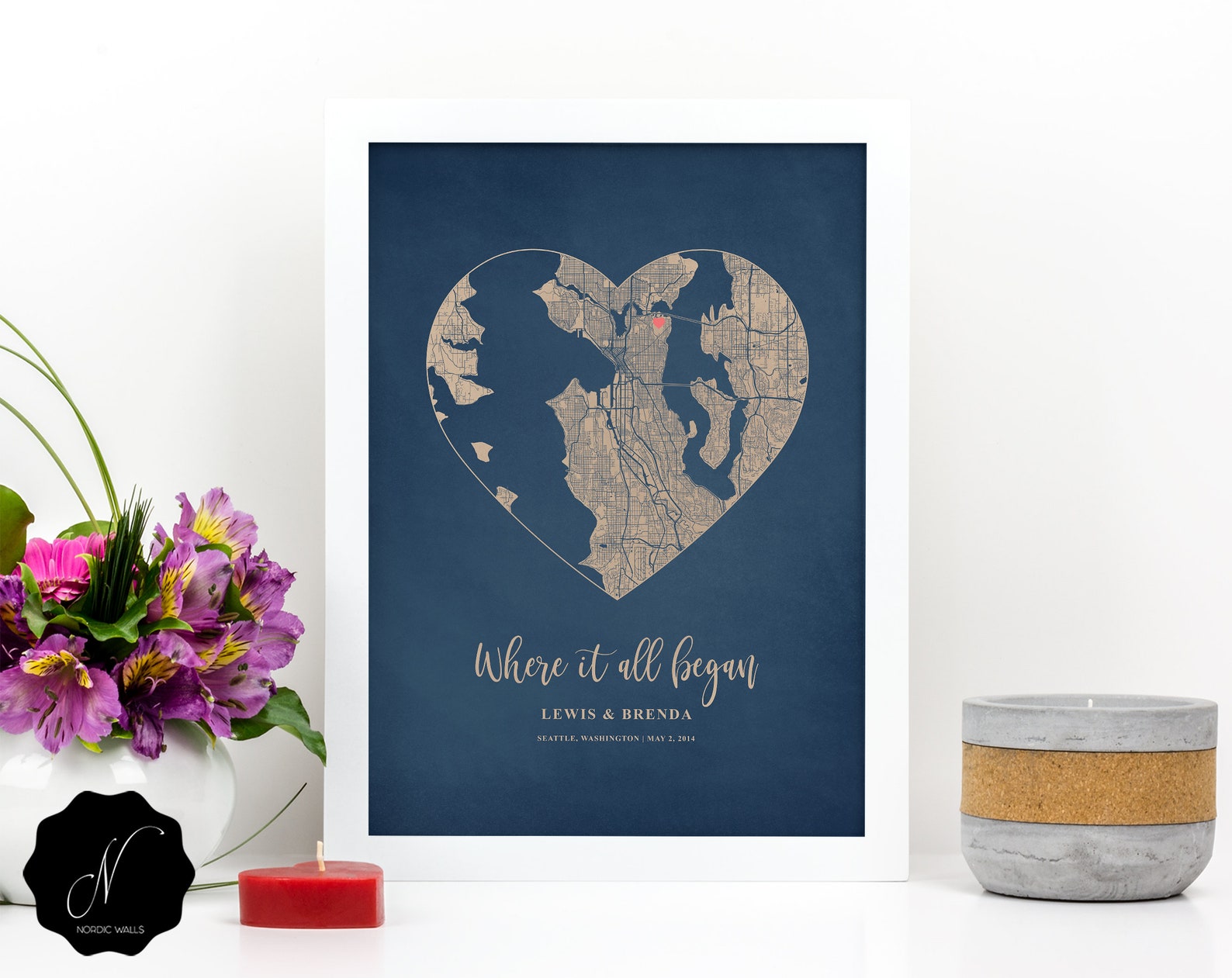 Printouts are truly a lifesaver for last-minute gifts.
Print this cute and custom Where It All Began map and put it in the picture frame for a thoughtful gift on their special anniversary.
29 — DIY Canvas Art
Customize their walls with your favorite family photos using printable canvas paper for this DIY Canvas Art tutorial! This is also one of our best personalized gift ideas.
Plus, something handmade always makes for thoughtful anniversary gifts. AND nothing beats the price point of doing it yourself at home.
30 — Date Keychain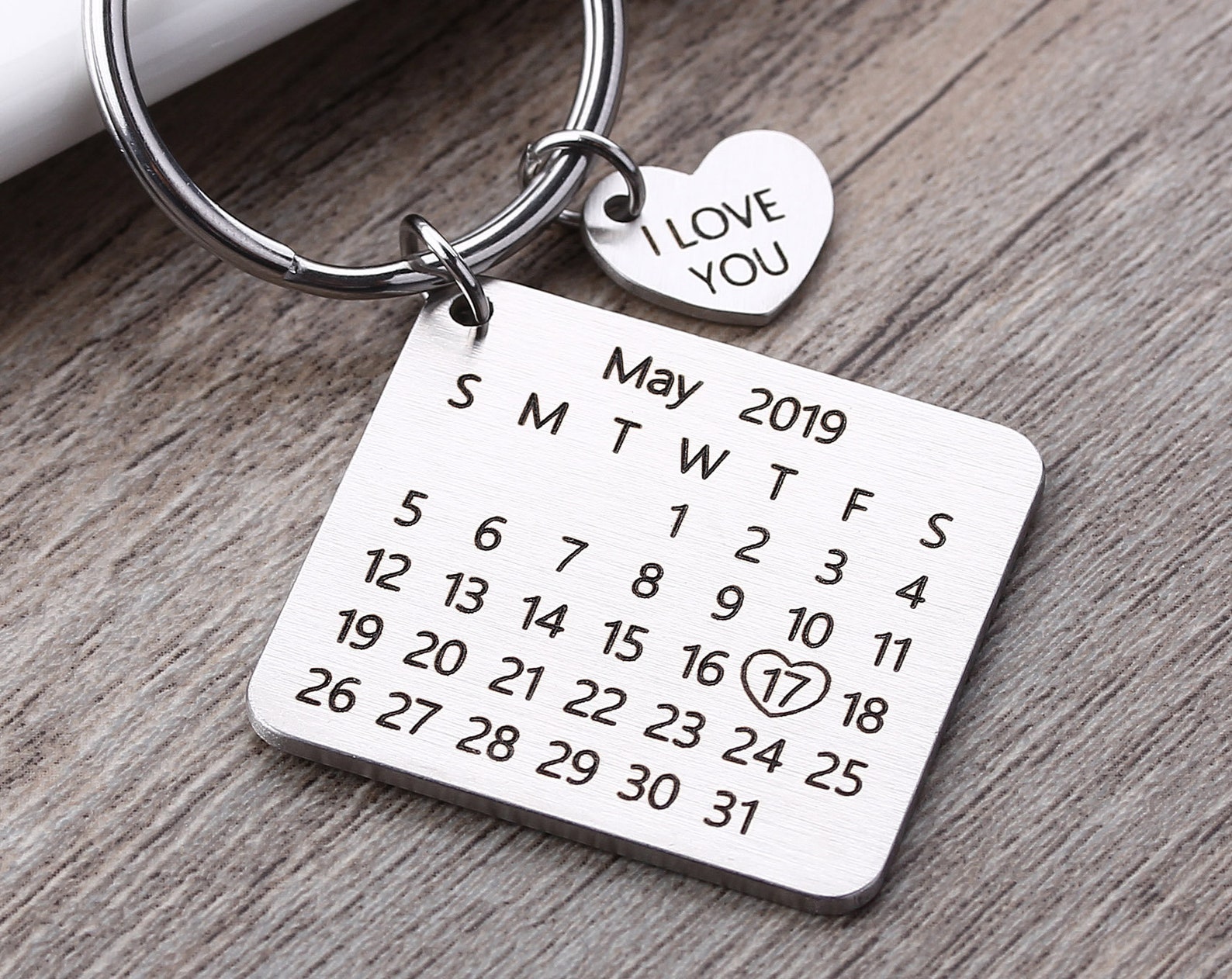 Gift each of your parents a custom date key chain for their next anniversary. This also makes sure no one ever forgets the date again too. Plus, are they celebrating their 25th anniversary? Because traditional anniversary gifts for this milestone include anything that is silver!
31 — 50th Anniversary Lighted Christmas Ornament
This keepsake ornament makes for a unique 50 year anniversary gift. We love that it lights up and has a timer. And it is also available in other milestone years too.
More Gift Ideas
Found your gift? Don't just stick it in a generic gift bag or gift box. The outside counts as much as the inside, so wrap it up in one of these creative gift wrapping ideas.
If you are looking for more gift ideas for other various occasions, check out these additional gift guides below —