Sharing a collection of date night gift basket ideas. You can make them at home or buy ready-made ones.
Date nights are harder to come by, especially whenever kids come into the picture, or life just happens with busy schedules.
So lately, we've had more date nights in than date nights out.
You can still make those nights extra special with these special date night ideas.
We put together 12 date night gift basket ideas that include fun activity items like a fondue to a bubble bath.
Some of these you can purchase pre-packaged and some you assemble yourself! (And in that case, you can buy a basket, make your own or repurpose and recycle our Easter basket ideas for adults.)
Either way, your partner will feel all the love with whichever date night gift basket you choose!
1 — Romantic Date Night Basket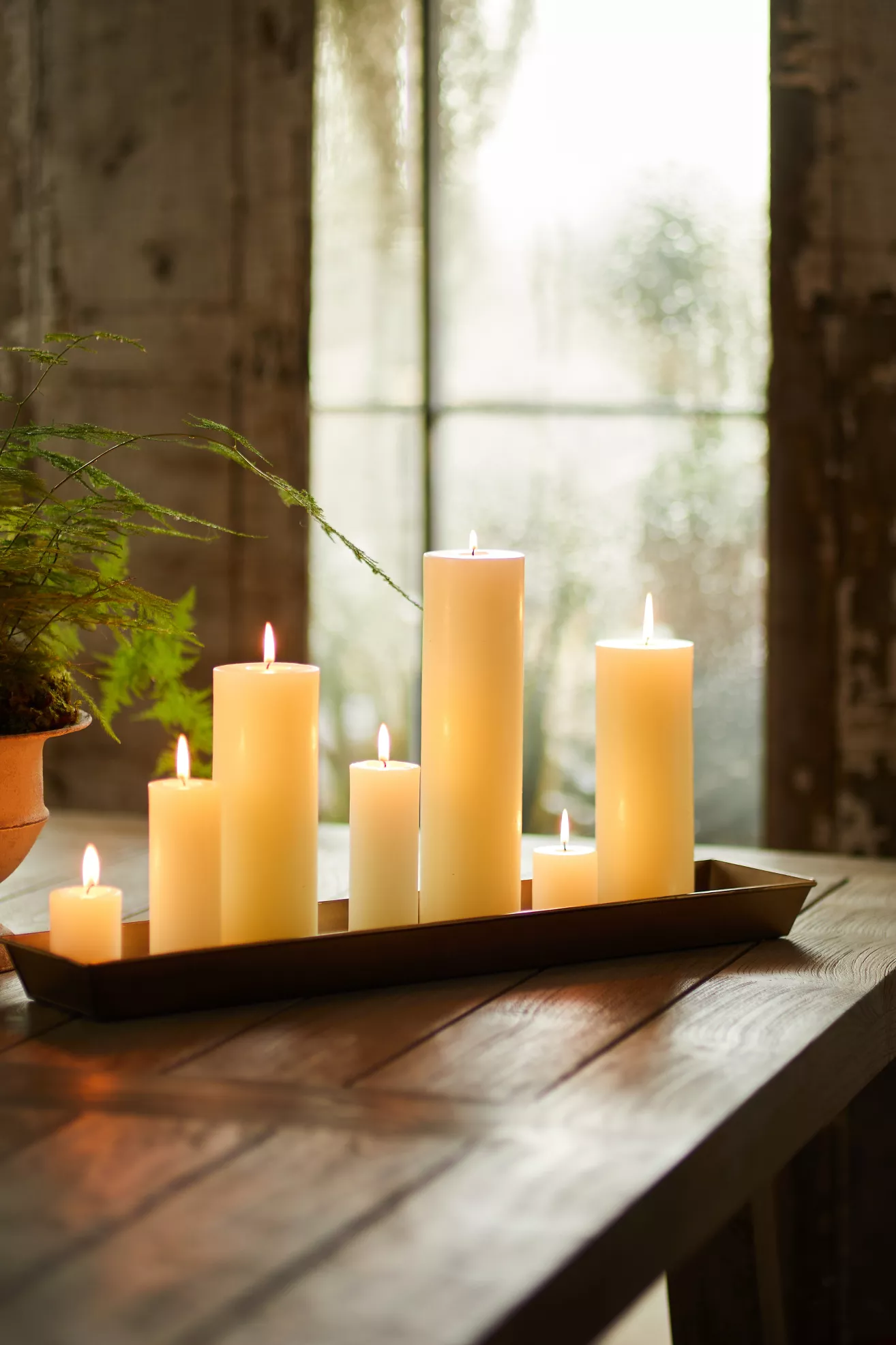 Spice up your relationship with a romantic date night. These basket stuffers' ideas will surely set the mood.
Decorate the room with a pack of faux rose petals that are charming and (even better) mess-free.
Light up a set of pillar candles for a romantic ambiance.
Don't forget to include gourmet chocolates to share with your partner.
You can even throw in a sexy red slip for your special woman or yourself.
2 — YouTube Date Night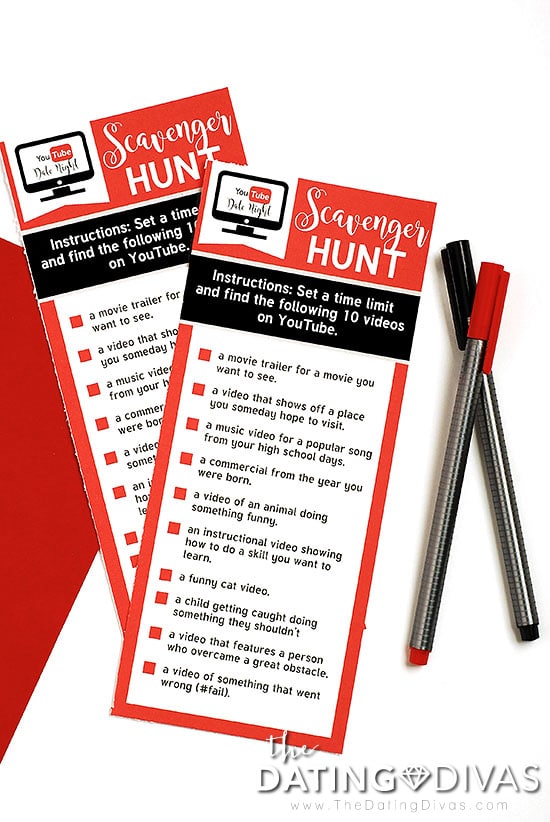 If you want to stay in but also want to change it up with something other than a movie night, then try something different with a YouTube Date Night.
Browse through endless viral videos, live performances, tutorials, and more. Or even partake in a YouTube scavenger hunt (with printables) for a unique game night.
Make sure to include a wearable blanket to cozy up to while watching all your favorite YouTubers.
This Sour Belt Tackle Box features a fun variety of fun and fruity candy.
Cleanse and detoxify your skin with these hilarious character facial face masks.
Take your YouTube date night to the next level with a pair of his & hers blue light glasses to protect your eyes during screen time.
3 — Relaxing Date Night Basket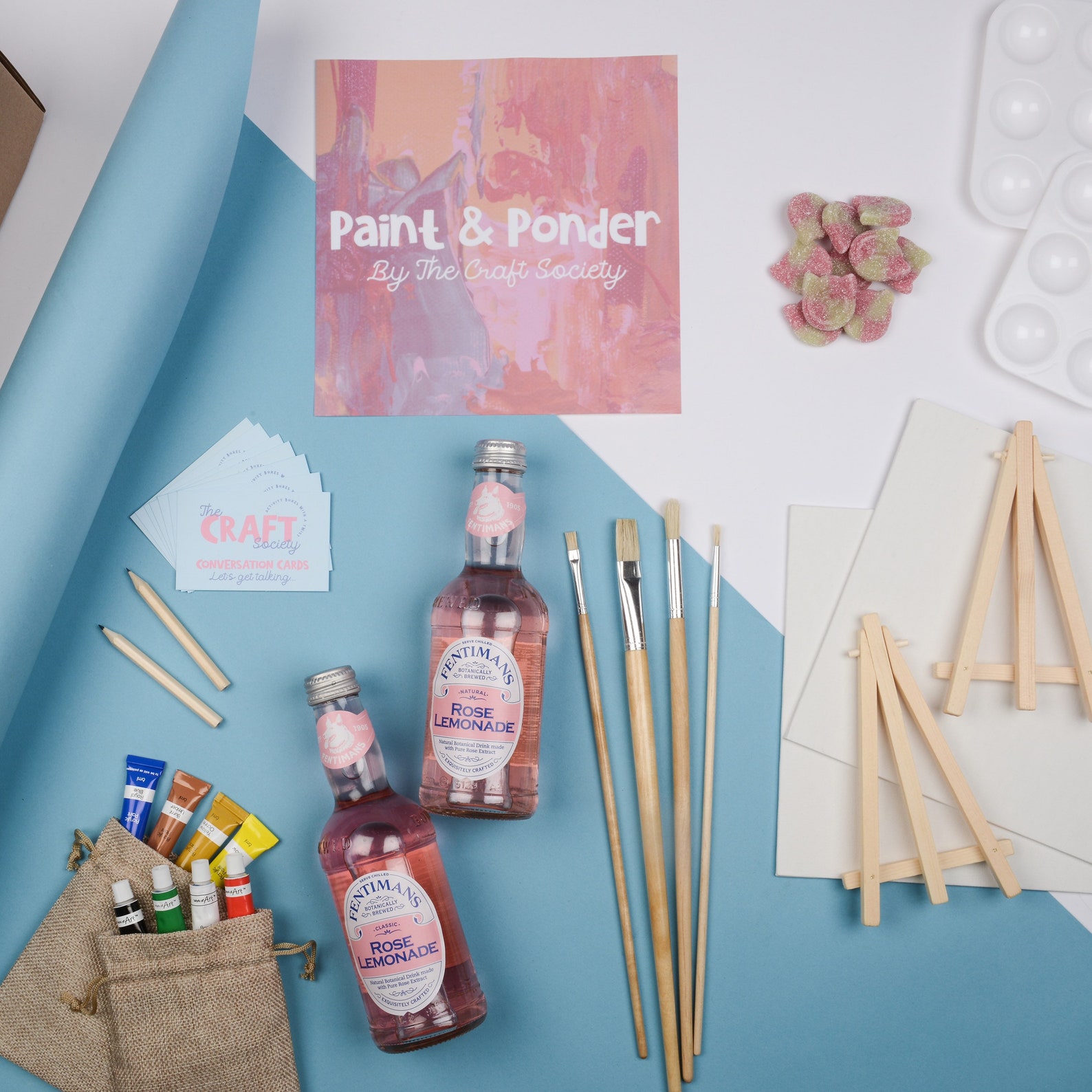 Relax by making art together.
Art has been proven to be therapeutic no matter what your age.
The Portrait Painting Date Night Box contains everything you need for a relaxing date night.
And it's all packaged together in a beautiful gift box that ships worldwide.
This creative set even includes easels, paint, brushes, an instruction card for beginners, and candies and drinks of your choice.
Now all you have to worry about is dinner.
But we've already got you covered with an easy one-sheet Rosemary Baked Lemon Chicken recipe.
4 — Valentine's Day Date Night Basket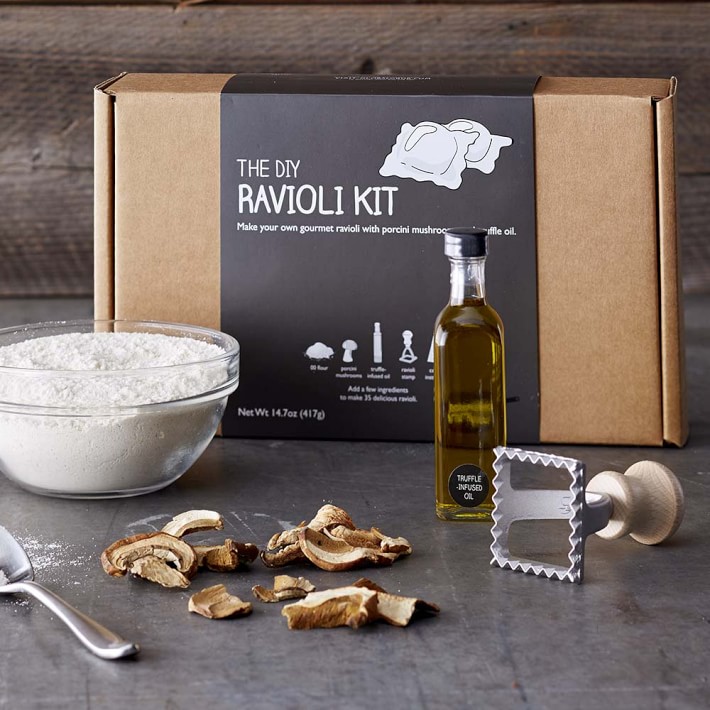 Valentine's Day is all about showing love for one another. But honestly, this basket idea works for any day because isn't that what we're suppose to do for one another everyday?
Spend the night cooking dinner together with a DIY Ravioli Kit.
What else says "I love you" like a pop-up bouquet of flowers that will last forever (and fit in a basket).
Expand your relationship with your partner by playing a couples card game together afterward.
Then, include a set of whiskey glasses to enjoy a nightcap together.
5 — Movie Date Night Basket
Count date nights as diet cheat nights because you can't have a movie date night without your classic movie snacks.
Try out our white chocolate funfetti popcorn to enjoy while watching your favorite flicks. You can easily substitute for dark chocolate if you prefer.
Stay hydrated in style with a classic 6-pack of Coca-Cola.
Snuggle up under the Barefoot Dreams blanket.
Whether you are having a moving night inside or outside, get inspired by how we prepped with our movie night ideas.
If you want a pre-made kit, opt for this Popcorn & Movie Night Gift Set.
6 — Picnic Date Basket
An already made basket can also be the way to go.
This deluxe gourmet picnic gift basket is full of meats, cheese, sweets, and lots more.
This basket even comes with two stainless steel tumblers with lids to house your favorite wine while preventing any spilling.
If you still want to add an extra unique touch with a homemade gift, then pair it with a DIY Watercolor Throw Blanket to lounge on.
7 — Camping Fun Basket
You can't go on a camping date without a set of roasting sticks for toasting s'mores and hot dogs.
These Cosmic Flame Packets turn your fire into a rainbow for the most unique bonfire.
Last but not least, add in a Yeti coffee mug to make that morning cup of joe extra delicious.
Gift all these items inside a Polka Dot DIY Bicycle Basket that's perfect for when you're biking around the campgrounds.
8 — The Five Senses Date Night Basket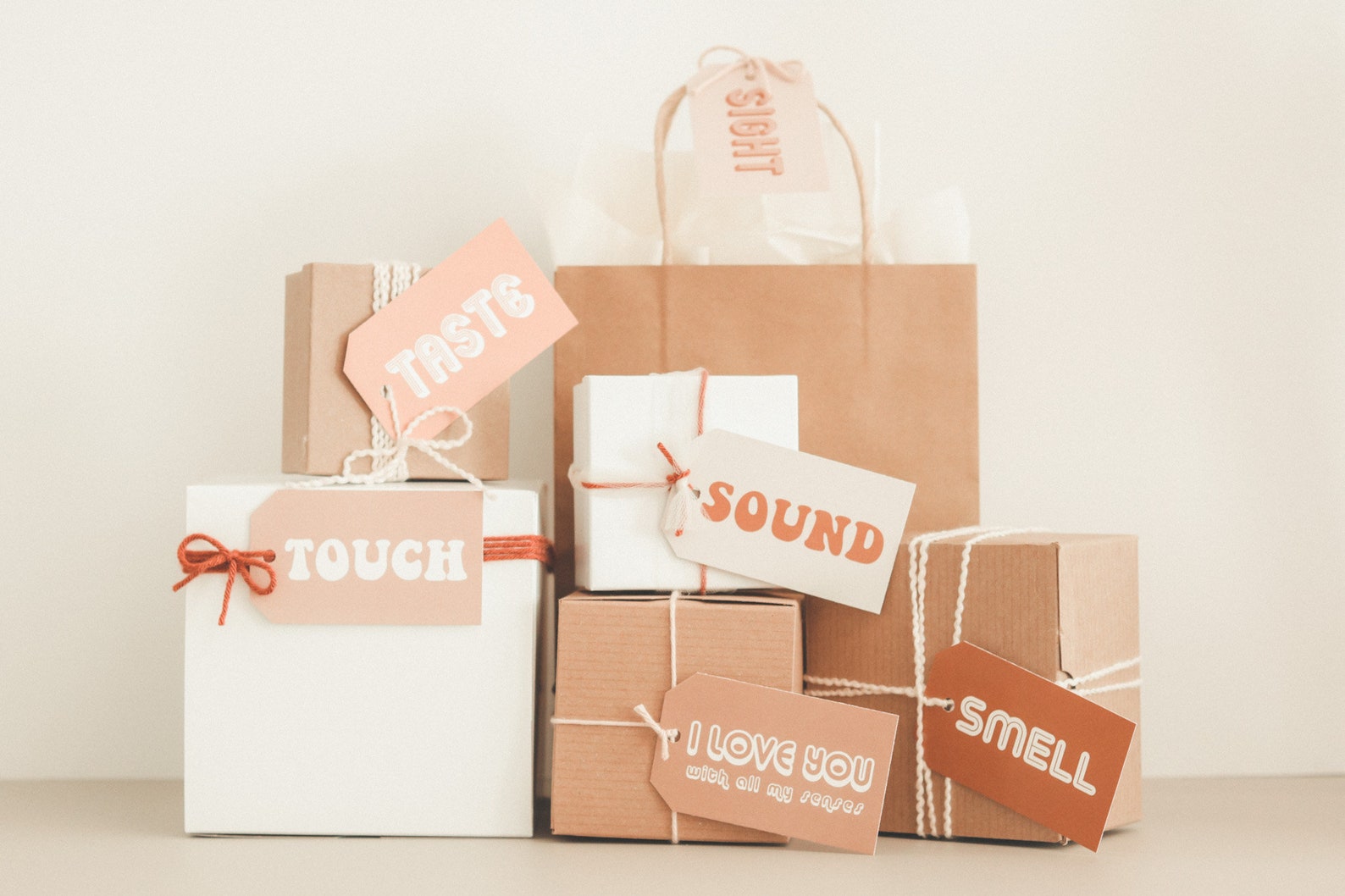 This date night gift basket idea taps into your five senses.
"Sound" of the night, singing along with a wireless karaoke microphone while enjoying the "smell" of a sandalwood candle.
Or go the extra mile by including your own homemade DIY Rosemary Grapefruit Candle.
"Taste" these Chocolate Dipped Pretzels and Candied Apples that are tasty gourmet snacks to share.
Set your "sights" on a personalized Photo Gallery Memory Game that you customize with all your photos.
There's nothing like the loving "touch" from your partner, and this couples massage book guides the way.
Finally, label all your items with Five Senses Card Tags.
And it's only fitting to package them inside a textured DIY Pom Pom Bin that definitely plays off the touch sense.
9 — Coffee Date Night Basket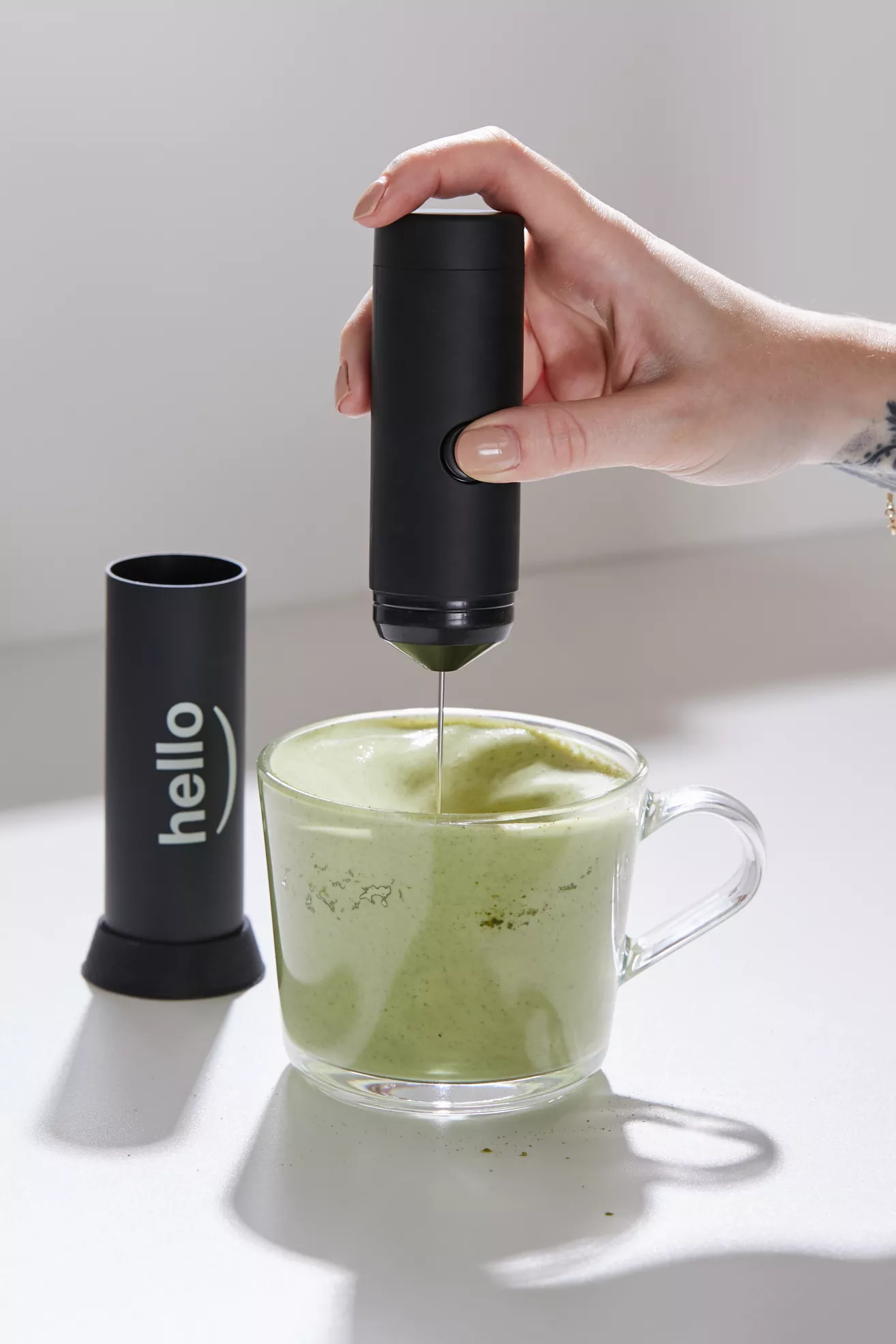 Calling all caffeine lovers, this coffee date night basket will have you brewing together.
Start out by adding a set of cute coffee mugs.
Next, include ingredients to make our Cereal Milk Iced Coffee recipe for a sweet treat.
Or, if you want a boozy option, add in all the ingredients to make a Coffee Old Fashioned if you have a bourbon enthusiast.
Take your homemade coffee to the next level with a handheld milk frother. It can also be used for matcha if you like to switch it up every now and then.
If you get tired of your coffee getting too cold too fast, try this Ember Heated Mug that can even be set specific temperatures for personal preferences.
10 — Fondue for Two Basket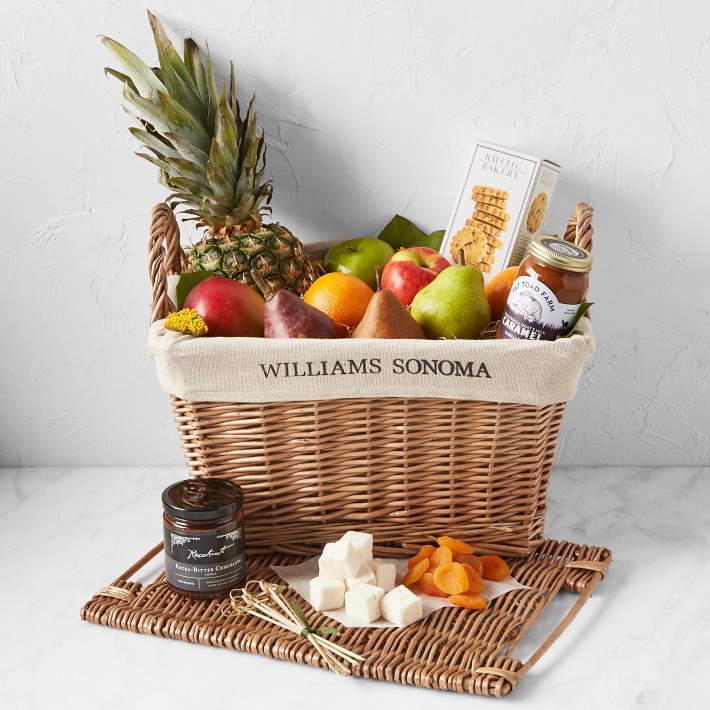 This Fresh Fruit and Fondue Gift Hamper features the finest assortment of fresh fruit, gourmet marshmallows, chocolate dips, and shortbread cookies.
Just don't forget to include a cast iron fondue set to heat up your spread!
11 — Stargazing Date Night
For a fun date night under the stars, a soft glow-in-the-dark constellation throw blanket is essential to keeping warm under the night sky.
Insert the Guide to Stargazing. This book illustrates 50 things you must see in the sky with step-by-step instructions.
Add in a moon night light to help you and your significant other remember the night forever.
12 — Spa Night Basket
Start by setting up your space with a sleek essential oil diffuser paired with eucalyptus drops.
Relax in a pair of Mr. & Mrs. bathrobes.
Soak in all-natural bubble bath soap for quality self-care.
You can also try out our DIY Sand Art Sugar Scrub if you want to add something homemade.
Give partner massages with a hot stone set to optimize relaxation.
Last but not least, include a purifying clay mask for you both to enjoy.
More Ways to Make a Great Date Night
If you are looking for more ways to spread the love, check out —
More Gifts Ideas To Choose From!