Say goodbye to traditional Easter baskets that you only use once! These creative Easter baskets for adults are functional and fun for year-round purposes.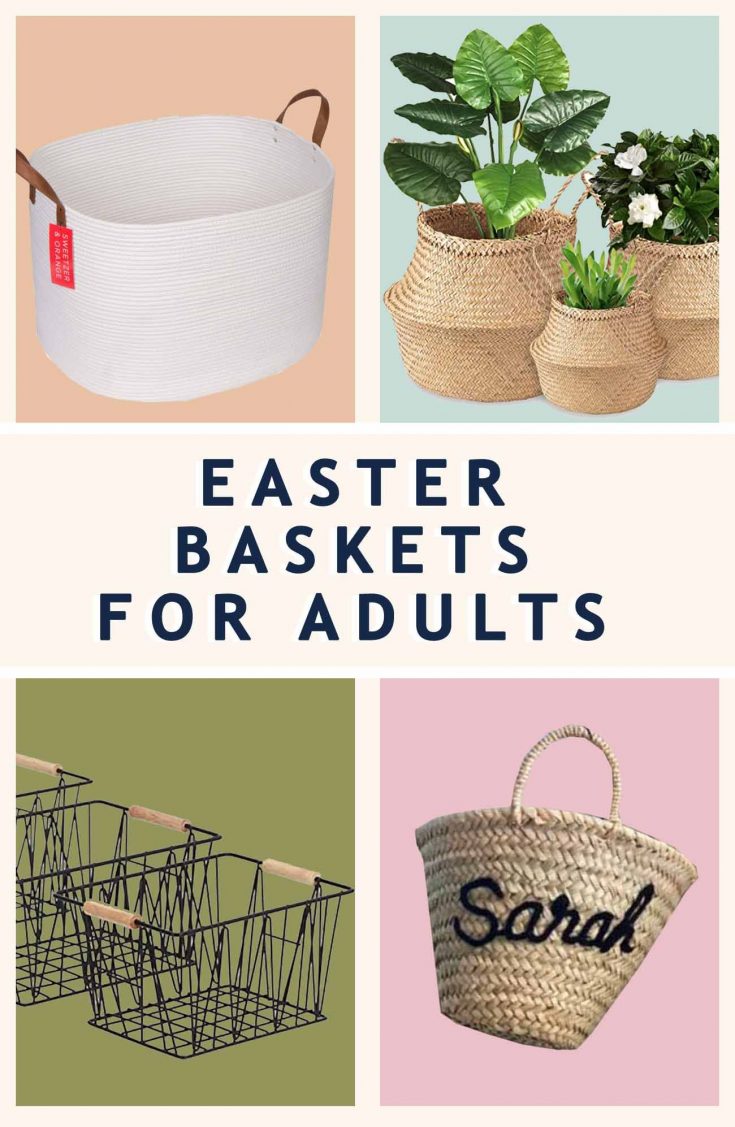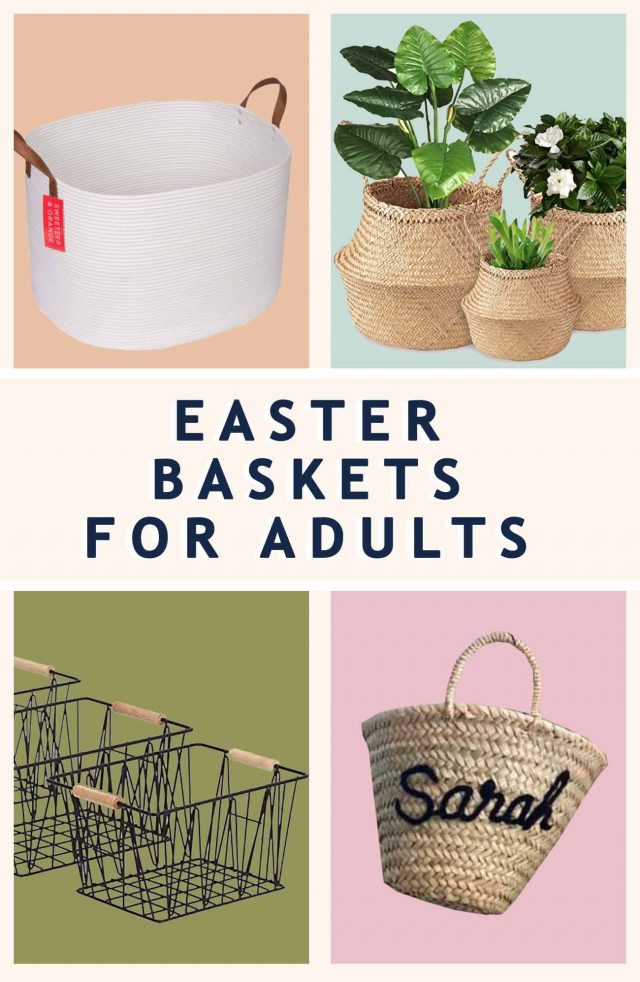 Here at the Smith household, the tradition of Easter baskets has no age limit. Because who doesn't love an excuse for gifts and gift giving?
But can we all pinky swear to skip the kitschy Easter basket for adults this year? Yes, the adorable bunny baskets are cute for the kids.
However for adults, it can be wasteful when the traditional baskets are only used one time for one day. So we rounded up our favorite creative Easter baskets for adults.
They're perfect for holding Easter gifts, healthy Easter candy and grown up treats and sweets. And they're functional enough to use as year-round as storage, a handbag, or even a flower pot.
Now let's get to our favorite picks…
Easter Baskets For Adults
1 — Tassels Tote Handbag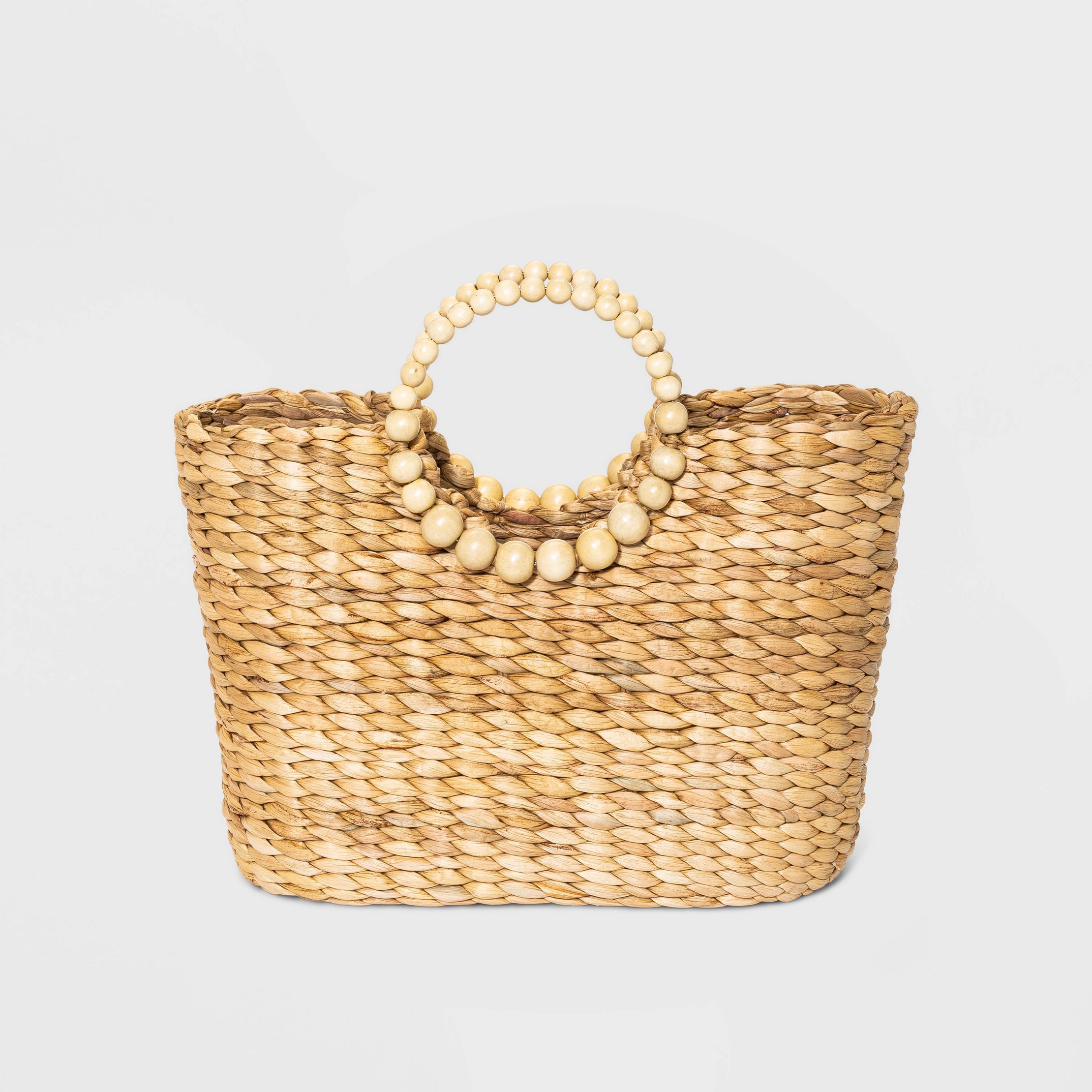 Add a Circle Handle Straw Tote to her handbag collection. This spacious woven bag can hold lots of goodies and features a unique wooden handle.
2 — Striped Collapsible Storage Bin
There's so many uses with this Striped Collapsible Bin. Stow away shoes, pantry staples, towels, linens, clothes and more.
When not needed, the bin easily collapses down for space-saving storage. It's also available in many color ways!
3 — Vintage Wood Crate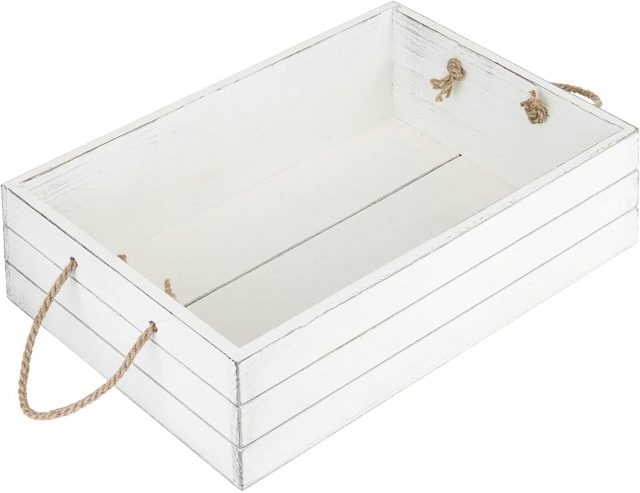 This Vintage Wood Crate can keep toys, games, towels and beauty products tidy. Or display your plants, pottery, antiques or other decorative items.
4 — Personalized Easter Basket Liner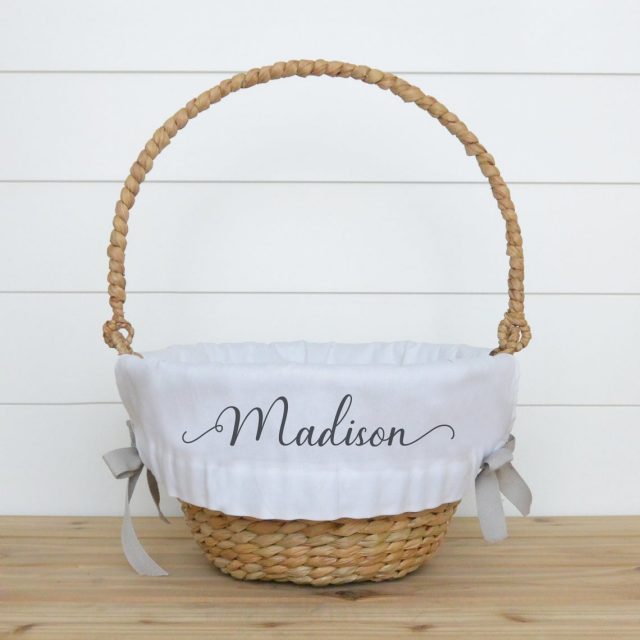 If you don't want to go too unconventional, you can easily pair any basket with a personalized Easter basket liner. Choose from a range of fonts and styles for one of a kind customized piece.
5 — Cotton Rope Storage Basket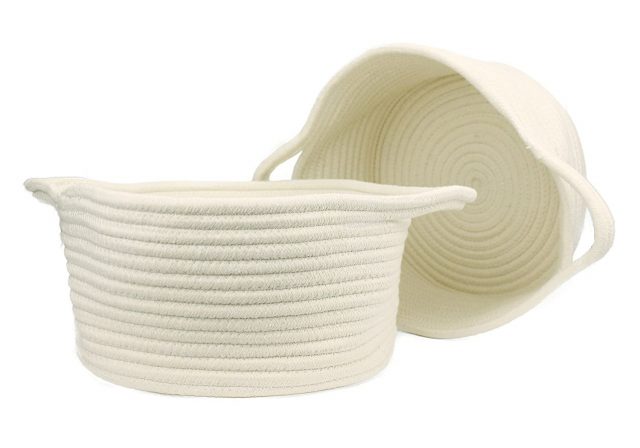 A simple and small Cotton Rope Storage Baskets to hold unique gifts for your friends.
6 — Copper Wire Basket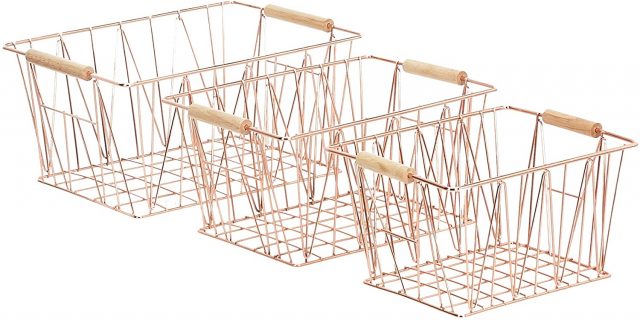 Decorate this Copper Wire Basket with some Easter grass for a stylish alternative. It's durable enough to later hold books, magazines, and office supplies.
7 — Personalized Easter Basket Name Tag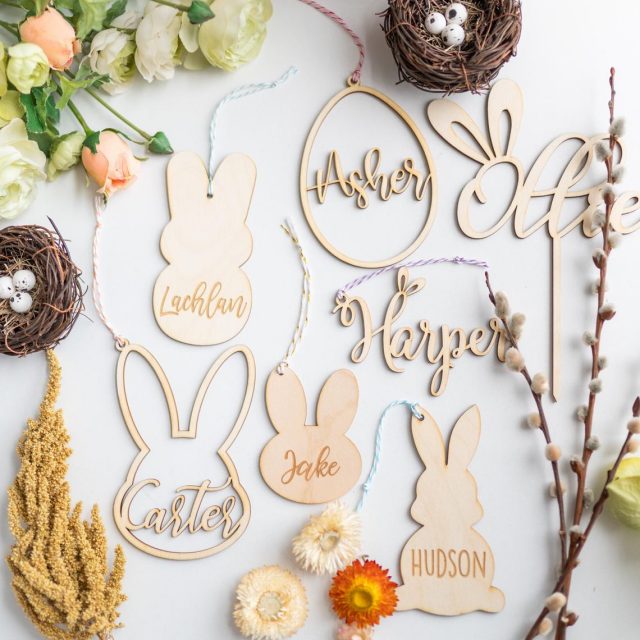 You can be creative by using any non-traditional container or storage item as an Easter basket.
Just finish it off with a personal and festive Easter Basket Name Tag. Laser cut from birch, these tags offer a subtle Easter touch.
8 — Foldable Woven Seagrass Basket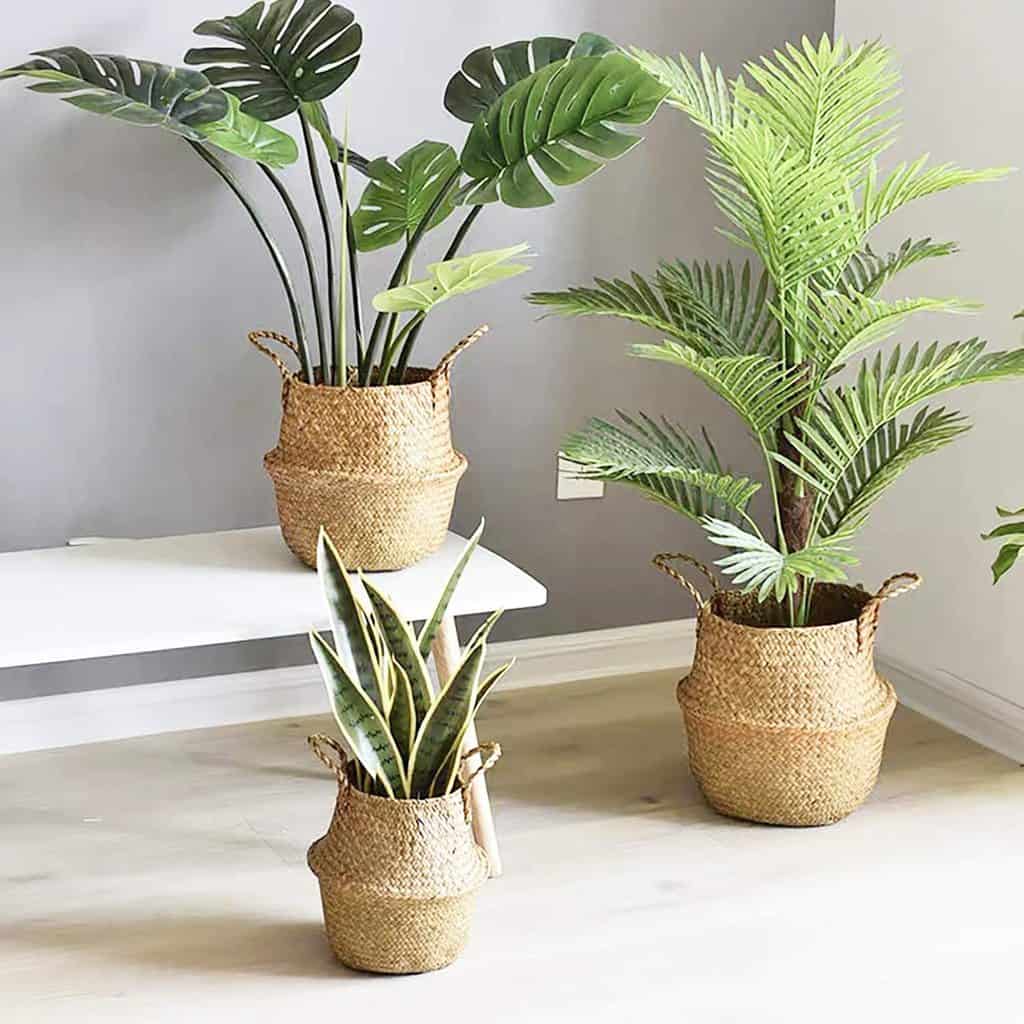 My mother-in-law would much rather have a plant than flowers for any holiday. And this Foldable Woven Seagrass Basket is the perfect type of gifting basket for that!
9 — Pastel Wool Braided Basket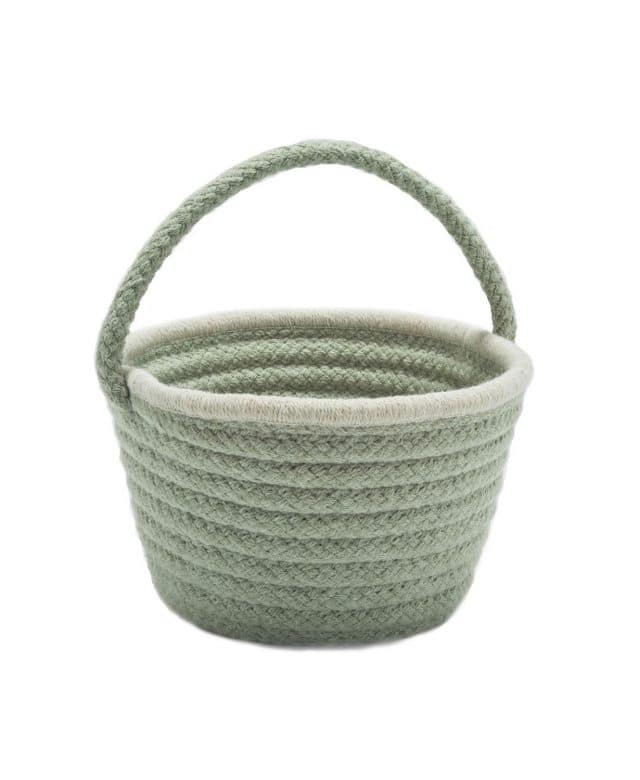 Wool instead of the traditional straw material serves as simple and softer option. Choose from mint, denim or blush colors with the Pastel Wool Braided Basket.
10 — Rope Woven Basket With Leather Handles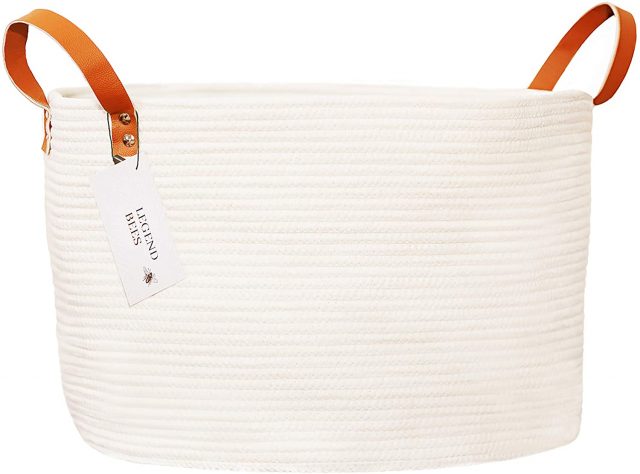 The Rope Woven Basket is great pick for a masculine or minimalist vibe. It also makes for a pretty and functional laundry hamper!
11 — Slate Blue & White Strapping Basket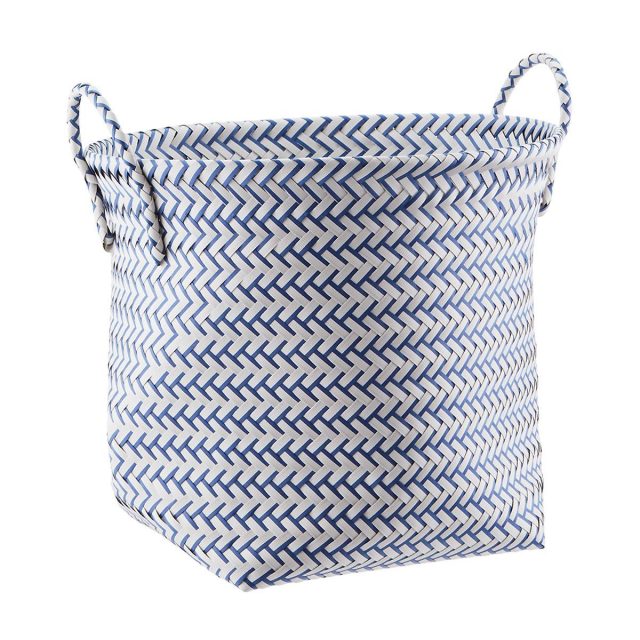 The Slate Blue & White Strapping Basket is a perfectly southern Easter basket with a touch of modern.
It will also later keep the clutter away by holding magazines and books, hiding toys, or keeping extra towels or blankets handy for guests.
12 — Round Wire Easter Basket With Handle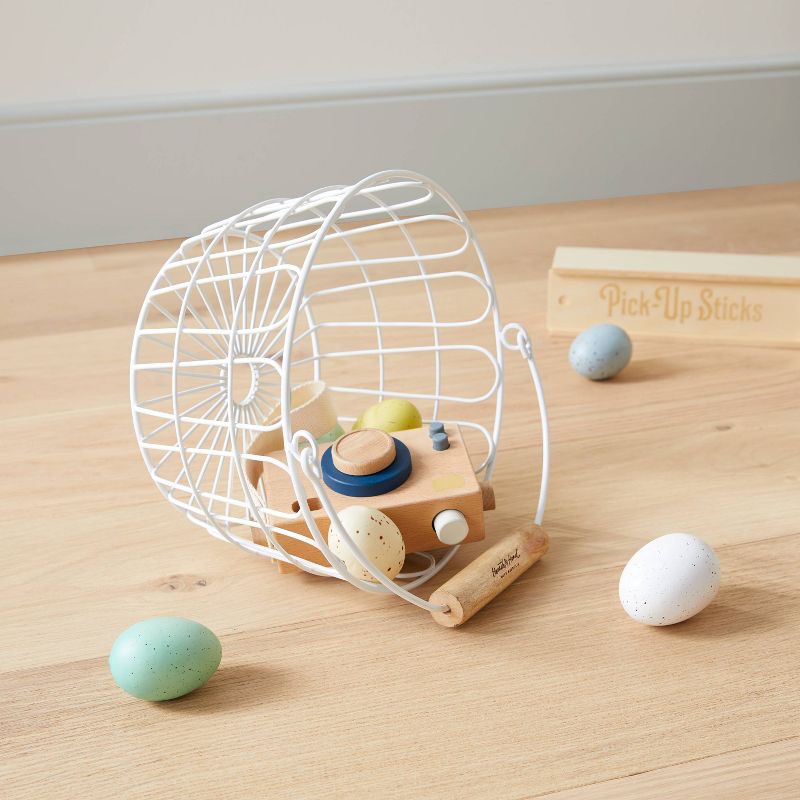 Featuring an open construction, the Round Wire Basket With Handle allows you to easily see through your essentials.
13 — Cane Open Weave Basket
Hand-woven from water hyacinth, this structured Cane Open Weave Basket keeps your organize but also works as a planter. Sturdy handles allow for heavy holding and transporting.
14 — Oversized Egg Basket
This festive Chicken Egg Basket is actually made for storing real eggs so this is a practical Easter basket to gift!
The wings also function as a handle for easy transport. Display this in your kitchen as decor or even use it as a fruit basket.
15 — Two Tone Basket With Knot Handles
The chic Two Tone Basket showcases unique knot handles and a fringe design for anyone who wants to keep a clutter free home. And who doesn't need more organization in their lives?!?
16 — Rattan Hanging Planter Basket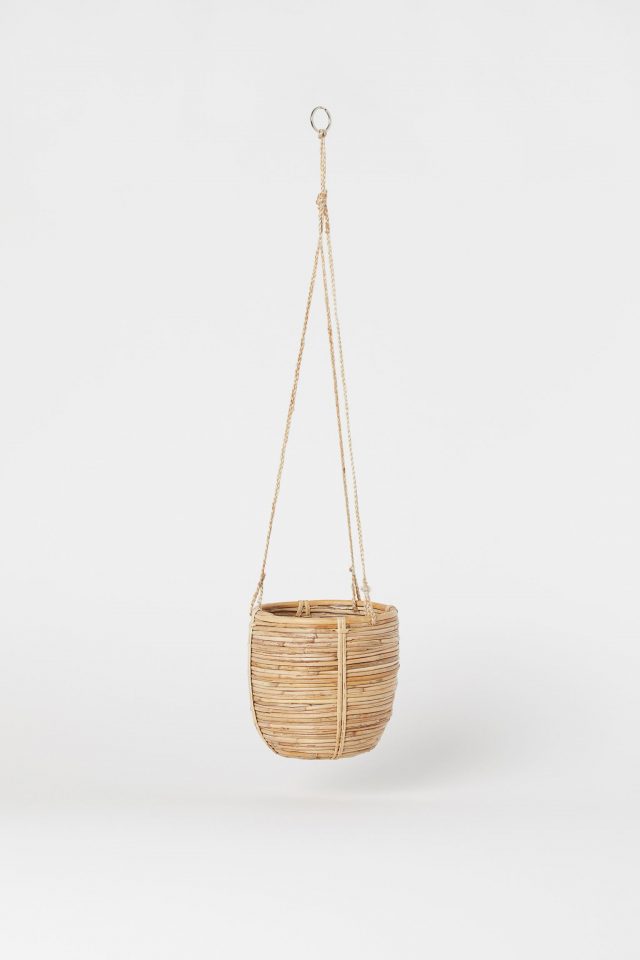 Plant lovers will appreciate the Rattan Hanging Basket. You can include traditional stuffers or a unique houseplant. Either way a hanging plant works perfectly in this basket after the holidays.
17 — Personalized Monogram Straw Basket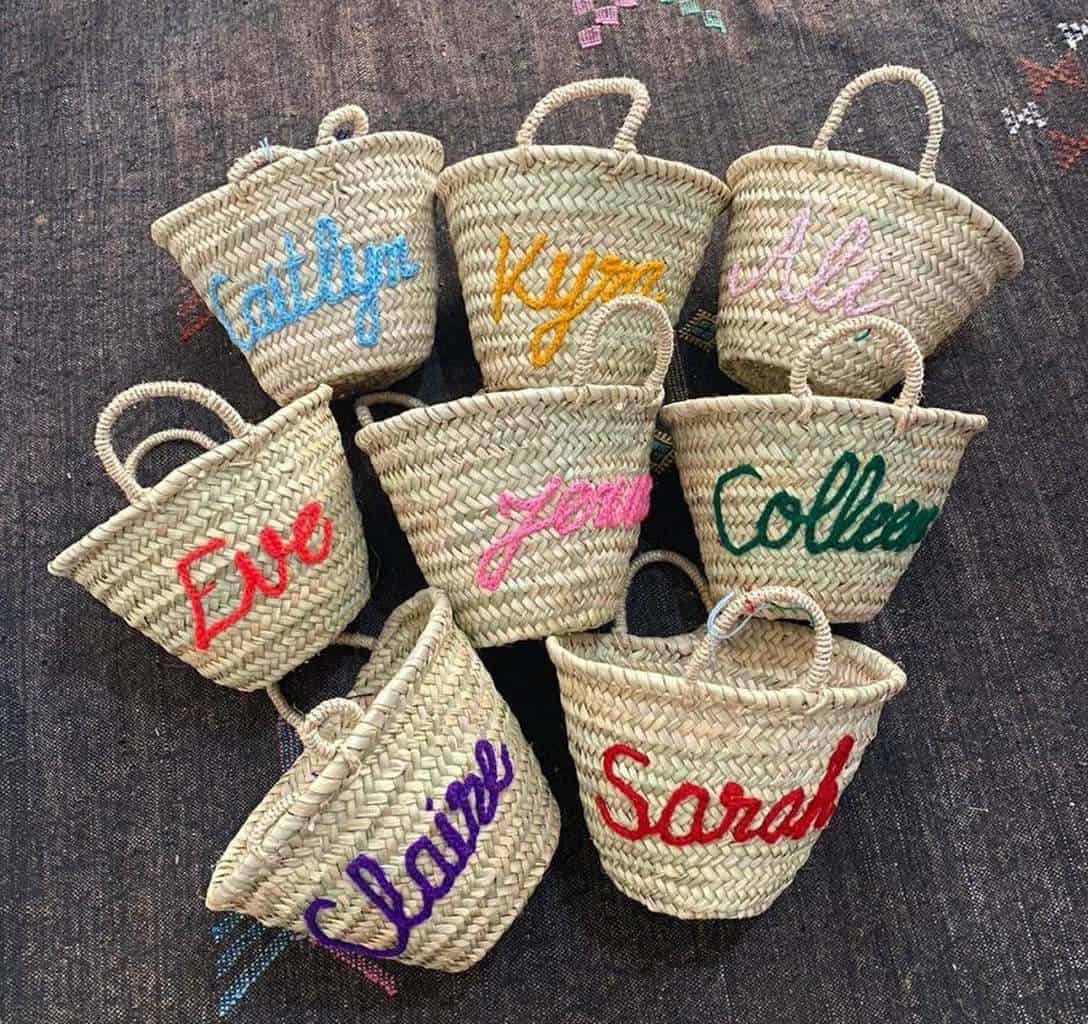 Customize this Monogram Straw Basket with any name of saying.
Composed of palm leaf, the baskets are handwoven by local Moroccan weavers. This is also the ideal beach tote!
18 — Foldable Canvas Basket With Drawstring Closure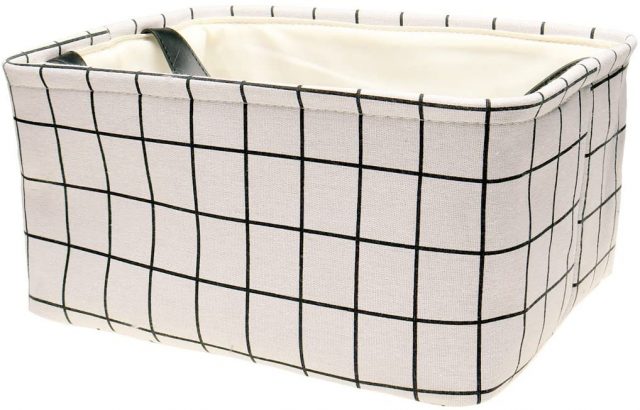 Another gender neutral option, the Foldable Canvas Storage Basket With Drawstring Closure includes a built-in drawstring closure to conceal and protect contents from dust and damage.
Or it's also the perfect choice if you want to hide your Easter surprise.
19 — Diamonds Belly Basket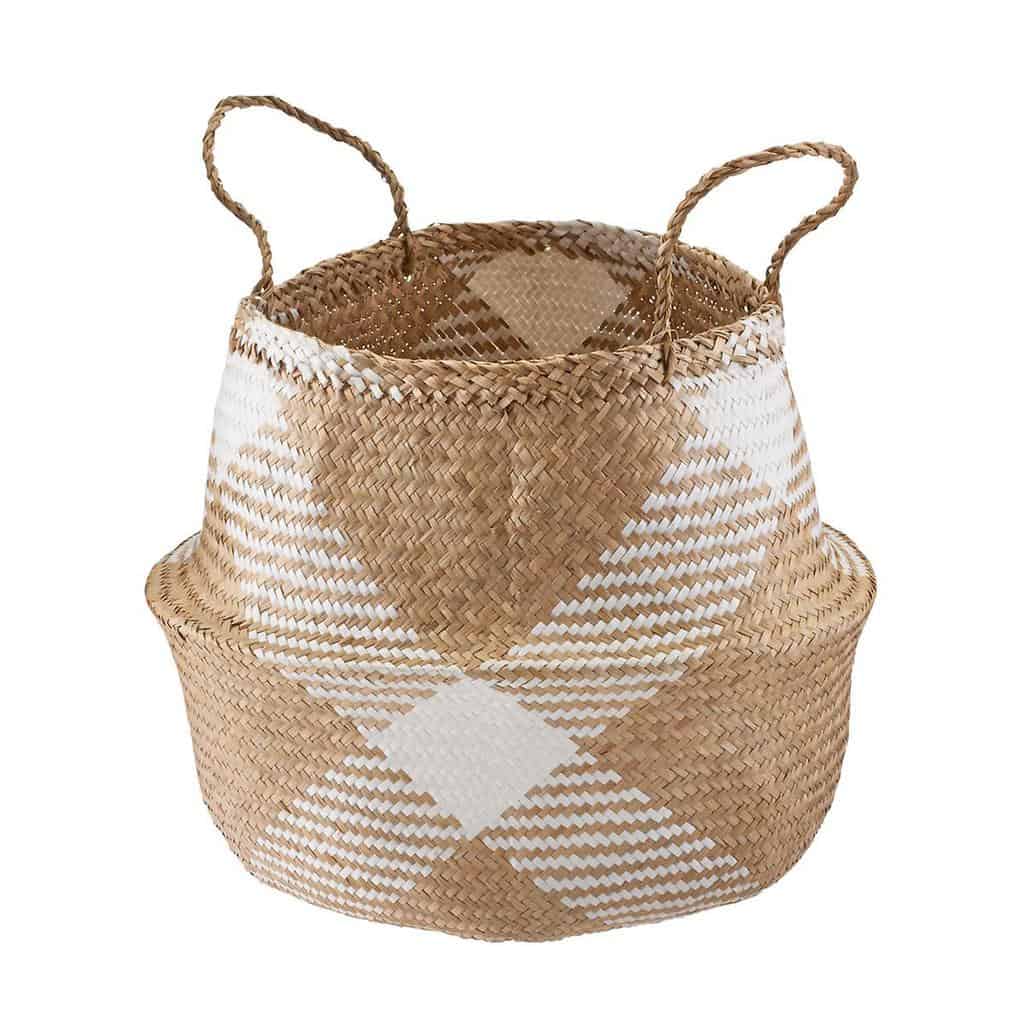 The gingham print on this Seagrass Diamonds Belly Basket is too darling! And as with any belly basket, it can fold down for use as an open bin if you really want to showcase all your Easter basket stuffers.
20 — Reusable Shopping Bag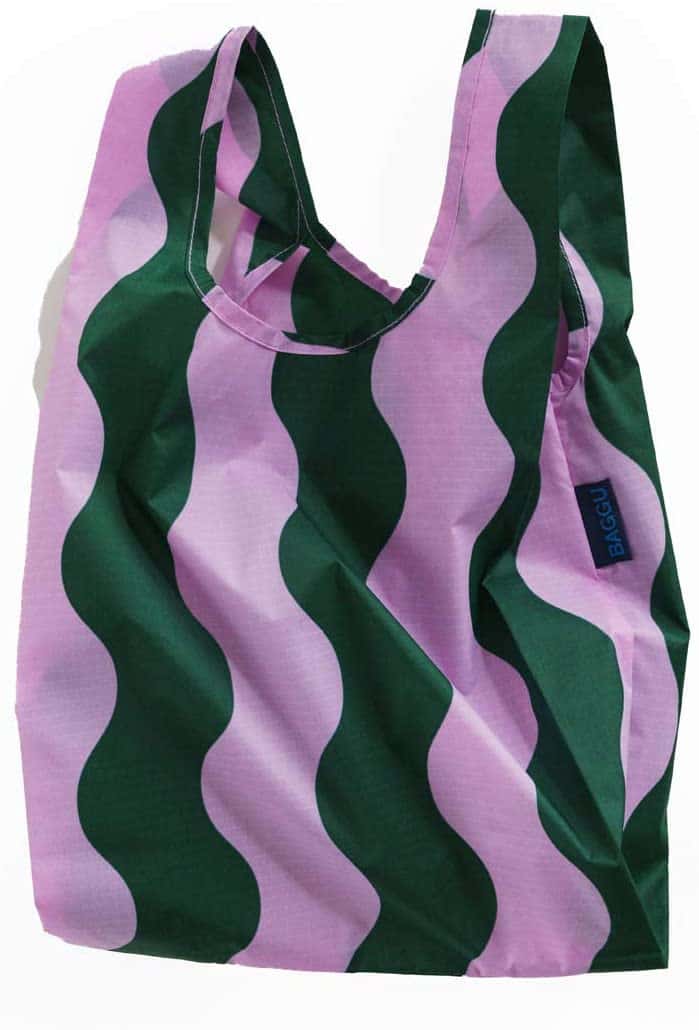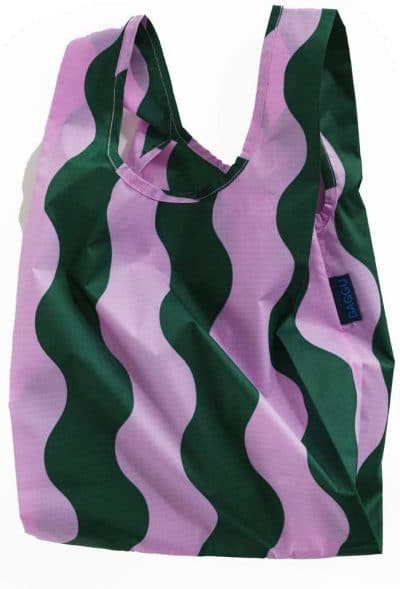 This fun and eco-friendly reusable shopping bag carries up to 30 pounds (or 2-3 conventional grocery bags). You can also load it up with dirty laundry or bring it along to the pool.
Bonus: It is machine washable. We are a huge fan of BAGGU's line for everyday use and even baby gear for traveling.
21 — Mason Jars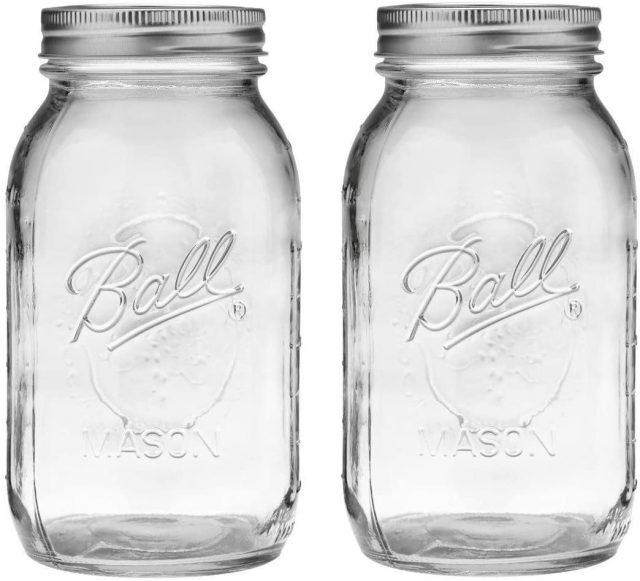 Mason jars are another simple and affordable alternative, especially if you are looking for something to display on your Easter table setting.
Fill them up with our Spiked Easter Peeps or Sand Art Sugar Scrub or even a colorful array of jelly beans.
22 — DIY Jumbo Easter Egg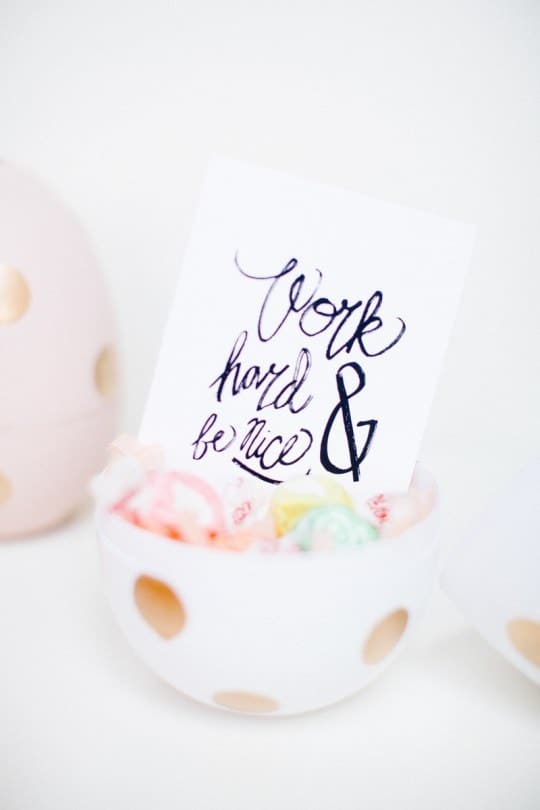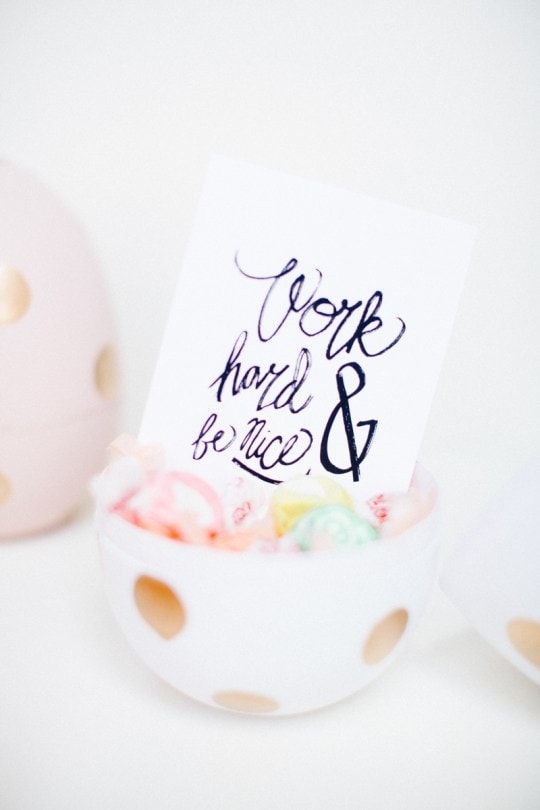 This DIY Jumbo Easter Egg project is an easy DIY that you can customize.
More Non Traditional Easter Ideas
And if you're looking for something unconventional (and delicious) to do and make this Easter with your family and friends, check out some of our ideas below:
Note that we may earn a commission on editorially chosen products purchased. However, we independently select and only feature products we love!
Easy Easter DIY's & Recipes