Surprise your little ones with our picks of the best Easter baskets for kids that are unique, personalized, functional and oh so cute.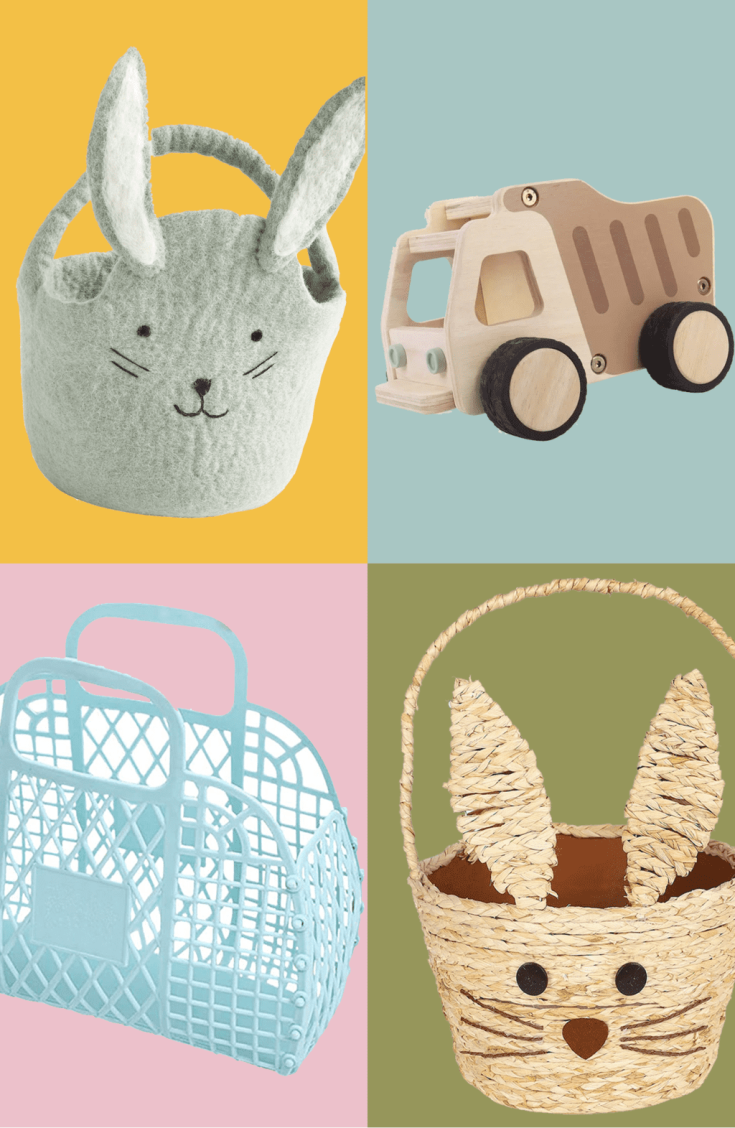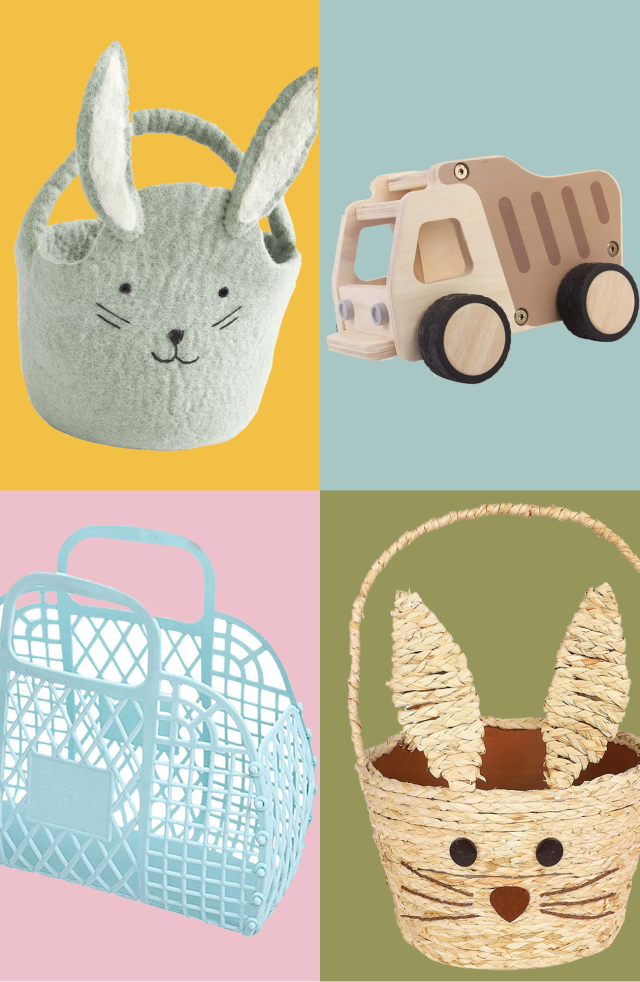 Easter has always been one of our favorite holidays growing up. So we've made sure to pass on all the fun traditions with our family.
And we take the role of the Easter bunny very very seriously. The girls wake up to an Easter basket of goodies. Then, we get all dressed up for a morning brunch Easter party and an Easter egg hunt.
We put as much thought into selecting the right basket as we do with picking out the Easter stuffers.
The options are endless and overwhelming. So we rounded up the best Easter baskets for kids that are unique, personalized, functional, and oh so cute!
In case you're trying to find a gift to fill baskets, these are the best gifts for girls, gifts for kids and best personalized Easter gifts to get you started.
Easter Baskets For Kids
1 — Felted Baby Bunny Basket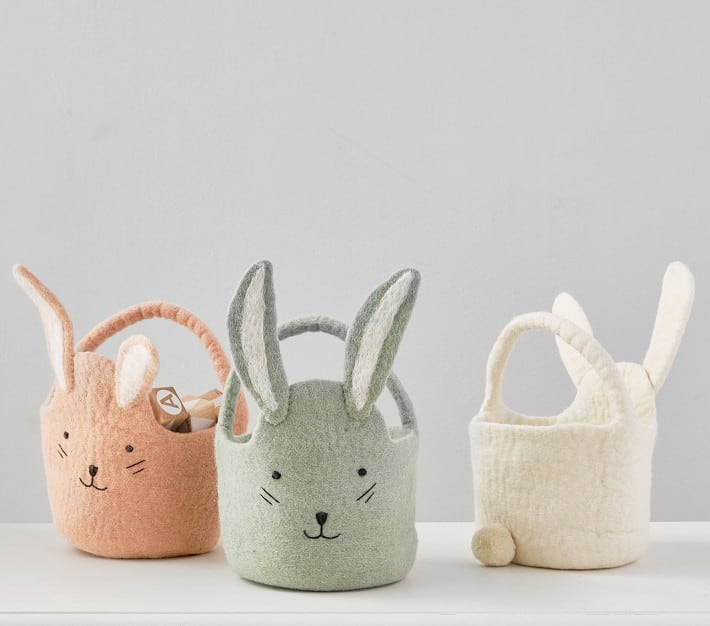 These wool Felted Baby Bunny Baskets are colorful, whimsical, and would later make adorable tabletop storage organizers.
2 — Monogrammed Easter Basket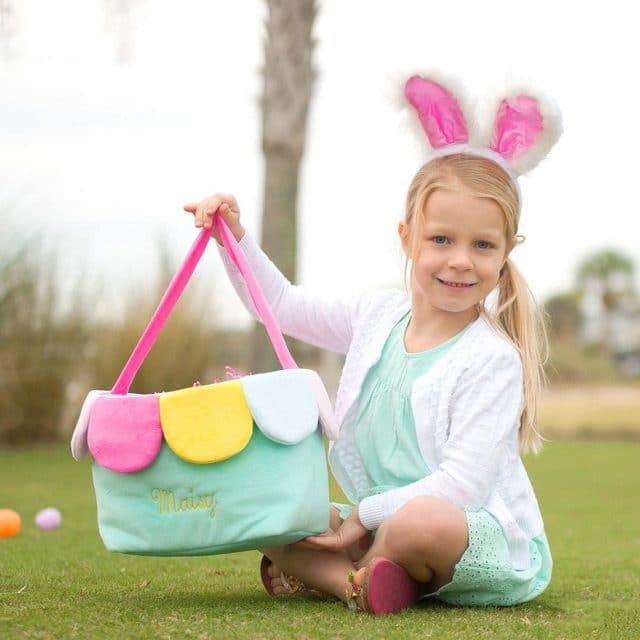 Personalize your kid's Easter basket and make it one-of-a-kind with a Monogrammed Easter Basket.
3 — Polka Dot Storage Bin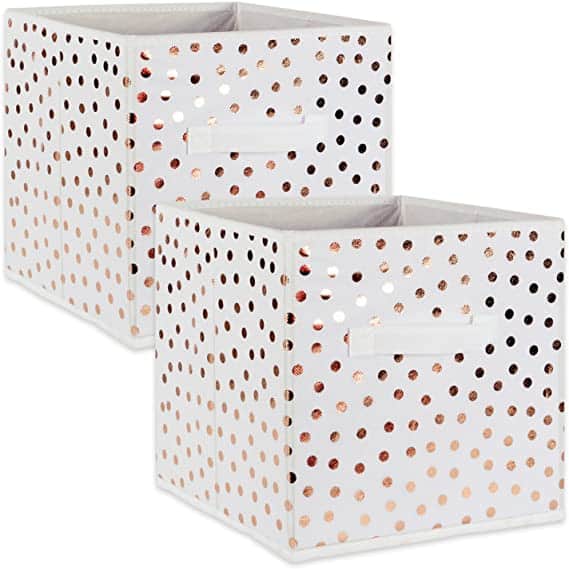 This Polka Dot Storage Bin may not be the most traditional Easter basket. But it's just as fun! Add some Easter grass and fill it up the best kids toys.
4 — Retro Jelly Purse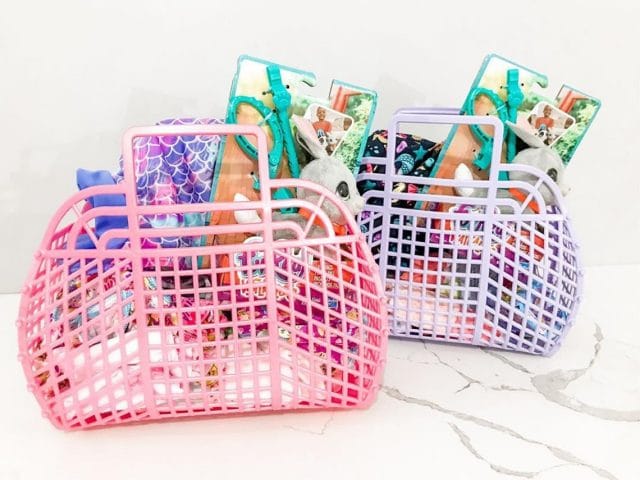 Your tweens and teens (or even any nostalgic 80's adult) will love this Retro Jelly Purse. Stock it with beautiful accessories like nail polishes, bath bombs, makeup, lip balm, face sheet masks, and more!
5 — Striped Collapsible Storage Bin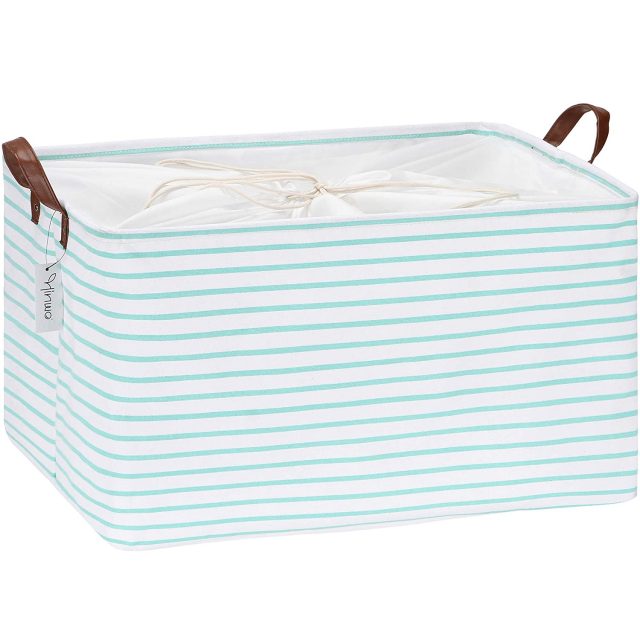 There are so many uses with this Striped Collapsible Bin. It's also versatile enough for all ages that it would be perfect as an Easter basket for adults also.
6 — Customized Peter Rabbit Easter Basket Liner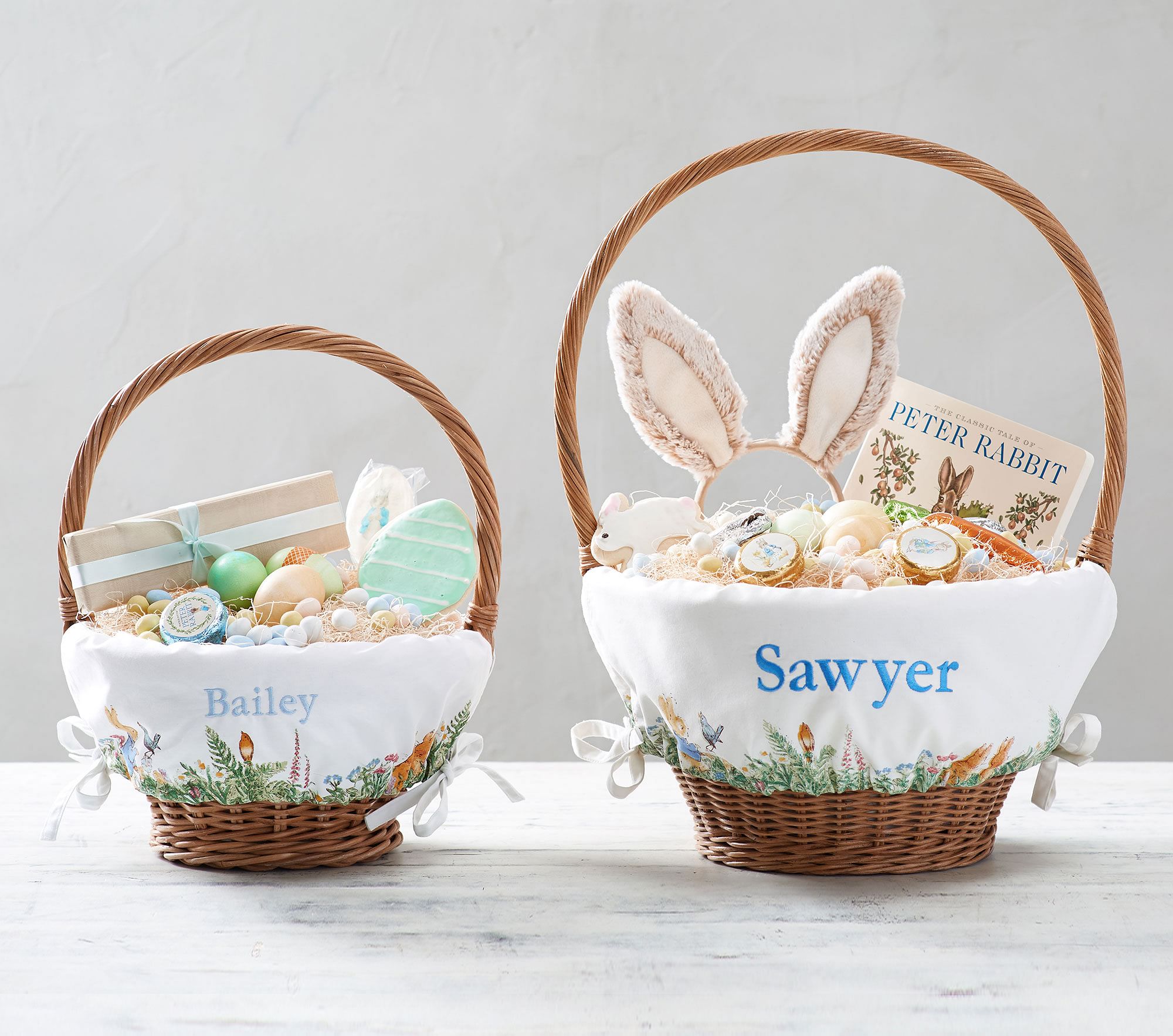 Reuse any basket from home. Then, freshen it up with a Customized Peter Rabbit Easter Basket Liner and chocolate bunnies.
7 — Woven Bunny Easter Basket
The Woven Bunny Easter Basket features perky ears, an adorable face accent, and best of all — a pom pom tail.
8 — Rain Boots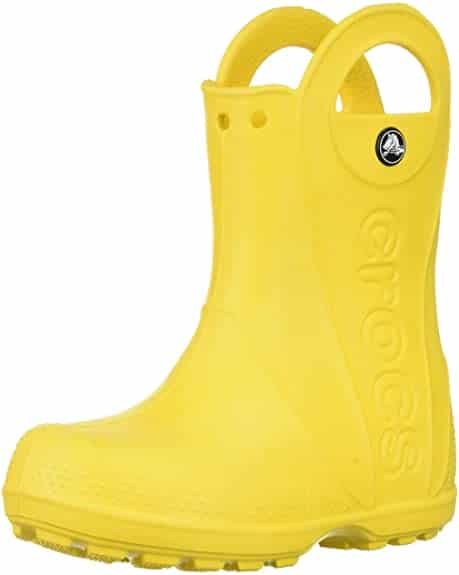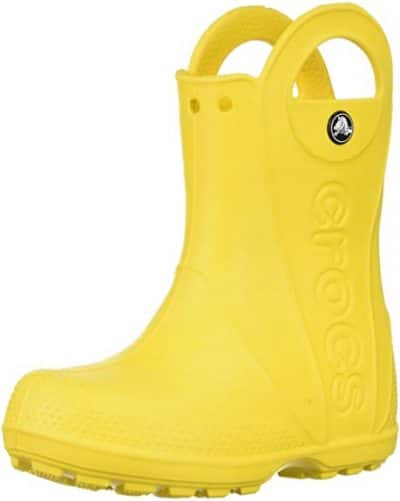 Rain boots are a creative and unconventional spin to a non-traditional Easter basket!
9 — Personalized Monogram Straw Basket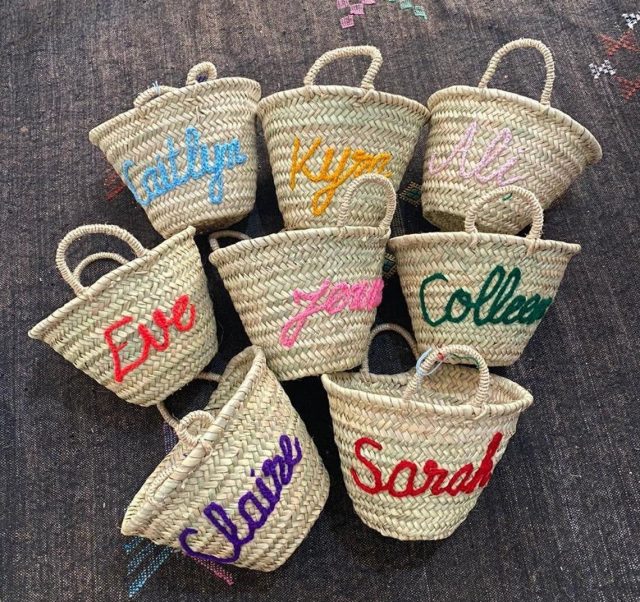 Customize this Monogram Straw Basket with any name or saying. Composed of palm leaves, the baskets are handwoven by local Moroccan weavers. This is also the ideal beach tote!
You can also check out these DIY Rag Rug Storage Baskets. They are perfect for storing anything from laundry to toys and can be easily stored away when not in use. Plus, they are super cute and can add a touch of style to any room.
10 — Rope Woven Basket With Leather Handles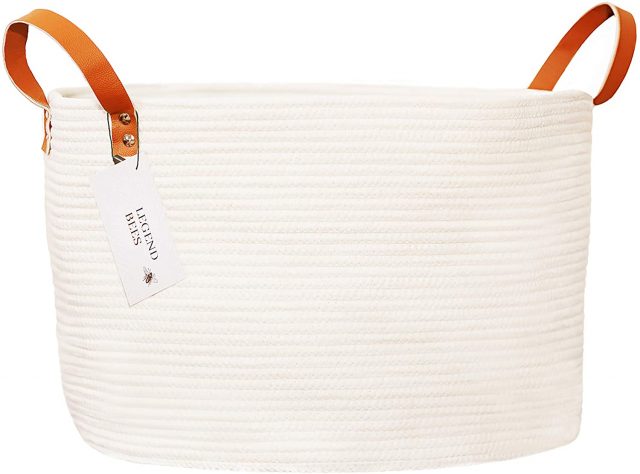 Roomy, gender-neutral and all age-friendly, the Rope Woven Basket is perfect if you are looking to create a big group Easter basket.
11 — Personalized Easter Ears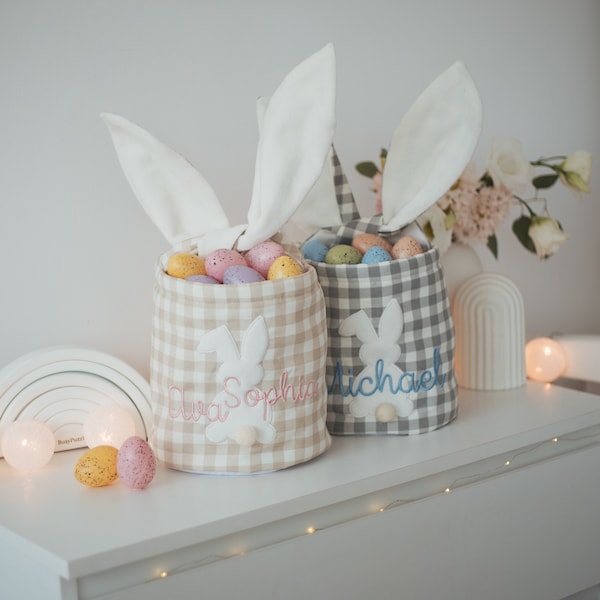 Personalize your child's name on this adorable custom plaid Easter basket. The ears tie to function as a handle. Fill it up with some personalized Easter gifts.
12 — Bunny Ears Bag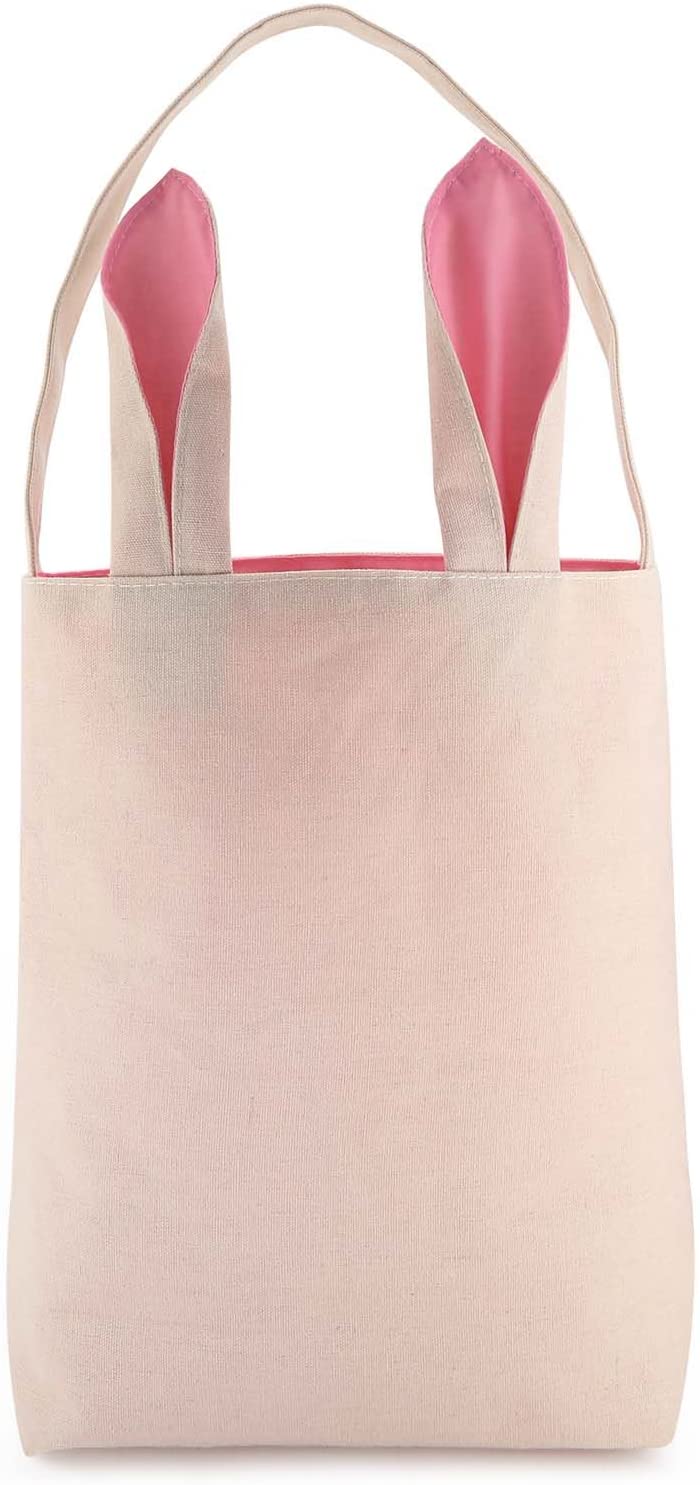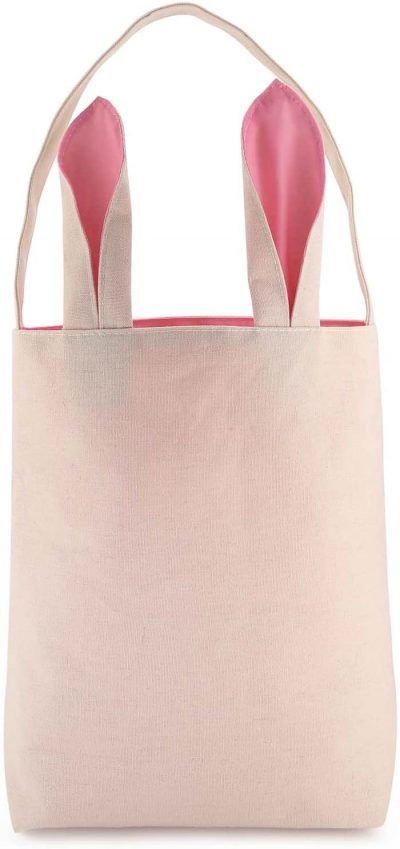 The canvas Bunny Ears Bag is still festive but not over the top. Keep it as it is for a minimal look or DIY it yourself.
13 — Seagrass Diamonds Belly Basket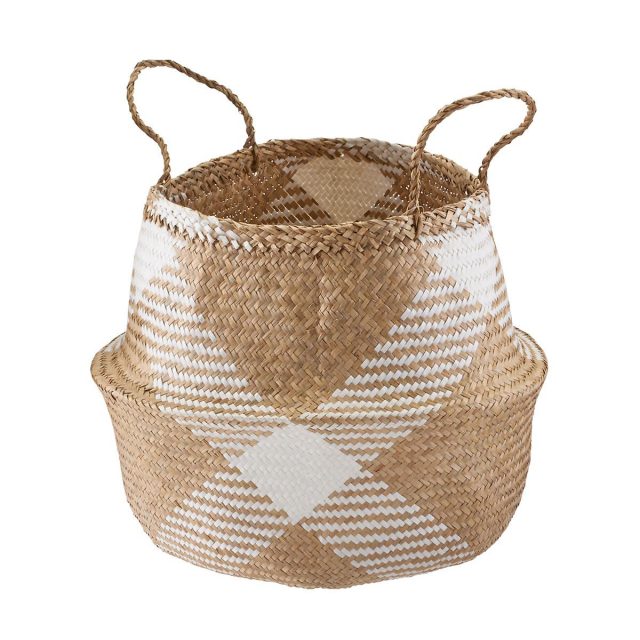 The gingham print on this Seagrass Diamonds Belly Basket is too darling!
And as with any belly basket, it can fold down for use as an open bin if you really want to showcase all your Easter basket stuffers.
14 — Crochet Animal Basket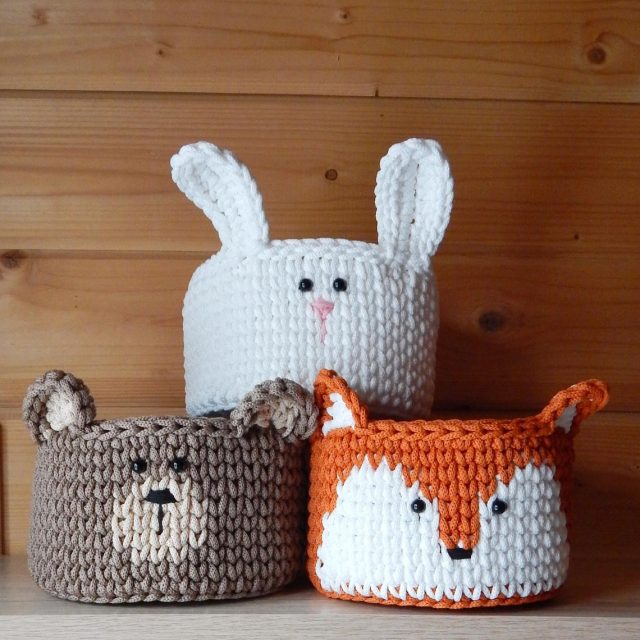 The Crochet Animal Basket makes for a charming baby's first Easter basket.
Pack it with healthy Easter candy alternatives or even non-candy Easter basket stuffers. It then functions as pretty nursery storage.
15 — Netted Market Bag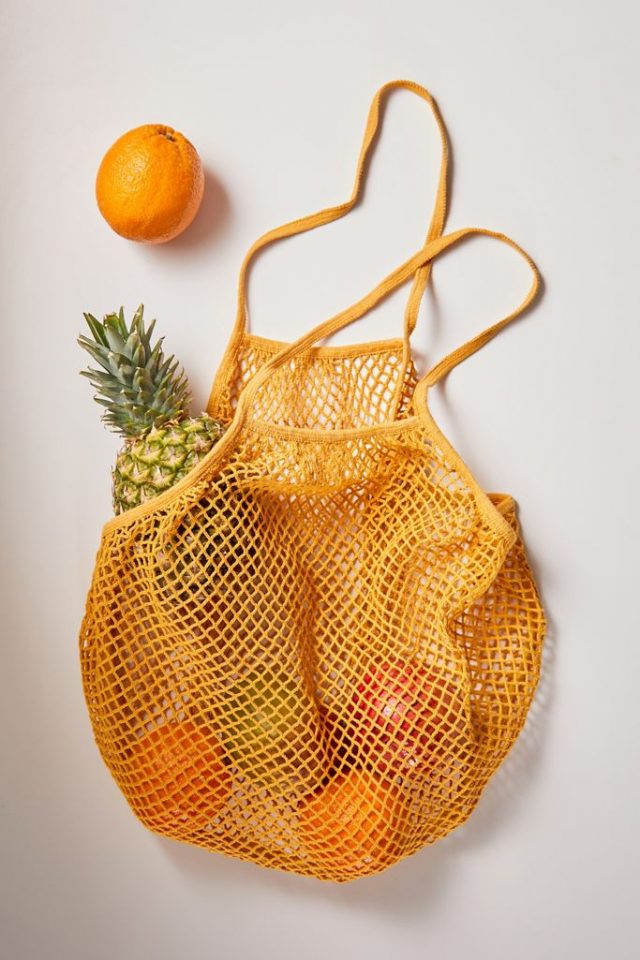 The Netted Market Bag is perfect for Easter but also makes a great year-round carryall for all your kid's swimwear, swim gear, water bottles, and beach toys.
16 — Personalized Easter Basket Liner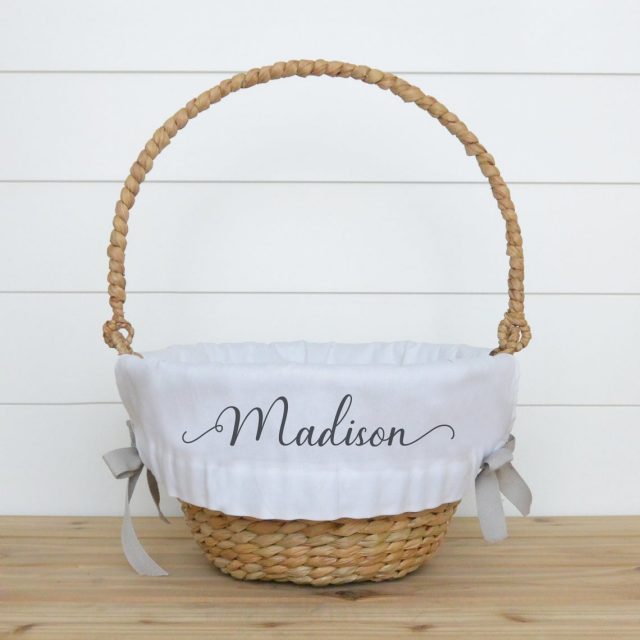 If you don't want to go too unconventional, you can easily pair any basket with a personalized Easter basket liner. Choose from a range of fonts and styles for one-of-a-kind customized pieces.
17 — Scalloped Easter Pail
This colorful clear Easter pail is different from the others because of its scalloped trim. It comes in a set so it's perfect for gifting to multiple kids or siblings.
18 — Dump Truck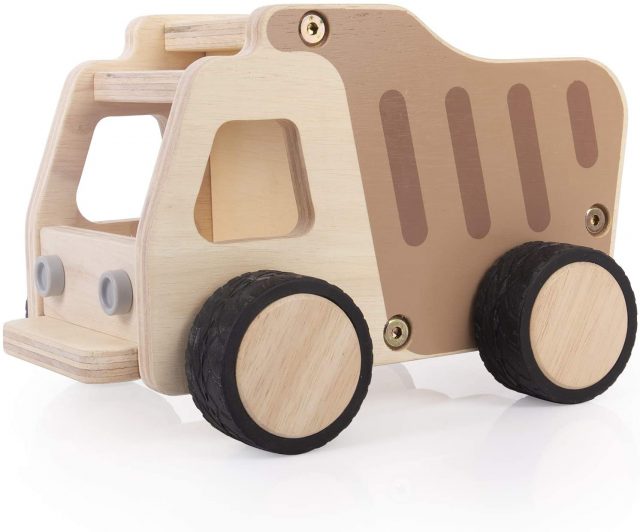 A toy that holds toys, or a dump truck may be the furthest item you would think to be used as an Easter basket. But young children, especially construction and car enthusiasts would appreciate this creative Easter gift.
19 — Bunny Cotton Twill Storage Basket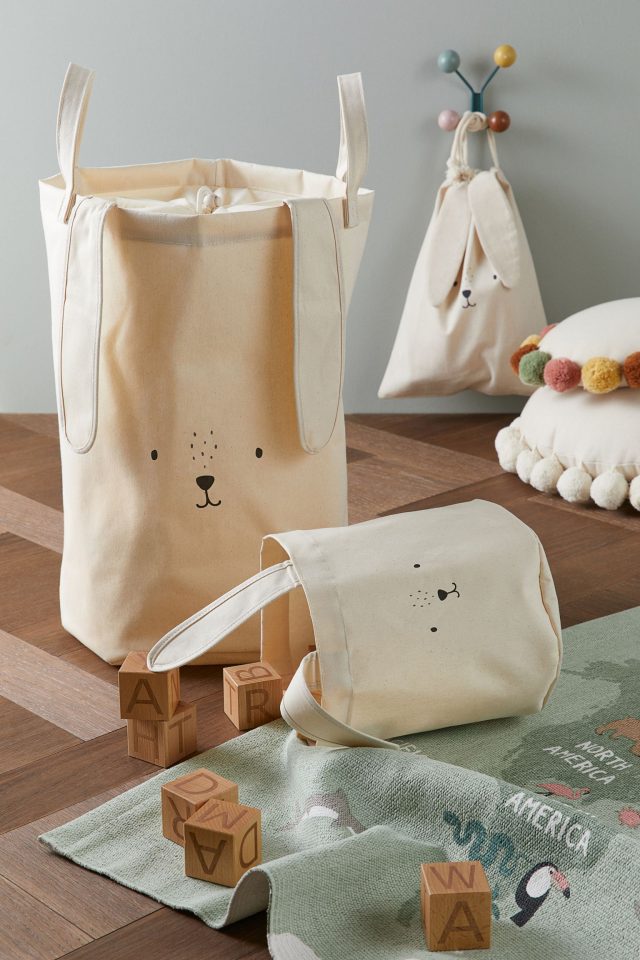 The Bunny Cotton Twill Storage Basket features a drawstring closure to safely hold their belongings… and a stash of Easter milk chocolates!
20 — Oversized Egg Basket
This festive Jumbo Easter Egg already includes eggs to fill up! You can also purchase a personalized version with your kids name.
Fun Easter Activities For Kids
Looking for fun activities besides an egg hunt for Easter day? We've got you covered with other ways to spend the holiday!