Make a fruit platter for any occasion. Here are some fruit platter ideas and tips including what fruit to use, the best dips, and more!
Yes, you can buy a pre-made grocery store fruit platter. But it's actually so easy (and cheaper) to create one on your own. Check out our favorite fruit platter ideas and tips for whipping up your own.
You'll be able to construct beautiful displays that look as good as they taste in no time at all. So whip out your cutting board, and let's get rolling on making your own amazing fruit platter.
Fruit Platter Ideas
1 — Dessert Berry Board with Raspberry Dip
This dessert berry board is basically a charcuterie board that's minus the savory and loaded with sweetness. It also features a raspberry cream cheese dip recipe that's slightly tangy and perfectly complements any fresh fruit.
2 — Fruit & Cheese Platter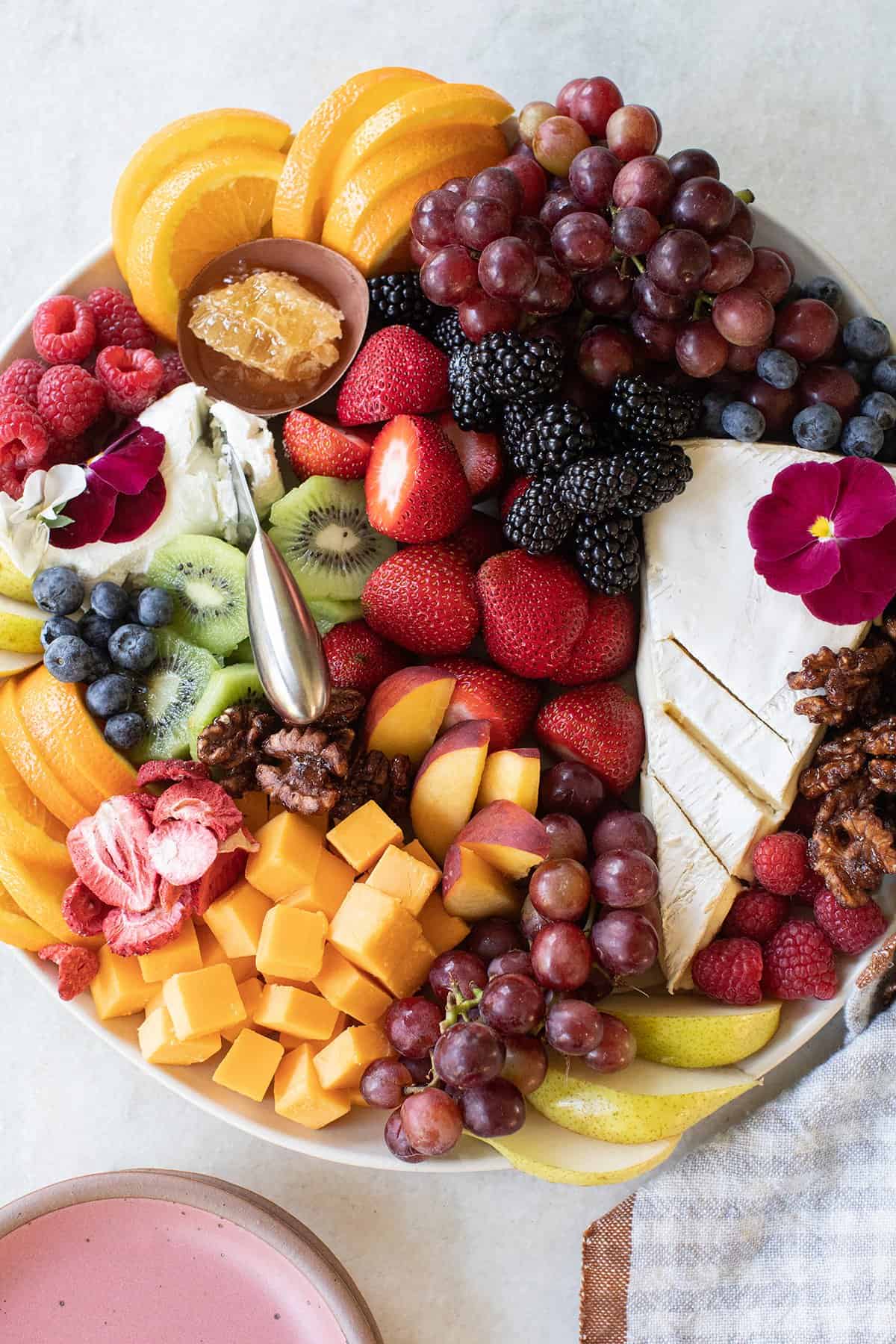 Cheese and fruit platters are a great way to enjoy a healthy and delicious treat! The key is to select different types of cheese such as hard, soft, or semi-soft varieties.
Strategically place the cheeses in each corner. Then, surround them with larger fruits such as grapes and strawberries. Fill any open spaces with smaller ones like raspberries or blueberries.
To really make this plate shine, sprinkle chopped nuts. Walnuts or pecans work best!
3 — Fruit & Dark Chocolate Platter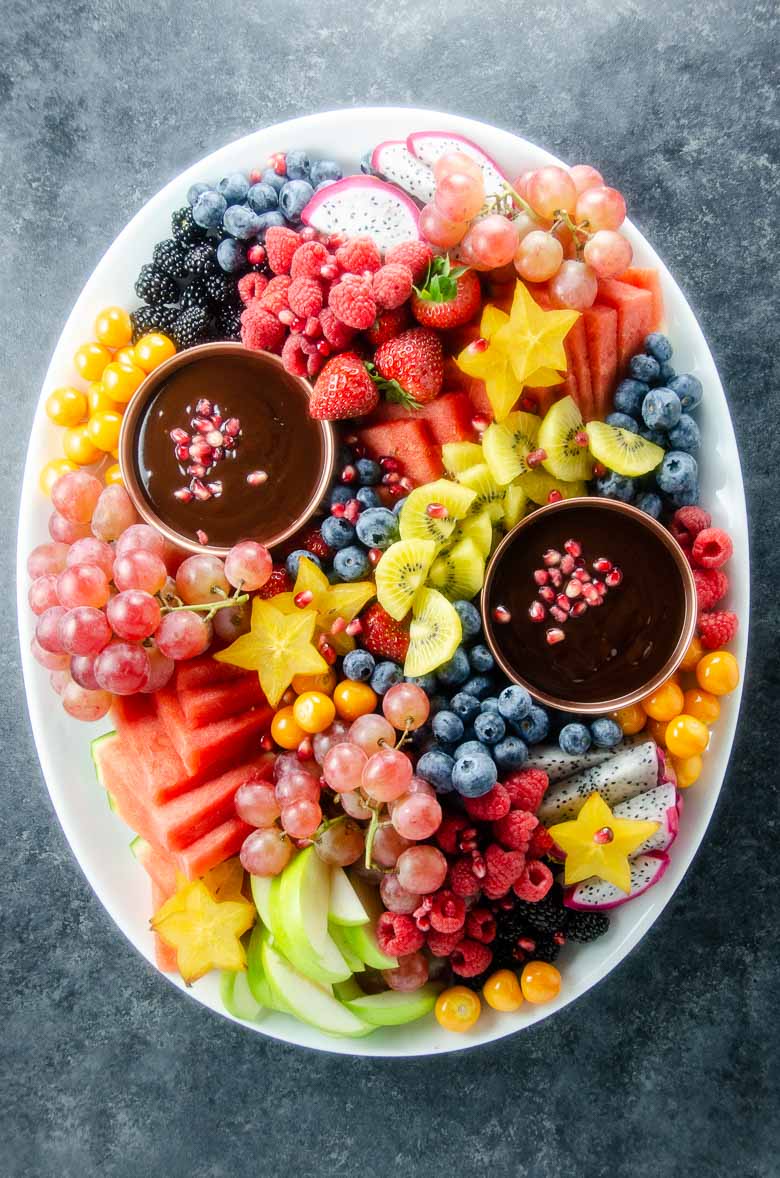 This fruit and dark chocolate platter is perfect for chocolate lovers. Chocolates are typically seen on a fruit plate since this decadent dessert balances out the acidity in fruits.
4 — How to Dress Up a Fresh Fruit Platter
You can take your fresh fruit platter to another level by using fruit cutters to carve out intricate designs. Soft fruits like melons are the easiest to cut. And there are so many fun fruit cutters to allow you to quickly create beautiful bite sized pieces.
We love this particular 3–piece set since it not only includes fruit shape cutters but also comes with an apple slicer, banana slicer, watermelon slicer, melon baller, carving tools and more.
5 — Sweet & Tangy Fresh Fruit Board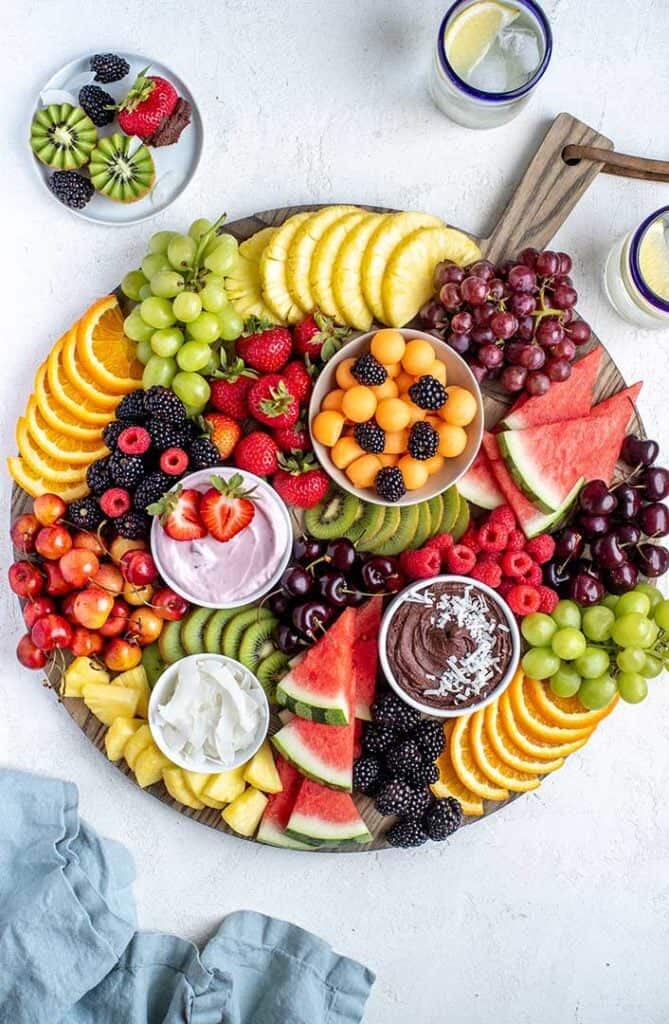 This fresh fruit board includes a strawberry yogurt and chocolate dip for that extra zing of sweet-tangy deliciousness.
6 — Tropical Fruit Platter
Beat the heat with this tropical fruit platter highlighting mangoes, pineapples, papayas, and coconuts.
7 — Easter Fruit Platter
Create an Easter fruit platter for your festive. All the fruit pairs perfectly with an equally fruitful Easter punch.
8 — Valentine's Day Fruit Platter
For your Valentine's Day party, showcase heart-themed Valentine's Day fruit platter? This easy fruit tray idea also includes a delicious vegan dip recipe.
We also love that it follows the Valentine's Day color scheme by using pink, red, and white in-season fruits.
9 — Thanksgiving Fruit Platter
To recreate this Thanksgiving fruit patter, simply arrange your fruit to look like a turkey!
Start with the pear for the turkey body, and then use raisins as eyes. Carrots will provide an adorable touch as beaks and feet and attach them using toothpicks.
10 — Rainbow Fruit Platter
Another simple fruit platter idea is to arrange it into a rainbow. Marshmallows act as the clouds while Rolos represent the lucky pot of gold.
11 — Chocolate Dipped Fruit Platter
This decadent chocolate dipped fruit platter take fruits of your choice and dip them into delicious melted chocolate. Then, crunchy toppings *like sprinkles and coconut) for additional texture are sprinkled atop.
12 — Mango & Grapes Fruit Platter
Treat yourself to some summery sweetness with a seasonal mango & grapes fruit platter.
13 — Mango & Pear Fruit Platter
The mango & pear fruit platter has a beautifully sweet and tart combination that will have you coming back for more.
This idea takes lesser used but equally delicious fruits like golden kiwi, blood grapefruit, pear, passion fruit and figs.
14 — Pink Grapefruit Fruit Platter
Grapefruit is the star in this pink grapefruit fruit platter. The best idea is drizzling honey over the whole tray.
Best Fruit Dips
Fruit dips are sure to add a burst of flavor to any fruit platter. Whether you're looking for something sweet and indulgent or fresh and light, there's a fruit dip to suit every taste.
Yogurt fruit dips will go with any type of fruit. And chocolate or caramel sauces are a classic choice.
If you're craving something extra sweet, marshmallow fluff or a cake batter dip are a delicious options.
.
Tips for Making a Fruit Platter
Plan ahead:
Decide what fruits you want to highlight beforehand. Then, make sure to incorporate different flavors and textures and what color combos work together.
Invest in vegetable cutters:
Intricate shapes will make your fruit platter standout and are especially perfect for holiday-themed platters.
Choose seasonal and/or orange fruits:
You'll the best quality, flavor, and price.
How to pick your fruit:
When selecting your fruit, also pay attention to how ripe they are. Overripe fruits may be bruised or spoiled, while underripe fruits may be too firm and taste bland.
To keep fruits looking fresh and vibrant:
Combine lemon juice with pineapple juice to prevent any discoloration.
How Much Fruit Do I Need?
The amount of fruit needed depends on the type and size of the platter and the types of fruits.
When planning your fruit tray, follow this guideline:
— 8 cups of fruit is enough for up to 10 guests.
— 15 cups will meet the needs of up to 20 people.
— If you're expecting 30 or fewer guests, be sure to provide at least 20 cups.
How Do You Keep a Fruit Platter Fresh?
Cover the plate with plastic wrap or a lid. This keeps moisture in and prevent fruits from drying out quickly.
Additionally, some fruit like apples, bananas, or pears will brown quicker than others. So avoid those when making a beforehand platter. If necessary, only dip them into lemon juice right before serving the dish instead!
Moreover, cut the fruits beforehand and store them separately in air-tight containers. This will ensure an optimal preservation duration.
How Long Does a Fruit Platter Last?
A fruit platter can last for 3-4 days if stored properly.
To keep a fruit platter fresh, make sure that all of the fruits are carefully washed and dried beforehand.
It is also important to keep the fruit platter in a cool place or in the fridge. Also, cover it with plastic wrap or foil to keep it from drying out.
Additionally, you should avoid adding any fruits that are past their prime. So avoid using leftover fruit as they will likely not hold up well on the platter.
Fruit Recipes to Try