Having a Valentine's Day party? Celebrate with these fun Valentine's day party ideas, complete with décor, food, games, and other fun activities.
Valentine's Day is the perfect excuse to let your creative side shine.
If you want your Valentine's Day party to be something that everyone will remember, then the trick is to invite some fun-loving people.
And don't forget to think beyond the traditional chocolates.
Create a beautiful ambiance with sparkling decorations, set up whimsical photo ops for memories that last, tantalize taste buds with delicious treats, and then cap off the night with romantic activities!
A great V-Day bash (or even Galentine's Day gathering) begins and ends with perfect planning.
With our creative list of activities, you can throw a party that will make all hearts flutter.
Whether it be an intimate gathering or a luxurious event, hosting your own celebration is sure to bring out the sparks and create lasting memories for everyone involved.
Valentine's Day Party Ideas
1 — Set Up a DIY Photo Booth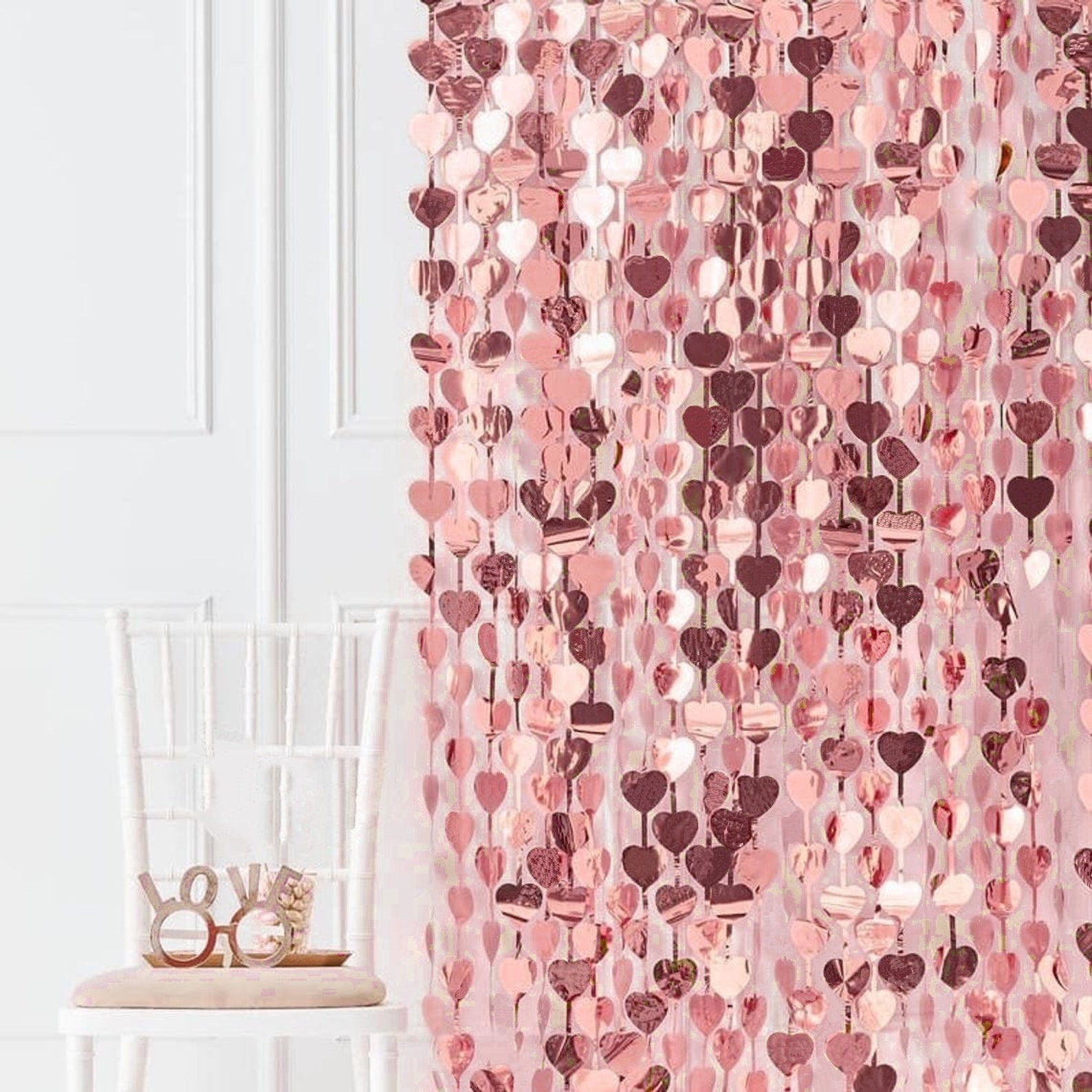 Looking for something fun and memorable to include at your next event?
Photo booths have become the go-to choice.
Set up a photo booth station with props that fit the day's theme.
We suggest gathering paper hearts, teddy bears, bows and arrows, and love letters (or perhaps even craft some yourself!)
Place a selfie stick nearby for guests to use to capture those timeless memories.
You can be sure everyone will appreciate this unique touch.
2 — Romantic Comedy Movie Night
Since this holiday is all about celebrating love, why not host a romantic comedy movie night?
We love how this particular Valentines Day party idea has fun with its food setup with playful labels.
Serve "Mint to Be" mint parfaits, "engagement" onion rings, "wedding reception" toasts and more!
3 — Wine and Chocolate Party
Nothing says Valentine's Day like wine and chocolate.
So why not combine the two into one fabulous evening?
Create an indulgent snack station for your guests by displaying a selection of chocolates alongside popcorn, chips, and other treats.
This Valentine's Day party idea includes a guide for which specific chocolates pair well with each type of wine.
4 — Valentine's Day Craft Party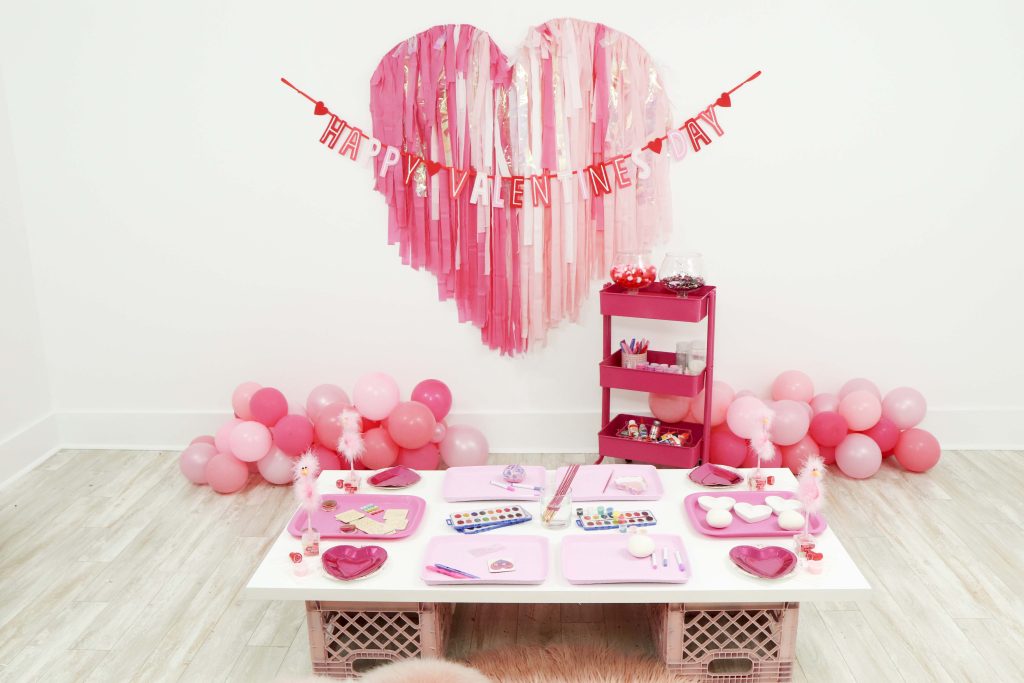 Host a Valentine's Day craft party!
It's the perfect time to let their creativity run wild.
Set up a craft table full of supplies such as foam hearts, glitter, jewels, markers, and more.
Ask your guest to pick their favorite craft item from the table or provide them with instructions on how to make a specific craft.
A few craft activities that adults and kids can take part in include decorating candy jars, making heart garlands, or crafting cards.
These simple DIY projects will make an excellent memento and are perfect for sprucing up Valentine's Day celebrations.
5 — Donut Themed Valentine's Day Party
This Valentine's Day, why not celebrate with a donut-themed gathering for you and your friends who share your love of sugary treats and warm milk?
Begin by sprucing up the background with a banner boasting "Donuts".
Then, add some whimsy to your decor with candles, balloons, and tablecloths in pink and red hues.
Set up a donut bar to ensure there are enough sugary goodies for everyone to enjoy.
You can even add a personal touch by having guests decorate their own heart shaped donuts using brightly-colored fondant, edible glitter, and sprinkles.
Place milk jugs and mugs around the table for a nice cozy feel.
6 — Valentine's Day Science Party for Kids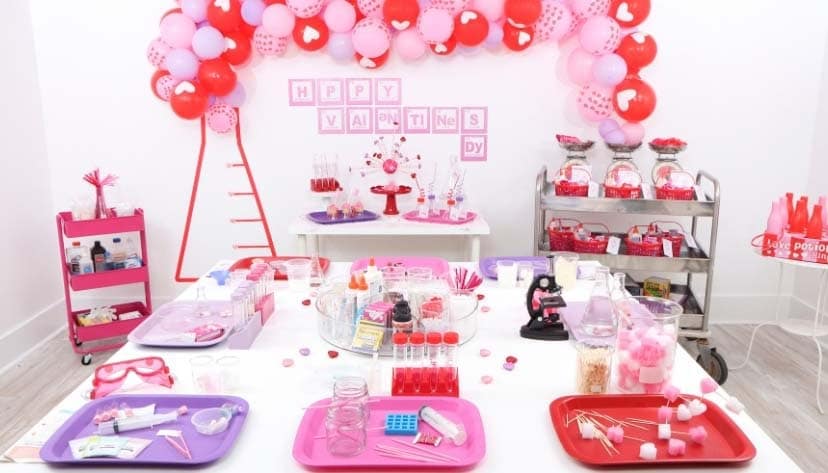 A science party for kids is always a fun way to explore different activities.
Transform your space into a bubbly beaker by using masking tape to design an oversized flask and decorating it with balloon "bubbles" pouring out.
Take it up a notch by using Periodic Table elements to make Happy Valentine's Day banner.
To complete the science-themed atmosphere, set up a delectable dessert and beverage station under an eye-catching backdrop.
Transform your Valentine's celebration into a science-filled adventure with an array of cupcakes, candy, and pink drinks displayed in beakers and graduated cylinders.
Add some droppers for extra laboratory fun.
Make experimenting fun with a few Valentine-themed activities, such as creating exploding hearts, making your own lava lamp, or crafting a balloon heart.
7 — Pucker Up Party
Valentine's is all about smooches and kisses so this Pucker Up Party totally runs with the theme.
There's even tutorials and printables on how to jazz up a regular plain cake with edible kisses.
Break out the lipstick to decorate balloons with kisses.
And decorate your glasses with edible DIY gold lips.
8 — Surprise Valentine's Tent Snack Party
Give your children an experience they'll never forget this Valentine's Day with a Surprise Tent Snack Party.
Bring the festivities to life by setting up a vibrant red and pink decorated tent in the corner of their room.
Fill it full of delightful treats like doughnuts, cookies, and chocolates that will make their eyes light up and make it one memorable day for everyone involved!
Ensure your kids have an unforgettable Valentine's Day by providing them with fun activities like coloring, puzzles, and games that celebrate the day.
Valentine's Day Cocktails
1 — Rose Martini
Make this Valentine's Day an extraordinary one with a romantic Rose Martini cocktail.
This beautiful pink and bubbly drink is sure to add sparkle to the celebration.
Start by combining ice, vodka, pink gin, peach schnapps, orange bitters, rosewater, honey, and rose simple syrup into a cocktail shaker.
After a few vigorous shakes, strain the contents into chilled martini glasses and garnish with a rose petal.
2 — Pink Gin Spritz
This delightful Pink Gin Spritz will be the perfect addition to your Valentine's Day party.
Simply combine pink gin, Prosecco, and tonic water in a glass.
Then, top off the concoction with some delightful pink tonic.
To finish it off, garnish the drink with one thin-sliced raspberry and lime wheel for an extra touch of beauty.
3 — Strawberry & Rose Sorbet Champagne
Toast to your special Valentine's Day with an exquisite Strawberry & Rose Sorbet Champagne Cocktail that is sure to make the evening unforgettable.
Simply add one scoop of strawberry and rose sorbet into each champagne flute and fill it with champagne.
Garnish each glass with a heart-shaped strawberry and dried rose petals for an extra touch of beauty.
4 — Berry Punch
Spoil your guests this Valentine's Day with a delectable and revitalizing berry punch.
Begin by merging sparkling grape juice, Simply Juice Drink Mixed Berry, and a hint of syrup or honey in an exquisite punch bowl.
Add frozen berries and freeze-dried strawberries to the mixture as well, followed by some lemon slices.
5 — Rosé Champagne & Floral Sprinkles Cocktail
Last but certainly not least, serve up a delightful Rosé Champagne & Floral Sprinkles Cocktail for a truly memorable Valentine's Day.
For a fun and flavorful cocktail, combine vodka, grapefruit juice, rosé brut, and simple syrup in an ice-filled shaker.
Shake vigorously until it's cold to the touch.
Strain into glasses and top off with gorgeous rose petals or edible flowers for an extra dose of charm.
Valentine's Day Desserts
1 — Raspberry Heart Pop Tarts
A gift made in pastry heaven.
Show your love with a box of these delicious and delightful Raspberry Heart-Shaped Pop-Tarts.
Begin by forming a heart shape from pie dough.
Subsequently, fill the center of each tart with sweet raspberry jam before sealing it shut with the second half of your pastry-created heart.
Brush your pastries with the whisked egg and bake them to a glistening golden-brown perfection.
Before serving, dust on some powdered sugar for extra sweetness.
Then, garnish it thoughtfully with a rose-tinted glaze and white sprinkles complemented by crunchy freeze-dried raspberries.
2 — Frosted Heart Brownies
If you're looking to give your loved ones a treat they won't soon forget, these scrumptious Frosted heart-shaped brownies could be the answer.
Start baking by prepping your favorite brownie mix in an appropriately shaped pan.
Next, top it off with a lavish layer of velvety chocolate.
Subsequently, cut them into hearts and decorate the tops with adorable heart-shaped sprinkles.
3 — Homemade Heart Donuts
Impress your special someone with these homemade heart donuts.
They are sure to make their heart melt!
Making the donuts is quite easy.
To get its heart form to intact in the fryer, simply chill the dough beforehand and exaggerate its shape.
4 — Dessert Board
Perfect for a large gathering and easy to put together, this dessert board idea includes a raspberry cream cheese dip recipe.
Featuring fruit and different types of cookies, all you need is 5 minutes to arrange the board
5 — Valentine Arrow Cookie Picks
Start by baking the different colored macarons (or use store bought ones).
To assemble the tassel, stack several sheets of tissue paper at one end of a toothpick and carefully pierce it through the macaron.
Cut out mini triangles from adhesive felt and stick them onto the other side.
For an extra special touch, sprinkle edible gold dust over your masterpiece and include an adorable love note for added sweetness.
Valentine's Day Decorations
1 — Floral Punch Bowl Wreath
Dress up your punch bowl with a DIY floral wreath.
All you need are some fresh flowers, floral wire and wire cutters.
2 — Balloon Arch
Create a magical Valentine's Day ambiance with a gorgeous balloon arch.
Adding some wispy greens throughout adds an ethereal and romantic touch.
3 — Hanging Flower Heart
Let the vibrant beauty of a blossoming garden fill your home with these stunning DIY hanging flower heart.
Simply construct an outline in the shape of a heart using chicken wire and a craft hanger.
Then, add some cheery pink faux flowers and foliage to complete this delicate design.
Utilize floral tape or hot glue for secure attachment to enjoy its captivating charm for months on end.
4 — Valentine's Day Garland
Download the shape templates to make this Valentine's Day paper garland.
And then, cut away… or Cricut away!
This easy DIY also makes for a great photo booth backdrop.
5 — Lighted Birch Trees with Heart-Shaped Ornaments
Bring a delightful and romantic atmosphere to your home this Valentine's Day with lighted birch trees adorned with ornaments.
This pre-made piece can be used as a table centerpiece or even as part of your indoor decor.
The tree is wrapped with beautiful pink and silver lights, while the heart-shaped ornaments and pink ribbon bring together the perfect Valentine's look.
Valentine's Day Games
1 — Valentine's Minute to Win It Games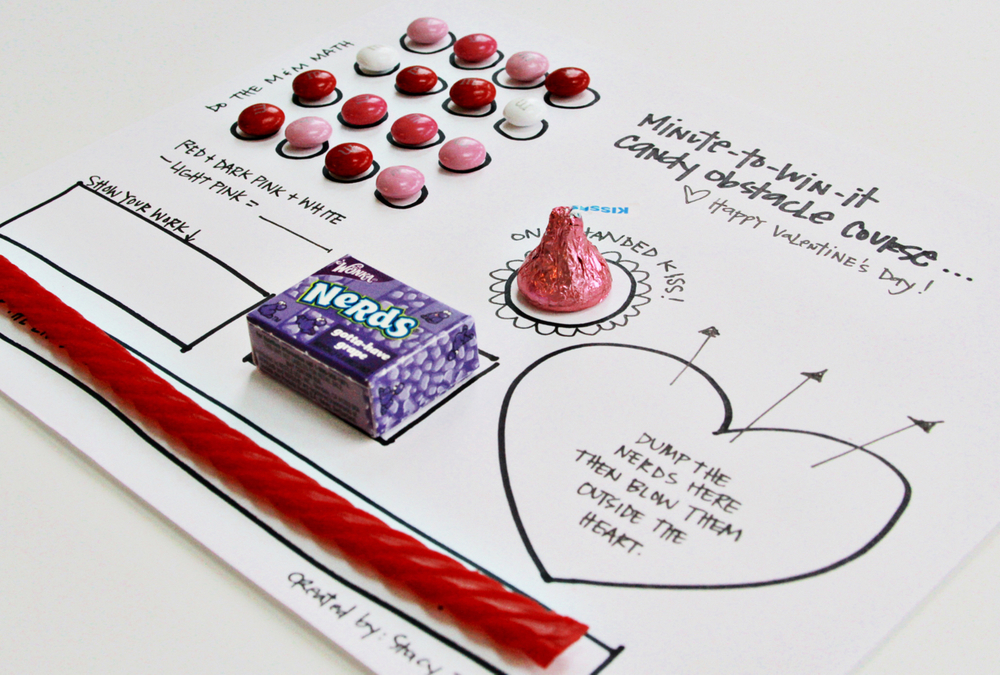 This Valentine's Minute to Win It game are the perfect way to bring friends, family, and laughter together.
Challenge your guests with more classic games such as the Heart A-Stack, Love Connections, and many more with a Valentine's Day twist.
It's sure to bring plenty of laughs and smiles to everyone.
2 — Spot the Hearts
Gather your family and friends for a hilarious game of Spot the Hearts.
Place paper hearts around your home and have everyone search to see who can collect the most.
It's an enjoyable way to engage all ages with loads of laughter.
Plus, whoever finds the greatest number wins! Try this one and get ready for endless amusement.
3 — Red Flags: The Game of Terrible Dates
Spice up your Valentine's Day with Red Flags: The Game of Terrible Dates.
Players have a chance to plan the perfect date for their 'Single,' but watch out for those pesky Red Flag cards that can disrupt any budding relationship.
No matter if you're single or in a relationship, this game will ensure an enjoyable and hilarious night – guaranteed!
4 — Never Have I Ever Game
A classic game of Never Have I Ever with a Valentine's Day twist is sure to make your night fun and memorable.
Have each player take turns revealing something that they have never done.
And watch as your friends try to guess whether they are telling the truth or not.
By playing rounds of romantic and lighthearted questions, you can rest easy knowing that your night will be filled with joy and boundless chuckles.
5 — Conversation Heart Bing
Photo by
Playground Park Bench
Make your special Valentine's Day celebration even more enjoyable by playing Conversation Heart Bingo.
Every player receives a game board packed with adorable conversation heart words.
And they must check the boxes off if they get a bingo.
It's an easy-to-play yet unique way to make memories this February 14th that will last for years to come.
6 — Valentine's Day Outburst Game
Bring a thrilling twist to your party by playing the Valentine's Day Outburst.
This game requires players to guess as many words as they can in a certain time.
It's an intense and energizing way to spend your night, perfect for those who love to stay active and have a lot of fun.
Get ready to shout out the answers and win.
7 — Pin the Arrow on the Heart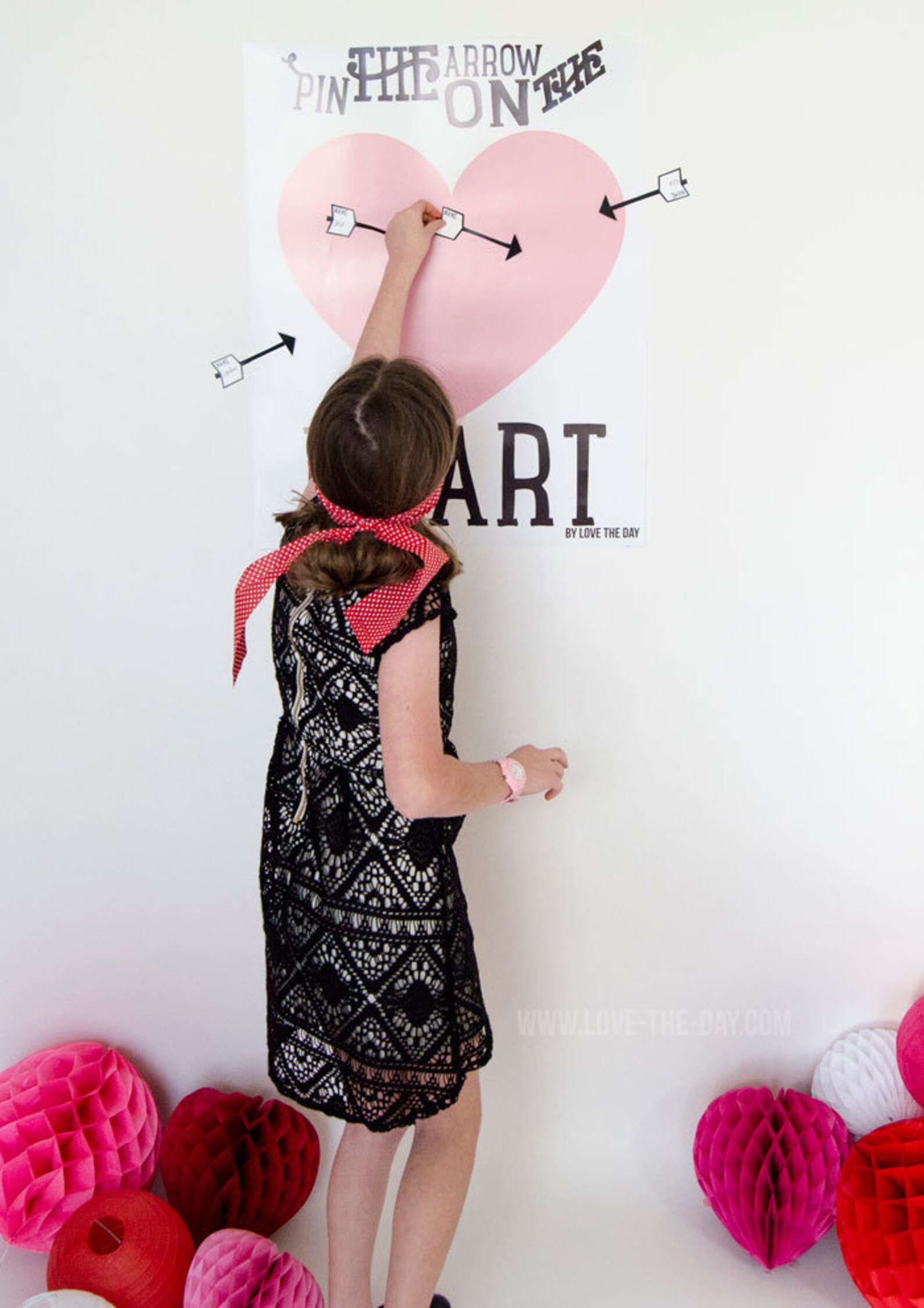 The classic game of Pin the Tail on the Donkey gets a Valentine's Day spin.
Challenge your friends to a thrilling round of Pin the Arrow on the Heart.
8 — Heart Punch Board
9 — Valentine's Day Matching Game
Conclude your unique Valentine's Day festivity with the Matching Game.
Just like traditional matching games, you need to paste these free printable dots on Hershey's kisses and have everyone search for their pair.
This is an effortless yet enjoyable way of creating lasting memories with your close ones, whether it be family members, buddies, or even a significant other.
Plus, when you win, there comes a special treat – Hershey's kisses as a reward!
10 — Valentine's Day Tumble Game
Liven up your Valentine's Day celebration with a personalized DIY Tumble Game that is sure to get the party started.
Players will take turns pushing out blocks and following instructions printed on them.
Enjoy this engaging and entertaining activity for both friends and family as they try their hand at creative, fun-filled challenges.
Valentine's Gift Ideas
For more Valentine's Day gift ideas, check out a few of our other gift guides below —
Decor and Recipe Ideas for the Perfect Host