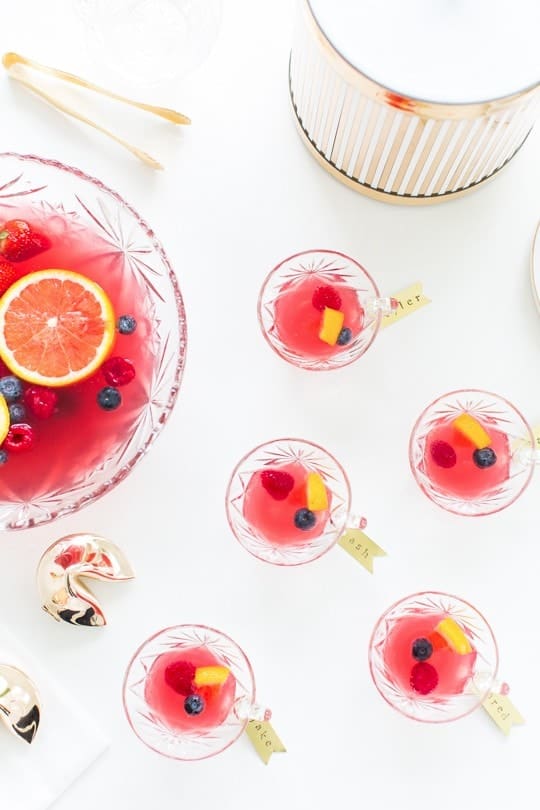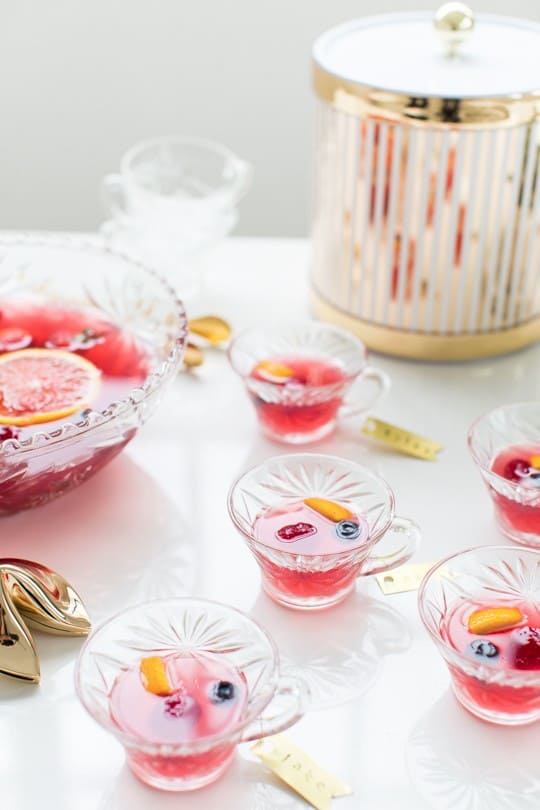 In case you've been saving your holiday styling and DIY energy for an impressive New Year's bash, this mixed berry punch recipe and brass drink tag DIY will definitely make your guests feel like you thought through every last detail… or at least the bloggers and DIY'ers at heart that are in attendance will (I'll let the others speak for themselves).
Regardless of who your crowd consists of, everyone loves a refreshing, simple punch recipe that's easy to grab and go throughout the night, and this Simply Juice Drink mixed berry punch will take you all of five seconds to make which is perfect for early arrivals and quick refills during the party…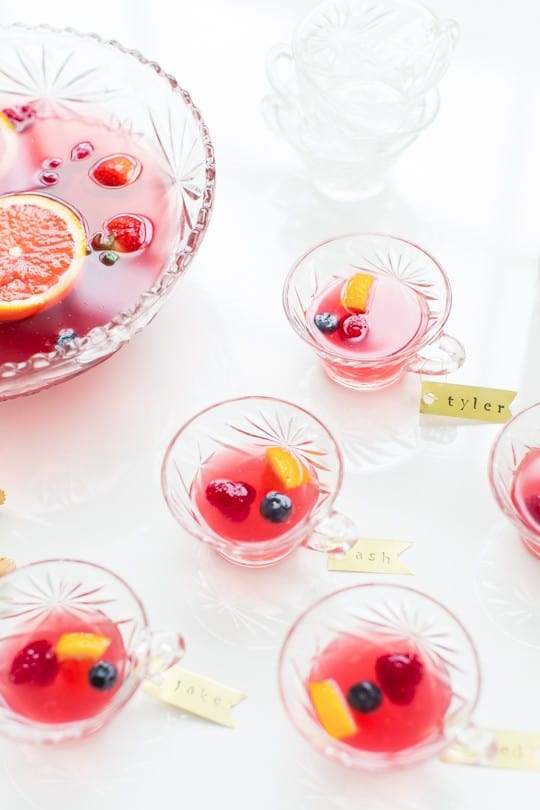 Mixed Berry punch recipe
One part Simply Juice Drink Mixed Berry
Two parts Prosecco (or sparkling grape juice for a family friendly option)
Splash of simply syrup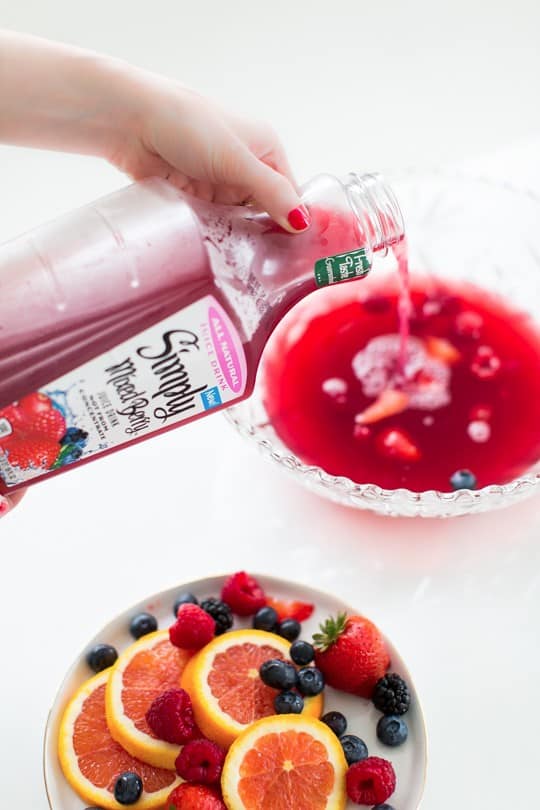 I broke the recipe up into parts rather than exact quantities so you could make the batches as big or small as you need based on the size of your party. We use a full bottle of Prosecco to almost half a bottle of mixed berry and it was the best portion for a full punch bowl.
All Simply Juice Drink flavors are made with simple ingredients and real fruit juice. This punch recipe is also really good with the other new flavors like Simply Tropical and Simply Fruit Punch, and it's just as good as the mixed berry version, we just liked the idea of using the berries for garnish, along with frozen berry ice cubes to add a little punch to the punch bowl (pun intended)!
DIY Brass Drink Tags
One Brass metal (depending on how many name tags you'll need)
Scissors
Thin brass wire
Fine sandpaper (optional)
To make the tags, simply stamp a name with the stamp set and washable ink pad (so that you can wipe down and reuse the tags on a different occasion) on the small section of the brass metal sheet. Cut out the name in a rectangle shape with scissors, and make a small v-shape at one end for added interest.
Next, hole punch one end and insert a small loop of brass wire and twist the ends together with your fingers so guests can easily twist their tags onto a cup each time. You can use the fine sandpaper to smooth any rough edges of the brass sheet so they aren't hazardous to the touch.
In case you'd rather skip the frozen fruit ice cubes, a small dish of edible disco dust* as another cute way to add a fun garnish for New Year's or other special occasions for guests to top off their punch with.
This post is sponsored by Simply Beverages. Thanks for supporting the brands that keep Sugar & Cloth running and bringing you bigger and better content!

*Discos dust is create of use on cakes and decorative items and is often consumed with specialty cakes and confections, but is not considered a food item. Please use with discretion and/or very small portions. Although, I'd say whatever I ate playing in the back yard as a kid or chewing on crayons when my Mom wasn't looking is a lot worse than cake disco dust!