To be totally honest with you, I just had my first ever jello shot recently. Hence the inspiration for these edible flower lemon jello shots recipe.
Despite being new to the world of jello shots, I do love me some jello for the sake of how simple it is to make and how low-calorie a homemade version can be.
Plus I've been around long enough to know there is a need for a much prettier (or classier) version of the aforementioned jello shots!
Technically this edible flower lemon jello shot is just served in miniature shot glass portions, but you can make them with or without the booze.
They're just as cute (and tasty!) whether you make them as a cocktail or mocktail. Top them with a sprinkle of edible flowers and it's like your own mini dose of Spring all year long…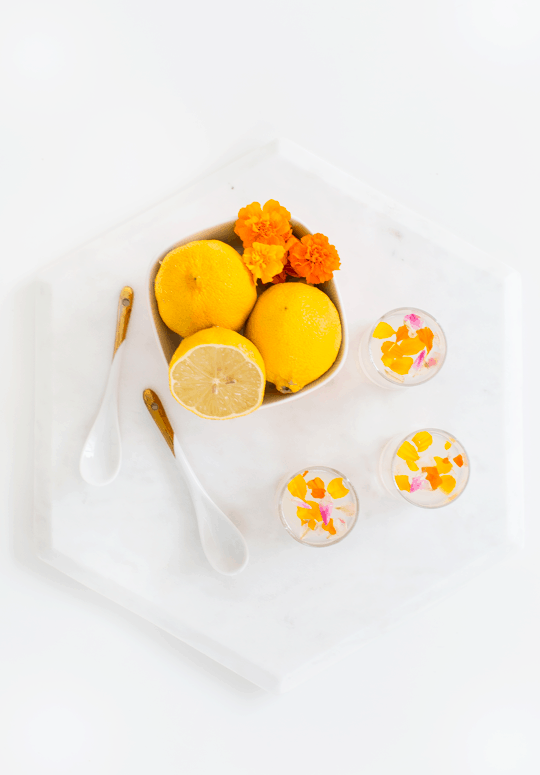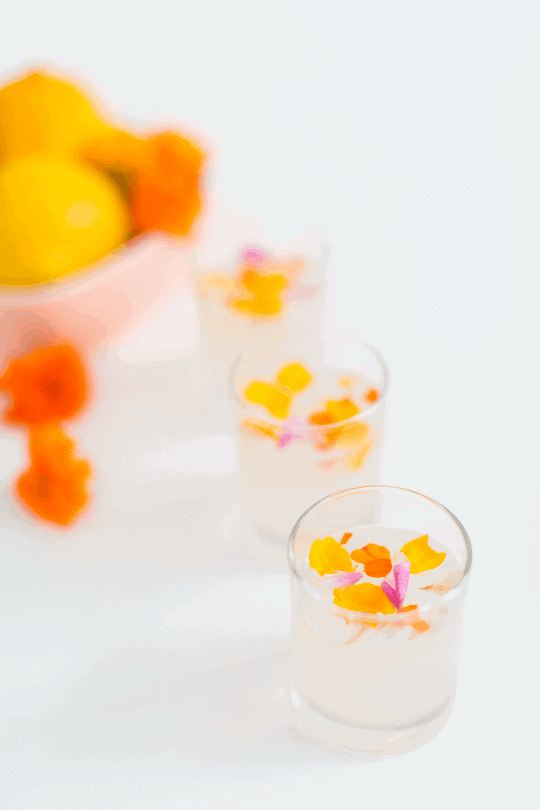 How to Make Easy Lemon Jello Shots
4 envelopes gelatin (1 ounce)
4 large freshly squeezed lemons
2 1/2 Cups water
1 1/2 Cups sugar (or stevia for a low calorie version)
1 1/2 Cups vodka and 1/2 cup of Cointreau (only add if you're making an alcoholic version, obviously. otherwise replace with the equivalent amount of water)
Edible flowers for garnishing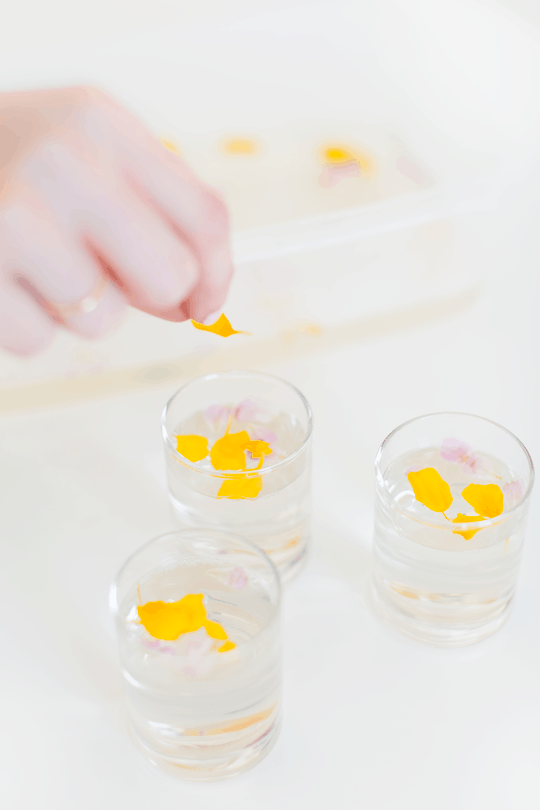 Heat the gelatin, water, lemon juice, and sugar over the stove as you traditionally would for about 5-10 minutes or until the gelatin is fully dissolved.
Remove from heat and add in the liquor at the very end or it will evaporate.
Pour the mixture into individual shot glasses and add a few edible flower petals to each glass just before placing into the refrigerator, and let it set overnight or for a minimum of 6 hours.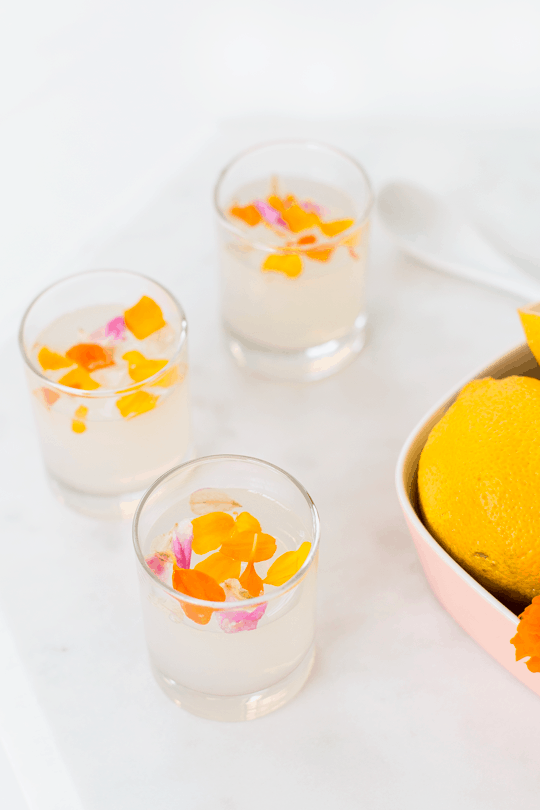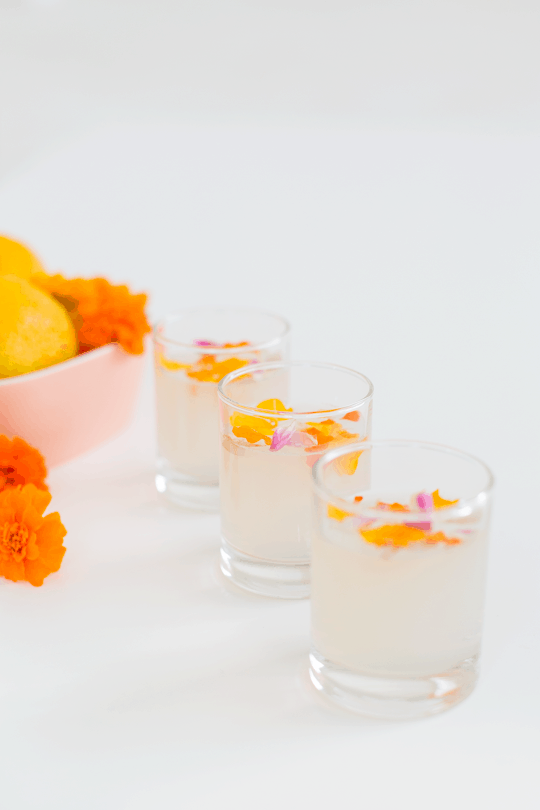 You can also always skip the shot glass version for a parfait dish or traditional 8×8 pan and then cut into mini square bites to serve.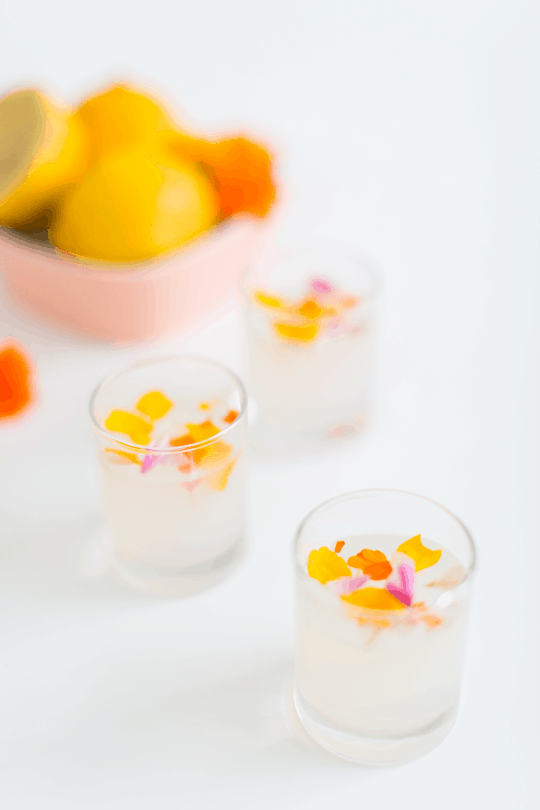 What do you think? Wouldn't these be super cute for a wedding or special occasion? They're almost too cute to eat!
Quick & Easy Shot Recipes