Who's ready to get tropical?! To be honest, I may have gone a litttttle over board on our tropical garden party and DIY fruit necklaces, but when IZZE asks us to throw a Friendsday Night party, we go big! Even still, I have to say this one might be my new running favorite, and can we say #worthit?!
Aside from the fact that we may have a slight IZZE addiction here at the studio, it also happens to make the perfect warm afternoon cocktail, and I think you're going to love the garden party details that we styled to go with the new (limited-time!) Sparkling Citrus Ginger and Sparkling Grapefruit colors.
First things first, we needed the perfect garden location to set the tone and we were able to snag this pretty greenhouse in Houston that one of my friends got married at recently. It was the perfect mix of outdoors meets the token Sugar & Cloth bright white space. Basically it's my spirit garden, ha!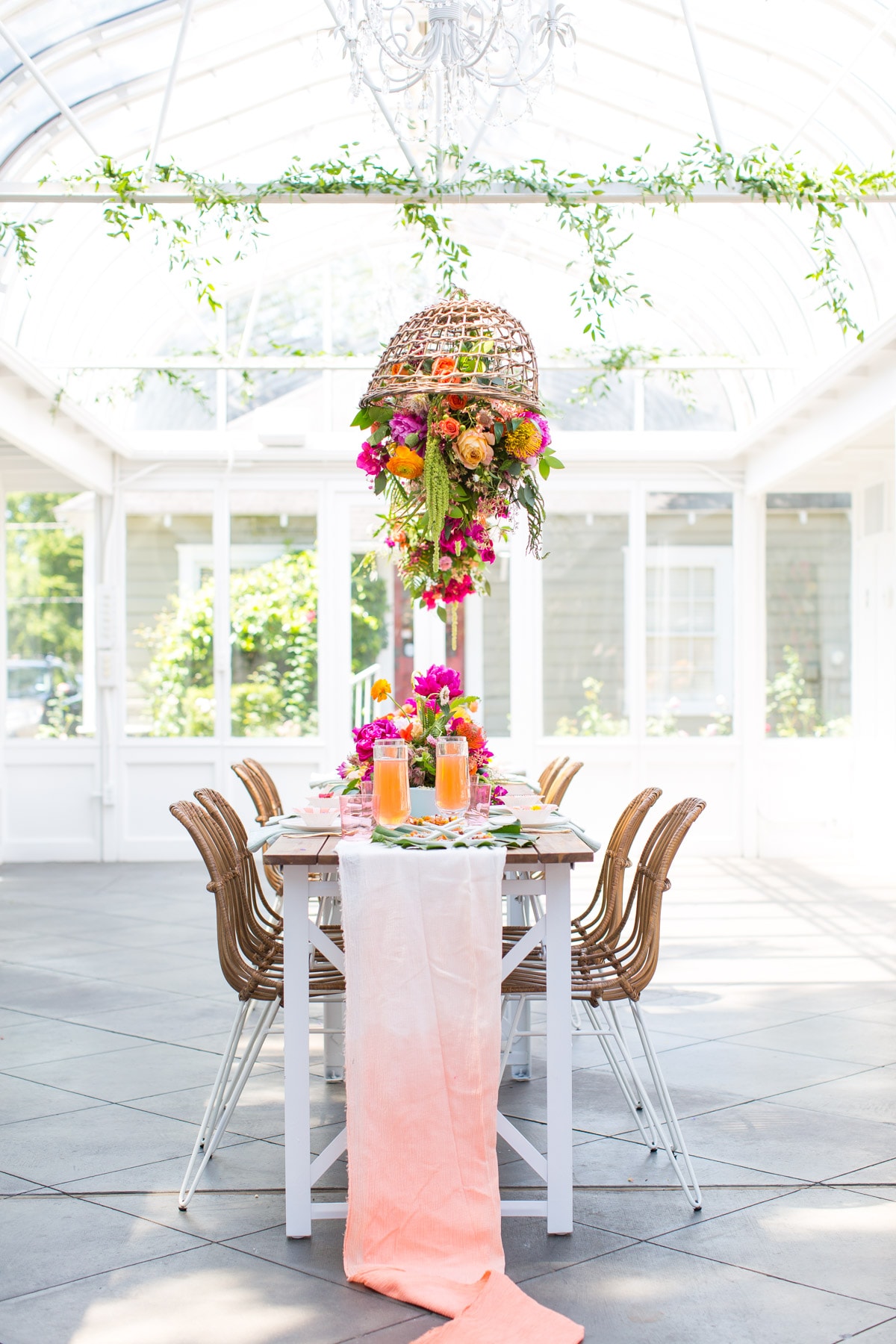 Naturally you have to have the perfect florals for a garden party, and Blush & Vine put together just what I had in mind! I wanted to create floral pendants over the table, and instead of splurging on crazy expensive wicker pendant lamps, we used food domes that we found at World Market and they hung floral foam and blooms from the center of each to create a trio focal point over the table.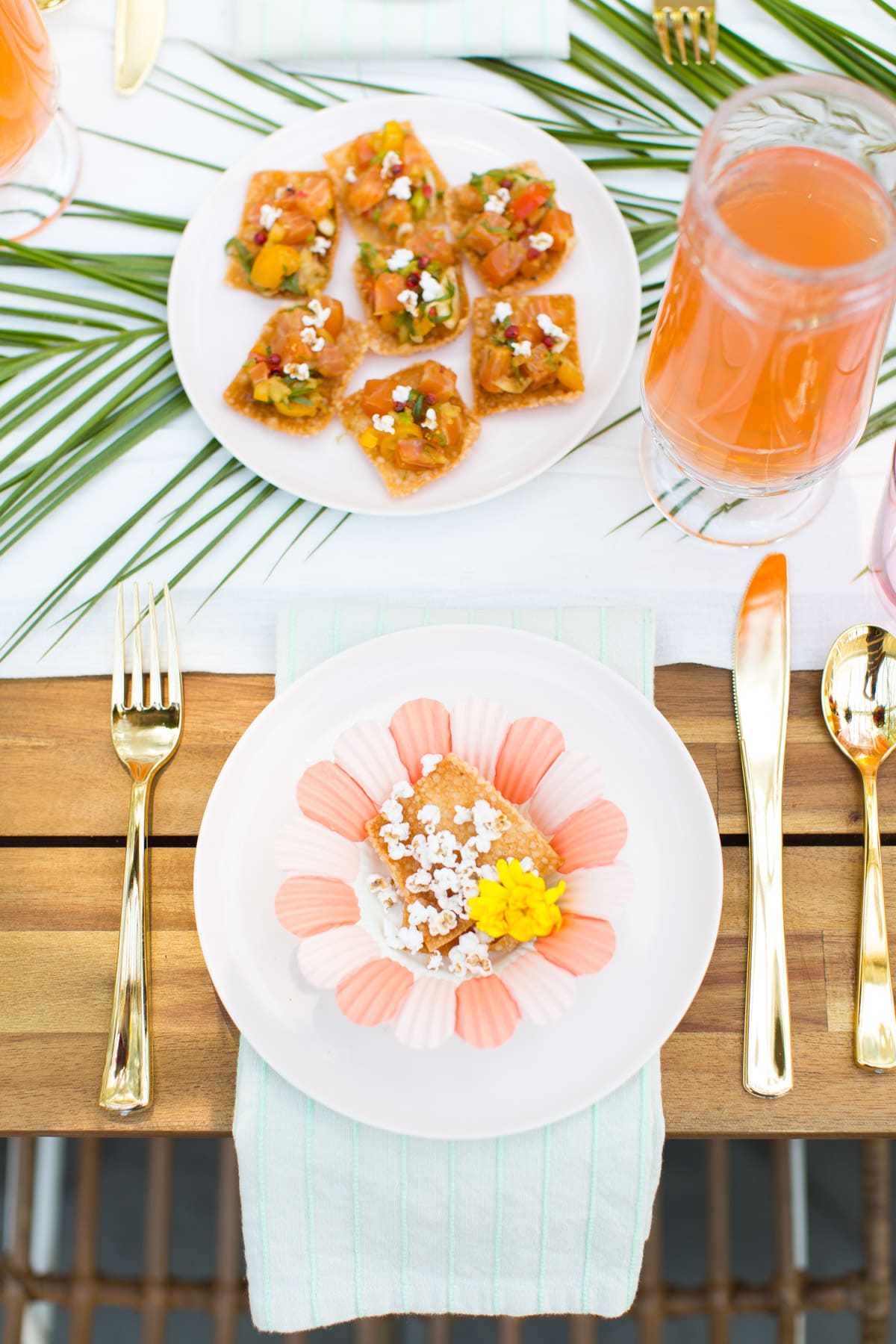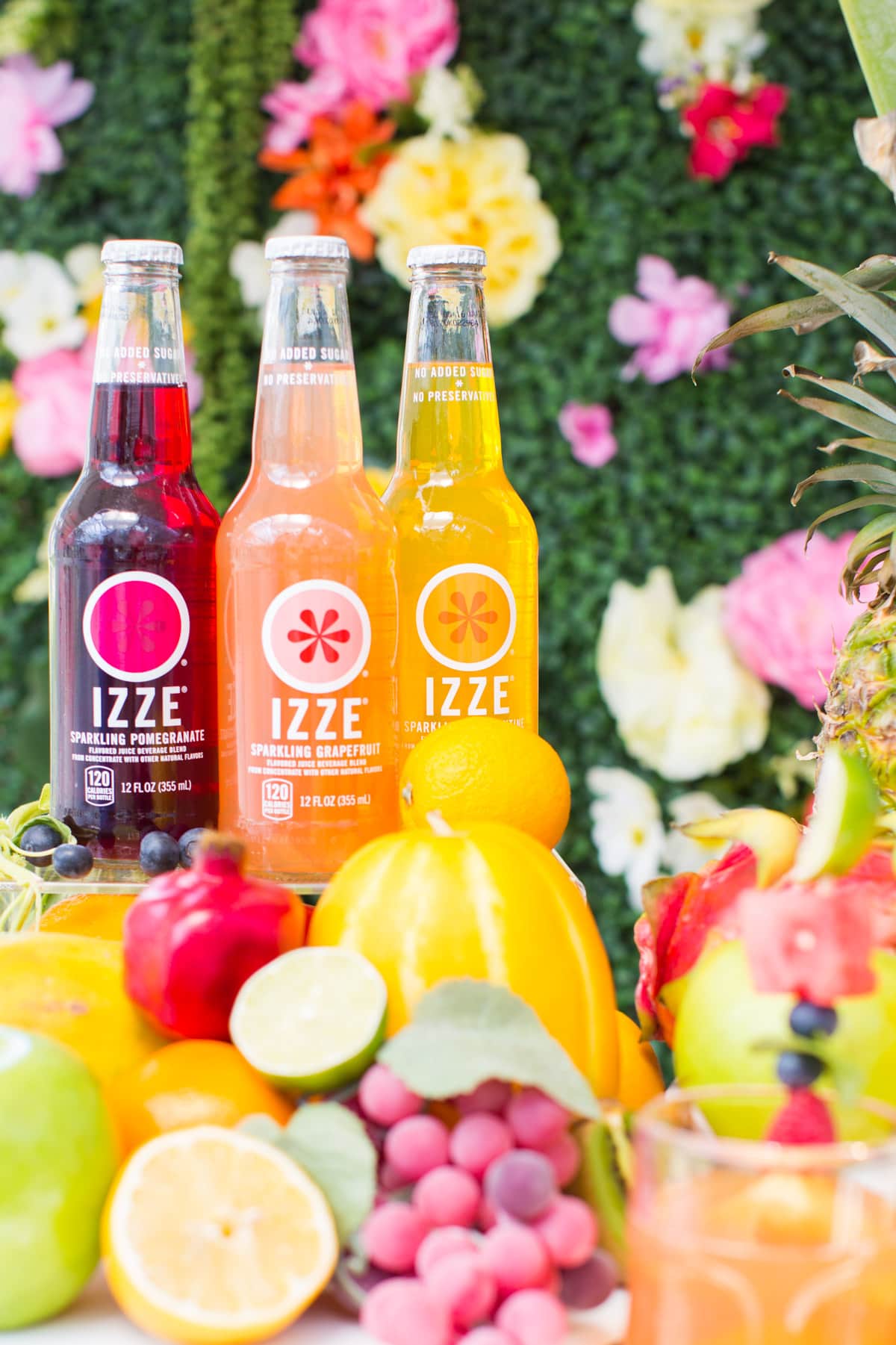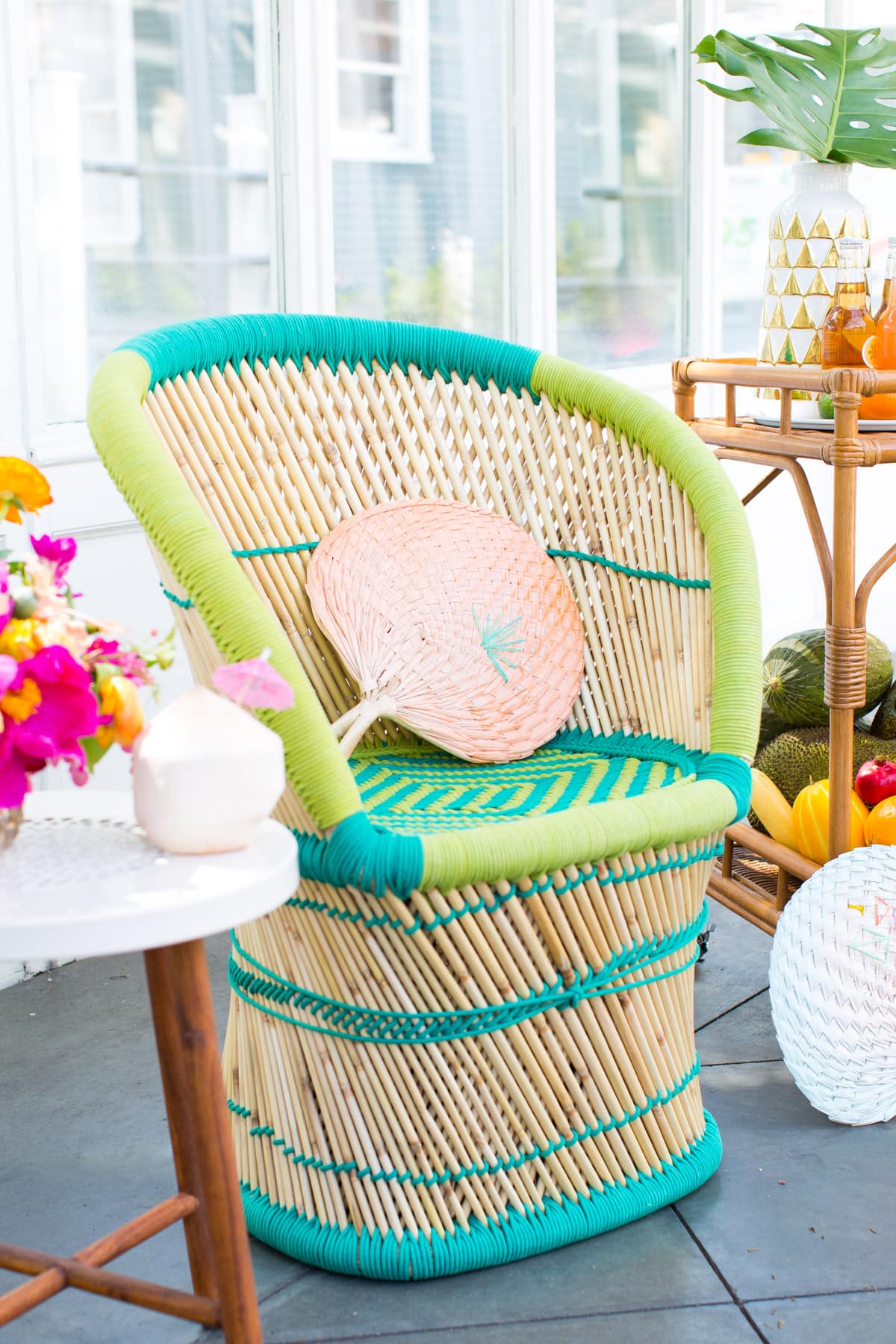 We also made embroidered rattan fans because we glisten, not sweat, and naturally we all need to do so in style. To make them, we just used spray paint to lightly color the edges of the fans and embroidery thread to make abstract shapes for added interest. Between cute fans for keeping cool and the refreshing IZZE cocktails we made for refreshments, the heat didn't end up being that bad after all! These were our flavor options —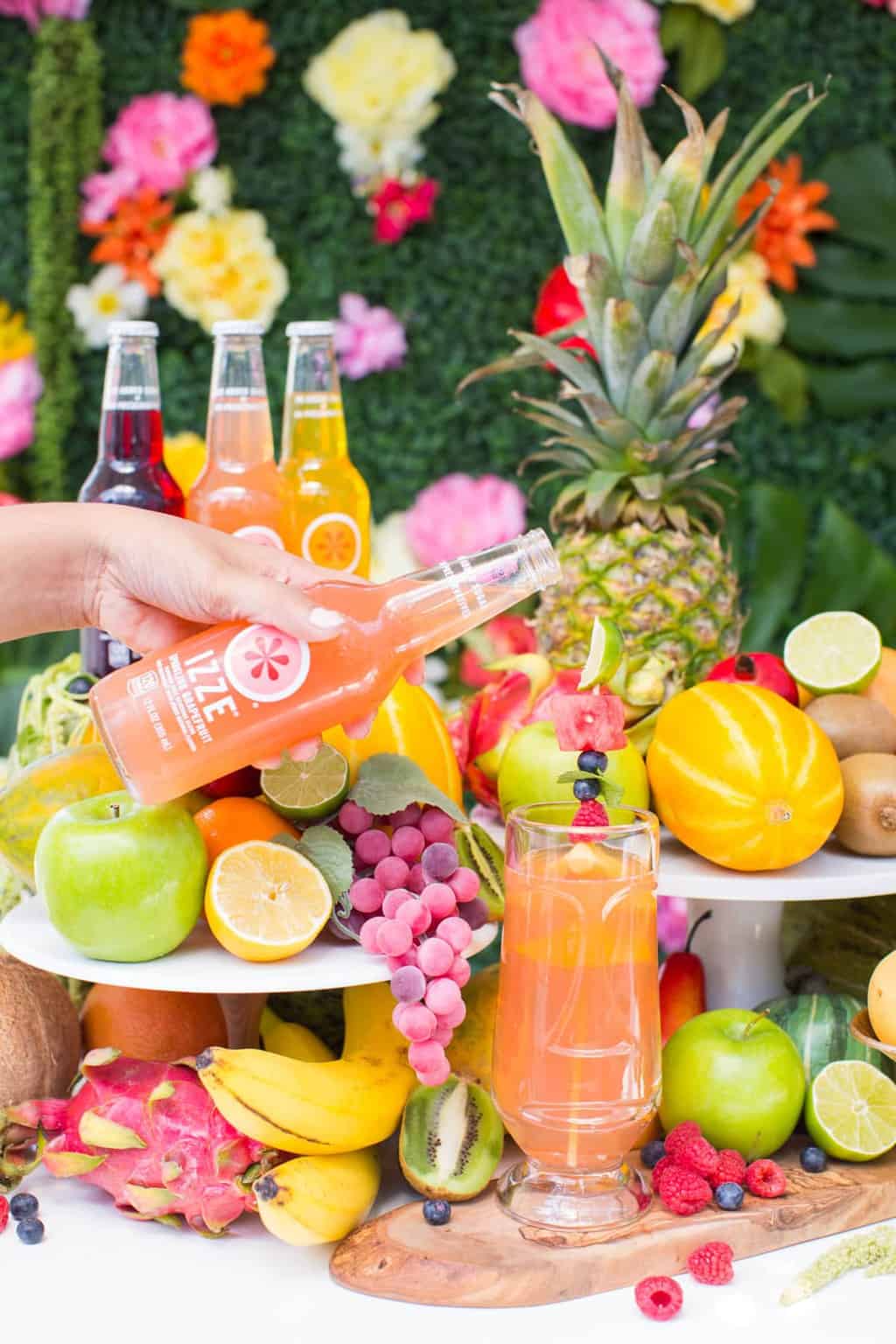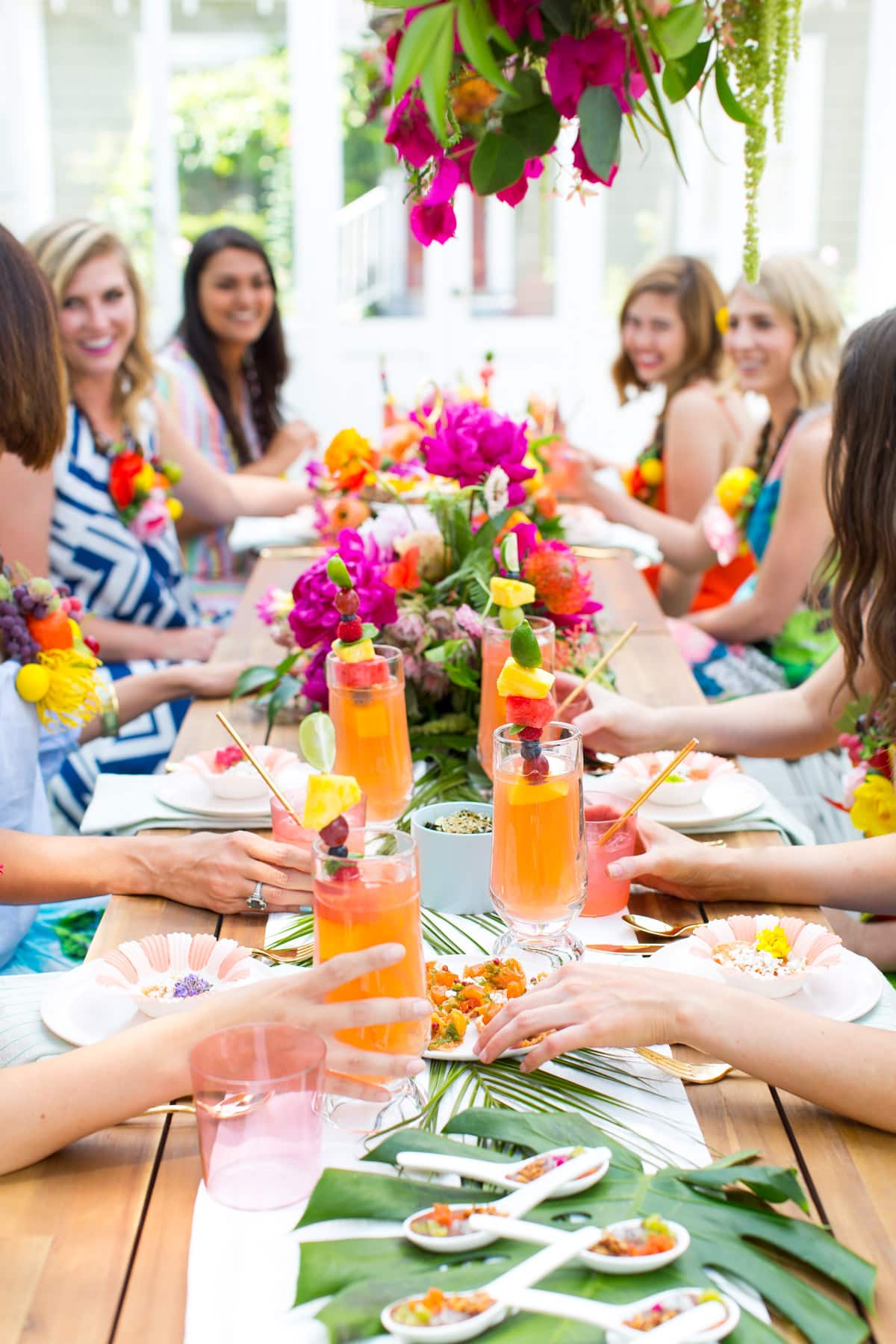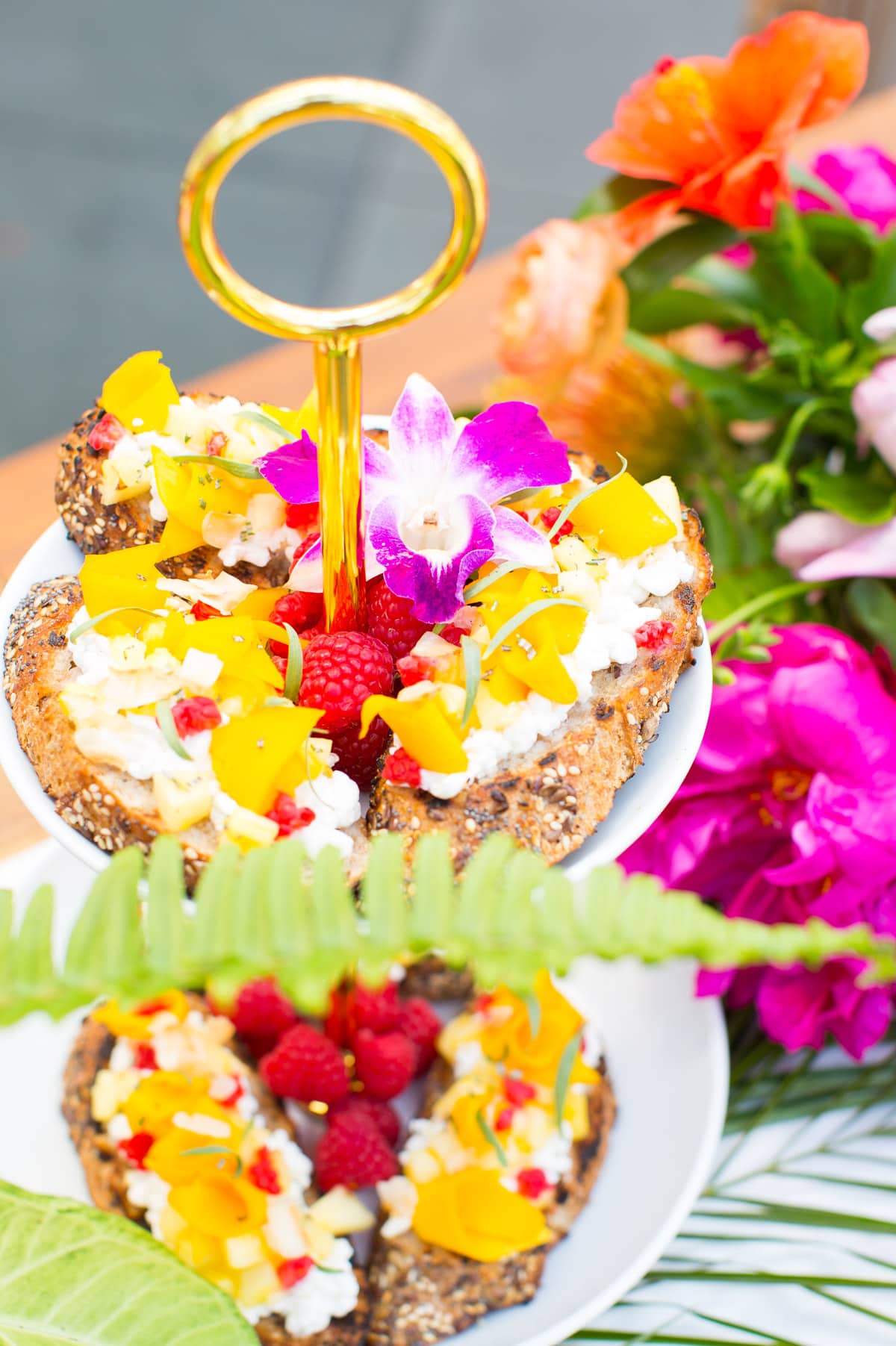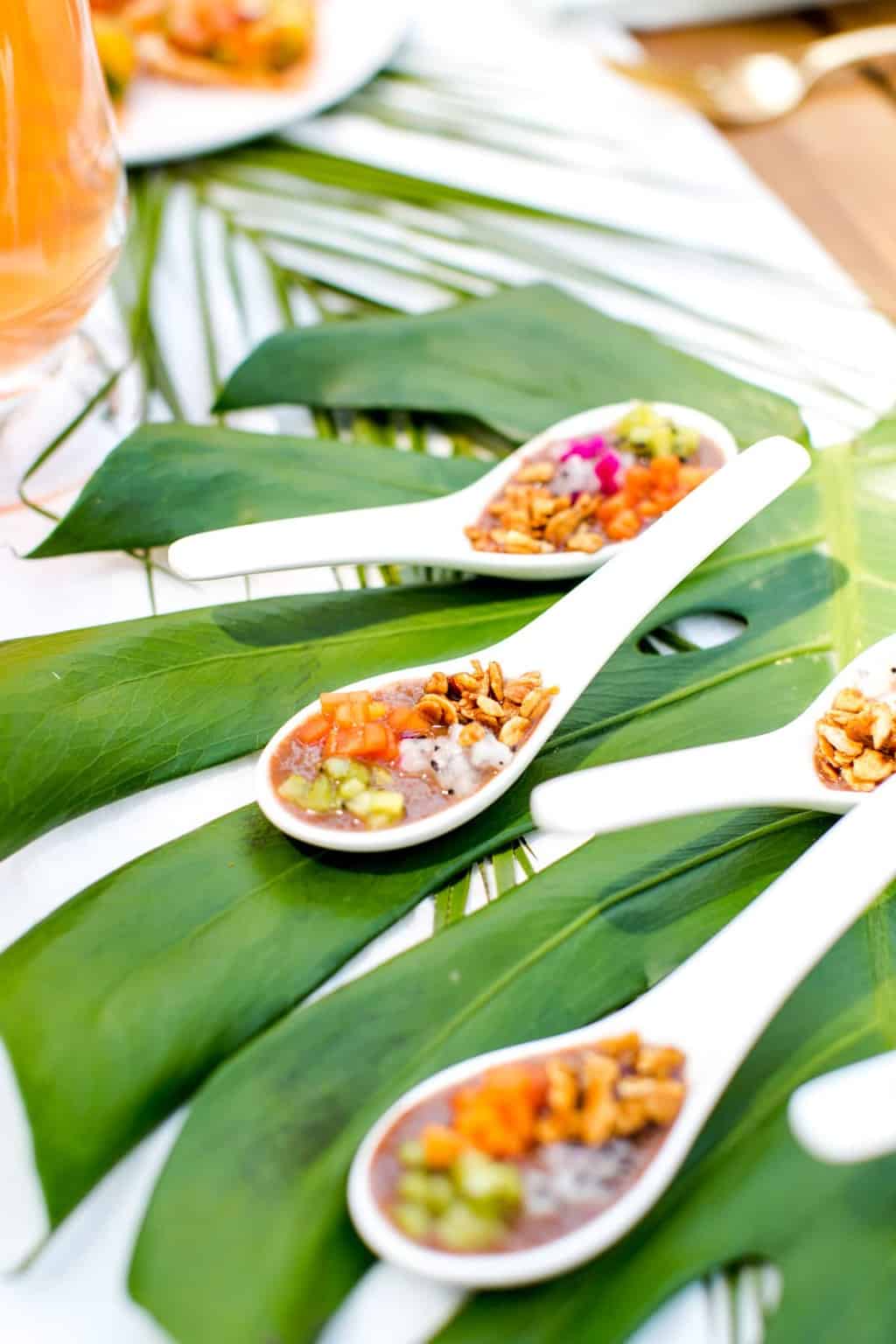 For food, we had mini bite-sized Acai bowls, Japanese sponge cake, salmon poke chips, and ricotta cheese brioche made by the super talented A Fare Extraordinaire. Not to worry, we'll be sharing the recipe for these super cuter mini Acai bite-sized bowls here soon!
As for furniture, I HAD to have these chairs and folding tables because tell me this isn't the cutest garden setup you've ever seen?! It was also the perfect mix of outdoors meets indoor modern, which I love. Any furniture element that can be repurposed indoors is worth the investment, in my book.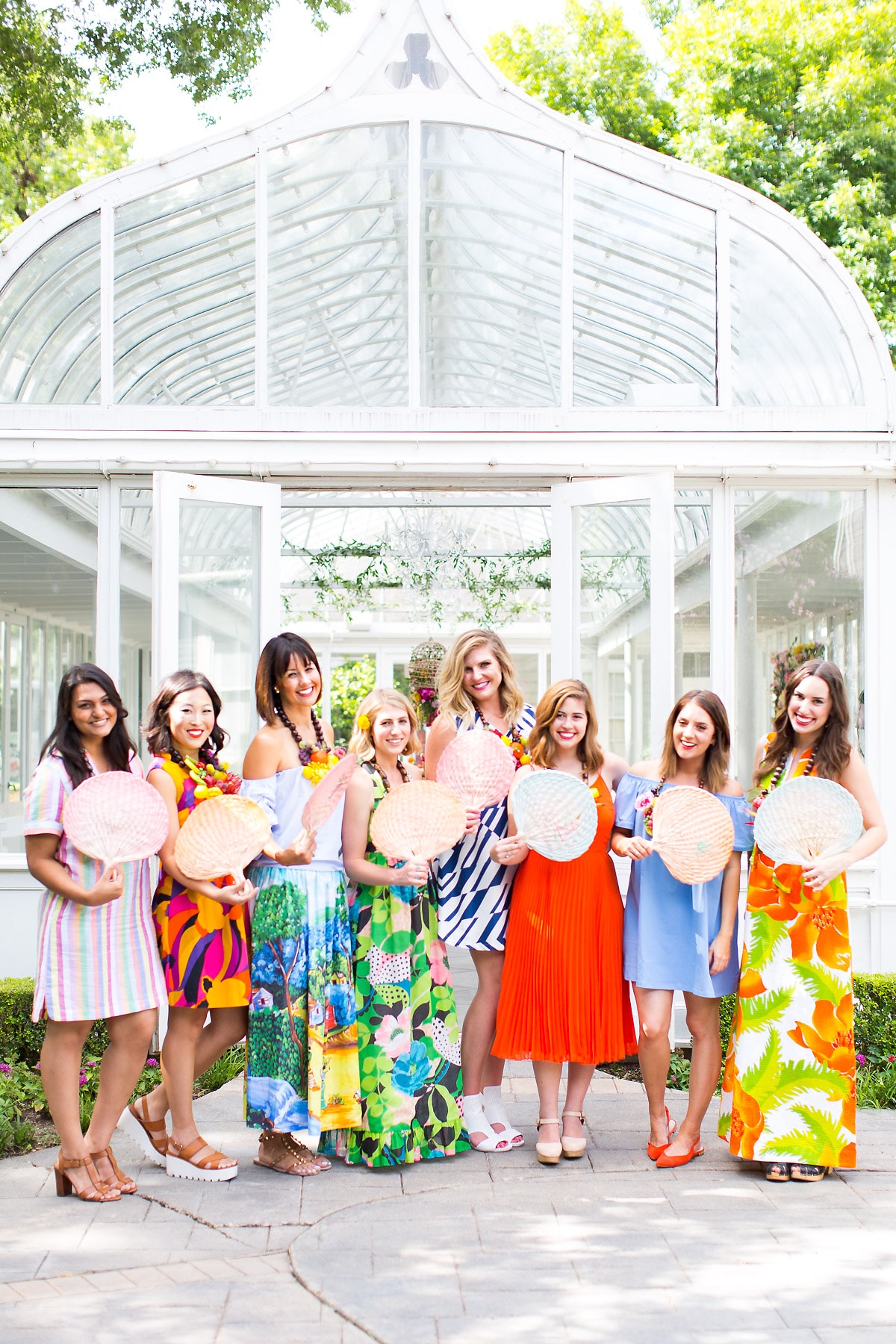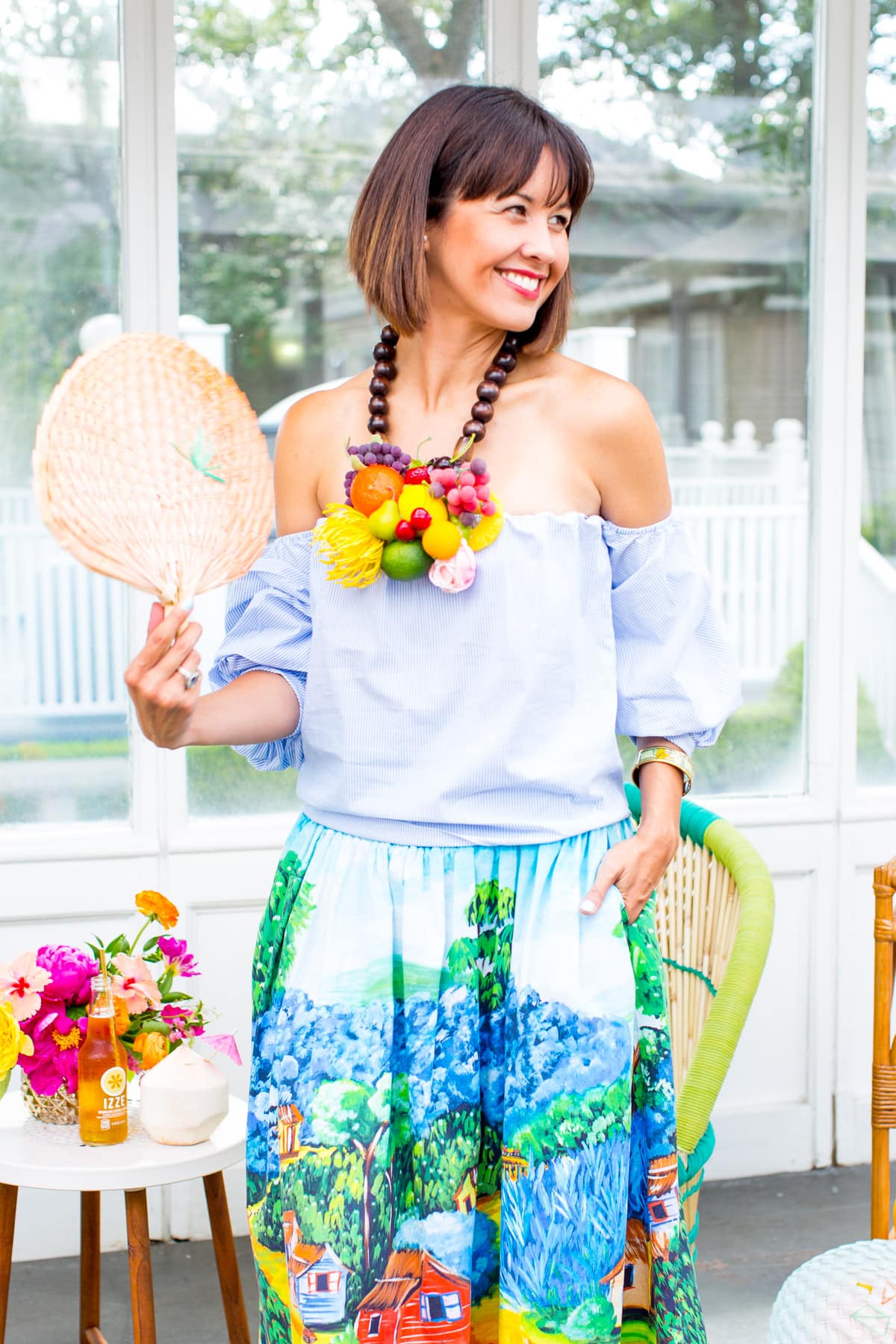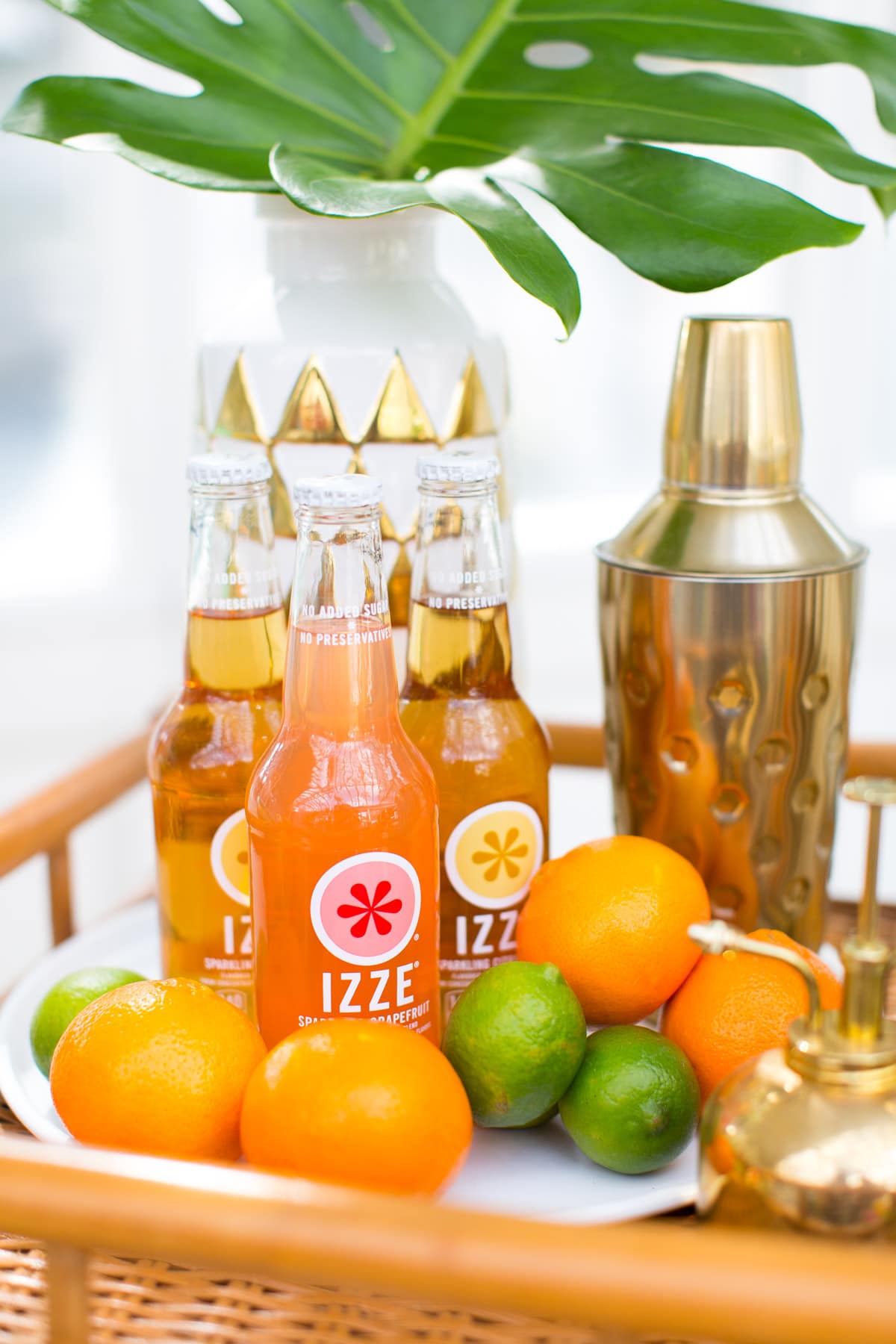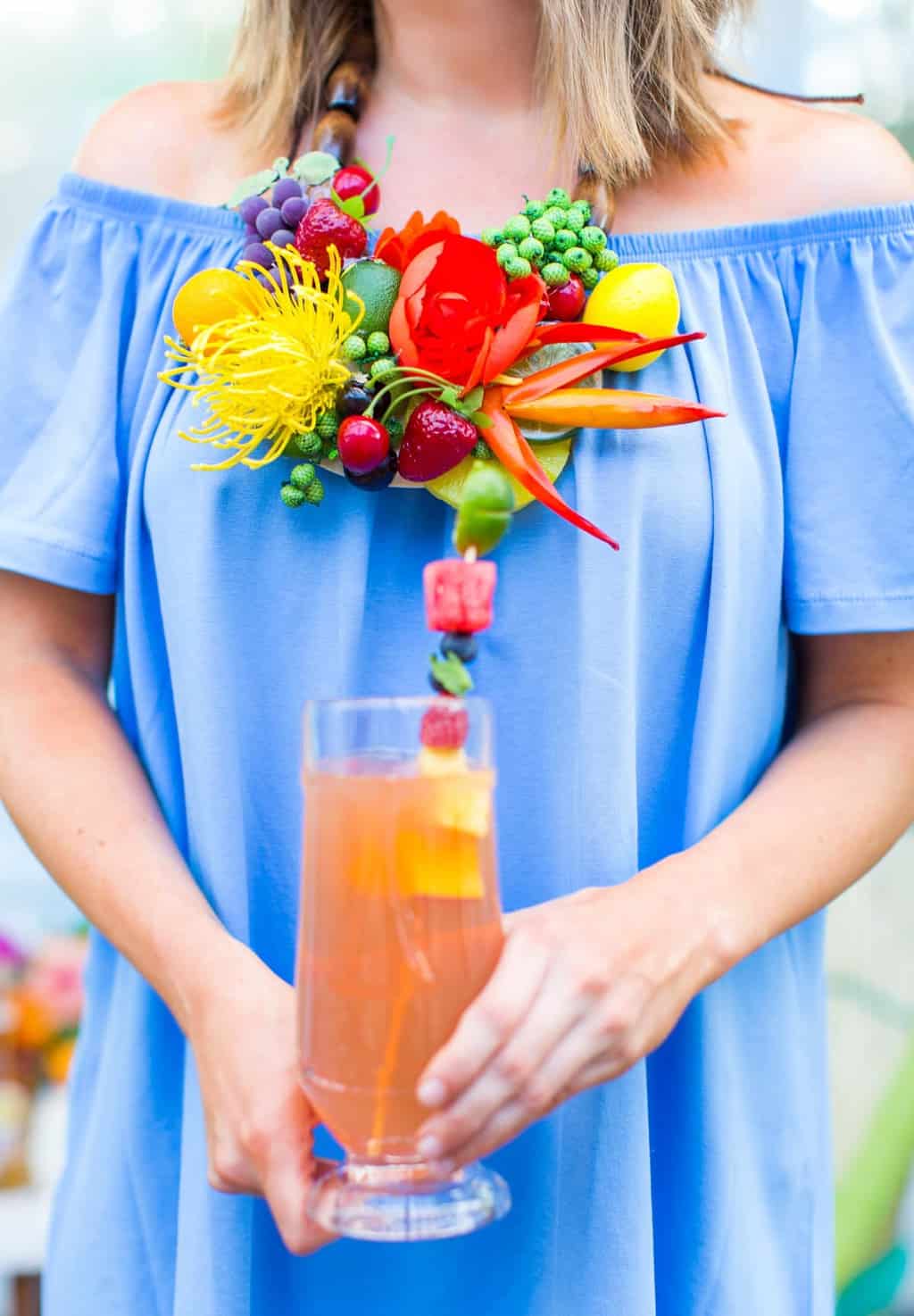 Of course no Friendsday Night is complete for the Sugar & Cloth team without a statement DIY, and these fruit necklaces were definitely the conversation starter of the night! Of course we played off of the sparkling juice flavors and colors to stick to the tropical theme, and here's how we made them..
To make the giant fruit necklaces, drill two holes in either side of the oval wooden plaque towards the top edges. String the brown cord through and start hot gluing the faux fruits to the wood.
Once you have all of your fruit glued on, string on the wooden beads and tie the cord in a double knot in the back and you're all set!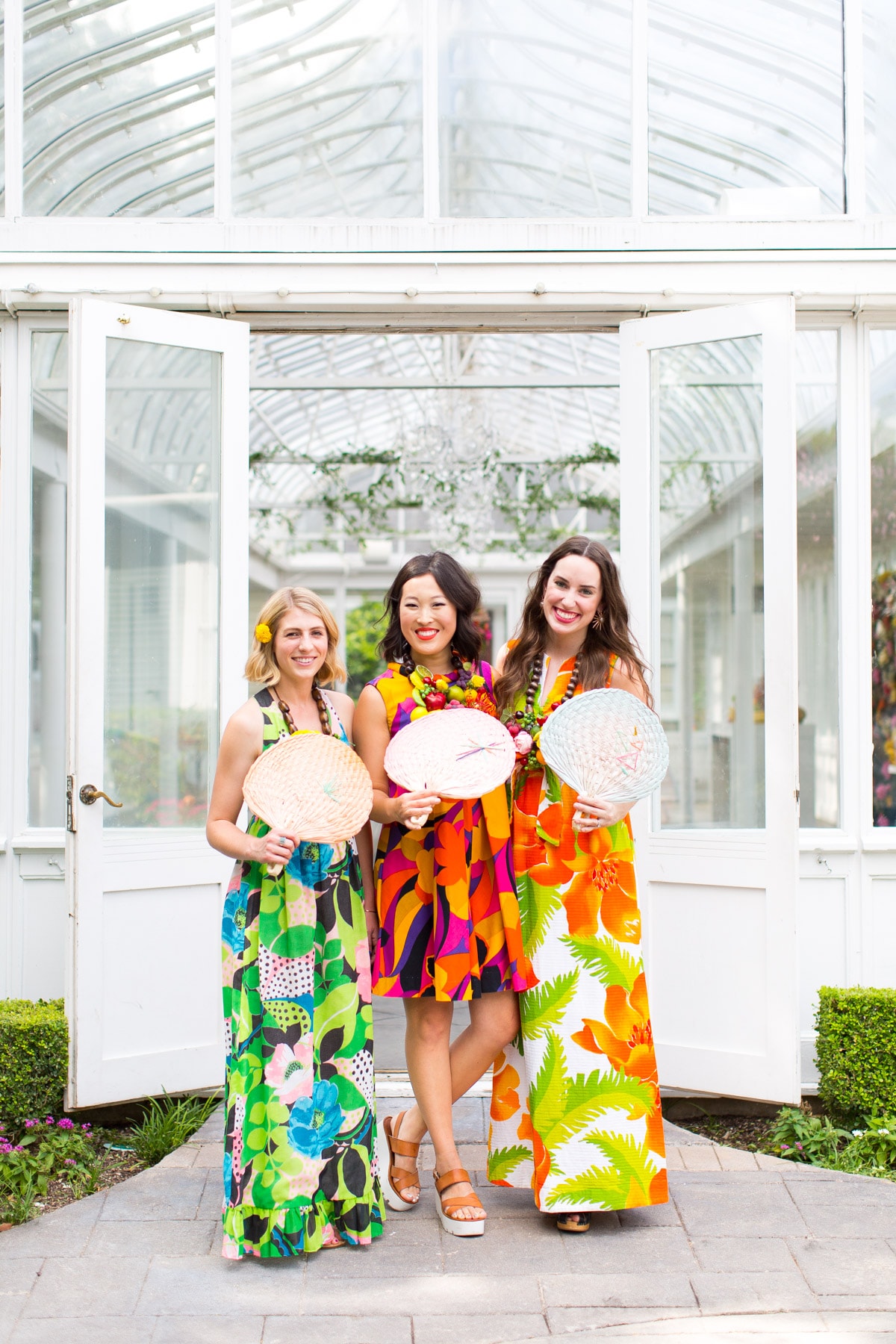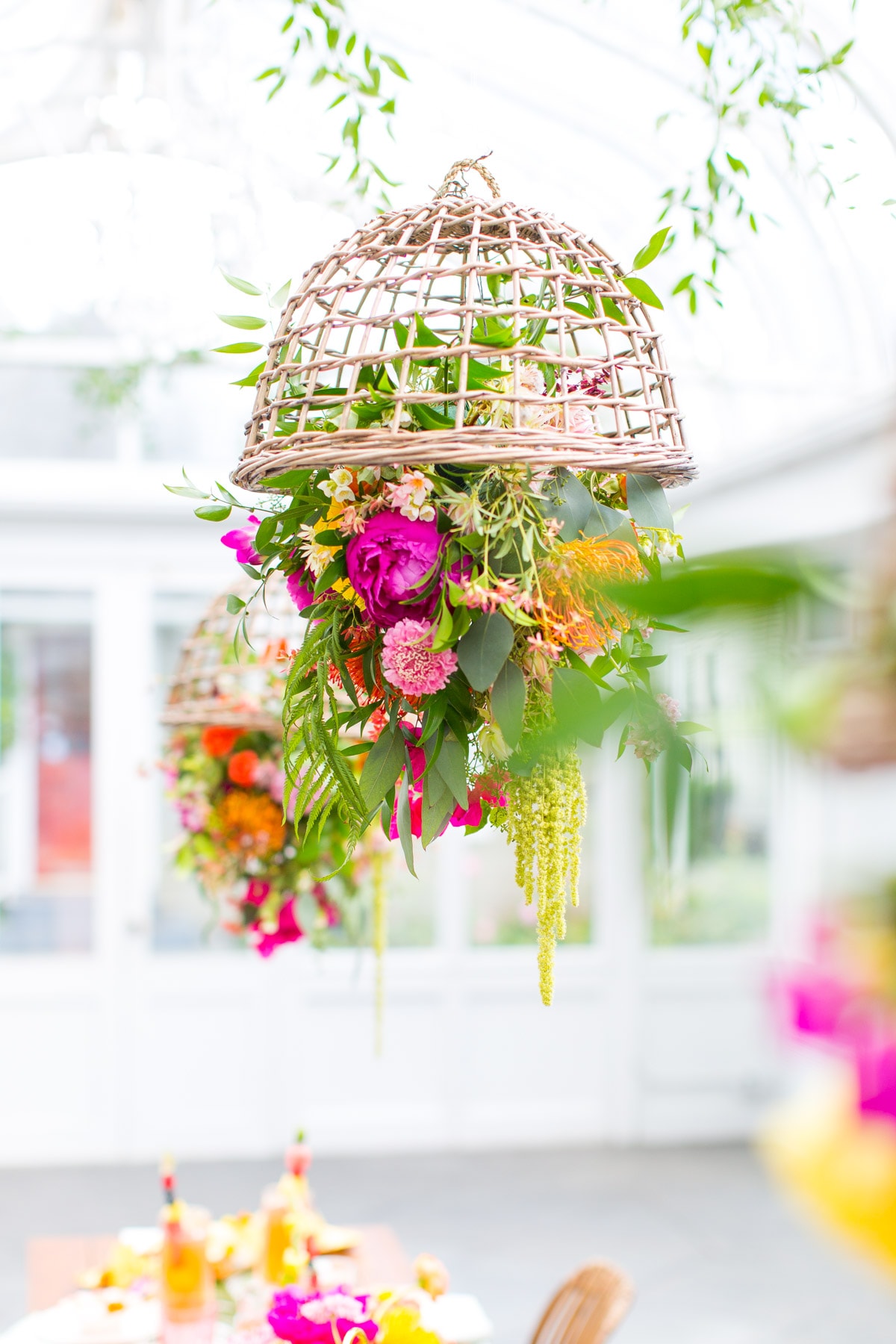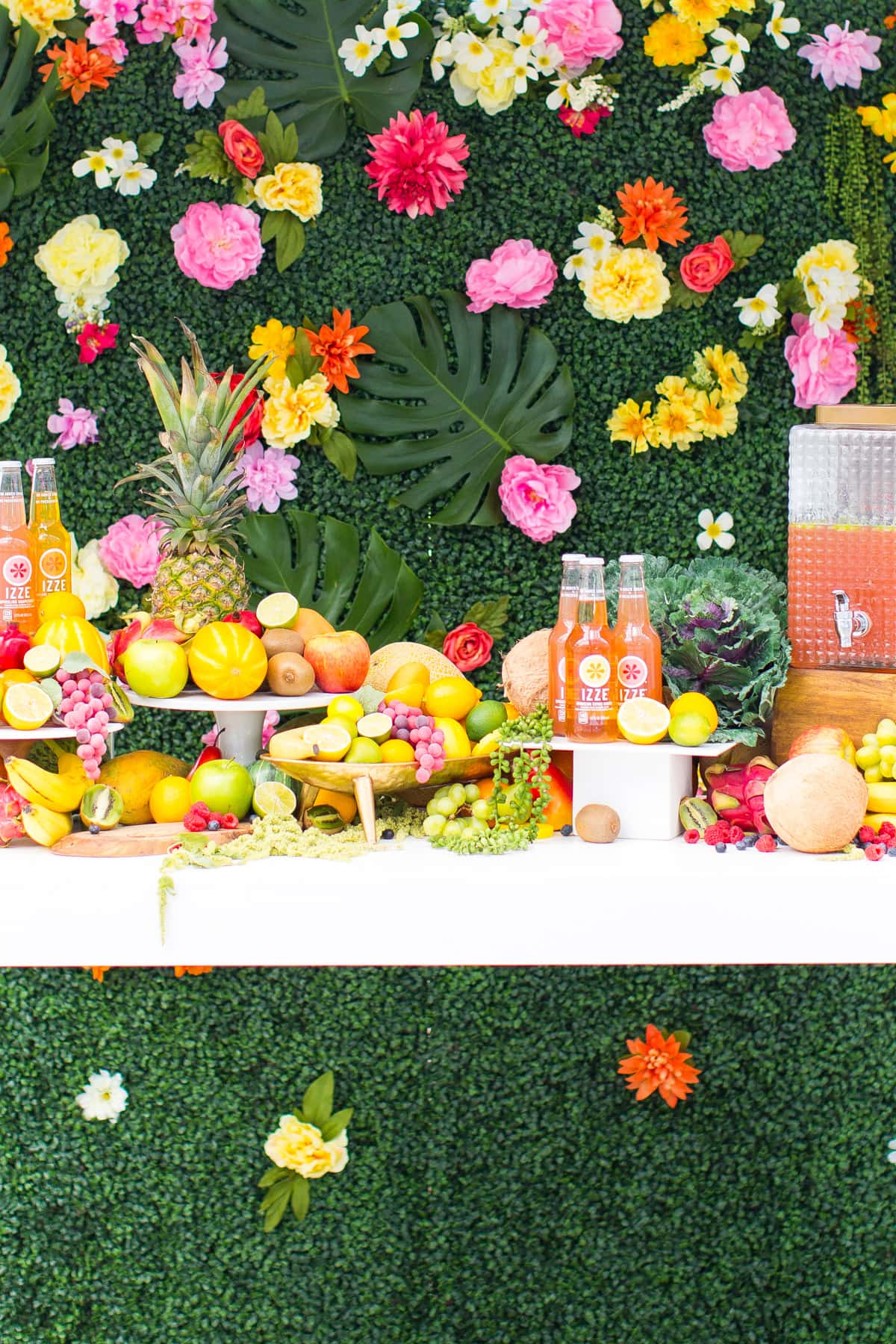 And the finishing touch to this garden party was a DIY boxwood backdrop! Our friend Meredith made this one, and we added a few palm leaves to it for an added touch of tropical.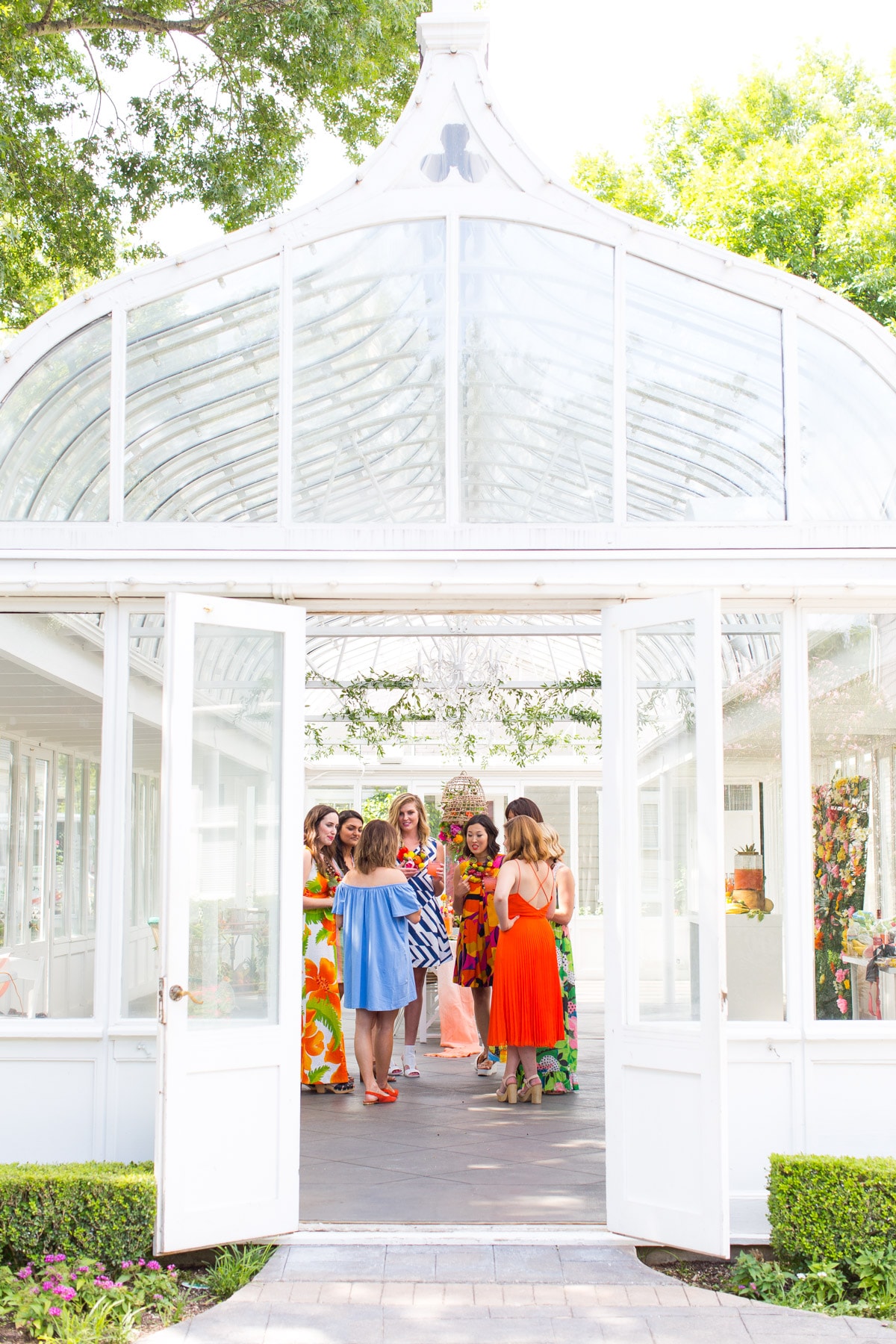 Do you all have any go-to Summer cocktails and recipes that you love that we should try?! Let us know! In the meantime, we're clearly biased, but we definitely recommend the IZZE cocktails or mocktails!
Thanks so much to IZZE for partnering with us on this Friendsday Night series that we LOVE!
Sources: IZZE // pink cups // mint linens // blue bowls // blush salad plate // gold flatware // drink pitcher // ceramic spoons // drink dispenser // rattan tray // wooden tray // tables (we spray painted the legs white) // bar cart (between chairs) // small round side table // woven accent chairs // dining chairs // rattan fans // white spray paint (for table legs) // woven lanterns // folding tables